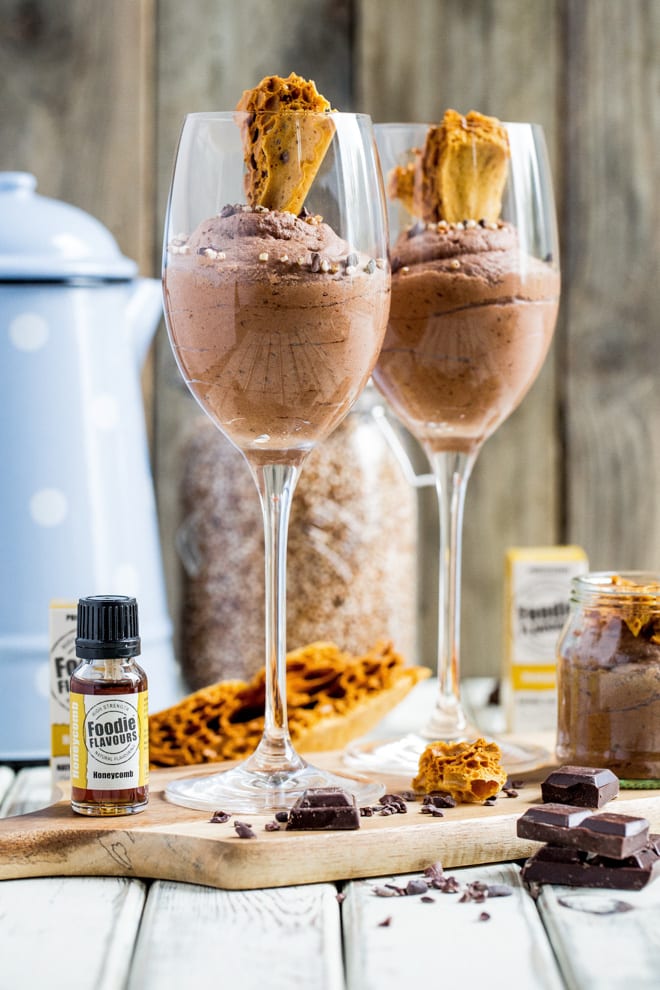 Posted in Recipes on 11.05.2019
Honeycomb Chocolate Mousse
prep: 20 mins / cook: 0 mins / inactive: 60 mins / total: 1 hour 20 mins / quantity: 4 generous servings Print recipe?
Rich and decadent vegan chocolate mousse with honeycomb essence. Childhood flavours for a seriously adult dessert!
Did you / do you still love a Cadbury Crunchie bar?  Apparently they're not available in the US – so apologies to our American readers who may have no idea what I'm referring to here!  They were a firm favourite of mine as a kid.  That cinder toffee bar wrapped in rich, creamy chocolate.  Unfortunately they're not vegan.  This chocolate mousse is though 😉
Aquafaba is a thing of miracles.  I've no idea who first discovered that whisking chickpea water made meringue.  Was it a scientist?  A kitchen genius?  No matter who, I'm eternally grateful to them.
You will need some kind of electric whisk though – unless you have forearms like Popeye!  Aquafaba takes a little longer to whisk than normal egg meringue before you have those frothy peaks.
I'm also grateful to Foodie Flavours and their (almost)  limitless variety of flavours and essences.
These little bottles of joy are one of my very favourite ingredients to work with as they impart SO MUCH flavour from just a few drops.  And when you're making something like a delicately soft mousse that you want to give another level of flavour to, these essences really come into their own.  Adding flavour without a change in texture or form.
This honeycomb essence is a brand new flavour of theirs, but I hand on heart recommend any of them.  I'm working my way through them all, slowly.
I made my own honeycomb as a garnish for this chocolate mousse for no other reason than aesthetics!  The essence gives you all the honeycomb flavour you'll ever need without the sweet sweet crunchy shards!  And while honeycomb itself isn't difficult to make it can be a bit daunting for anyone that isn't used to boiling their own sugar and then foaming the bejeezus out of it with bicarbonate of soda.  It also feels like it deserves its own page, because there'll definitely be chocolate dipping involved!
This chocolate mousse is SO light – with only a few simple and readily available ingredients and taking just minutes to make.
Vegan Chocolate – use a high quality chocolate here if you can.  Chocolate itself is plant based, making it 'naturally' vegan.  But in between being a bean growing on a tree and the stuff you buy in the shops it goes through a whole process where it can get a variety of additives including milk and sugar.  The best quality vegan chocolate should only contain cocoa, cocoa butter, sweetener and occasionally vanilla.  Cheaper and lesser quality chocolate bars use other ingredients as filler to bulk out and minimise the use of the more costly cocoa bean.
Side fact – mum and dad used to have a Doberman cross called Cocoa Bean.  When I was born he was my guardian and protector.  Unfortunately he died before I can really remember him.  Guess it was always my destiny to be involved with food!  And to have dogs 😉
Aquafaba – aka chickpea water.  Any can of cooked chickpeas will do.  Simply drain the liquid and whisk to foamy peaks!  And don't throw away those chickpeas!  Make hummus, roast them with garlic, make falafel or veggie nuggets or throw them in a big pan of paella!
Icing Sugar – or powdered sugar to our previously mentioned American friends!  I find icing sugar gives a smoother, silkier meringue than caster sugar.  Particularly for raw meringue like this chocolate mousse.
Cream of Tartar – this helps stabilise any meringue.  Even egg white meringue. It helps give meringue those characteristic high peaks.  You can also use lemon juice.
Honeycomb Essence – just a few drops of this essence is needed to elevate a chocolate mousse into decadently rich vegan chocolate heaven.
This honestly couldn't be easier to make.  There's no baking, very little stirring and I challenge ANYONE to know this was vegan without prior knowledge 😉
If you make this recipe or any of the recipes from The Cook & Him we'd LOVE to see! Just snap a picture and share it on Instagram using #thecookandhim and tagging @thecookandhim in the photo itself (as this guarantees we'll see your picture!
)
And don't forget to follow us on Instagram , Facebook or Twitter for even more recipe inspiration and chat, competitions, behind the scenes and so much more!
Honeycomb Chocolate Mousse
prep: 20 mins / cook: 0 mins / inactive: 60 mins / total: 1 hour 20 mins / quantity: 4 generous servings
Ingredients
1 cup (160g) vegan dark chocolate
1/2 cup (130ml) aquafaba – roughly all the liquid from a 400g can of chickpeas
20 drops Foodie Flavours Honeycomb Essence
1/2 cup (75g) icing sugar
1/2 tsp cream of tartar
Electric whisk – either a stand mixer or hand held whisk
Instructions
Melt the chocolate in a microwave or over a bain-marie (a heatproof bowl set over a saucepan of barely simmering water)
Once it's melted set aside to cool slightly while you whisk the meringue
Whisk the aquafaba in your stand mixer or in a large bowl with a hand held electric whisk. It takes a good 5 minutes to get those giant fluffy peaks. I whisk on medium/fast speed
Once the meringue is fluffy and whisked to peaks add the honeycomb essence and whisk in for a minute
Mix the cream of tartar with the icing sugar then while still whisking (on a slower speed) gradually add to the meringue mixture until fully incorporated. I add a spoonful at a time
Pour in the melted chocolate and using a spatula (no whisking here, we want to retain as much of those fluffy peaks as possible!) gently but thoroughly mix it through the meringue until there are no white streaks
Spoon into serving bowls or glasses or spoon into a large piping bag and pipe into your glasses
You can eat this almost immediately but it does firm up a little after an hour in the fridge. Store in the fridge until you're ready to eat!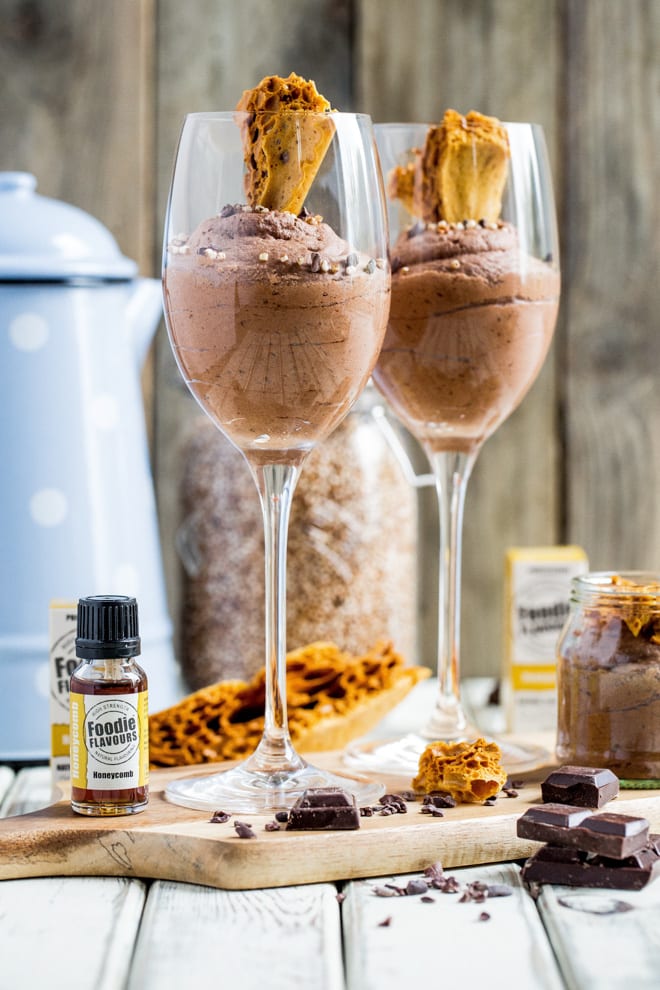 Some products I used in today's post...
Some of the links above are affiliate links, which pay us a small commission for our referral at no extra cost to you! Thank you for supporting The Cook & Him.
Hello and welcome to The Cook & Him.
We are Sam (The Cook), Phil (Him) and our little dog Nooch. What started with a plan to shed a few pounds back in 2016, soon became obvious that eating healthy doesn't have to be bland and boring.
So, combining Sam's 15 years of experience working within Michelin starred restaurants and our love for deliciously healthy food, we're creating recipes for you to make and enjoy. We've added our own unique spin on traditional and contemporary vegetarian and vegan recipes that keep you (and your pets!) healthy and full.  And we make sure they just work.
All things autumn - warming soups, savoury bakes and delicious sweet treats!
and I would like to see...
Or search for a recipe or post by keyword