We love chia seeds and use them virtually everyday, from sprinkling on salads, incorporated into bread doughs, or used to thicken smoothies, soups or stews or even in your favourite muffin mix, you can even use a tablespoon of chia seeds soaked for 15 minutes in 3 tablespoons of water as a vegan egg substitute in baking. Rich in protein across all the essential amino acids, fibre and Omega-3 fatty acids, chia seeds have a very low glycemic index and provide a slow release of energy – what's not to love!!
The tiny oil-rich seeds are harvested from the Salvia hispanica plant, a member of the mint family originating in central America, where chia was a staple food in Aztec cultures, alongside beans and corn. Chia has become popular in the UK in recent years as a versatile, tasty and nutritious seed, but they were previously thought not to grow to maturity in the UK climate. Enter Peter and Andrew Fairs who have successfully harvested what they believe to be the first commercial crop of chia seeds in the UK.
So, when they and our good friends Hodmedod's, invited us down to the first to see the crop being grown for ourselves we jumped at the chance.
On the morning of 16th July, after a 4 1/2 hour journey, some 180 miles from our home, I arrived at Warrens Farm, Colchester – a beautiful location in a village full of converted barns and thatched cottages, the likes of which we could only dream of owning. In a balmy 29 degrees centigrade (85f) I was met by Andrew King of Fairking Seeds, whose family have been working the land since since 1915 and Emma Wilkins, Business Development Manager of Hodmedod's. Of course, being thoroughly British, there are two critical points to be address on arrival 1) Tea – nothing happens without a brew and 2) A discussion about the weather.
The UK is currently in the middle of a drought, the driest and hottest summer on record, probably.  Certainly likely to be beat the summer of 1976 (Legendary, so they tell me. I was 3).  Andrew tells me that its already been nearly 8 weeks without rain and the threat of wildfires is high, the crop is somewhat stunted in its growth and should around twice as high as it currently is.
Following the pleasantries, I ask Andrew the obvious question "Why? Why start growing a crop that hasn't been commercially farmed on these shores for so many years?" Andrew is clearly a farmer who is passionate about his craft, he regales me with many reasons, some regarding commercial control to manage the volatility of pricing, some about crop rotation ( I am immediately reminded of the "Young Ones" … and become marginally distracted for a moment), but the stand out answer is said with a knowing glint in his eye "Because I like a challenge!" Andrew's farm has traditionally grown what he terms "alternative crops" – Borage, Camelina, Quinoa etc.
So "How?" I ask, now wishing I was more familiar with farming processes.  After all I am a born and bred townie, not knowing one end of a combine harvester from the other. Andrew is kind to me and takes things right back to the beginning and lays the story out for me nice and simple.
"Well it all starts with finding a seed to plant, one that suits the climate, we do that by planting a series of test beds, around 6m x 80m with mixed chia varieties and then seeing which ones will come up with a crop".  It turns out that different varieties will react differently to our soil, climate and sunlight hours.  "Then we can harvest what's available and we know we have seeds that will grow on our farm in our conditions".
"So what's the process you follow", I ask, back in my comfort zone, I am an engineer by trade and do love a good process …
"The seeds that were harvested initially from the test beds were replanted to to cover an area of 2 acres in the first year. Following another "sew, harvest and resow", in 2017 we planted an area of 30 acres which have now become the first commercially grown crop in the UK".  This strikes me as something I had never even given a moments thought to before.  How incredible it is that a relatively small crop can produce so much at harvest time, and how this can be expanded upon again. "That crop has now been harvested by the use of a combine harvester, which will pick the crop, remove the seeds from their husk" and discard this organic waste back onto the soil. The seeds can then be dried and cleaned at a facility only 4 miles away, before being packed into 800kg boxes for shipping to customer"
"Why 800kg boxes?" I ask. "Ah", Says Andrew "So we have complete tracability, this enables us to batch code every box and trace it back to a specific plot of land, this gives us two key things, 1) Better assurance for our customers and end users, and 2) better feedback following batch testing that we can relate to a plot of land so we know exactly how its performing".
"Shall we take a ride out to the farm" asks Andrew. Now I am like a small child excitedly anticipating a ride in a tractor down some country lane, alas not. A brief, doubtless more civilised, ride in the air-conditioned luxury of a Jeep Cherokee, takes Emma and myself out to the farm to see first hand the 70 acres currently being grown for this years crop. As I said before, I am a townie and am immediate shocked by both simultaneous sensory deprivation and overload, firstly, in the form of deafening, "can hear your own whistley nose" silence – something that we just don't ever get in the town, and secondly the smell. No, not THAT countryside smell but the freshness of the air and the almost minty smell of the crops.
The current drought is clearly hitting the farms hard, the ground is dry and dusty with deep cracks appearing in the soil, the crop is low and the leaves a little wilted. "They'll be ok – if we get some rain soon," Andrew tells me – however, there is still no sign of any on any forecast I have seen, but, like most things agricultural, I strongly suspect that Andrew knows better than me!
Andrew goes on to tell me just how important the Bees are in the development of this crop, "we bring between 800 and 1000 beehives onto the farm each year from local bee-keepers to keep the crop performing". This, again, was something that I had no idea about but, as last year Sam and I replaced 50% of our back-garden with wildflowers specifically planted to support the bees and butterflies, appeals to me hugely!
After a while taking photo's in the fields (Sam is the Photographer for The Cook & Him, so apologies if they're not up to the usual standard) we return to the farm office for more tea and to try the batch of Chia Chocolate Protein Bites that I made the previous evening as a "Thank you for having me". How very British!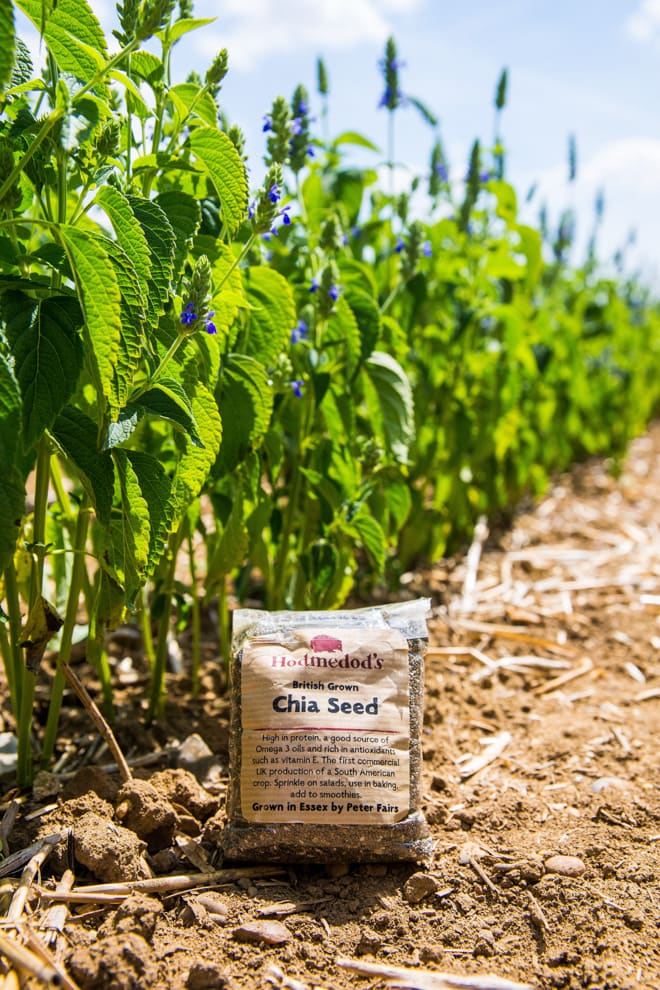 The limited first harvest of chia seeds will be available to buy in 200g retail packs at £2.49 from Hodmedod's website – hodmedods.co.uk – as well as through selected independent wholefood retailers. The British chia seeds are also available to caterers, both direct from Hodmedod and through catering distributors Direct Pantry.
Hodmedod was founded in 2012 by Josiah Meldrum, William Hudson and Nick Saltmarsh, with the original aim of bringing British-grown fava beans back into British kitchens. Working with a growing network of farmers, Hodmedod has built its range of products to cover a wide range of pulses, grains and seeds, all produced on British farms. Recent additions to the range include camelina seed, smoked quinoa and fermented fava bean umami paste.
If you liked reading this adventure, why not subscribe to our mailing list and stay up-to-date with all our tales and journeys. (You also get our awesome free E-book for signing up!)