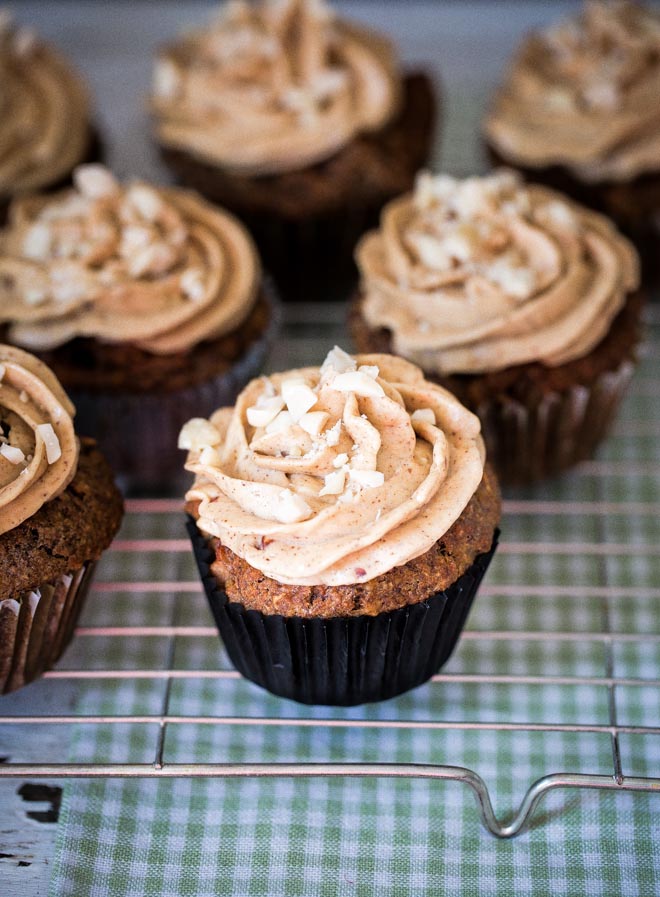 Posted in Recipes on 21.09.2017
Apple & Sultana Muffins with Peanut Butter Frosting
prep: 15 mins / cook: 25 mins / inactive: 0 mins / total: 40 mins / quantity: 12-15 Muffins Print recipe?
Baking is my happy place.  I mean I love cooking but baking specifically is right where my heart's at.  And then there's autumn baking.  All those seasonal fruits and spices that make the house smell like something out of a Christmas fairy tale.  Yep I went there.  I mentioned the 'C' word.  And it's only September.  But it's not like I'm putting up a tree or hanging lights.  Just a pinch of cinnamon and nutmeg here and there.
These muffins are SO moist with just the right amount of cinnamon spice and fruity bursts from the apples and sultanas.  Mostly I've been making them without the frosting.  And like that they're more than just fine – making a great breakfast standby.  I also didn't know what to use for a frosting that wasn't just butter and sugar till I had a bit of a light-bulb moment – how about peanut and almond butters instead of actual butter .. and coconut oil to help it set .. a little bit of maple syrup for sweetness.  Man alive I love kitchen alchemy.  Especially when it works .. and boy does this frosting work.  It's thick and creamy and turns a humble breakfast muffin into Cinderella ready for Prince Charming to take it to the ball ?
The base recipe is largely the same as these Double Chocolate and Orange Muffins – swapping out the chocolate and cacao powder for the cooked apple and yummy spices.  All the other good for you things – chia and flax seeds, wholemeal flour – are still there so you can feel a little less guilty eating these by the dozen.  We still need to fatten up for winter right? ?
Oh and you see that wooden board up there that the muffins are just lounging around on?  Generously donated by our local pub.  I love this pub.  When I'm not baking it's another of my happy places.  Normally my veggie burger gets delivered to our table on one of these boards and I'd passed comment about how awesome it'd look for food photography so Phil cheekily asked the landlord .. who brought me a clean one!  We left an exceptionally generous tip that night!  So if ever you're in the Derbyshire area I seriously recommend The Mill Wheel, Hartshorne.  Probably THE warmest welcome from any pub anywhere ❤
If you make this recipe or any of the recipes from The Cook & Him we'd LOVE to see! Just snap a picture and share it on Instagram using #thecookandhim and tagging @thecookandhim in the photo itself (as this guarantees we'll see your picture!
)
And don't forget to follow us on Instagram , Facebook or Twitter for even more recipe inspiration and chat, competitions, behind the scenes and so much more!
Apple & Sultana Muffins with Peanut Butter Frosting
prep: 15 mins / cook: 25 mins / inactive: 0 mins / total: 40 mins / quantity: 12-15 Muffins
Ingredients
2 apples
2 tsp ground cinnamon
1 tsp ground nutmeg
50g coconut oil
2 bananas
2 eggs
100g yoghurt
75ml unsweetened almond milk
75g honey
1 tsp vanilla extract
200g wholemeal flour
50g rolled oats
2 tblsp chia seeds
2 tblsp ground flax seeds
1 1/2 tsp baking powder
1 1/2 tsp bicarbonate of soda
handful of sultanas
optional
coconut sugar
4 tblsp coconut oil
4 oz peanut butter
1/2 cup almond butter
2 tblsp maple syrup
few roughly chopped peanuts
Instructions
Preheat the oven to 180 Fan / 200 C / 400 F / Gas 6
Peel and core the apples and dice into small pieces (about 1 cm square).  Put into a small saucepan along with the cinnamon, nutmeg and coconut oil and cook over a gentle heat for 5-10 minutes till softened, stirring occasionally
In a large bowl put the peeled bananas, broken into chunks and mash with a fork.  Using the same fork whisk in the eggs, then the yoghurt, almond milk, honey and vanilla
Using a large rubber spatula stir in the flour, oats, chia and flax seeds, baking powder and bicarbonate of soda then stir in the cooked apple mixture and sultanas
Put some pretty muffin cases into your muffin tin(s) and fill each one with the mixture till 3/4 full.
Optional: If you're not frosting these sprinkle each one with a little coconut sugar
Bake for 25 minutes till a skewer or toothpick comes out clean.  Cool in the tin for 5 minutes before transferring to a wire rack to cool completely
For the frosting, melt the coconut oil in a small saucepan then whisk in the peanut butter, almond butter and maple syrup.
Whisk vigorously (by hand or in a machine) for a few minutes then chill in the fridge.  Keep an eye on it - you want it set enough to pipe.  If it goes too hard, simply remove from the fridge and beat again till soft - a stand mixer with the paddle attachment is perfect for this
Once the cupcakes are completely cold pipe the set mixture using a star nozzle then sprinkle on the chopped peanuts
Store in an airtight container.  The frosting helps keep these muffins really soft and moist for a few days
Notes
I've found this recipe makes between 12-15 muffins, largely depending on the size of apples I use and how generous I am with the sultanas!
If the frosting is set enough to pipe before the muffins are completely cold don't leave it in the fridge, this frosting holds its shape at room temperature so simply leave on your counter till the muffins are ready
The muffins can be frozen unfrosted.  Just defrost for a few hours at room temperature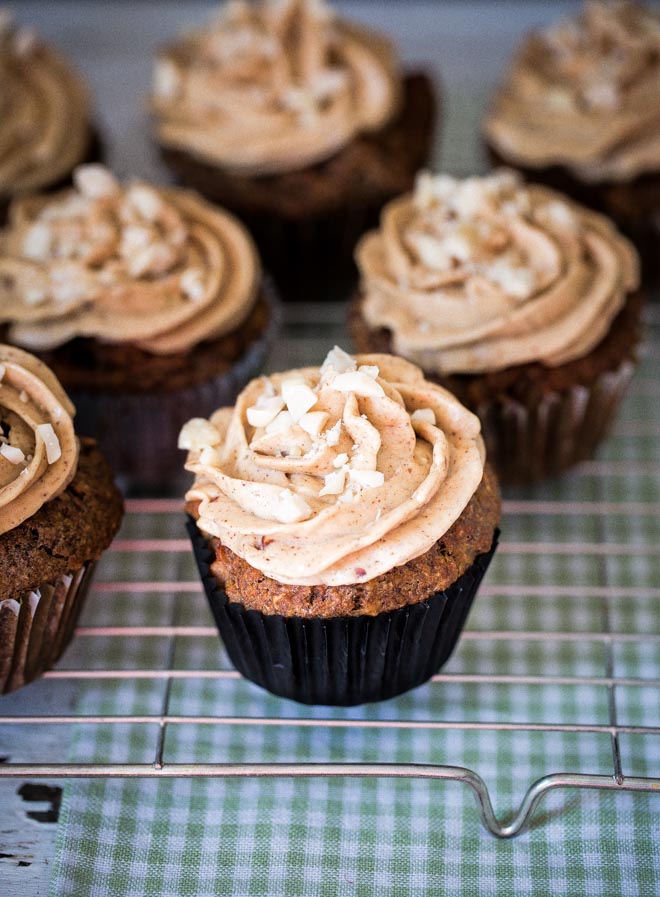 Hello and welcome to The Cook & Him.
We are Sam (The Cook), Phil (Him) and our little dog Nooch. What started with a plan to shed a few pounds back in 2016, soon became obvious that eating healthy doesn't have to be bland and boring.
So, combining Sam's 15 years of experience working within Michelin starred restaurants and our love for deliciously healthy food, we're creating recipes for you to make and enjoy. We've added our own unique spin on traditional and contemporary vegetarian and vegan recipes that keep you (and your pets!) healthy and full.  And we make sure they just work.
All things autumn - warming soups, savoury bakes and delicious sweet treats!
and I would like to see...
Or search for a recipe or post by keyword