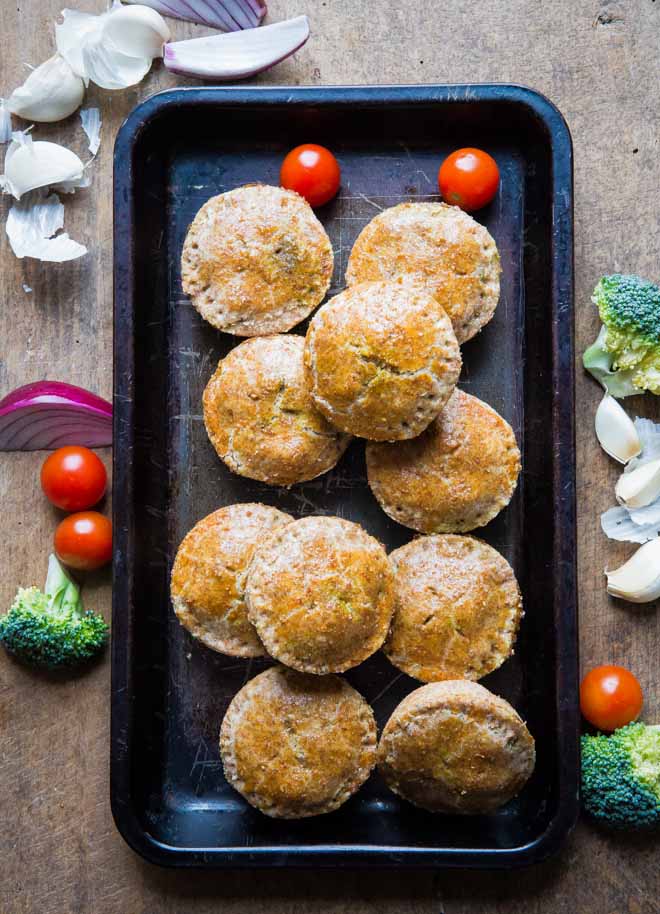 Posted in Recipes on 26.09.2017
Broccoli, Sweet Potato & Pesto Pies
prep: 15 mins / cook: 50 mins / inactive: 30 mins / total: 1 hour 35 mins / quantity: 12 Pies Print recipe?
For me, autumn is all about pies.  And if it's not, well it should be!  In season right now are broccoli and sweet potatoes – yeah I know most things are available all year round but when things are actually in season that's the absolute best time to use them – the natural flavours are abundant not forced and bland.  Couple that with something like crisp, flaky pastry and your taste buds will be screaming this was meant to be!
I'll apologise now for the length of this post.  And for the downright picture heaviness.  I so want to encourage people to get into their kitchens and celebrate making something from scratch – because folks, nothing NOTHING beats eating something that's been lovingly crafted with fresh ingredients rather than an opened packet and shoved in a microwave.
I know that busy lives mean processed food is a great go to when you don't have time.  But when you DO have time, make something healthy and filling – and a couple of these mini pies with a crisp salad (lambs lettuce is also currently in season, just so ya know!) and you'll know you've eaten!
If you're a bit intimidated by making pastry don't be.  I've taken your hand and guided you through here.  For these pies you want the pastry to be about the thickness of a £1 coin
Gently ease them into your prepared tin then really pack in the filling.  Like REALLY pack it in – I hate stingy pies!  You know those pies full of promise with their crisp, gloriously golden pastry .. then you take a bite and contemplate sending a search party for the filling.  I pack them till I think they're full and then pack in a little bit more, pushing down – making sure I use up all that filling!
You can go to town with your crimping here too.  Me, I'm just a 'rustic, fork round the edges' kinda gal ?  Poke a couple of holes in the top too – this helps let a bit of steam out ensuring crispity crisp pastry.
First time I made these pies was for something called Twitter Bake Along on, er, Twitter!  If you're a fan of baking or watching other people bake then get yourself along to Twitter and follow Jackie and Rob.  Based on The Great British Bake Off each week they set a new challenge with a certain theme and bakers worldwide are invited to share their bakes on Twitter with the hashtag #twitterbakealong.  There's some uh-mazing prizes up for grabs and even if you don't want to/can't find the time to take part that doesn't stop you drooling over some very drool worthy bakes from some very talented bakers!
I've made these pies with both plain flour pastry and then with wholemeal flour pastry and the wholemeal got the double thumbs up from the Chief Taste Tester.  I've also used cauliflower instead of the broccoli.  Thumbs down from Chief Taste Tester – however he doesn't like cauliflower (well not when he can actually taste it) and I loved the pies both ways.  But then I love pie.  And vegetables.  Gonna have to be a really bad vegetable pie to get a thumbs down from me.
If you make this recipe or any of the recipes from The Cook & Him we'd LOVE to see! Just snap a picture and share it on Instagram using #thecookandhim and tagging @thecookandhim in the photo itself (as this guarantees we'll see your picture!
)
And don't forget to follow us on Instagram , Facebook or Twitter for even more recipe inspiration and chat, competitions, behind the scenes and so much more!
Broccoli, Sweet Potato & Pesto Pies
prep: 15 mins / cook: 50 mins / inactive: 30 mins / total: 1 hour 35 mins / quantity: 12 Pies
Ingredients
250g wholemeal flour
110g vegan butter – diced
Pinch salt
4-6 tblsp cold water
1 large sweet potato – peeled and diced into small chunks
200g broccoli (can substitute with cauliflower or have a mix of both!) – broken into small florets
1 red onion – peeled and finely chopped
2 cloves garlic – crushed
Few sprigs fresh thyme – leaves removed
Handful of flat leaf parsley – stalks removed and roughly chopped
3 tblsp vegan basil pesto
Olive oil
Instructions
Starting with the pastry, tip the flour into a large bowl and add the diced butter and salt.  Using your finger tips 'rub' the butter into the flour until the mixture resembles fine breadcrumbs and you no longer have any large lumps of unmixed butter.
Add 4 tblsp of cold water and work gently to bring the mixture together to form a dough, adding more water if needed.  Try not to knead the dough too much as this is what makes it tough once cooked
Once you have the dough formed, flatten it into an oval disc, wrap in cling-film and put in the fridge for at least 30 minutes or overnight (or freeze!)
Preheat the oven to 160 Fan / 180 C / 350 F / Gas 4 and brush the insides of 12 hole muffin tray with butter, oil or spray oil.  Dust each muffin hole with a little flour and shake out the excess.  This just helps the little pies release easily from the tin
For the filling, bring a medium pan of salted water to the boil then add the diced sweet potato.  Boil for 5 minutes, add the broccoli florets and boil for another 5 minutes.  Drain off all the water
Saute the diced onion and crushed garlic in a small frying pan with a drizzle of olive oil and the thyme leaves until the onion becomes soft and translucent.  Add to the broccoli and stir together with the pesto and roughly chopped parsley, a few good grinds of pepper and a large pinch of salt
Remove the pastry from the fridge and on a floured work surface, roll out the pastry till it's about the thickness of a £1 coin.  Remember to turn the dough frequently as you roll to help prevent the pastry sticking to the table.
Using a 3 1/4 inch (8 1/2 cm) round cutter, cut 12 circles and gently ease each one into your muffin tin, pushing the pastry down into the corners – you can use a little nub of excess pastry to push the pastry into the holes
Then using a 2 3/4 inch (7 cm) round cutter, cut another 12 circles (re-rolling the extra pastry as necessary) Set aside while you fill!
Pack the filling into your little pies as tight as you can, gently pushing down so you can get as much filling in as possible.  Once you've filled them all brush the edges of the pastry with some beaten egg then place on the lids pushing down gently
Brush the tops with some more egg then using a pointed knife poke a couple of holes in the top of each pie
Bake for 45-50 minutes until golden brown.  Leave to cool for a few minutes in the tin to firm up then gently remove
Notes
These little pies are just as tasty hot or cold and are great in lunchboxes or very handy for picnics!  They also freeze really well!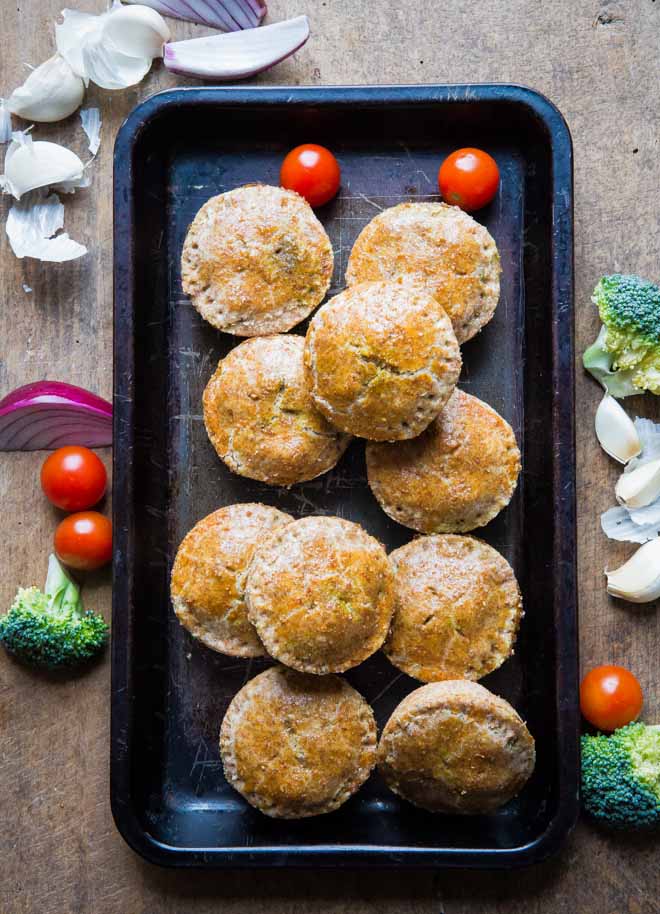 Hello and welcome to The Cook & Him.
We are Sam (The Cook), Phil (Him) and our little dog Nooch. What started with a plan to shed a few pounds back in 2016, soon became obvious that eating healthy doesn't have to be bland and boring.
So, combining Sam's 15 years of experience working within Michelin starred restaurants and our love for deliciously healthy food, we're creating recipes for you to make and enjoy. We've added our own unique spin on traditional and contemporary vegetarian and vegan recipes that keep you (and your pets!) healthy and full.  And we make sure they just work.
All things autumn - warming soups, savoury bakes and delicious sweet treats!
and I would like to see...
Or search for a recipe or post by keyword