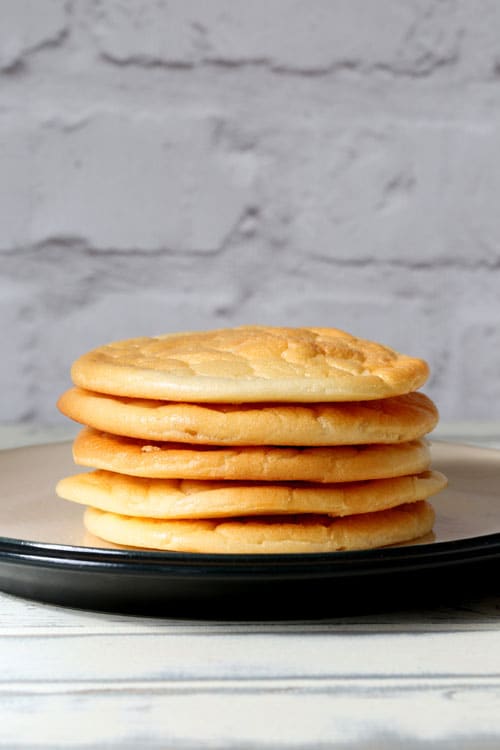 Posted in Recipes on 14.09.2017
Cloud Bread
prep: 10 mins / cook: 20 mins / inactive: 0 mins / total: 30 mins / quantity: 10-12 disks Print recipe?
So I finally decided to find out for myself what all the fuss about cloud bread was.  And to be honest, I was sceptical but ended up being more than pleasantly surprised!  They're light, but deceptively tasty and mean I can have a sammidge without all those carbs!  And they're SO easy to make, needing just a few store cupboard ingredients.
The most important thing is to absolutely positively make sure your egg whites are whisked till they're stiff and foamy.  An old cheffy trick is that you can tell if they're done by holding the bowl of whisked whites upside down over your head.  If they stay in the bowl they're done.  If they're not … I implore you to have someone taking photos because THAT I wanna see!
Once your whites are nicely whipped you GENTLY (repeat with me … GENTLY) fold in the other ingredients.  You and your (electric) whisk have tirelessly laboured to whisk in all that air, you don't want to beat the crap out of it now!
When they're cooked you can put them under the grill for literally just a few seconds to brown the tops a little more.  Don't assume that a few seconds means a few few seconds and that you can walk off and leave them.  I hear you end up with *coughsplutter* burnt eggy frisbies and the setting off of fire alarms.  Of course I totally didn't do that.
Anyhoo …
I also couldn't decide what to use as toppings – sweet, savoury or a bit of both … so I tried them all! And they ALL work!
If you make this recipe or any of the recipes from The Cook & Him we'd LOVE to see! Just snap a picture and share it on Instagram using #thecookandhim and tagging @thecookandhim in the photo itself (as this guarantees we'll see your picture!
)
And don't forget to follow us on Instagram , Facebook or Twitter for even more recipe inspiration and chat, competitions, behind the scenes and so much more!
Cloud Bread
prep: 10 mins / cook: 20 mins / inactive: 0 mins / total: 30 mins / quantity: 10-12 disks
Ingredients
3 medium eggs – separated
3 tblsp low fat cream cheese
1/4 tsp salt
1 tsp coconut sugar
1/4 tsp baking powder
Instructions
Heat oven to 130 Fan / 150 C / 300 F / Gas 2
Whisk together the egg yolks, cream cheese, salt and sugar
In a separate, clean, grease free bowl whisk together the egg whites and baking powder to STIFF PEAKS – this is important – the whites must hold their shape and leave peaks when you pull up the whisk or the mixture will be too runny when you add the rest of the ingredients!
Add a large spoonful of whisked whites to the yolk mixture and gently fold through. Then add the remaining whites, working quickly but gently – carefully folding to make sure as little air as possible is lost from the whites
Spoon onto a lined baking tray, into 10-12 equal rounds, gently pushing into circles
Bake for 20 minutes
They will be very puffy as they come out of the oven but will flatten and deflate slightly as they cool – this is normal 
You can pop them under a hot grill for a few seconds just to brown the tops a little bit more - but keep a VERY careful eye on them as they will burn very quickly!
Notes
These are great low carb alternative to bread for making sandwiches – our favourite toppings/fillings are: Goats cheese topped with slices of fresh, juicy nectarine and drizzled with honey Roast a handful of grapes and walnuts with a tiny blob of coconut oil, leave to cool slightly and use on top of some homemade houmous Cream cheese topped with diced sun dried tomatoes, shredded basil and alfalfa sprouts
You can also add fresh herbs to the egg yolk mixture - finely chopped rosemary and chives work well!
Hello and welcome to The Cook & Him.
We are Sam (The Cook), Phil (Him) and our little dog Nooch. What started with a plan to shed a few pounds back in 2016, soon became obvious that eating healthy doesn't have to be bland and boring.
So, combining Sam's 15 years of experience working within Michelin starred restaurants and our love for deliciously healthy food, we're creating recipes for you to make and enjoy. We've added our own unique spin on traditional and contemporary vegetarian and vegan recipes that keep you (and your pets!) healthy and full.  And we make sure they just work.
All things autumn - warming soups, savoury bakes and delicious sweet treats!
and I would like to see...
Or search for a recipe or post by keyword