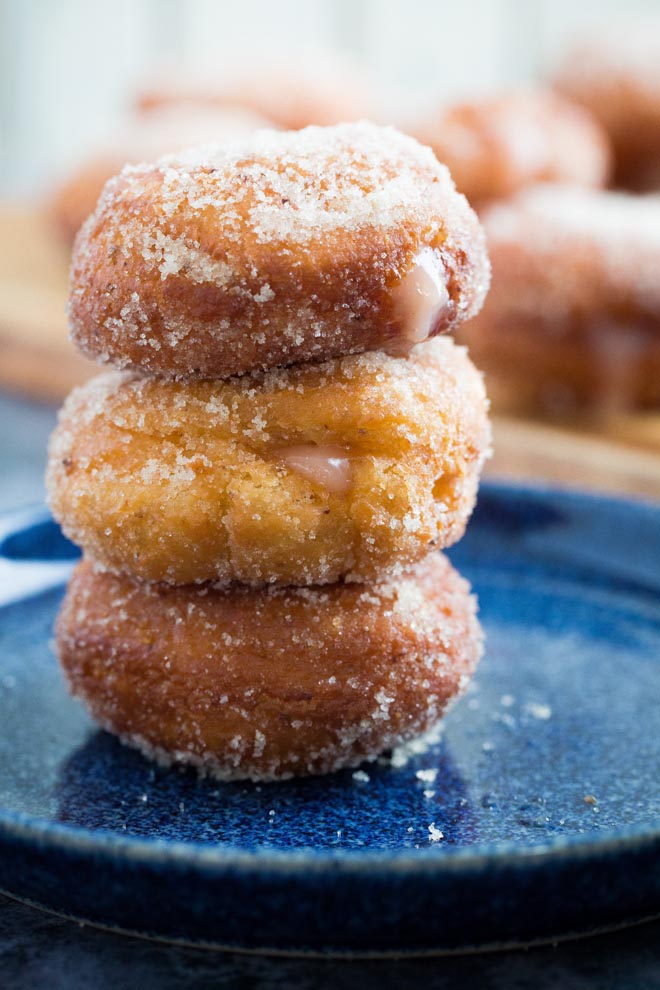 Posted in Recipes on 07.09.2019
Fried Donuts with Grapefruit Curd
prep: 20 mins / cook: 20 mins / inactive: 2 hours 0 mins / total: 2 hours 40 mins / quantity: 18-20 donuts Print recipe?
Super easy recipe for fried donuts with a crisp, sugary outside and soft, fluffy centre and a divinely sweet grapefruit curd filling!
Fried donuts are my kryptonite.  My hunger for those sticky, sweet bites of sugary heaven knows NO bounds.  I also know they're about as unhealthy as they can get – being deep fried and drenched in sugar after all.
But sometimes (and I mean a very rarely sometimes because I will literally eat the lot) I embrace my sweet cravings and make fried donuts.
Baked donuts have their place and are even easier to make, giving you a quick donut fix when needed
So I've tried to make this fried donut recipe as simple as possible – even the grapefruit curd.  Because I SO want you to embrace your sugary side with me.  We can go back to being raw and healthy tomorrow.  Today is the day for fried donuts.
How to make fried donuts
The best type of fried donut is the yeast risen kind.  Don't panic, it's not at all finicky and because we're using plain flour there isn't hours of strenuous kneading.  For this really easy donut recipe we start by blending the fat into the flour – this can be done by hand or in a stand mixer.  Then warm the liquid to blood temperature – this means that when you put your finger in it you can't tell if it's hot or cold!  Too hot and you'll risk killing the yeast, too cold and the dough will take longer to prove.  If you're concerned, err on the side of cooler rather than warmer.
Once your liquid is warmed, whisk in the yeast and leave it to froth for just a few minutes.  Then mix the wet with the dry, knead gently and lightly.  Just enough to bring it together to form a dough.  Put into a clean, oiled bowl.  This helps stop the dough sticking to the bowl – which equals more donuts and is the real reason 😉
It's a very soft dough and only needs some gentle handling.  No furious kneading like normal bread.  This gives the finished donuts such a wonderfully soft centre in the middle of that divinely crisp, sweet shell.
The dough is then left to prove in a warm place for around an hour or until doubled in size.  If your oven has a bread proving setting use this as it will probably take less time – just 30-40 minutes.
While that's proving make the vegan curd so that it has time to cool and set.
This is also really easy – it's a bit like making custard with custard powder.  And is where Foodie Flavours really comes into its own.  They are little bottles of natural food essences, perfect for adding a real kick of flavour without upsetting the balance of a recipe by having to add a lot of something to get a good amount of flavour.
Just mix a little of the plant milk with the cornflour and bring the rest of the milk to boil with the sugar.  Whisk the cornflour paste into the hot milk and and whisk until it starts to thicken.  Pour into a container and lay a piece of parchment or cling film so that it rests on top of the curd – this helps prevent a skin forming.  Pop in the fridge until you're ready to use.
Once your dough has proven, gently roll out on a well floured surface and use a cutter to cut circles.  Lay onto a tray, spacing fairly well apart as they will grow as they prove.
Again, leave for around an hour until well risen then deep fry (I used a wok for this!) before draining and coating in sugar.  THE BEST BIT 😉  And they're perfectly edible just like this but adding the curd takes them to a whole new level of I need some kind of helpline to stop me eating these good.
Phil was cleaning the car as I started frying them and he suddenly appeared, salivating and asking why the house smelt like a fairground!  This donut recipe makes a lot (18-20) so you could halve it or spread the donut love because everyone deserves a donut in their life from time to time right?
If you make this recipe or any of the recipes from The Cook & Him we'd LOVE to see! Just snap a picture and share it on Instagram using #thecookandhim and tagging @thecookandhim in the photo itself (as this guarantees we'll see your picture!
)
And don't forget to follow us on Instagram , Facebook or Twitter for even more recipe inspiration and chat, competitions, behind the scenes and so much more!
Fried Donuts with Grapefruit Curd
prep: 20 mins / cook: 20 mins / inactive: 2 hours 0 mins / total: 2 hours 40 mins / quantity: 18-20 donuts
Ingredients
Donuts:
1 tblsp ground flax seeds
3 cups (430g) plain flour
1/3 cup (80g) vegan butter – cut into cubes
1/2 cup (90g) golden caster sugar
1 cup (230ml) unsweetened almond milk (can sub with any plant based milk)
2 + 1/2 tsp fast action dried yeast
Vegetable oil for deep frying
Extra golden caster sugar for coating
Grapefruit Curd:
2 tblsp (20g) cornflour
1/2 cup (125ml) unsweetened almond milk (can sub with any plant based milk)
1/2 cup (90g)  golden caster sugar
20 drops Foodie Flavours Grapefruit Essence
1 tblsp vegan butter
Instructions
Start with the donuts - put the flax seeds into a small bowl or mug with 3 tblsp cold water and set aside
Put the flour and cubed butter into a large bowl or bowl of stand mixer and rub the two together using your hands or a paddle attachment until the mixture resembles breadcrumbs. Stir in the sugar
Gently warm the milk to blood temperature (this means that when you put your finger in it you can't tell if it's hot or cold) then whisk in the yeast. Leave to stand and froth for 2-3 minutes
Add the flax mixture to the milk then add this to the bowl of dry ingredients, mixing together until it forms a soft, slightly sticky dough
Put into a clean, oiled bowl, cover with a cloth and leave to prove for around an hour or until doubled in size
While that's proving make the curd - put the milk and sugar into a saucepan and the cornflour into a small bowl or mug
Add a tablespoon or so of the milk to the cornflour and whisk to a smooth paste
Heat the milk and sugar until just boiling then whisk in the cornflour paste. Continue whisking over a gentle heat until it starts to thicken
Whisk in the grapefruit essence and vegan butter then leave to cool slightly for a few minutes before pouring into a container
Lay a piece of parchment or cling film on top of the curd, making contact with it - this helps prevent a skin forming. Chill in the fridge until you're ready to use
Once the dough has proven, tip onto a well floured surface and roll out to 1/2 inch (1 cm) thick. If you want fatter donuts roll out around 3/4 in (1 1/2 cm) thick. You will get less donuts the thicker you make them though!
Lay a piece of parchement or silicon mat onto a large tray and brush with a little oil - this helps prevent the dough sticking so that you can easily left them when you're ready to fry
Use a 3 inch (7 1/2 cm) cutter to cut circles then lay each one onto the tray, spacing reasonably well apart as they will grow
Prove in a warm place until puffy and well risen
Heat a good amount of oil (at least 1 inch deep) in a large pan - I used a wok for this! Carefully lift a donut off the tray (I use a fish slice for this) and gently drop into the oil. Don't overcrowd the pan - I cook 3-4 at a time only
While they're frying lay a couple of sheets of kitchen paper onto a tray and put some sugar into a bowl
Turn the donuts after a minute or so or when the underside is golden
Cook on the other side for another minute or so then lift out of the oil with a slotted spoon and lay onto the kitchen towel, gently turning to drain off as much excess oil as possible
Drop into the bowl of sugar and turn to coat. Set aside on another tray to cool
Repeat until all the donuts are cooked, changing the kitchen paper after every couple of batches
Use the end of a wooden spoon to poke a hole in the side of each donut, pushing the spoon in the centre to make a well
Fit a piping bag with a thin nozzle and spoon in the grapefruit curd. Pipe around 1 tblsp of curd into each donut - don't overfill or it'll just ooze back out!
If they last that long, store the donuts in an airtight container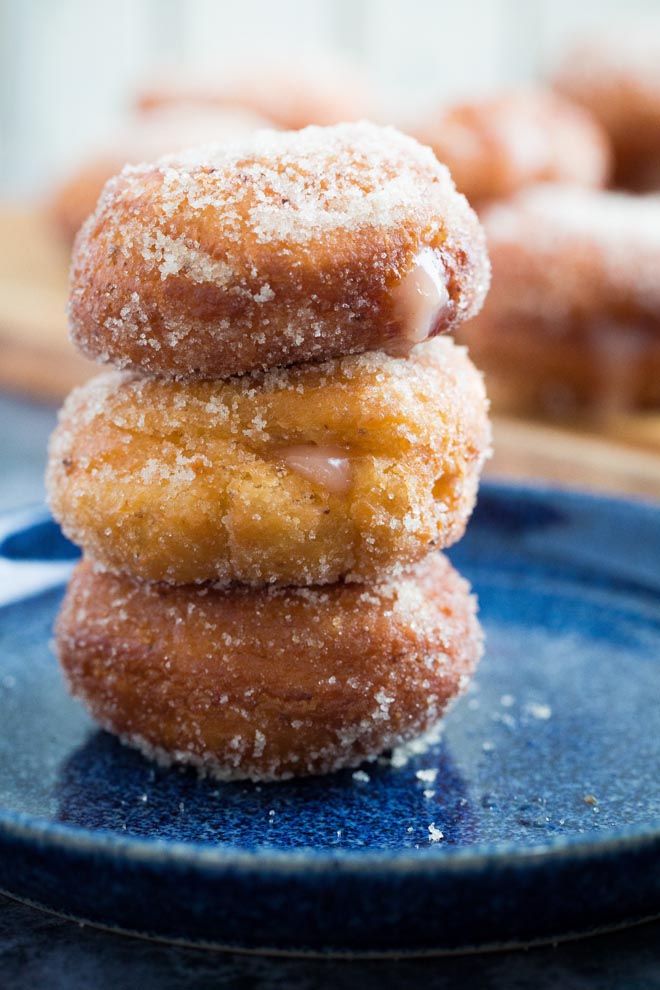 Some products I used in today's post...
Some of the links above are affiliate links, which pay us a small commission for our referral at no extra cost to you! Thank you for supporting The Cook & Him.
Hello and welcome to The Cook & Him.
We are Sam (The Cook), Phil (Him) and our little dog Nooch. What started with a plan to shed a few pounds back in 2016, soon became obvious that eating healthy doesn't have to be bland and boring.
So, combining Sam's 15 years of experience working within Michelin starred restaurants and our love for deliciously healthy food, we're creating recipes for you to make and enjoy. We've added our own unique spin on traditional and contemporary vegetarian and vegan recipes that keep you (and your pets!) healthy and full.  And we make sure they just work.
All things autumn - warming soups, savoury bakes and delicious sweet treats!
and I would like to see...
Or search for a recipe or post by keyword