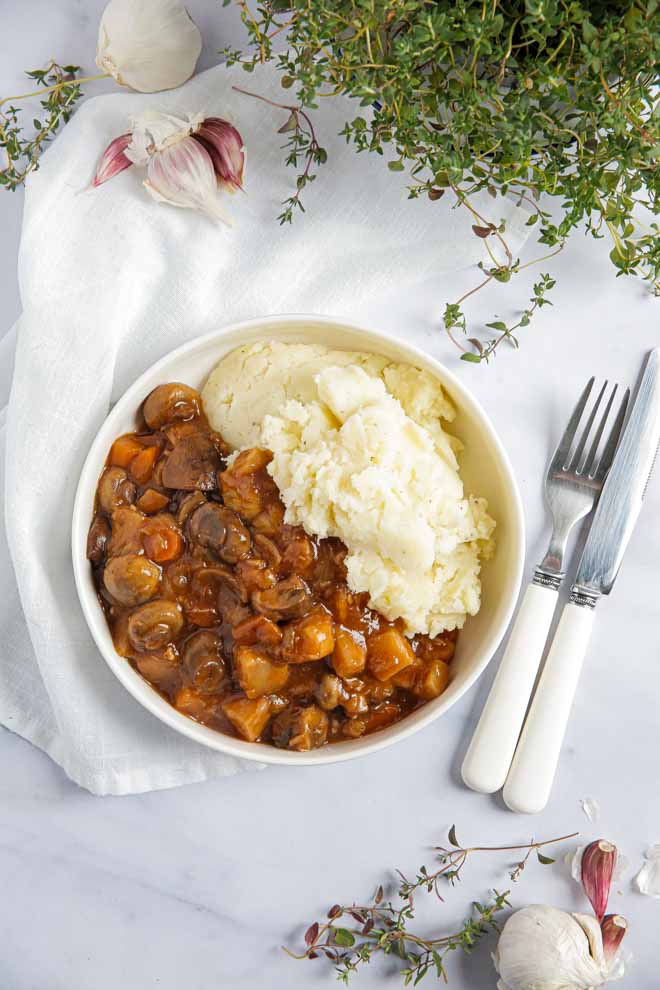 Posted in Recipes on 11.01.2021
Instant Pot Mushroom Bourguignon | Easy & Vegan!
prep: 20 mins / cook: 30 mins / inactive: 0 mins / total: 50 mins / quantity: 4 servings Print recipe?
For a healthy, hearty and easy family meal this vegan instant pot mushroom bourguignon is filling, comforting and guaranteed to warm you up from the inside out! Full of veggies and herbs in a rich red wine sauce it's made in a pressure cooker for an easy weeknight meal!
I'm SO getting into my Instant Pot.  I'm intrigued to know how much I'll use it during the warmer, summer months but for now it's getting at the very least a weekly workout.  It just makes light of so many dishes.  But no more so than this Instant Pot mushroom bourguignon.
For hearty winter warming dinners I often make this Chestnut Mushroom Bourguignon – leaving it to bubble away on the stove for a couple of hours for a rich and hearty meal.  But the Instant Pot does all the hubbling and bubbling for you in around 30 minutes!  The other beauty of the Instant Pot (no affiliation, just a genuine fan) is that you can delay when the cooking starts.  This means you can fill the pot at any time and then set when you want the meal ready for.  This is great if you have more time or motivation in the morning or a day or two before when you can prep all the veg then just pop it in before you start your day and you've got a healthy, filling meal waiting for you.
This is working perfect for me as I always do my food prep, recipe development, photography etc in the morning when there's the best light.  In the current depths of winter, anything after about 2pm is just too dark.  That's when I do the photo editing, blog post writing and catching up with stuff.  But after a whole day of cooking, reading/writing about, looking at food the last thing I want to do of an evening is even more cooking.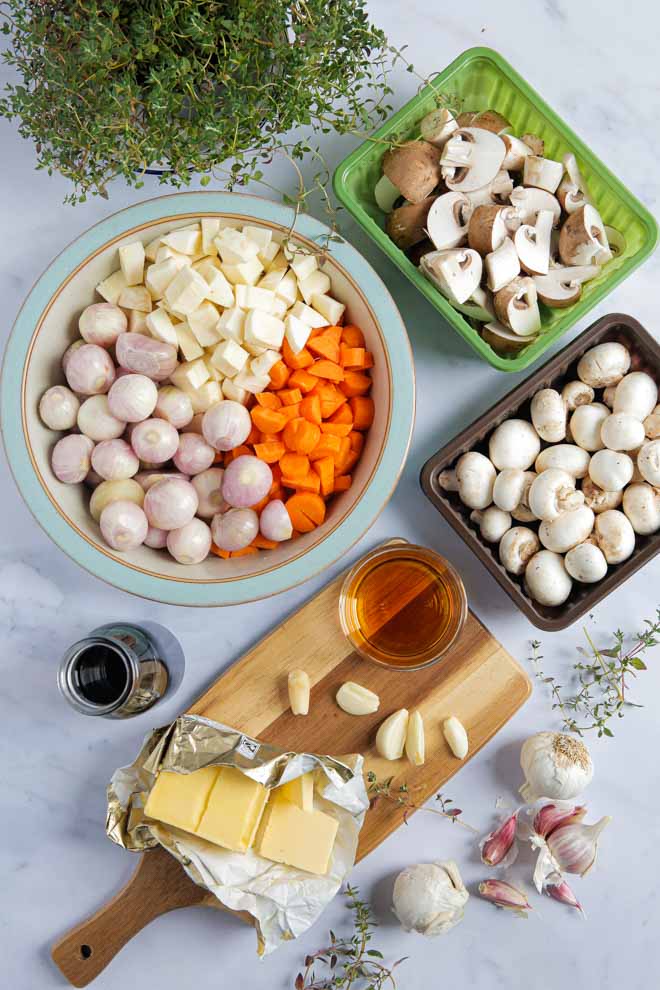 I prep all the veg while something else I'm working on is either in the oven or on the stove.   Though I will admit I do sit down to peel the shallots, fiddly little buggers!  But I can't bring myself to replace them for this bourguignon recipe.  Either cooked slowly or pressure cooked they become meltingly soft.  All the harsh flavour is cooked out of them, leaving them sweet and almost buttery.
Another great thing about this vegan casserole is the adaptability of it.  You can use any root veg for this, not just the parsnips and carrots I've listed.  Squash, turnips, swede all taste great in this rich red wine and brandy sauce.  Use whatever you have  or whatever's seasonal.  Everything you add will add its own unique flavour to the finished stew.
How to make this simple Vegan Bourguignon:
Prep ALL the veg.  This is the lengthiest bit.  But it's SO worth it.  Everything becomes melt in mouth soft and divine.  Crunchy veg?  No siree, not in this bourguignon!
Press the saute button on your Instant Pot.  Then toss in the oil and all the veg (apart from the garlic) and cook for around 10 minutes until it's just starting to caramelise.
Turn the saute off.  And add all the remaining ingredients except for the salt, pepper and cornflour.  Pro tip – measure everything into one jug so you can just pour it into your Instant Pot when you've finished sautéing the vegetables!
Put the lid on and set the vent to sealing.  Then set manual pressure to 10 minutes.  It will take 5-10 minutes to come up to pressure but the Instant Pot will beep when it starts the cooking countdown.
Once the countdown has finished leave it to vent manually for 10 minutes.  This just means you don't touch the venting knob.  After 10 minutes release any remaining pressure, stir in the thickening cornflour, season and serve!
This dish is also very receptive to freezing, so don't be afraid to bulk out any veg, a bit more liquid and keep some handy for days you can't be bothered.  Because I know I certainly get those kind of days 😉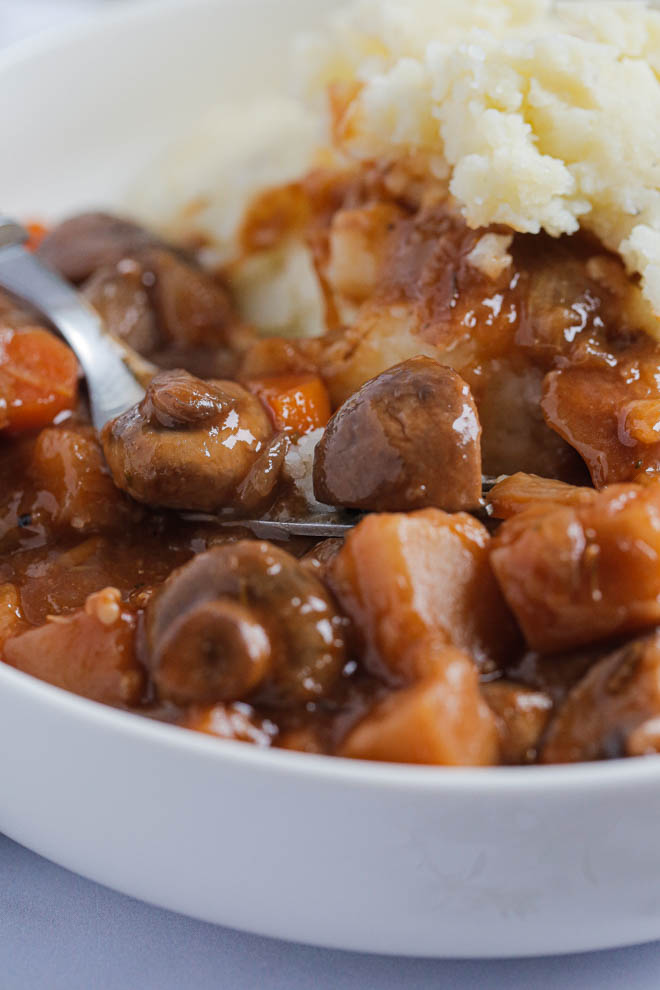 Looking for more Instant Pot inspiration?  We've only a couple of recipes so far (that will definitely change!) but they're on regular rotation in our weekly meals …
I'd love to hear from you if you make this Instant Pot Mushroom Bourguignon! Just leave a comment as it's so helpful and I love to hear how the recipe worked out for you! Thank you so much!
Don't forget to follow us on YouTube, Facebook or Pinterest for even more recipe inspiration and chat, competitions, behind the scenes and so much more!
Instant Pot Mushroom Bourguignon | Easy & Vegan!
prep: 20 mins / cook: 30 mins / inactive: 0 mins / total: 50 mins / quantity: 4 servings
Ingredients
1 tblsp oil
1 pound (400g) baby onions or small shallots – peeled
 2 large carrots – scrubbed or peeled and roughly diced
2 large parsnips – peeled, roughly diced and woody stem removed
8 ounces (220g) button mushrooms
9 ounces (260g) chestnut mushrooms – halved
2 cups (500ml) vegetable stock
1 cup (250ml) red wine
2 tblsp brandy
4-5 cloves garlic – peeled and crushed
2 tblsp tomato puree
4-5 sprigs fresh thyme or 1 tsp dry thyme
2 sprigs fresh rosemary or 1 tsp dried thyme
1 heaped tsp miso paste
2 tblsp cornflour
Salt and pepper
Instructions
Peel and prep all the veg
Set instant pot to saute then add in the oil, baby onions, carrots, parsnips and mushrooms and cook for 5 minutes, stirring from time to time, until just starting to caramelise. Turn the saute function off
Add the stock, wine, brandy, crushed garlic, tomato puree, herbs and miso paste - measure everything into one jug to make it easier to just pour straight into your Instant Pot!
Set the vent to sealing then set to pressure cook for 10 minutes (it will also take 5-10 minutes to come up to pressure temperature)
Once the timer goes off leave the vent to sealing and allow it to manually vent for 10 minutes
After 10 minutes turn to venting to release any remaining pressure
While it's venting whisk the cornflour with just enough water to make a runny paste
Remove the lid then stir in the cornflour and water mixture to thicken the sauce
Add salt and pepper to taste
Serve immediately (goes perfectly with mashed potatoes!) or leave to cool completely and chill or freeze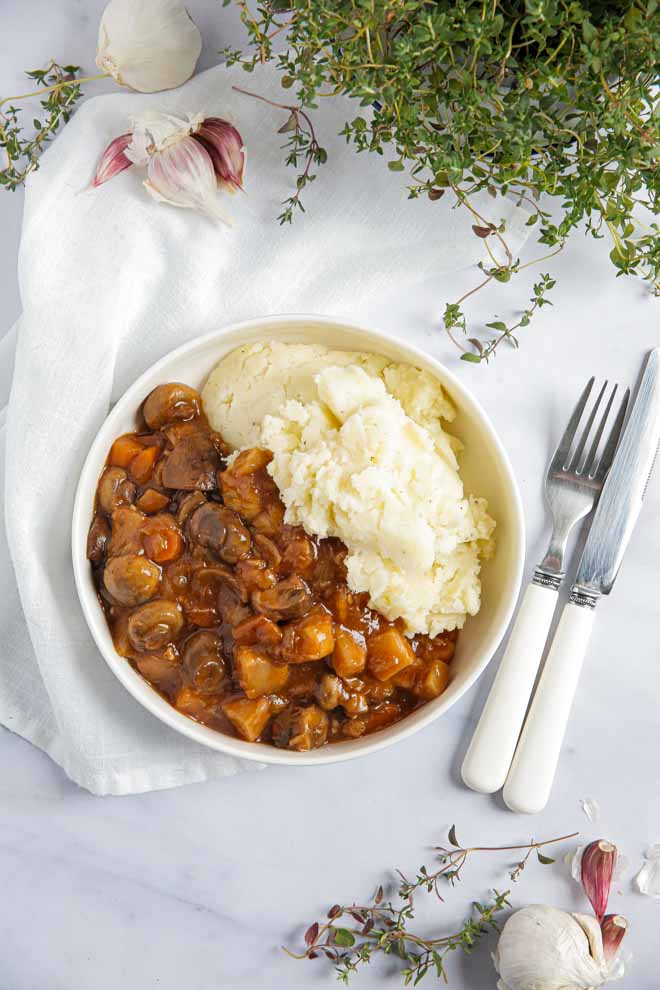 Hello and welcome to The Cook & Him.
We are Sam (The Cook), Phil (Him) and our little dog Nooch. What started with a plan to shed a few pounds back in 2016, soon became obvious that eating healthy doesn't have to be bland and boring.
So, combining Sam's 15 years of experience working within Michelin starred restaurants and our love for deliciously healthy food, we're creating recipes for you to make and enjoy. We've added our own unique spin on traditional and contemporary vegetarian and vegan recipes that keep you (and your pets!) healthy and full.  And we make sure they just work.
All things autumn - warming soups, savoury bakes and delicious sweet treats!
and I would like to see...
Or search for a recipe or post by keyword