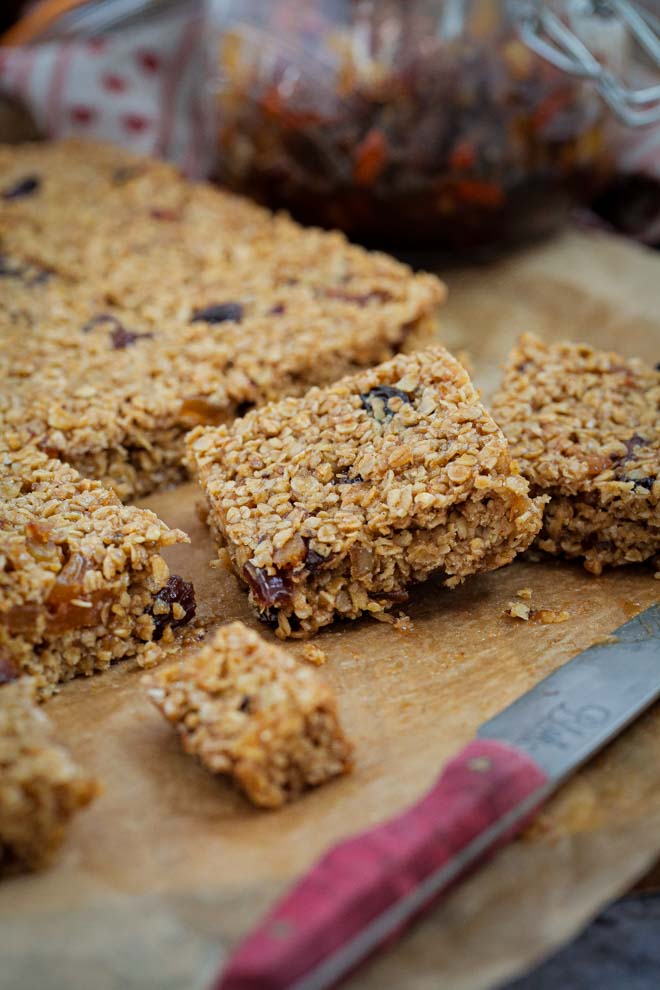 Posted in Recipes on 14.12.2020
Mince Pie Flapjacks | Vegan & Gluten Free
prep: 30 mins / cook: 30 mins / inactive: 0 mins / total: 60 mins / quantity: 12 squares Print recipe?
These mince pie flapjacks are a super simple twist on a classic flapjack – all the golden syrup flavour with a spicy, fruity kick! A truly scrumptious festive treat!
And the bonus is that mince pie flapjacks are SO easy to make you can get the whole family involved – keeping sticky little fingers extra sticky and busy!
I don't know about you but I've always got some mincemeat left over after the festive hubub.  Which isn't a problem because I love the stuff and October to December really isn't long enough to get to enjoy it!  But I'm always on the lookout for something new and interesting to add those few rogue tablespoons of mincemeat to.
Enter these mince pie flapjacks.  Little spicy, festive squares filled with oats, golden syrup and beautiful mincemeat spice and fruit.
However, there's no getting away from the fact that you HAVE to eat these before the New Year health kick, er, kicks in.  Because there's NOTHING healthy about these.  Lots of (vegan) butter, lots of golden syrup, a good amount of brown sugar and of course mincemeat.  If you've never made your own mincemeat I have a REALLY easy recipe. It takes just 15 minutes to make and stores well for up to 2 months (may even be longer, I've not tested yet!).  These flapjacks use roughly half of this vegan mincemeat recipe.
How to make these really easy festive flapjacks:
Make the mincemeat.  Obvs.  Or use whatever mincemeat you have left over.  Though these flapjacks are SO moreish you might actually find yourself making more just to make these!
Melt the butter, sugar and syrup together.  Then stir in everything else – oats, cinnamon, nutmeg and mincemeat.
Pour into a prepared tin and bake!  It really is as gloriously uncomplicated as that!
Other than leaving them to cool a little because molten sugar.  The smell will drive you bonkers though and you'll have to exercise all self restraint not to slice and shovel straight out the oven.  Wanna see the face that lets you know how good these are?
I swear to God this man has hollow legs.  For every one of my squares of flapjack he had three.  And doesn't put on a pound.  Truly maddening.
However, because there's oats in these Christmas flapjacks, that makes it perfectly legit to eat them for breakfast right?
Love mincemeat?  Well so the flipping heck do we!  Here's some of thoroughly tested favourites (all vegan too):
Viennese Whirl Mince Pies – Phil claims these delicate, buttery little pies are the future.  So it must be true.
Mincemeat Cookies – another perfectly acceptable breakfast alternative.
Gingerbread Mince Pies – marriage made in baking heaven.
Mincemeat Ice Cream Pops – super simple little frozen treats
Don't forget to follow us on YouTube, Facebook or Pinterest for even more recipe inspiration and chat, competitions, behind the scenes and so much more!
Mince Pie Flapjacks | Vegan & Gluten Free
prep: 30 mins / cook: 30 mins / inactive: 0 mins / total: 60 mins / quantity: 12 squares
Ingredients
300g vegan mincemeat – roughly half this recipe
200g vegan butter
120g golden syrup
200g soft light brown sugar
400g rolled oats
1/2 tsp cinnamon
1/2 tsp nutmeg
Instructions
If you're making mincemeat rather than using any leftover, do that first and leave to cool slightly
Preheat your oven to 180 Fan / 200 C / 400 F / Gas 6 and line a brownie tin with parchment to cover the base and sides
Melt the butter with the syrup and sugar, stirring until the sugar has dissolved
If you've used a big enough saucepan you can then just tip in the oats, nutmeg, cinnamon and mincemeat and stir everything together. Otherwise put the dry ingredients in a large bowl and add the melted syrup mixture to it before stirring together well
Tip into your prepared tin and bake for 30 minutes until golden and bubbly. It sets a little upon cooling so don't worry if it still feels too soft to cut
Allow to cool for around half an hour before slicing into squares
Notes
If you want neat edges on the squares you'll want to cool the flapjacks completely before chilling in the fridge for a couple of hours
We also had a disagreement of opinion - Phil preferred his flapjacks chilled from the fridge whereas I preferred mine at room temperature! Both are delicious though!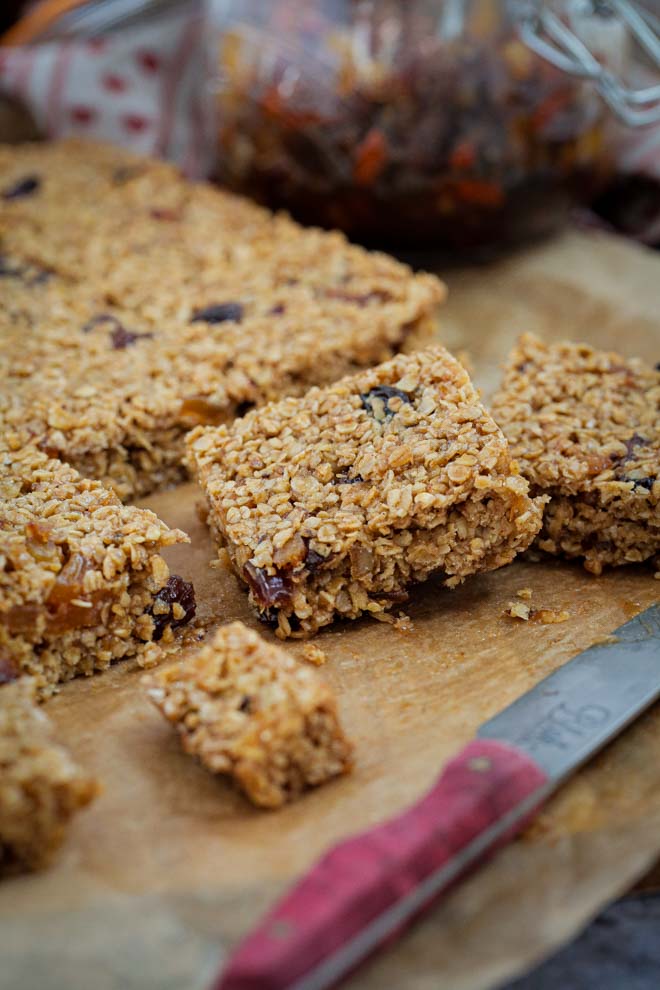 Hello and welcome to The Cook & Him.
We are Sam (The Cook), Phil (Him) and our little dog Nooch. What started with a plan to shed a few pounds back in 2016, soon became obvious that eating healthy doesn't have to be bland and boring.
So, combining Sam's 15 years of experience working within Michelin starred restaurants and our love for deliciously healthy food, we're creating recipes for you to make and enjoy. We've added our own unique spin on traditional and contemporary vegetarian and vegan recipes that keep you (and your pets!) healthy and full.  And we make sure they just work.
All things autumn - warming soups, savoury bakes and delicious sweet treats!
and I would like to see...
Or search for a recipe or post by keyword