Posted in Recipes on 23.09.2017
Chestnut Mushroom Bourguignon
prep: 30 mins / cook: 2 hours 0 mins / inactive: 0 mins / total: 2 hours 30 mins / quantity: 4 Generous Portions Print recipe?
Stews and casseroles always amaze me.  Take the most basic of ingredients, bubble away for a couple of hours and you end up with something so full of warming flavours you forget just how chilly it's beginning to turn.  If food could hug you, this bourguignon would.  Even ardent carnivores don't complain when I dish this up – the meaty chestnut mushrooms and rich, deep flavoured sauce make them forget they eat meat.  Well, maybe not permanently, but we can keep trying!
Just like the meaty version, you want to caramelise the vegetables before you add any liquid.  The vegetables are not only the base for your stew but also the star attraction and you want to get as much flavour into them as possible.  Caramelising kicks it all off.
A little bit of an admission.  I know nothing about wine.  It may actually be a little less than nothing.  I just never acquired the taste.  I've had the cheap and dirty stuff in my hedonistic youth and I've had a taste from a £500 bottle of wine – both tasted like vinegar to me ?  For this bourguignon it doesn't really matter thankfully.  I'm sure wine connoisseurs would heartily disagree with me but as I have no appreciation for cheap wine or fine wine, the cheap stuff works just dandy for me here.  I'll leave it up to you to decide what value of wine you put in this, just as long as it's red!
Another thing I love about stews is that other than a little bit of stirring, they pretty much take care of themselves – infusing all that lovely flavour with little interference from us!  If you have a bit of extra time (mostly for button onion peeling – a great excuse to take a load off and do in front of the tv!) this recipe is easily increased and stashed in the freezer for future easy meals!
It also goes great with all kinds of things – a simple well seasoned mash lightened with a drizzle of olive oil and sprinkled with chopped chives, crisp chunky roast potatoes or thick crusty bread – try this Honey Oat Wholemeal loaf.
Chestnut Mushroom Bourguignon
prep: 30 mins / cook: 2 hours 0 mins / inactive: 0 mins / total: 2 hours 30 mins / quantity: 4 Generous Portions
Ingredients
1 tblsp olive oil
400g baby onions or round shallots
2 large parsnips
500g baby carrots
187 ml red wine – one of those small bottles – or if you have an open bottle of wine use that, the measurement is a guide amount, add more or less according to taste!
3 litres (approx) vegetable stock
4 cloves garlic – crushed
1 tblsp tomato puree
4-5 sprigs fresh thyme
2 sprigs fresh rosemary
200g button mushrooms – wiped clean
250g chestnut mushrooms – wiped clean and thickly quartered
Salt and pepper
Instructions
Peel the shallots - cut in half if they're quite large - and put into a large saucepan
Peel the parsnips and cut into chunks, cutting round the thick woody stem and discarding.  Put the chunks into the pan
Top and tail the baby carrots and add those to the pan as well.  If you can't get hold of baby carrots out of season use regular carrots, peel them and cut into similar sized chunks as the parsnip
Drizzle the whole lot with the olive oil and over a medium heat cook until the veg starts to caramelise, stirring occasionally.  You're looking for a lovely golden colour.  The bottom of your pan will most likely start to caramelise too - this is a good thing and where you'll get a lot of flavour from!
Next pour in the red wine, your veg stock, the garlic, tomato puree, thyme and rosemary and give a stir, scraping up anything that's stuck to the bottom of your pan.  
Gently bubble the whole lot for around 1 1/2 hours, stirring occasionally.  When the onions are soft enough to be squidged when you push them with the back of a spoon it's time to add your mushrooms.  Tip them all in, stir and gently bubble for another 30 minutes.  If you find your onions are still a little firm but the liquid is evaporating top up with water or more veg stock.  You want a rich and plentiful 'gravy' with your bourguignon!
Fish out the herb sprigs and taste for seasoning, adding sea salt and freshly ground black pepper as needed
Serve immediately or chill and keep in the fridge for up to 1 week.  Alternatively freeze in batches once completely cold
Notes
When cutting the vegetables you want bite sized pieces - but not too small to start with as they will shrink a little when cooking.  You want lovely mouthfuls of soft veg when you're done, not veg mush from all the cooking they'll be going through!
I always try and use fresh herbs wherever possible.  If you can't get hold of them just substitute with 1 tsp of dried herbs for each of them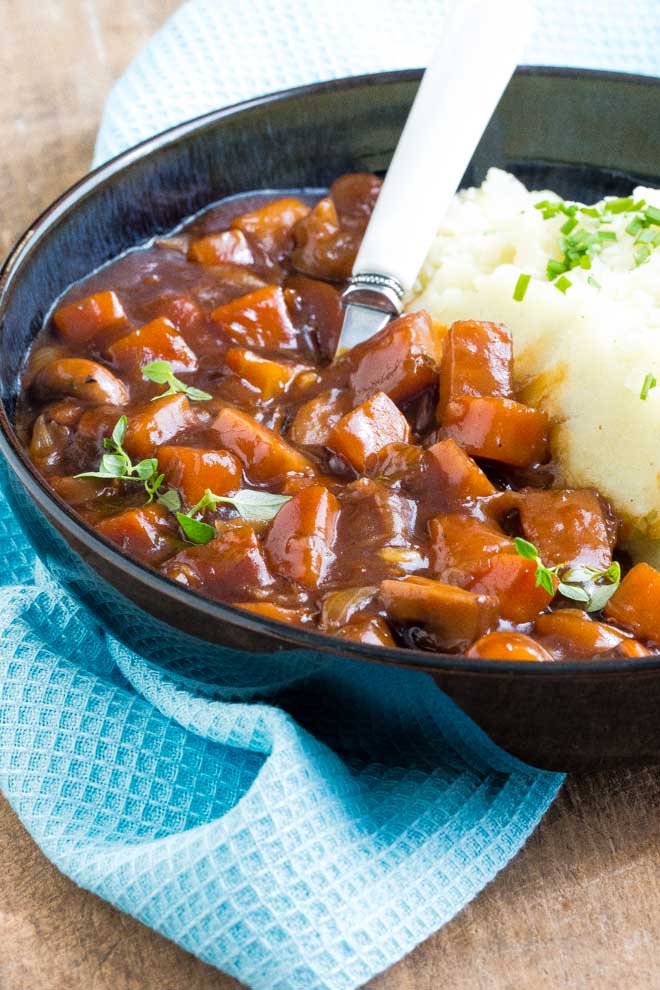 Some products I used in today's post...
Some of the links above are affiliate links, which pay us a small commission for our referral at no extra cost to you! Thank you for supporting The Cook & Him.
Hello and welcome to The Cook & Him.
We are Sam (The Cook), Phil (Him) and our little dog Nooch. What started with a plan to shed a few pounds back in 2016, soon became obvious that eating healthy doesn't have to be bland and boring.
So, combining Sam's 15 years of experience working within Michelin starred restaurants and our love for deliciously healthy food, we're creating recipes for you to make and enjoy. We've added our own unique spin on traditional and contemporary vegetarian and vegan recipes that keep you (and your pets!) healthy and full.  And we make sure they just work.
All things autumn - warming soups, savoury bakes and delicious sweet treats!
and I would like to see...
Or search for a recipe or post by keyword