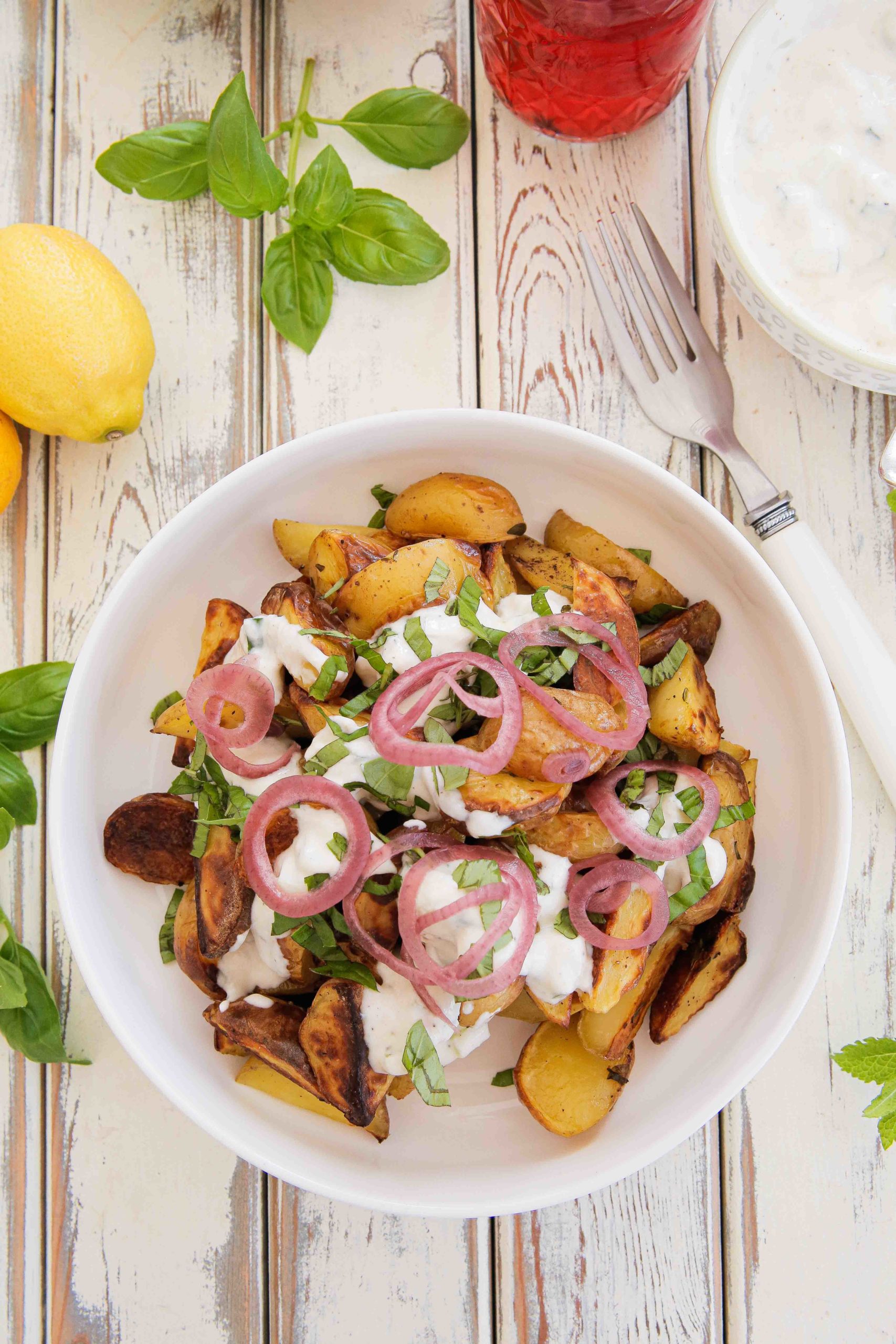 Posted in Recipes on 17.06.2023
Roasted New Potato Salad
prep: 15 mins / cook: 40 mins / inactive: 0 mins / total: 55 mins / quantity: 2-4 servings Print recipe?
Perfect for your al fresco feast this roasted new potato salad is a full step up from a traditional potato salad.
Are you the kind of person who seeks out the potato salad at a salad bar or BBQ?  Well you'll find me seeking right along next to you.  Because I love a good homemade potato salad.  Plenty of salt and pepper, maybe a touch of mustard and creamy mayo.  Of course, it's a little more of a challenge to find a vegan potato salad.  But this roasted new potato salad will be absolutely adored by vegans and omnis alike.  I absolutely guarantee it.
It has so many layers of flavour.  First the potatoes are roasted with lemon and thyme until the skins are crispy and the insides soft and fluffy.  They're then drenched with a creamy, herby, garlicky vegan tzatziki.  And finally topped off with quick pickled red onions.
Quick pickled red onions
Please don't be put off at the whole 'pickling' thing.  It's SO simple for these red onions and can be made and ready to eat in the time it takes for the potatoes to roast.  And they're sorta the sour icing on the potato cake.  The contrast of creamy flavours and sharp pickled onions is truly heavenly.
How to make this summer salad:
Start by roasting the potatoes.  Drizzle with a little oil then toss with salt, pepper, grated lemon rind and thyme – fresh if you have it, dried if you don't.
While they're roasting make the quick pickled red onions.  Which really is as simple as putting some thinly sliced onion rings in a jar then adding the rest of the ingredients.  They're ready to go in half an hour but also keep really well in the fridge so don't be afraid to add more sliced onions to the jar!
For the tzatziki mix together the vegan yoghurt, diced cucumber, fresh mint, garlic powder, lemon juice and a good pinch each of salt and pepper.
Once the potatoes are crisp and golden on the outside and soft and cooked in the middle leave to cool for about 5 minutes.  Transfer to a serving bowl and drizzle generously with the creamy vegan tzatziki.
Drain a few of the pickled onions from the liquid and drape over the top of the potatoes and tzatziki and that's it, you're done!  I thoroughly recommend sharing with everyone so they can marvel at your culinary talents 😉
Looking for even more vegan summer salad recipes?  Try these:
If you make this recipe or any of the recipes from The Cook & Him I'd LOVE to see! Just snap a picture and share it on Instagram using #thecookandhim and tagging @thecookandhim in the photo itself (as this guarantees I'll see your picture!
)
Don't forget to follow me on Facebook or Pinterest for even more recipe inspiration and chat, competitions, behind the scenes and so much more!
Roasted New Potato Salad
prep: 15 mins / cook: 40 mins / inactive: 0 mins / total: 55 mins / quantity: 2-4 servings
Ingredients
Roasted new potatoes:
1 kg new potatoes
1 tablespoon oil
1 lemon zest
few sprigs fresh thyme – or sub with 1 teaspoon dried thyme
salt and pepper
Pickled red onions:
1 large or 2-3 small red onions
1/2 cup (125ml) water
1/2 cup (125ml) white vinegar
1 tablespoon sugar
1 teaspoon salt
1/4 teaspoon mustard seeds
1/4 teaspoon whole peppercorns
Tzatziki:
3 tablespoons vegan yoghurt
1/4 cup small diced cucumber
3-4 leaves fresh mint – finely shredded
1 teaspoon garlic powder
1/2 lemon juice
salt and pepper
Instructions
Preheat your oven to 180 Fan / 200 C / 400 F / Gas 6
Halve or quarter the new potatoes, place on a large roasting tray and drizzle with the oil
Remove the leaves from the stalks of the thyme if using fresh herbs and scatter over the potatoes along with the grated lemon zest and a good pinch each salt and pepper
Stir everything together or mix with your hands until the potatoes are well coated
Roast for 35-40 minutes - turn the tray half way through cooking - until they're crisp and golden and cooked inside
While they're roasting peel and thinly slice the red onion into circles and place in a jar that has a lid
Add the remaining ingredients for the pickled onions, put on the lid, give a quick but thorough shake and put in the fridge
For the tzatziki simply mix all the ingredients together in a bowl and keep in the fridge until the potatoes are cooked
Once the potatoes are done, allow to cool for 5 minutes then transfer to a serving bowl
Generously dot all over the potatoes with the tzatziki
Use a fork to lift a few of the onion rings out of the pickling liquid and drape over the top of the potato salad
Store any leftovers in the fridge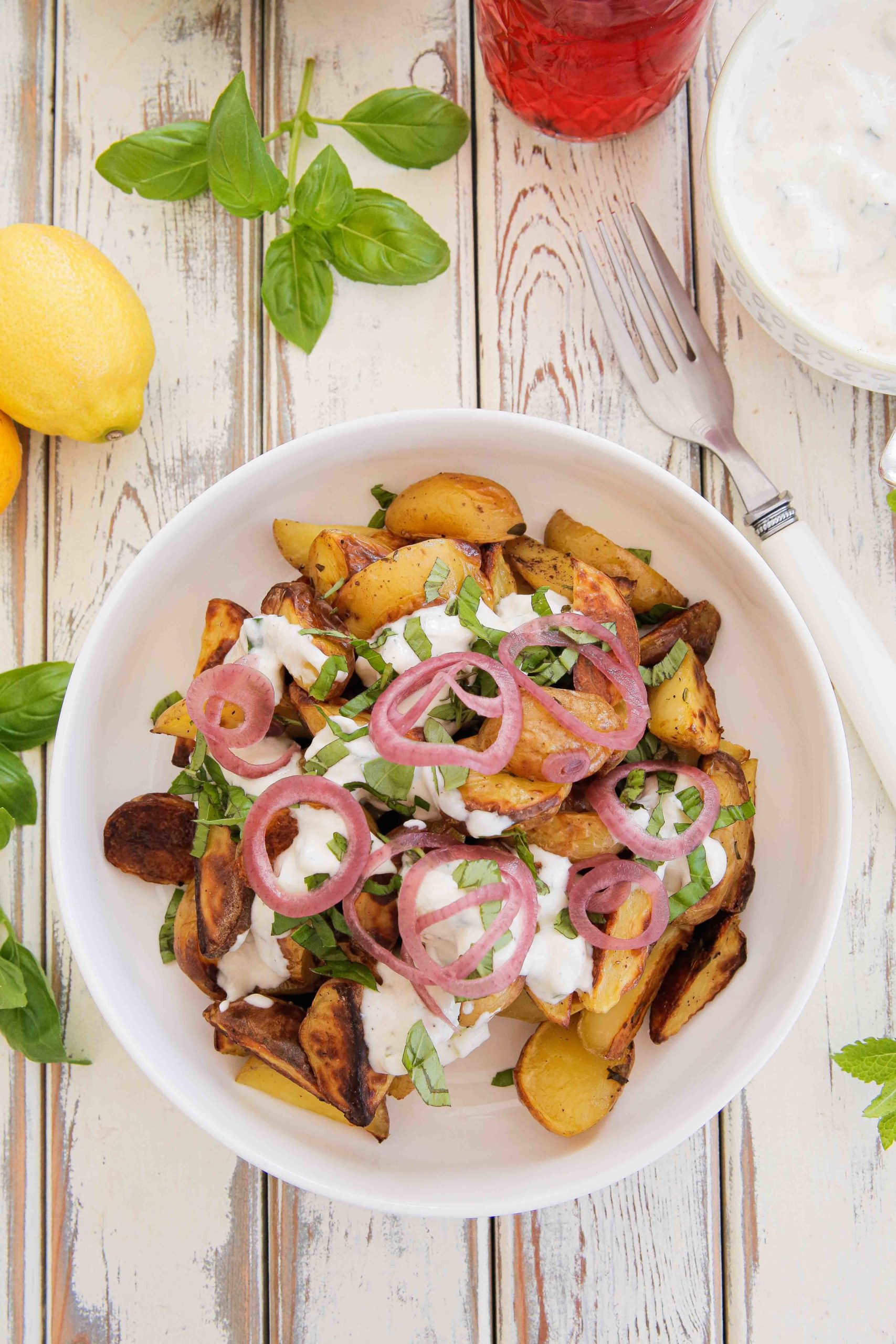 Hello and welcome to The Cook & Him.
We are Sam (The Cook), Phil (Him) and our little dog Nooch. What started with a plan to shed a few pounds back in 2016, soon became obvious that eating healthy doesn't have to be bland and boring.
So, combining Sam's 15 years of experience working within Michelin starred restaurants and our love for deliciously healthy food, we're creating recipes for you to make and enjoy. We've added our own unique spin on traditional and contemporary vegetarian and vegan recipes that keep you (and your pets!) healthy and full.  And we make sure they just work.
All things autumn - warming soups, savoury bakes and delicious sweet treats!
and I would like to see...
Or search for a recipe or post by keyword