Posted in Recipes on 25.10.2017
Spooky Halloween Bark
prep: 20 mins / cook: 0 mins / inactive: 0 mins / total: 20 mins / quantity: 10 portions (approximately!) Print recipe?
The hardest part of making this is exercising some restraint with what I decide to chuck on top of the melted chocolate.  My eyes even glanced over the kitchen sink at one point.  There are SO many variations of Halloween bark and making bark in general but I wanted to make one that at least had some healthy kitchen sink type things thrown into it!
Start with the melted chocolate.  If you don't have a microwave you can use a bain-marie to melt the chocolate.  A bain-marie is simply a heatproof bowl over a barely simmering saucepan of water.  I use pre-boiled water in the saucepan and only put the saucepan over heat if the chocolate doesn't melt completely from the boiled water.  What you want to try and avoid is any water or steam from reaching the chocolate as this will cause it to 'bloom' (little white spots on set chocolate).  It can also harden and become unusable.  I hope I'm not making it sound too difficult because it's really not.  Just if you need to put the bain-marie back on the hob, keep half an eye on it and if steam starts to come out of the saucepan take it back off the heat.
Doesn't the sight of melted chocolate just make you go a little bit gooey yourself?  Nope, just me? ?
I had a disproportionate amount of fun drawing scary/googly faces on the Halloween 'pumpkins'.  AKA mandarins and a Sharpie pen.  Once your ooey gooey chocolate is all melted just pour into a prepared tin and get your sprinkling fingers ready.   I've used a combination of chia seeds, whole blanched almonds, goji berries, spirulina and dark chocolate chips.  Do they look like eyes?  That's what I was going for.  Spooky eyes.  Not just chocolate drops stuck on almonds.
They definitely scared Ms Meg.  See, terrified dog right there …
If you make this recipe or any of the recipes from The Cook & Him we'd LOVE to see! Just snap a picture and share it on Instagram using #thecookandhim and tagging @thecookandhim in the photo itself (as this guarantees we'll see your picture!
)
And don't forget to follow us on Instagram , Facebook or Twitter for even more recipe inspiration and chat, competitions, behind the scenes and so much more!
Spooky Halloween Bark
prep: 20 mins / cook: 0 mins / inactive: 0 mins / total: 20 mins / quantity: 10 portions (approximately!)
Ingredients
200g white chocolate
handful whole blanched almonds
handful dark chocolate chips
handful organic goji berries
1-2 tsp organic chia seeds
1 tsp spirulina powder
orange food colouring paste
Instructions
Break the chocolate into chunks and melt either in the microwave or over a bain marie (this just means putting the chocolate in a heat proof dish then sitting that dish over a saucepan of barely simmering water)
While that's melting (stir occasionally) line a 9 x 9 tin or dish with some parchment so that it covers the bottom and comes up the sides
When the chocolate has melted put a couple of teaspoons each into 2 small dishes.  Pour the remaining into your prepared tin
Add the whole blanched almonds - I put 2 together randomly across the top of the chocolate then stuck the dark chocolate chips on top to look like eyes, using a tiny bit of the white chocolate to adhere them
Sprinkle over the goji berries and chia seeds
To one of the small dishes of melted chocolate add the spirulina powder to make a vibrant green.  Spoon this into a small piping bag (or a small plastic sandwich bag), snip the end off and pipe swirls all over the top of the white chocolate
Do exactly the same with the remaining small dish of white chocolate, adding the orange food colouring instead of spirulina
Put the whole tray in the fridge for 10-15 minutes until set
To create shards, lift the paper out of the tin and using a large sharp knife carefully cut diagonally across
Can be stored in or out of the fridge
Notes
If you don't know how to make those tiny little piping bags that are great for drizzling thin lines of small amounts of chocolate I'd thought I'd make a video.  Fancy a video?  It'd be my first ever video so I'd be all nervous and stuff!
If you want something a little more savoury before your sweet indulgence try this Toxic Slime Mac & Cheese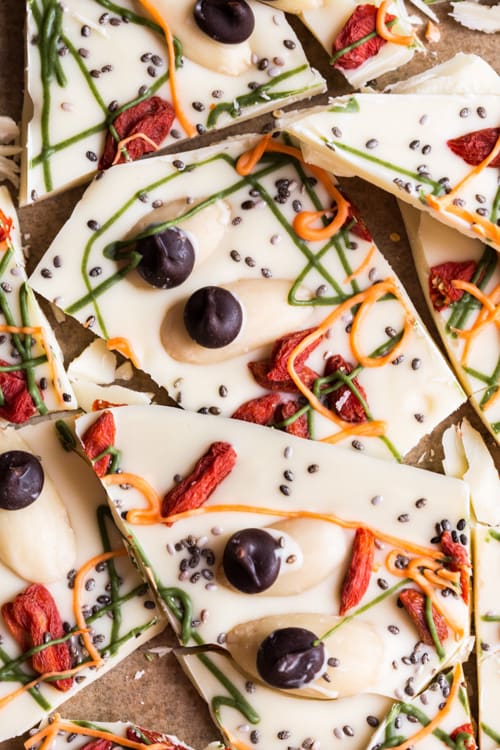 Hello and welcome to The Cook & Him.
We are Sam (The Cook), Phil (Him) and our little dog Nooch. What started with a plan to shed a few pounds back in 2016, soon became obvious that eating healthy doesn't have to be bland and boring.
So, combining Sam's 15 years of experience working within Michelin starred restaurants and our love for deliciously healthy food, we're creating recipes for you to make and enjoy. We've added our own unique spin on traditional and contemporary vegetarian and vegan recipes that keep you (and your pets!) healthy and full.  And we make sure they just work.
All things autumn - warming soups, savoury bakes and delicious sweet treats!
and I would like to see...
Or search for a recipe or post by keyword