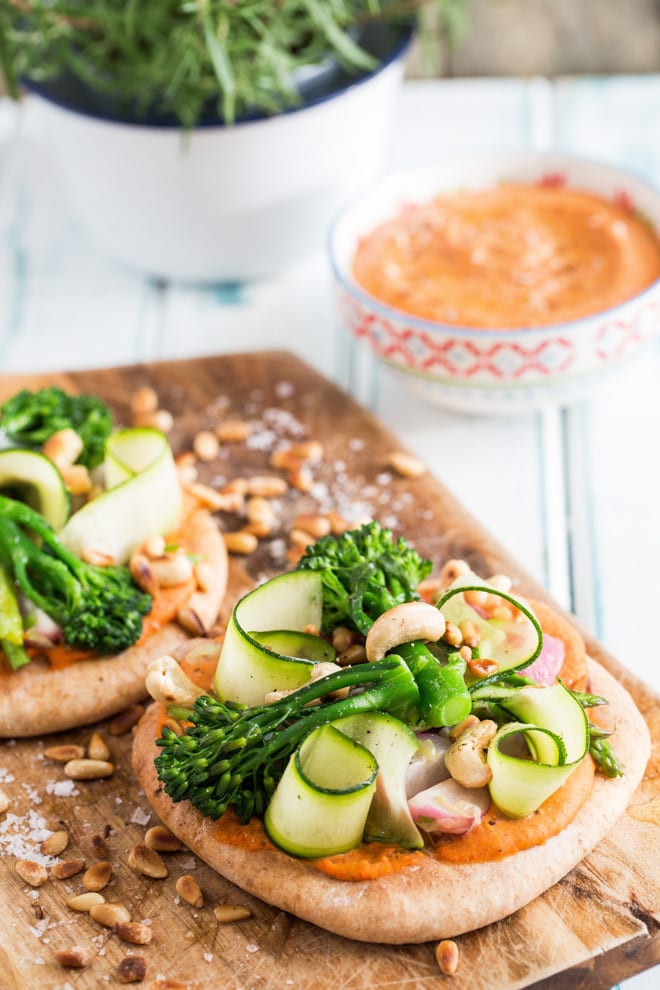 Posted in Recipes on 16.02.2019
Spring Veggies Flatbread Pizza
prep: 30 mins / cook: 20 mins / inactive: 30 mins / total: 1 hour 20 mins / quantity: 4 mini pizzas Print recipe?
This is a super easy flatbread pizza recipe, loaded with homemade red pepper hummus and bright spring veggies!
If you've ever wondered how to make your own super quick flatbread pizza bases then wonder no more with this easy flatbread recipe!  Because even though this is still a yeast dough, there's almost no kneading involved!  We're using a combination of plain white flour and plain wholemeal flour.  The wholemeal flour gives it a lovely flavour and a bit of 'chew' while the plain flour keeps everything light!  Using plain flour means we don't want to develop the gluten – hence the minimal kneading.  Otherwise you'll end up with a tough and overly chewy dough!
The hummus recipe we're using here is also so very simple – especially now I have a decent food processor!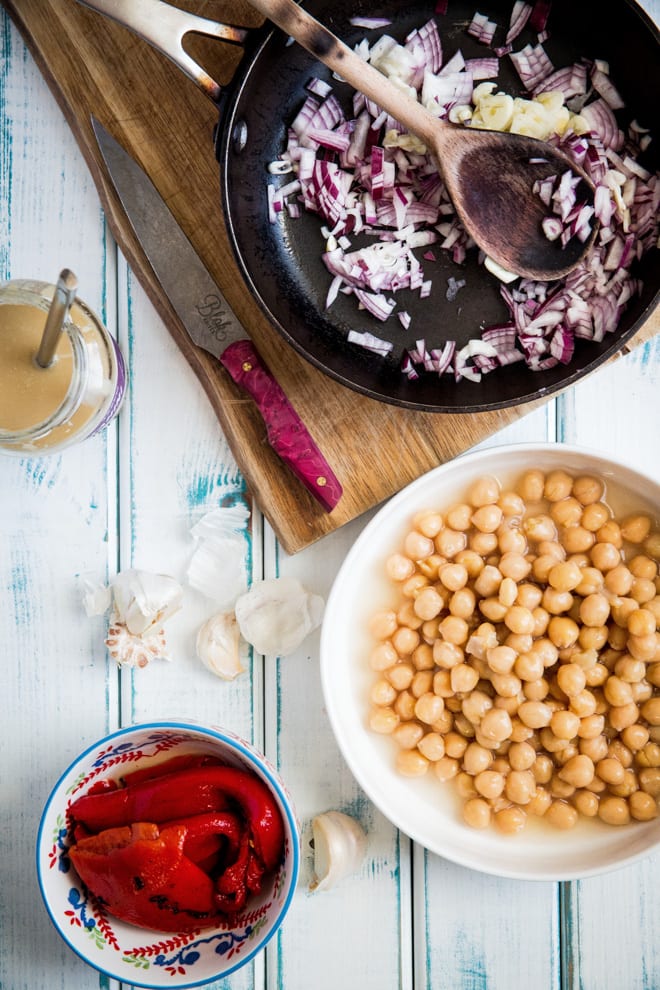 For so long I put up with one that just seemed incapable of blending anything bigger than a teaspoon of ingredients!  If you're in the market for a new food processor then I thoroughly recommend this Magimix.  It's a beast of a unit and comes with a tonne of attachments and 3 various size bowls that nest within each other, saving space!  The fact that it comes in a pretty red didn't effect my purchasing decision one bit 😉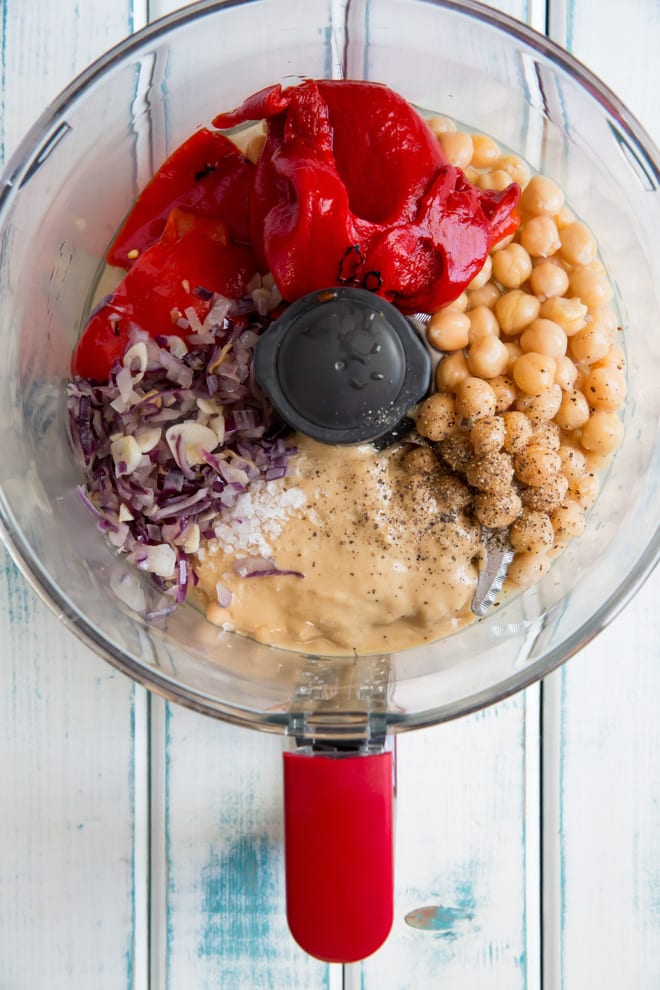 There's nothing complicated about this hummus recipe.  The only thing I do different to a lot of others is cook the onions and garlic before blending them with the remaining ingredients.  I find this gives a wonderfully mellow flavour.  One thing any hummus recipe should have though is tahini.  Tahini is basically just sesame paste – yes it's subtle but you really notice it when it's not there!
For the veggies to top the flatbread pizza, I used what's finally coming into season – asparagus, radishes, tenderstem broccoli and courgette – all just very lightly par-boiled before topping the flatbread pizza.
The final ingredient of note is Unbeelievable Health's Bee Energised capsules.  We can all feel a bit run down and tired sometimes and a veg packed diet is a great way to help stave off brain fog and low energy.  This flatbread recipe with its creamy hummus and bright fresh veggies is the bees' knees as we have kicked the pizzas up a notch with the addition of the capsule contents of Bee Energised.  Unbelieveable's supplements are unique in that they combine nutrients with proven benefits  which are not usually found in a regular diet or multivitamin.  So even if you are already healthy, they give you a bit of an extra buzz!  Bee Energised is formulated  by nutritionists and combines organic bee pollen, spirulina and matcha along with rose hips, ginseng, B vitamins and more.  The capsule contents can be added to food after cooking or mixed in with smoothies, overnight oats and so much more!
Got you in the mood for flatbread pizza?  Try this vegan Camembert and courgette flatbread pizza recipe – rich, Mediterranean flavours of tomato and basil with the best vegan cheese!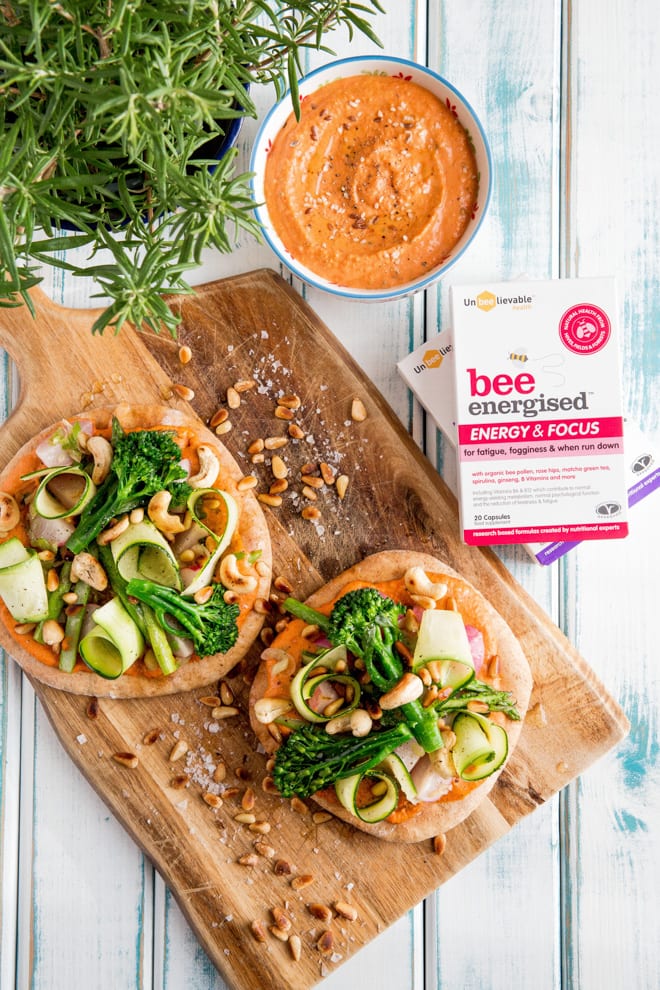 If you make this recipe or any of the recipes from The Cook & Him we'd LOVE to see! Just snap a picture and share it on Instagram using #thecookandhim and tagging @thecookandhim in the photo itself (as this guarantees we'll see your picture!
)
And don't forget to follow us on Instagram , Facebook or Twitter for even more recipe inspiration and chat, competitions, behind the scenes and so much more!
Spring Veggies Flatbread Pizza
prep: 30 mins / cook: 20 mins / inactive: 30 mins / total: 1 hour 20 mins / quantity: 4 mini pizzas
Ingredients
Flatbread:
3/4 cup (190ml) tepid water (see note)
1 + 1/2 tsp active dried yeast
1 tsp coconut sugar
1 cup (140g) plain white flour
1 cup (140g) plain wholemeal flour
1 tblsp olive oil
1 tsp salt
Hummus:
1 red onion
2-3 cloves garlic
drizzle of olive oil
1 cup (400g can) chickpeas
2 tblsp tahini
180g roasted red peppers – I used the ones in a jar
1/2 lemon – grated zest only
salt and pepper
Toppings:
1 small courgette – cut into ribbons using a vegetable peeler
12 spears of asparagus
2 cups (80g) tenderstem broccoli
1/2 cup (120g) radishes – quartered
1/4 cup (4-5) thinly sliced spring onions
4 capsules Bee Energised
Optional: handful of toasted nuts – I used cashews and pine nuts
Instructions
Start with the flatbread pizza bases - put the tepid water into a large bowl or the bowl of a stand mixer
Whisk in the yeast and sugar, cover with a t-towel and leave for around 15 minutes until the surface is frothy
Tip in the flours, salt and olive oil and mix either by hand, with a rubber spatula or the dough hook of your machine, to a smooth soft dough. Because we're using plain flour for a light, chewy dough you don't need to knead the heck out of it! Just mix until it forms a dough
At this point you can transfer to a lightly oiled bowl and store, covered (with a t-towel or cling film), in the fridge for a couple of days. Otherwise cover the bowl with the t-towel again and leave to prove at room temperature for around 30 minutes
While that's proving make the hummus - peel the onion and garlic and finely dice both
Saute gently in a small pan with just a drizzle of olive oil until the onion starts to turn translucent
Tip into your food processor bowl along with the remaining hummus ingredients - chickpeas, tahini, peppers and lemon zest - and whizz until smooth and creamy, stopping the machine and scraping down the sides as necessary
Taste and whizz in salt and pepper as necessary
Bring a large pan of salted water to the boil then add the broccoli, radishes and asparagus and boil for 2-3 minutes until just tender
Add the courgette ribbons and boil for 1 further minute. Drain and set aside
Preheat your oven to 210 Fan / 230 C / 450 F / Gas 8 and line 2 medium trays or one large try with parchment or silicon mats
Tip the flatbread dough onto a lightly floured surface and either use your hands or a rolling pin to roll and shape into 5 inch (12 cm) circles. Lay each base onto a tray, keeping them spaced reasonably apart
Generously spread some of the hummus over each pizza - you probably won't need it all but if you're anything like us, consuming hummus is never a problem!!
Top evenly with a selection of the veggies, sprinkle over some of the spring onions and give each one a pinch of salt and a grind of black pepper
Bake for 20-25 minutes until golden and risen. Sprinkle each one with an opened capsule of Bee Energised and few lightly toasted nuts (if you're using) before serving
Notes
The water should be blood temperature - meaning when you put your finger in it you can't feel if it's hot or cold! If anything, err on the side of cold - too hot and you run the risk of killing the yeast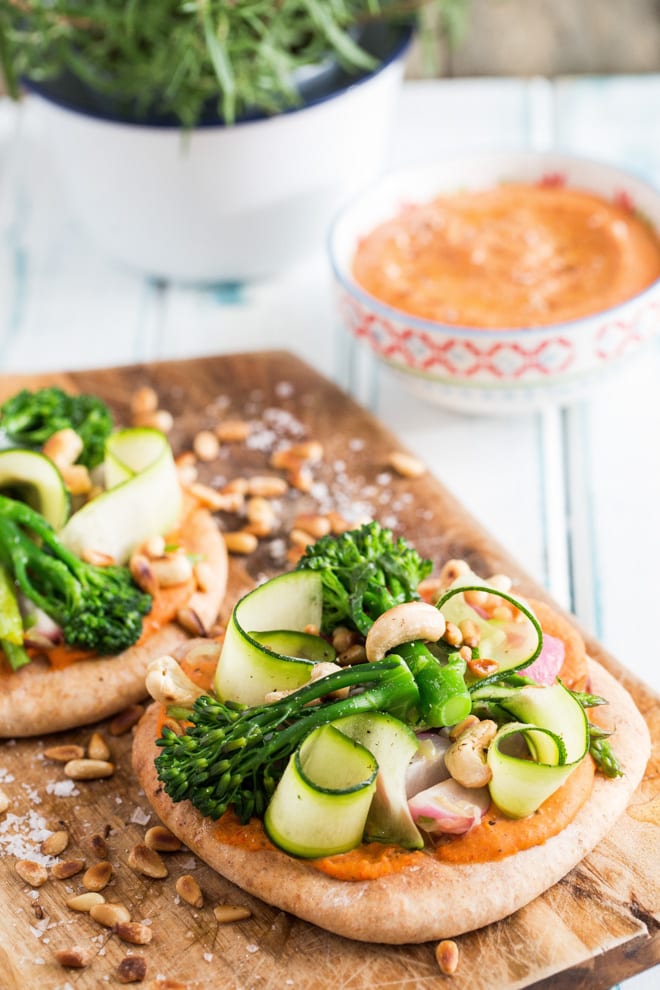 Some products I used in today's post...
Some of the links above are affiliate links, which pay us a small commission for our referral at no extra cost to you! Thank you for supporting The Cook & Him.
Hello and welcome to The Cook & Him.
We are Sam (The Cook), Phil (Him) and our little dog Nooch. What started with a plan to shed a few pounds back in 2016, soon became obvious that eating healthy doesn't have to be bland and boring.
So, combining Sam's 15 years of experience working within Michelin starred restaurants and our love for deliciously healthy food, we're creating recipes for you to make and enjoy. We've added our own unique spin on traditional and contemporary vegetarian and vegan recipes that keep you (and your pets!) healthy and full.  And we make sure they just work.
All things autumn - warming soups, savoury bakes and delicious sweet treats!
and I would like to see...
Or search for a recipe or post by keyword