Posted in Recipes on 19.12.2017
Sprouts with Walnuts and Shallots
prep: 10 mins / cook: 20 mins / inactive: 0 mins / total: 30 mins / quantity: 2 portions Print recipe?
Where do you sit on the whole sprout debate?  These days I absolutely love 'em.  Like LOVE love.  Like I literally cooked these, took the photos then ate the whole bloody lot, one after the other.  Pop.  Pop.  Pop.
There may have been some after effects, before you ask.
I never liked them as a child though.  They were the thing I had to eat once a year in order to get dessert.  And Christmas pudding or warm mince pies, both with a dollop of clotted cream or ice cream was one of those things I looked forward to for the entire year.
So any food that was a historical chore to get to the good stuff was never going to be high on my must try and like list.  And I dunno at what point I became a true, hand on heart, sprout fan.  I think the day someone gave me sprouts that weren't simply boiled to buggery (bless my ol' Mum) but that still had a bite to them.  Sprouts you had to chew rather than green mush that just dissolved in your mouth.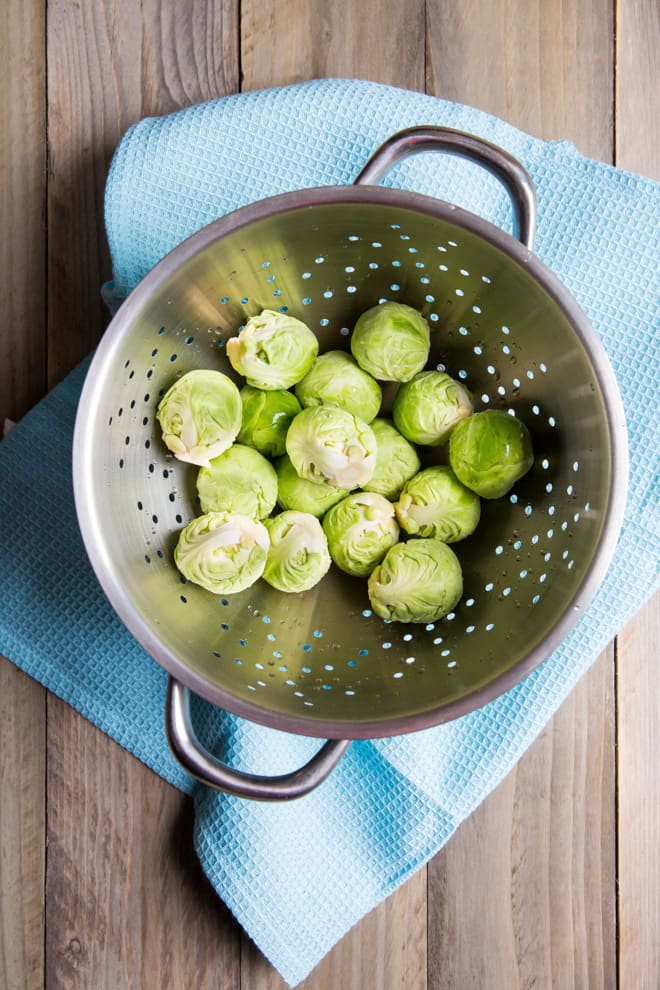 I ran a recent poll on Instagram stories …
Sprouts:
Even when it's not Christmas
Food of the Devil
Have a guess at the result?  68% said Food of the Devil ?  Ya'll must still be eating the green mush ?
Now I love my sprouts with walnuts and shallots.  Shallots are a must.  Talk about lift the flavour of the humble sprout.  And now, thanks to Hodmedods, I've discovered Camelina Seeds and sprinkle these nutty little things on practically everything!  Round it all off with crunchy walnuts and you'll understand how I could eat all those sprouts.  And I'm not talking about sprouts as a side to something else.  Nope, just the sprouts.  In a bowl.  With a fork.  Because it would have been uncool to just use fingers right?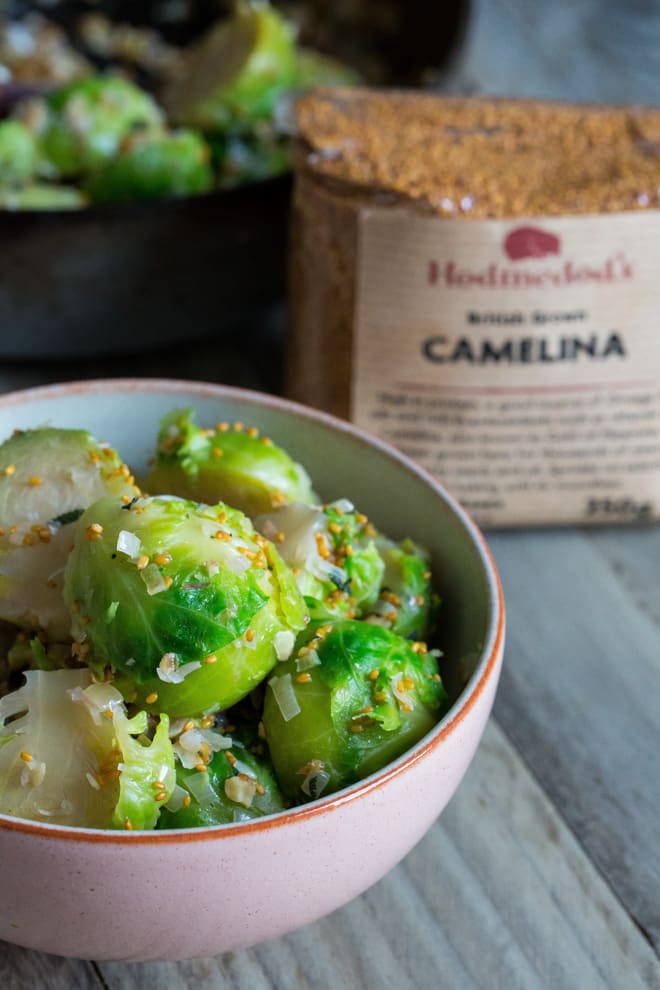 If you make this recipe or any of the recipes from The Cook & Him we'd LOVE to see! Just snap a picture and share it on Instagram using #thecookandhim and tagging @thecookandhim in the photo itself (as this guarantees we'll see your picture!
)
And don't forget to follow us on Instagram , Facebook or Twitter for even more recipe inspiration and chat, competitions, behind the scenes and so much more!
Sprouts with Walnuts and Shallots
prep: 10 mins / cook: 20 mins / inactive: 0 mins / total: 30 mins / quantity: 2 portions
Ingredients
500g Brussel's sprouts
Drizzle of olive oil
2 banana shallots – peeled and finely diced
Large handful walnuts – roughly chopped
5 sprigs fresh thyme leaves
1 tblsp Hodmedods Camelina Seeds
Salt and pepper
Instructions
Remove any tough or overly grubby outer leaves from the sprouts and give a rinse under cold water.  Put into a medium/large saucepan with a pinch of salt
Boil the kettle then pour over the sprouts, enough water to cover them, bring back to the boil then simmer for 5-10 minutes.  How long depends on the size of the sprout - test with the point of a knife, it should slide into the sprout fairly easily but there still be some 'bite' - you don't want overcooked, mushy sprouts!
Drain then submerge in cold water to stop any further cooking.  Drain again
Put the shallots along with a drizzle of olive oil in a smallish frying pan and gently saute until they are soft and translucent
Add the walnuts and thyme and toss together
Add the sprouts and camelina seeds and a good dash of salt and pepper
Toss or stir over a medium/high heat until the outside of the sprouts are just starting to caramelise
Serve immediately
Notes
If you want to prepare these ahead you can boil the sprouts in advance then store into the fridge for a few days.  Simply follow the remaining instructions when you want to serve them!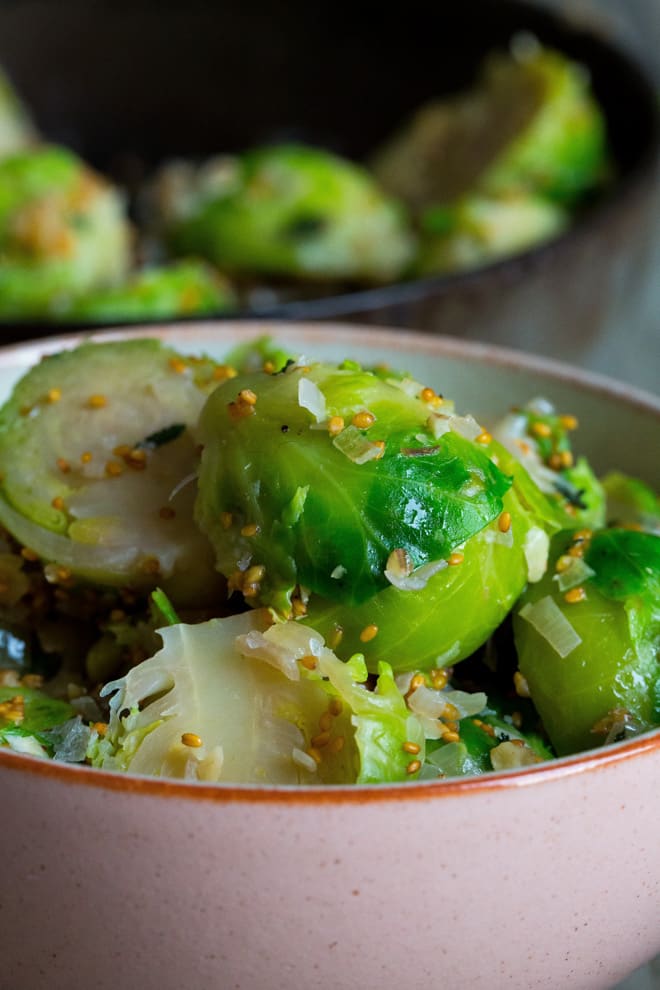 Hello and welcome to The Cook & Him.
We are Sam (The Cook), Phil (Him) and our little dog Nooch. What started with a plan to shed a few pounds back in 2016, soon became obvious that eating healthy doesn't have to be bland and boring.
So, combining Sam's 15 years of experience working within Michelin starred restaurants and our love for deliciously healthy food, we're creating recipes for you to make and enjoy. We've added our own unique spin on traditional and contemporary vegetarian and vegan recipes that keep you (and your pets!) healthy and full.  And we make sure they just work.
All things autumn - warming soups, savoury bakes and delicious sweet treats!
and I would like to see...
Or search for a recipe or post by keyword