Posted in Recipes on 11.01.2023
Sticky Marmalade Cake
prep: 20 mins / cook: 50 mins / inactive: 0 mins / total: 1 hour 10 mins / quantity: 9-12 squares Print recipe?
A delightfully easy to make marmalade cake recipe with beautiful zesty flavours and a sticky, sweet topping!
This marmalade cake is like a drop of sunshine for these cold, dark and misty January days.  It's sticky, sweet, squidgy and just about as easy as cake making can get.  There's literally zero faff involved but you get a cake that is SO light and moreish I'd eaten 2 giant squares before I even noticed!
Sometimes you just want a really simple cake.  Minimal effort, nothing fancy, no frosting, filling or buttercream.  But absolutely no compromise on quality or flavour.
Do you love marmalade?  I think I love it more than jam.  For this recipe use whatever marmalade you prefer – whether it's homemade, fine shred, thick shred, lemon, clementine.  It's entirely up to you.  I used thick cut orange marmalade because that's my absolute favourite.  Frank Cooper's Oxford marmalade to be exact.  It's tawny, thick, sweet and very orangey.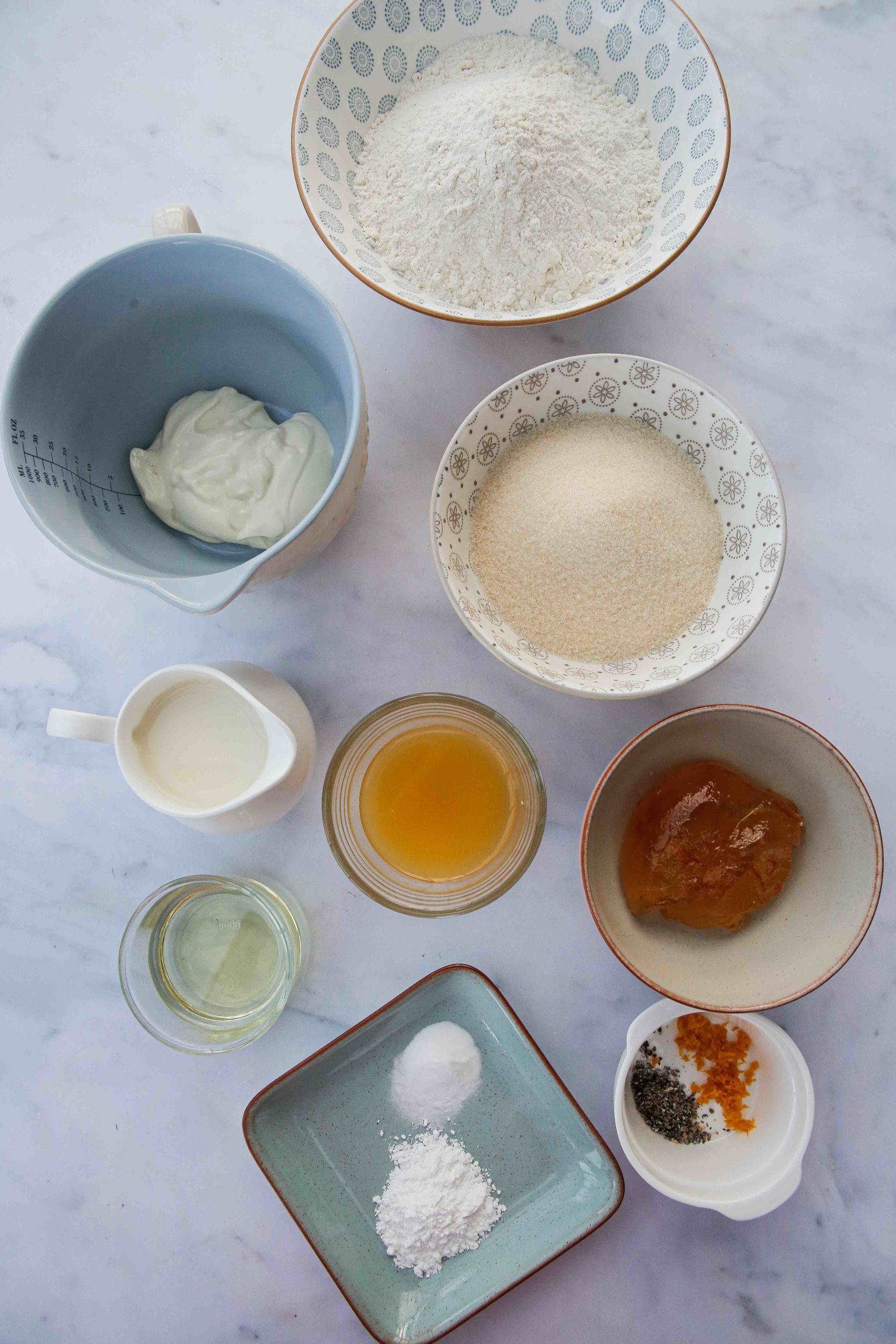 How to make this zesty vegan cake:
It's such a simple cake mix and as simple as mixing the wet with the dry ingredients.
Weigh out your 'wet' ingredients into a jug (easier to pour from a jug but use a bowl if that's all you have).  Oh and grate the zest from the orange BEFORE you juice it.  I don't know how many times I forget to do this and yet still flipping do it.
Your wet ingredients are the orange juice and zest, yoghurt, marmalade, oil and milk.  I also add the cardamom here.  The cardamom is optional but recommended – it gives a really subtle flavour boost.  Whisk everything together.
In a large bowl whisk together the 'dry' ingredients – flour, sugar, baking powder and bicarb.
Then simply add the wet to the dry.  Whisk or stir together making sure it's well incorporated.  Stir up from the bottom of the bowl to make sure there are no sneaky pockets of flour hiding!  This is quite a liquid cake mix – it's what makes the cake quite light and squidgy once baked!
Pour into your prepared tin.  My square tin isn't non stick so I brush some margarine all over, dust with flour (tip out the excess) and put a square of parchment in the bottom.
Bake for around 45 minutes.  Use a cocktail stick inserted in the centre to make sure it's cooked through.  If the stick comes out clean with no bits of raw cake clinging to it your cake is cooked!  If not return to the oven for a few more minutes, repeating the test.
Leave to cool in the tin for around half an hour before turning out onto a cooling rack.
To make the sticky topping just gently warm the extra marmalade with the agave then brush all over the top of the cake.
Store the cooled cake in an airtight container at room temperature.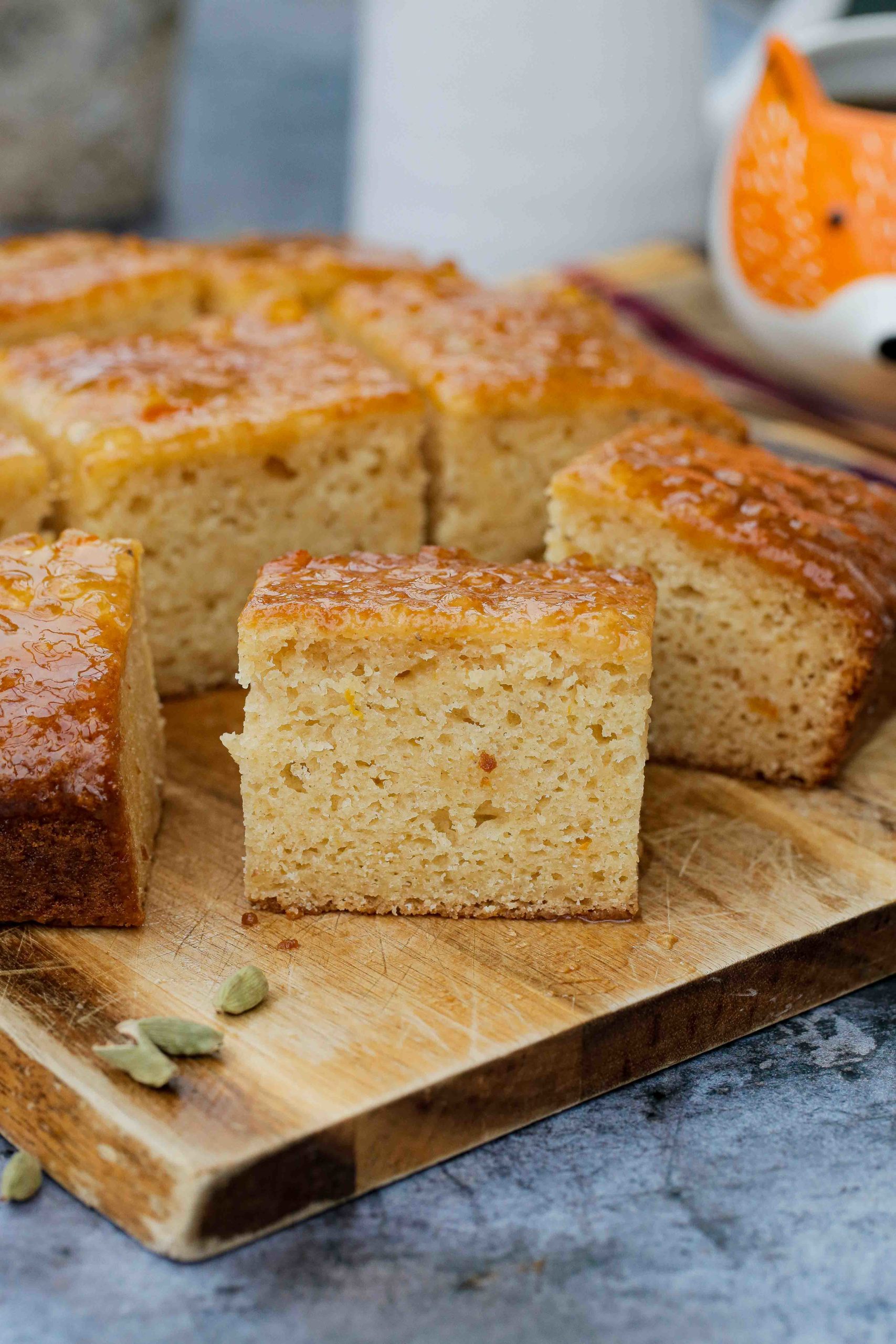 I'm a little bit in love with this cake.  It's so light and zingy, sticky and sweet.  I was also a bit greedy and only cut it into 9 squares – you could probably get away with 12 squares unless you're feeling greedy too.
Looking for even more easy vegan cake recipes?  Try these:
Jamaican Ginger Sticky Pudding Cake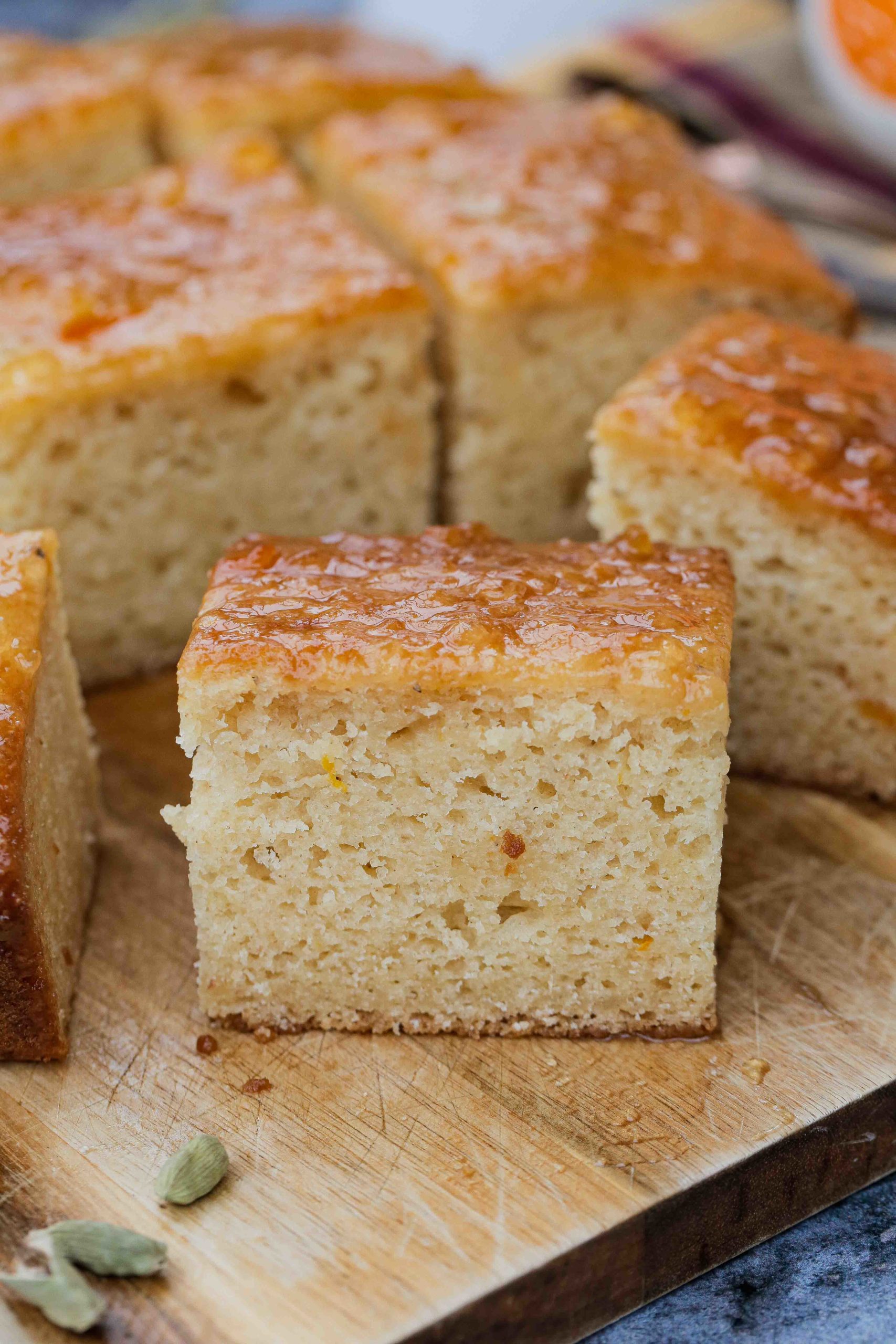 If you make this recipe or any of the recipes from The Cook & Him I'd LOVE to see! Just snap a picture and share it on Instagram using #thecookandhim and tagging @thecookandhim in the photo itself (as this guarantees I'll see your picture!
)
Don't forget to follow me on Facebook or Pinterest for even more recipe inspiration and chat, competitions, behind the scenes and so much more!
Sticky Marmalade Cake
prep: 20 mins / cook: 50 mins / inactive: 0 mins / total: 1 hour 10 mins / quantity: 9-12 squares
Ingredients
1 orange – grated zest and juice
1/2 cup (150g) marmalade
1/2 cup (120g) vegan yoghurt (Alpro Greek style yoghurt is fantastic!)
1/4 cup (55ml) light vegetable oil
1 cup (250ml) non-dairy milk
1 teaspoon ground cardamom (see note)
2 cups (350g) plain flour
2 teaspoons baking powder
1/2 teaspoon bicarbonate of soda
1 cup (250g) golden or white caster sugar
Glaze:
2 tablespoons marmalade
1/2 tablespoon agave or maple syrup (or just use water)
Equipment:
9 x 9 inch (23 x 23 cm) square baking tin
Instructions
Preheat your oven to 170 Fan / 190 C / 375 F and grease or line a 9 x 9 inch (23 x 23 cm) baking tin
In a jug whisk together the yoghurt and marmalade until the marmalade is no longer lumpy
Whisk in the oil, milk, cardamom and grated orange zest and juice
In a large bowl whisk together the flour, baking powder, bicarb and sugar
Whisk or stir the yoghurt mixture into the bowl of dry ingredients and mix well, making sure there are no pockets of flour remaining
Pour into your prepared tin and bake for 45-50 minutes until lightly golden and a cocktail stick inserted in the centre of the cake comes out clean with no bits of raw cake stuck to it
Leave the cake to cool in the tin for 20-30 minutes then turn out onto a wire rack
For the glaze gently warm the marmalade with the syrup or water, whisking to break up any lumps of marmalade
Brush over the top of the whole cake
Store the cooled cake in an airtight container at room temperature
Notes
The cardamom isn't essential to the recipe but it does give a lovely subtle flavour. If you've got pods, crack the pods to get at the black seeds and discard the shell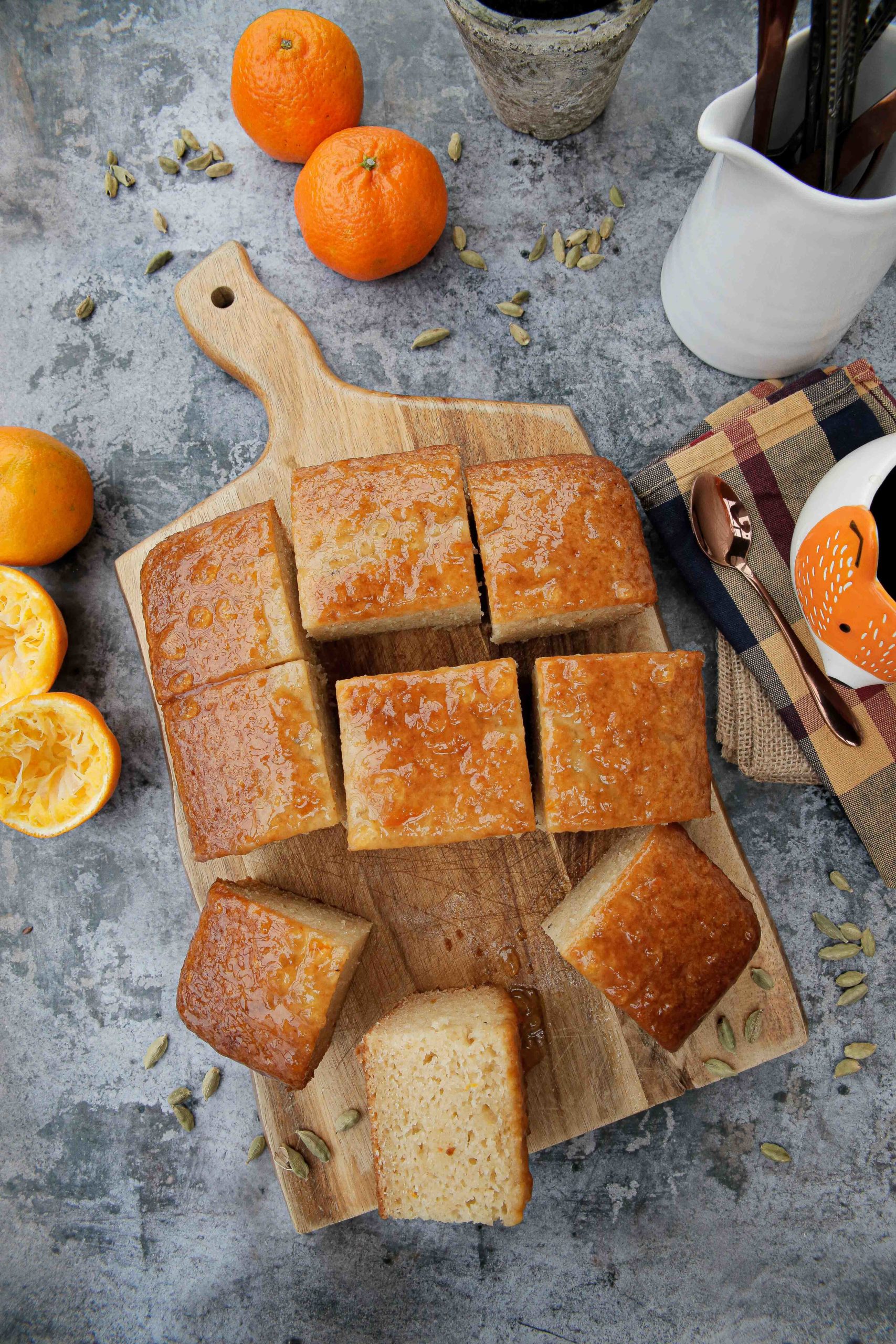 Hello and welcome to The Cook & Him.
We are Sam (The Cook), Phil (Him) and our little dog Nooch. What started with a plan to shed a few pounds back in 2016, soon became obvious that eating healthy doesn't have to be bland and boring.
So, combining Sam's 15 years of experience working within Michelin starred restaurants and our love for deliciously healthy food, we're creating recipes for you to make and enjoy. We've added our own unique spin on traditional and contemporary vegetarian and vegan recipes that keep you (and your pets!) healthy and full.  And we make sure they just work.
All things autumn - warming soups, savoury bakes and delicious sweet treats!
and I would like to see...
Or search for a recipe or post by keyword