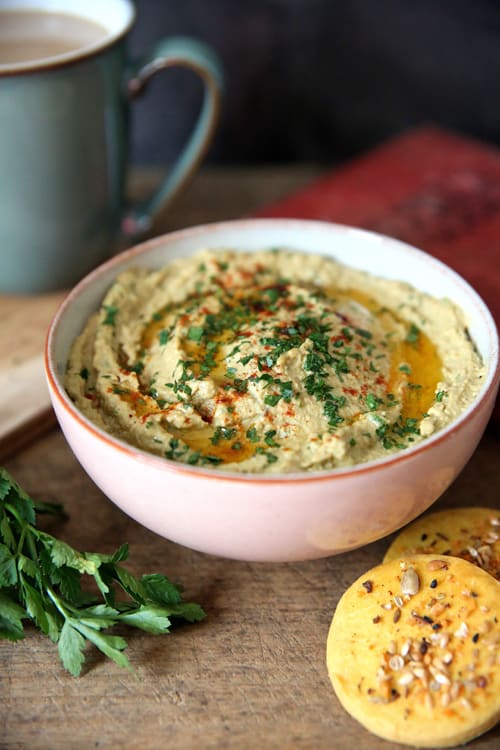 Posted in Recipes on 13.09.2017
Sun-Dried Tomato & Basil Hummus
prep: 15 mins / cook: 0 mins / inactive: 0 mins / total: 15 mins / quantity: 6-8 Generous Portions Print recipe?
I feel like I've had my eyes opened since discovering the virtues of the humble chickpea.  For so long I completely disregarded them as pointless and bland – and on their own they are. Plus hummus just looks like beige slop in a pot!  However, jujj it up with your own herbs, spices and all the other 'extras' you can find and I'm now in danger of spreading it on anything that stays still for too long!!
Some of the shop bought ones aren't actually too bad but I've yet to find anything mass produced that tastes quite as good as something you can make at home.  And when it's this easy to make, literally just chuck it all in the processor and 2 minutes later you've got fresh, tasty, spread it on thick, protein rich hummus.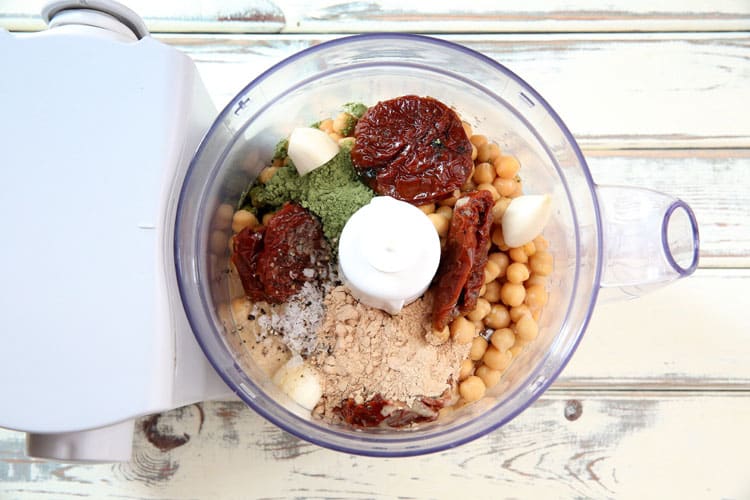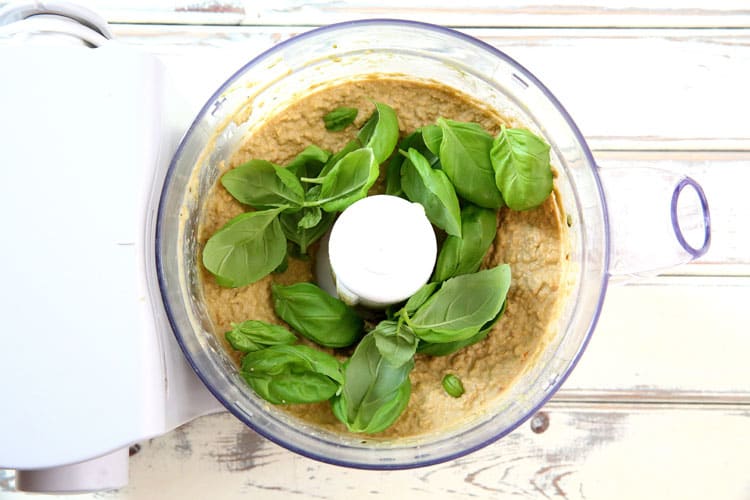 There are of course a gajillion variations once you've got your hummus base … and I'm currently working my way through them all!   I'm looking next into making hummus without chickpeas (what?!) … like beetroot hummus with it's beautiful vibrant colour or with roasted pumpkin, butternut squash or carrots, lentils and butter beans.  What do you like to throw into your hummus?  Phil's a spice freak and he likes his hummus smoothysmoothsmooth.  Me, I prefer mine mild and with a little texture.
If you truly want nothing but silky smooth hummus then I'm afraid you'll have to remove the skins from the chickpeas but jeez … who has that kind of time?!
Smooth or lumpy there are so many ways to enjoy your hummus – generously smothered on to warm crusty bread and sprinkled with alfalfa sprouts, some simple carrot sticks for a super healthy, super quick snack or how about these Chickpea and Dukkah Crackers?  They're gently spiced and perfect for scooping the hummus right into your mouth.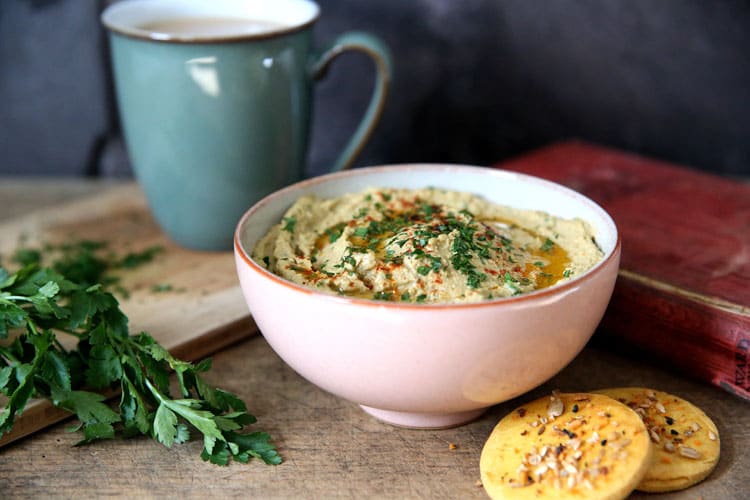 If you make this recipe or any of the recipes from The Cook & Him we'd LOVE to see! Just snap a picture and share it on Instagram using #thecookandhim and tagging @thecookandhim in the photo itself (as this guarantees we'll see your picture!
)
And don't forget to follow us on Instagram , Facebook or Twitter for even more recipe inspiration and chat, competitions, behind the scenes and so much more!
Sun-Dried Tomato & Basil Hummus
prep: 15 mins / cook: 0 mins / inactive: 0 mins / total: 15 mins / quantity: 6-8 Generous Portions
Ingredients
400g (15oz) can chickpeas
6 sun dried tomatoes
2 tblsp of the oil from the jar of sun dried tomatoes
Juice of 1 lemon
2 tblsp tahini
2 cloves garlic
1 tsp maca powder (see note)
Salt and pepper
Handful of fresh basil
Instructions
Drain the chickpeas, reserving the liquid
Tip the drained chickpeas into a food processor bowl along with the sun dried tomatoes, the oil from the tomatoes jar, the lemon juice, tahini, garlic, maca powder and seasoning
Pulse for 1 minute then use a rubber spatula to scrape around the bowl and pulse for a further minute
Add 2 tblsp of the drained chickpea liquid, give the bowl another scrape with the spatula and pulse for a further 1 minute. At this stage add more of the chickpea liquid if the mixture's too thick
Finally add the fresh basil leaves and pulse until the basil is just minced through
Store in a sealed container in the fridge for up to 1 week
Notes
The maca is not essential for flavour in this recipe - it's purely optional if you want to include it for its health benefits
Goes fantastically well with these Chickpea & Dukkah Crackers, fresh veggie sticks or lavishly spread on this Honey Oat Wholemeal Bread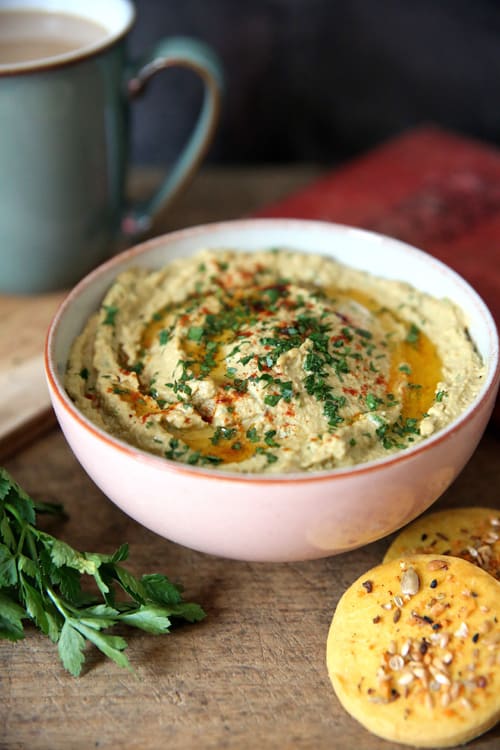 Hello and welcome to The Cook & Him.
We are Sam (The Cook), Phil (Him) and our little dog Nooch. What started with a plan to shed a few pounds back in 2016, soon became obvious that eating healthy doesn't have to be bland and boring.
So, combining Sam's 15 years of experience working within Michelin starred restaurants and our love for deliciously healthy food, we're creating recipes for you to make and enjoy. We've added our own unique spin on traditional and contemporary vegetarian and vegan recipes that keep you (and your pets!) healthy and full.  And we make sure they just work.
All things autumn - warming soups, savoury bakes and delicious sweet treats!
and I would like to see...
Or search for a recipe or post by keyword