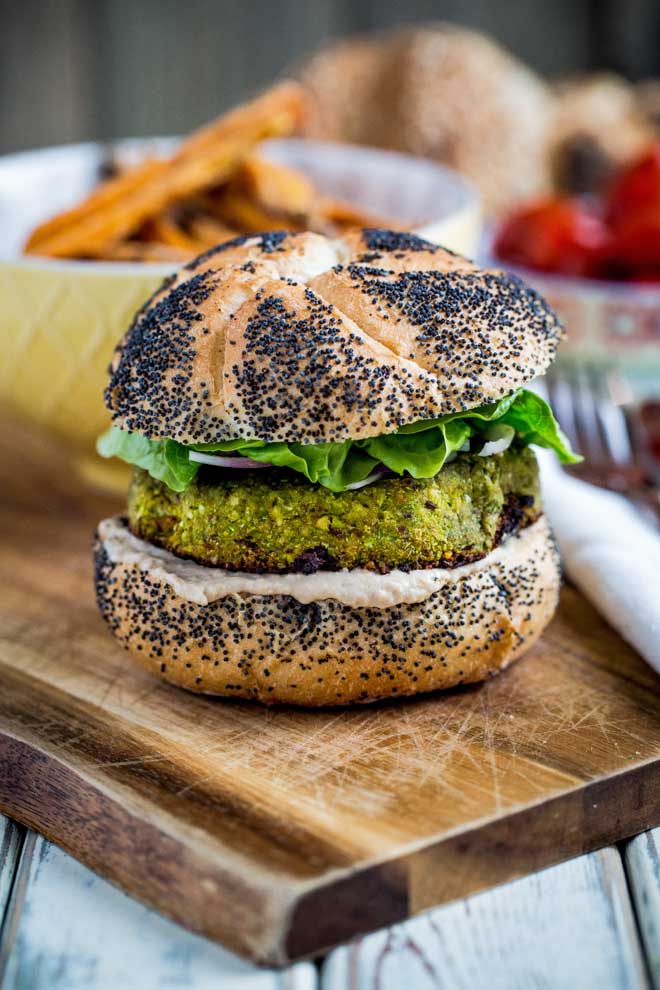 Posted in Recipes on 20.07.2019
The Best Veggie Burgers
prep: 30 mins / cook: 20 mins / inactive: 0 mins / total: 50 mins / quantity: 6-8 burgers Print recipe?
Let's make veggies the star of the show in these easy, healthy and delicious veggie burgers!
I do love a veggie burger.  And when I say veggie burger I mean VEGGIE burger.  Not a predominantly bean burger.  And not a meat alternative burger.
These are not a meat alternative burger.  If you're looking for the taste and texture of a meat burger then these aren't for you.  These burgers are for those of us who love real vegetables in our veggie burgers.  Don't get me wrong, for a lazy weekend meal, Phil and I will (very) often have a bought vegan burger – our current favourites are the No Bull Burgers from Iceland and Linda McCartney's Pulled Pork 1/4 pounders.  Or if we're feeling flush the Beyond Meat or Impossible burgers.
All these are meat substitute burgers.  Not what I'd call veggie burgers.
And whilst there ARE beans in these veggie patties they're definitely not the star of the show.  Cannellini beans give them a bit of body and texture as well as a good chunk of protein and B vitamins.  But I really wanted to do all the wonderful veggies justice and really cram them in.
Make Ahead Tips
Once you've prepped and cooked the necessary parts of this veggie burger recipe you can keep it in the fridge in a sealed container for a few days.  Or you can shape and cook the burgers then freeze them flat (stacking once they're frozen).  Then it's a simple defrost and re-heat in the oven or a quick re-fry in a pan.
How To Cook Veggie Burgers
I've experimented in the past with baking veggie burgers and been very dissatisified with the outcome.  To the point where I've stopped trying!  They just don't get that lovely cripsy outer crust that comes from frying the burger.  And as my burger recipes are veggie with little to no saturated fat I think they can take a gentle sizzle in a drop of oil.
Once they're shaped use a large frying pan so you've plenty of room to flip them over.  Cook in batches and keep warm in the oven if neccessary.  It's a right royal pain having one burger splat into another burger as you try to flip them in a crowded pan <– the voice of experience.
You want even more vegan burgers?
Camembert and Quinoa Burgers – vegan Camembert made possible by divine New Roots cheese.
Falafel Burgers – falafel shaped like a burger. In a bun.
Sun Dried Tomato Burgers – you can find these veggie burgers in our free shiny new e-book (unless you're reading this in a few years when it's either less shiny or we've done another one!)
If you make this recipe or any of the recipes from The Cook & Him we'd LOVE to see! Just snap a picture and share it on Instagram using #thecookandhim and tagging @thecookandhim in the photo itself (as this guarantees we'll see your picture!
)
And don't forget to follow us on Instagram , Facebook or Twitter for even more recipe inspiration and chat, competitions, behind the scenes and so much more!
The Best Veggie Burgers
prep: 30 mins / cook: 20 mins / inactive: 0 mins / total: 50 mins / quantity: 6-8 burgers
Ingredients
1 cup (90g / 1 small) leek
3-4 cloves garlic – peeled
1 stick celery
1/2 green pepper
4-5 sprigs fresh thyme – leaves only (or sub with 1/2 tsp dried thyme)
drizzle of olive oil
1 + 1/2 cups (120g / half a small head) broccoli
1 cup (1 x 400g can) cooked cannellini beans – drained
1/3 cup (55g) peas – fresh or frozen
1/3 cup (30g) walnuts
2/3 cup (80g) rolled oats
1 tsp mustard – wholegrain, English or Dijon all work great in these!
2 tblsp ground flax seeds
1 cup (30g / large handful) fresh spinach
1 tsp salt and a few good grinds of black pepper
Food processor – I used this Magimix
Instructions
Slice the leek into thinnish circles and thoroughly wash and drain
Roughly chop the garlic, celery and pepper and put that along with the washed leek and thyme into a frying pan with a drizzle of oil
Gently saute over a low/medium heat for 4-5 minutes until the veg has softened
Tip into a food processor along with the remaining ingredients and pulse until well blended together. You can blend less if you prefer a little texture in your veggie burgers though!
Heat a drizzle of oil in a large frying pan and divide your burger mix into 6-8 piles (depends how big you like your burgers!)
Shape into patties (I do this with wet hands) and gently place into the frying pan
Cook 7-8 minutes until crispy and well browned before flipping and repeating with the other side
Serve immediately or keep them warm in the oven if you need to cook them in batches
Notes
You can make and cook the burgers then freeze flat before storing stacked to save space. Defrost and re-heat in the oven or re-fry making sure the burgers are piping hot in the centre before serving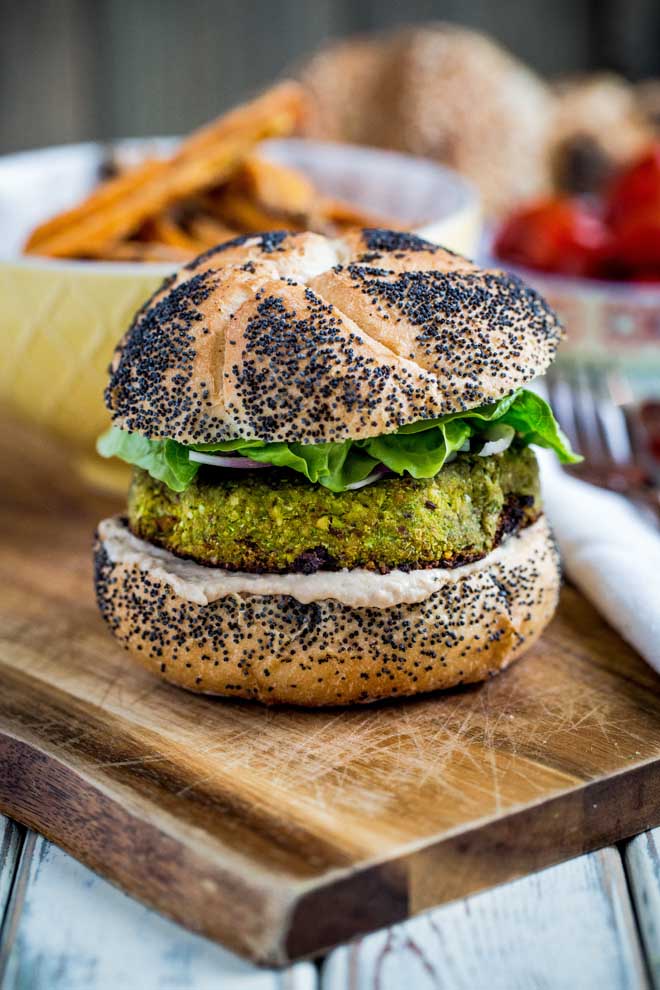 Some products I used in today's post...
Some of the links above are affiliate links, which pay us a small commission for our referral at no extra cost to you! Thank you for supporting The Cook & Him.
Hello and welcome to The Cook & Him.
We are Sam (The Cook), Phil (Him) and our little dog Nooch. What started with a plan to shed a few pounds back in 2016, soon became obvious that eating healthy doesn't have to be bland and boring.
So, combining Sam's 15 years of experience working within Michelin starred restaurants and our love for deliciously healthy food, we're creating recipes for you to make and enjoy. We've added our own unique spin on traditional and contemporary vegetarian and vegan recipes that keep you (and your pets!) healthy and full.  And we make sure they just work.
All things autumn - warming soups, savoury bakes and delicious sweet treats!
and I would like to see...
Or search for a recipe or post by keyword