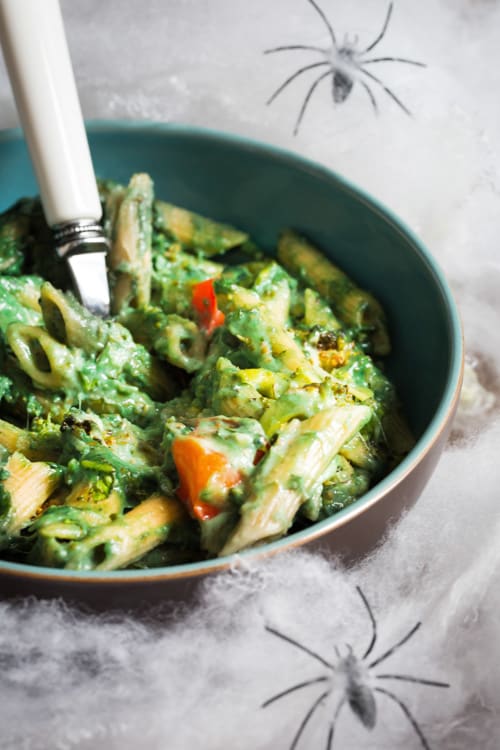 Posted in Recipes on 27.10.2017
Toxic Slime Mac and Cheese
prep: 20 mins / cook: 25 mins / inactive: 0 mins / total: 45 mins / quantity: 4 portions Print recipe?
We've celebrated Halloween to various levels over the years.  There have been face painting parties, trick or treat parties, adult only parties and a couple of times that included stripy stockings and a short tight witches dress. That was Phil for the record, not me ?  Gave the lady at the toll booth we had to pass through to get to our destination a good laugh!
These days we're older and largely more tired and Halloween generally involves just the 3 of us, taking the batteries out of the doorbell, some Halloween type food and falling asleep on the sofa in front of a less than scary film because Phil's a bit of a wuss when it comes to horror films.
But for old times sake I wanted to try and make something that was pretty disgusting to look at but pretty delicious to eat (and sorta healthy as  a bonus).  Blood clot red peppers, roasted broccoli body parts and a toxic slime sauce anyone?  Sounds utterly delicious right?
I make my white sauce a little differently these days.  The olive oil replaces the butter and I sizzle some garlic in it before adding the flour.  This gives a lovely mild garlic background flavour.  And gives those vampires a surprise should they even try to come anywhere near you.
I also use wholemeal flour to make the roux.  Can't think of a spooky reason why.  Oh … wait.  Wholemeal flour retains all the good for you bits that get stripped away in the process of making refined white flour – namely all that fibre and some vitamins.  Eating 'whole' anything will hopefully keep the Grim Reaper at bay a little longer! ?
Yeah I know, that was a stretch.
You can also completely 'detoxicate' this mac and cheese if spirulina isn't your thing (or you want it to look a little less disgusting!)  No need to miss out on all that goopy, stringy cheese loveliness right?
If you make this recipe or any of the recipes from The Cook & Him we'd LOVE to see! Just snap a picture and share it on Instagram using #thecookandhim and tagging @thecookandhim in the photo itself (as this guarantees we'll see your picture!
)
And don't forget to follow us on Instagram , Facebook or Twitter for even more recipe inspiration and chat, competitions, behind the scenes and so much more!
Toxic Slime Mac and Cheese
prep: 20 mins / cook: 25 mins / inactive: 0 mins / total: 45 mins / quantity: 4 portions
Ingredients
1 head broccoli
1 red pepper
2 cups whole wheat penne pasta
1 1/2 tblsp olive oil + a drizzle extra
3 cloves garlic – peeled
3 tblsp whole wheat flour
2 cups almond milk
1 tblsp basil pesto
1 tsp wholegrain mustard
1-2 tsp spirulina (dependent upon how green you want it!)
125g half fat mozzarella – torn into pieces
salt and pepper
Instructions
Start by roasting the veg - preheat the oven to 200 Fan / 220 C / 425 F / Gas 7.  Cut the florets from the stalk of the broccoli and put into a bowl
Remove the stalk and seeds from the pepper and cut into large bite sized chunks.  Add to the bowl with the broccoli, drizzle with some olive oil, salt and pepper and tip onto the tray.  Roast for 25 minutes
While they're roasting, cook the pasta according to packet instructions - usually in a large pan of boiling salted water for 12-13 minutes.  Drain the water once cooked
To make the sauce heat 1 1/2 tblsp olive oil in a large saucepan and sizzle the garlic over a medium heat for a couple of minutes
Tip in the flour and stir to make a 'roux' - a thick paste that comes away from the sides of the saucepan as you stir
Add the almond milk gradually (1/4 cup at a time) stirring well between each addition.  It will start out very thick and as you add all the milk it will loosen up and become a smooth silky sauce.  Stir in the pesto, mustard, spirulina and torn mozzarella along with plenty of seasoning to taste
Tip the pasta and the roasted veg into the hot sauce and stir well.  Serve immediately!
Notes
If you want to make this ahead simply pour the whole lot (or leftovers) into an ovenproof dish, cool then chill in the fridge for up to a week.  To serve pop in the oven till piping hot in the middle - I suggest 180 Fan / 200 C / 400 F Gas 6 for around 35-40 minutes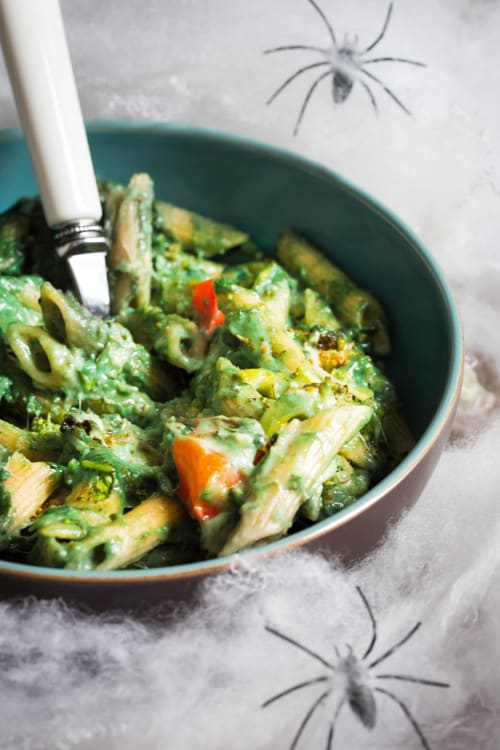 Hello and welcome to The Cook & Him.
We are Sam (The Cook), Phil (Him) and our little dog Nooch. What started with a plan to shed a few pounds back in 2016, soon became obvious that eating healthy doesn't have to be bland and boring.
So, combining Sam's 15 years of experience working within Michelin starred restaurants and our love for deliciously healthy food, we're creating recipes for you to make and enjoy. We've added our own unique spin on traditional and contemporary vegetarian and vegan recipes that keep you (and your pets!) healthy and full.  And we make sure they just work.
All things autumn - warming soups, savoury bakes and delicious sweet treats!
and I would like to see...
Or search for a recipe or post by keyword