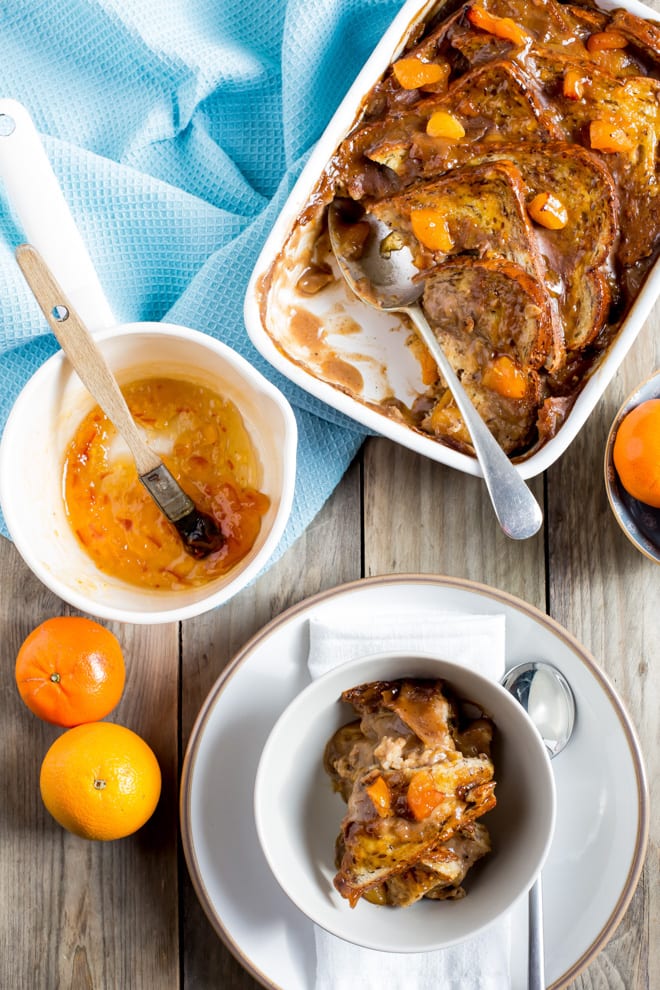 Posted in Recipes on 01.12.2018
Bread Pudding Recipe
prep: 20 mins / cook: 35 mins / inactive: 0 mins / total: 55 mins / quantity: 4-6 portions Print recipe?
The Origins of Bread Pudding (or Bread & Putter Pudding as its known in our house)
Bread Pudding has been around, literally, for centuries, and was originally used a a way for cooks to use stale, leftover bread instead of letting it go to waste. Bread pudding has the most humble of origins, but it now shows up on the dessert menus of upscale restaurants.
It being undeniably simple and consequently cheap makes it as worthwhile today as it ever was. A truly rib-sticking bread pudding is not for everyday eating, but is a huge treat on a freezing cold day.
Basically, the dish is made by layering bits of bread and any add-ins in a dish and pouring a custard sauce over before baking.  Consequently, the possibilities for the dish are endless, because cooks can vary the type of bread and any ingredients they choose to add.
Why do we love Bread Pudding so much?
Bread and butter pudding had always been one of my favourite desserts.  I think I inherited that from my Dad who would practically eat a whole dish to himself.  He liked his full of cream and eggs and sometimes a bit of chocolate.  Occasionally even with croissants instead of bread.  So as an homage to Dad, I made a slightly healthier and vegan bread and butter pudding – but one that still has all the unctuousness and dig-in-ness of a traditional one.
Neither a normal nor a vegan bread and butter pudding are hard to make though and they're both a great way to use leftover bread.  Or bread that's gone a bit stale.  Pffft .. does that ever happen in your house?  I normally buy a loaf and freeze it – chizzeling off a slice or two as needed.  If bread's there, I'll eat it.  I've had toast my whole life and never ever got bored of it.  It's like an old friend – reliable, trustworthy and never disappoints.  Not that I keep old friends in the freezer normally.
How to make Bread Pudding
Simply layer up butter bread into a dish, sprinkle with the fruit of your choosing, even add a little booze (if thats your thing), pour over a custard and bake slowly. Don't be tempted to hurry a bread pudding by cooking it for a shorter time in a hotter oven. The slow cooking is necessary to get the centre of the mixture firm.
It really couldn't be simpler.
Can I make a Vegan Bread Pudding?
Heck Yeah!
Swap butter for Vitalite, its a Vegan Society dairy free spread that has a deliciously buttery flavour and is incredibly versatile – from making vegan pastry in lemon meringue pie or vegan quiche to rich and buttery vegan shortbread and even vegan frosting on vegan brownies. It also contains no palm oil unlike many of the other dairy free spreads.
And don't be worried about making vegan custard – it really couldn't be more simple (or delicious!)  Firstly you make a paste with the cornflour and a little of the almond milk, boil the remaining milk then add the two together in the saucepan.  Stir till it stars to thicken, adding all your spices, orange zest and sugar before pouring it over your buttered bread.  The whole lot is baked until just firm and you can then glaze it with some warmed marmalade.  This gives a lovely sticky top and really brings out the flavour of the orange already baked into the pudding.
Can I use different fruits in my Bread Pudding?
Of course you can! In this recipe I've used apricots – I was lucky enough to be sent these from Avicena Bio Foods and I've become a genuine fan!  They're dark, chewy and sticky and have an almost spicy flavour, making them a great fruity contrast to the custard soaked bread.
Phil doesn't even like apricots yet he absolutely scoffed this vegan bread and butter pudding!
If you make this recipe or any of the recipes from The Cook & Him we'd LOVE to see! Just snap a picture and share it on Instagram using #thecookandhim and tagging @thecookandhim in the photo itself (as this guarantees we'll see your picture!
)
And don't forget to follow us on Instagram , Facebook or Twitter for even more recipe inspiration and chat, competitions, behind the scenes and so much more!
Bread Pudding Recipe
prep: 20 mins / cook: 35 mins / inactive: 0 mins / total: 55 mins / quantity: 4-6 portions
Ingredients
8 slices bread – can be any bread of choice (and a great way to use up any stale or leftover bread!)
1/4 cup (60g) dairy free spread – I used Vitalite
1/2 cup (110g) dried apricots (approx 11 apricots)
Custard:
3 cups (690ml) unsweetened almond milk
4 tblsp (35g) cornflour
1/2 cup (100g) coconut sugar
1 tsp ground cinnamon
1 tsp ground nutmeg
1/2 tsp ground allspice
1 orange – grated zest only
1 tsp vanilla extract
Optional Glaze:
4-5 tblsp orange marmalade (could also use apricot jam)
Instructions
Preheat your oven to 160 Fan / 180 C / 350 F / Gas 4
Butter the bread and cut in half
Chop the apricots into small pieces
I used a 7 x 9 1/2 inch (18 x 24 cm) baking dish and layered the slices of bread into it, scattering some of the diced apricots over each layer including the top layer. Set aside while you make the custard
Put the milk into a large saucepan and the cornflour into a medium bowl
Take just enough of the milk out of the saucepan and add to the cornflour whisking until you get a thin paste. I just add a tablespoon at a time to get the desired consistency
Bring the milk to the boil then pour about a cupful of it onto your cornflour mixture. Whisk then add the whole lot back into the saucepan
Using either a wooden spoon or a whisk, bring the mixture back to a gentle simmer, stirring or whisking continually until it starts to just thicken
Remove from the heat and whisk in the coconut sugar, spices, orange zest and vanilla
Carefully pour the spiced custard over the bread in the dish and gently (using the back of a spoon) push the bread down into the dish
At this point you can leave it to cool and store in the fridge for a few days until you're ready to bake it, otherwise put the dish in the oven and bake for 35-40 minutes until golden and just set
Leave to cool for 5-10 minutes then gently warm the orange marmalade in a saucepan - if it seems too thick to brush over the pudding add a spoon or two of water
Use a spoon or pastry brush to spread the marmalade over the whole top of the pudding
Serve immediately or leave to cool and store, covered, in the fridge
It can be reheated - cover the dish with a piece of foil and bake at 180 Fan / 200 C / 400 F / Gas 6 for 20-30 minutes, making sure it's piping hot in the center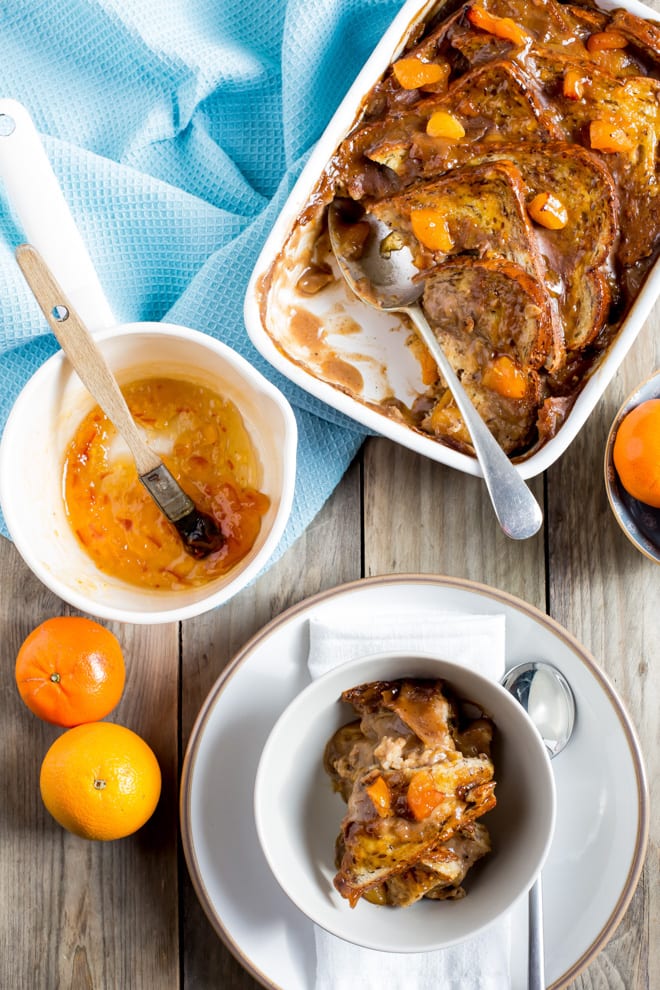 Some products I used in today's post...
Some of the links above are affiliate links, which pay us a small commission for our referral at no extra cost to you! Thank you for supporting The Cook & Him.
Hello and welcome to The Cook & Him.
We are Sam (The Cook), Phil (Him) and our little dog Nooch. What started with a plan to shed a few pounds back in 2016, soon became obvious that eating healthy doesn't have to be bland and boring.
So, combining Sam's 15 years of experience working within Michelin starred restaurants and our love for deliciously healthy food, we're creating recipes for you to make and enjoy. We've added our own unique spin on traditional and contemporary vegetarian and vegan recipes that keep you (and your pets!) healthy and full.  And we make sure they just work.
All things autumn - warming soups, savoury bakes and delicious sweet treats!
and I would like to see...
Or search for a recipe or post by keyword