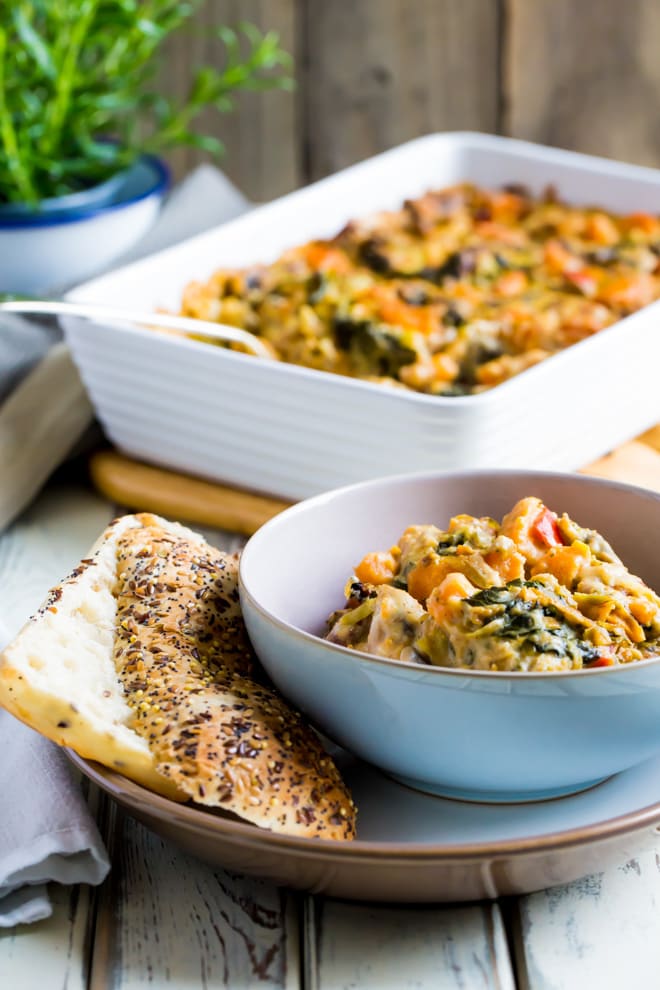 Posted in Recipes on 15.10.2018
Vegan Vegetable Bake
prep: 30 mins / cook: 60 mins / inactive: 0 mins / total: 1 hour 30 mins / quantity: 2 - 4 portions Print recipe?
Creamy, rich and full of seasonal vegetables and soft vegan cheese, this hearty and delicious Vegan Vegetable Bake makes a great side or main dish!
I'm still a little nervous making anything with so many veggies and having a vegetable bake as the only thing for dinner that evening while Phil is still embracing all things vegetarian can be risky!  It's (only) taken 14 years but we've gone from someone who had SO MANY foodisms and food phobias to someone who actually asked me if he could just have a tub of salad with some veggie sausages in it for his lunch pack up!  This might not seem a big deal to most but when we met he would literally only eat meat and potatoes.  No veggies, no fruit and absolutely nothing salad.
He's come such a long way since then but he does still occasionally ask me if he likes a certain vegetable.  Of course I always say yes, whether he's had it before or not!
And this veggie bake is, of course, absolutely crammed with veggies!
Squash, peppers, broccoli, sweet potato, leeks, spinach and mushrooms.  A garlic, mustard and lightly spiced sauce brings all those wonderful flavours together.
Feel free to mix up the veggies though, this is a great way to incorporate whatever is seasonal or whatever you have to hand.  There's a quick walk-through on our Instagram stories highlights where I didn't have any squash or sweet potatoes so I used parsnips and carrots.  Always start the cooking with the 'hardest'/root vegetables first as they will take the longest.  In one variation I've also topped it with some panko breadcrumbs mixed with nutritional yeast for a bit of crunch and texture.
You might also be wondering about the cheesy part of this vegetable bake recipe.  It's is all down to a lovely vegan cheese company called New Roots.  You may have heard me mention them before.  They're a small company, truly lovely people and make THE most amazing vegan cheese!  I keep shouting about them because I'm hoping they'll expand and be in all the shops so we're not just reliant on a flying visit at a food festival to get my vegan cheese fix!!
BUT. It can be a challenge to get hold of this particular cheese and I've made this cheesy vegetable bake many times since with all kinds of other vegan cream cheeses.  So feel free to sub with whatever is your favourite brand or flavour.
I've also put in the recipe for this veggie bake that it serves 2-4.  We had it as a main course for the two of us with just some crusty bread, and bloody delicious it was too!  It would also easily serve 4 and at a stretch 6 as a side dish.
But as a family we do love our big hearty meals, especially when it's during the colder months.  Ones that you can prepare a few portions worth of and then reheat to enjoy for a few meals:
Vegetarian Lasagne – called veggie, actually vegan. SO hearty and tasty, one of our absolute must makes.
Shepherd's Pie – a big bowl of this, crusty bread, a fork, Netflix and I'm set.  Do not disturb until spring.
Mushroom Bourguignon – perfect to feed a crowd, serve straight from the saucepan with crisp and fluffy roast potatoes.  Leftovers also freeze well and are great for a quick lunch from the microwave.
Paella – all those glorious Spanish flavours with a vegan twist.  Protein packed too!
If you make this recipe or any of the recipes from The Cook & Him we'd LOVE to see! Just snap a picture and share it on Instagram using #thecookandhim and tagging @thecookandhim in the photo itself (as this guarantees we'll see your picture!
)
And don't forget to follow us on Instagram , Facebook or Twitter for even more recipe inspiration and chat, competitions, behind the scenes and so much more!
Vegan Vegetable Bake
prep: 30 mins / cook: 60 mins / inactive: 0 mins / total: 1 hour 30 mins / quantity: 2 - 4 portions
Ingredients
2 medium leeks
1/2 butternut squash
3 cups (250g) broccoli florets
1 large sweet potato
1 red pepper
4 cups (400g) mushrooms
2 tblsp + a drizzle of olive oil
3 cups (75g) spinach
3-4 cloves garlic – peeled and crushed
3 tblsp wholemeal flour
2 cups (430 ml) unsweetened almond milk
1 tsp mustard (wholegrain, Dijon, English – whichever is your preference!)
1 tsp grated nutmeg
1 x 130g tub New Roots Free the Goat Cheese (Plain) (or sub with your favourite brand of vegan cream cheese)
1 tsp dried rosemary
salt and pepper
Instructions
Start by preparing the veg
Thinly slice the leeks into rounds then wash to remove any dirt.  Drain well
Peel and remove the seeds from the squash and cut into bite sized chunks
Peel the sweet potato and cut into bite sized chunks
Break the broccoli into florets
Remove the core and seeds from the pepper and cut into largeish pieces
Halve or quarter the mushrooms if they're very large
Put the squash and sweet potato into a large frying pan or large saucepan that has a lid and add a drizzle of olive oil
Saute over a medium heat, stirring occasionally for 5 minutes.  Add 1/2 cup (120ml ) water, put the lid on and bubble for a further 5 minutes
Remove the lid and allow the water to evaporate for a further 5 minutes
Add the leeks and peppers and saute for another 5 minutes, stirring frequently
Add the broccoli and mushrooms and 1 cup (240ml) water and put the lid on for a last 5 minutes. 
Turn off the heat and remove the lid then wilt in the spinach - you might need to do this in a couple of batches - just stir it into the other veg until it shrinks then set the saucepan aside while you make the sauce
If you're planning on eating this after you've baked it preheat your oven to 180 Fan / 200 C / 400 F / Gas 6
In a medium saucepan put the 2 tblsp olive oil and the crushed garlic.  Gently heat until sizzling then stir in the wholemeal flour to form a thick paste (also known as a roux)
Add the milk a little at a time, stirring well between each addition until you've used all the milk and you have a smooth creamy sauce.  I start the roux with a wooden spoon then as I add more milk and it starts to loosen up I swap the spoon for a whisk
Add the vegan cheese, mustard, dried rosemary and plenty of salt and pepper and whisk to melt the cheese
Add the sauce to the veggies (or vice versa depending in which is the bigger pot!) and stir together until well mixed
At this point you can chill and refrigerate for use at another time or day otherwise pop into the oven for 20-30 minutes until piping hot in the centre
You can also reheat any leftovers - simply bake again until piping hot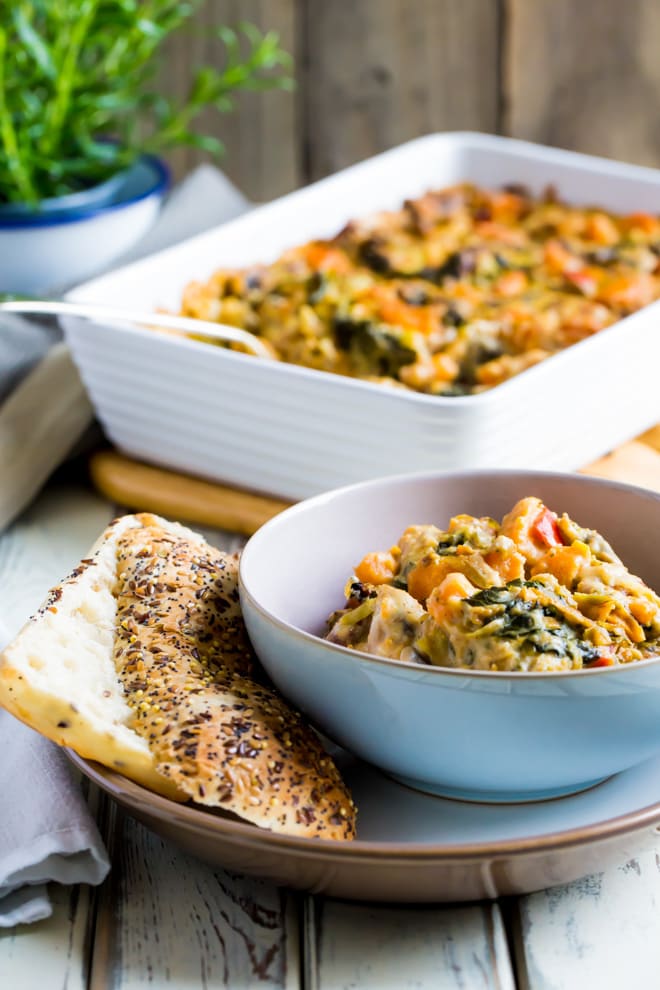 Some products I used in today's post...
Some of the links above are affiliate links, which pay us a small commission for our referral at no extra cost to you! Thank you for supporting The Cook & Him.
Hello and welcome to The Cook & Him.
We are Sam (The Cook), Phil (Him) and our little dog Nooch. What started with a plan to shed a few pounds back in 2016, soon became obvious that eating healthy doesn't have to be bland and boring.
So, combining Sam's 15 years of experience working within Michelin starred restaurants and our love for deliciously healthy food, we're creating recipes for you to make and enjoy. We've added our own unique spin on traditional and contemporary vegetarian and vegan recipes that keep you (and your pets!) healthy and full.  And we make sure they just work.
All things autumn - warming soups, savoury bakes and delicious sweet treats!
and I would like to see...
Or search for a recipe or post by keyword