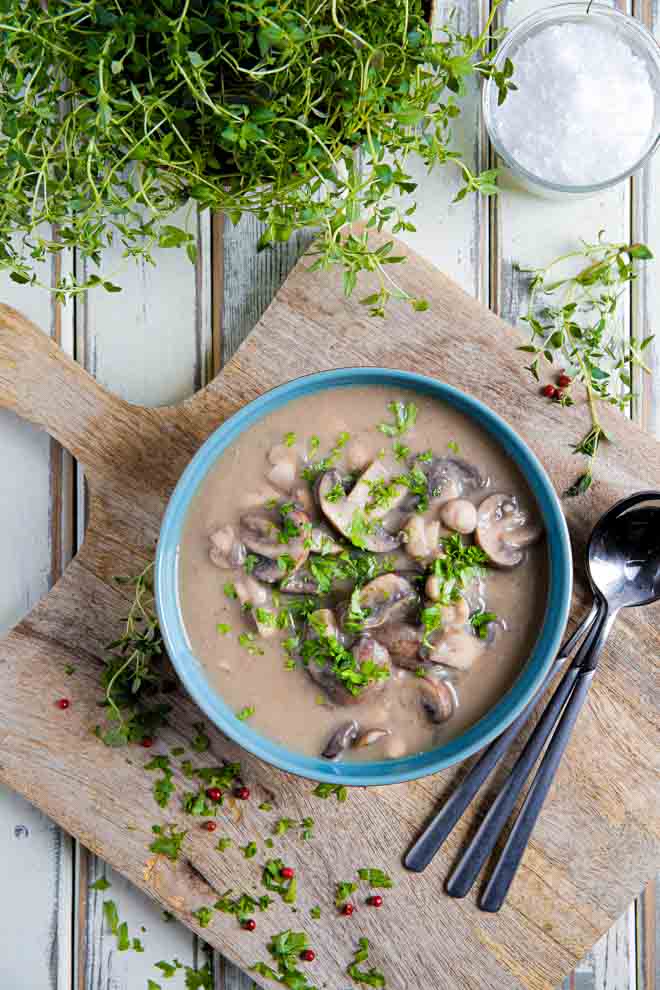 Posted in Recipes on 28.09.2020
Vegan Cream of Mushroom Soup
prep: 15 mins / cook: 15 mins / inactive: 0 mins / total: 30 mins / quantity: 4 servings Print recipe?
Rich, thick and hearty, this vegan cream of mushroom soup is full of deliciously satisfying flavour from just a few uncomplicated ingredients.
Are you a year round fan of soup?  I never warmed (excuse the pun) to cold soups during the summer months.  To me soup is a seasonal favourite.  Chilly days and cold nights.  With a big bowl of something warm and filling with oversized chunks of crusty bread.  It should be full of flavour.  And veggies.  But with so many convenience bought soups not being vegan, even the plain old vegetable ones (milk somehow always finds its way in) I wanted to make a soup recipe that is just about as simple as it could possible be.  And with just a few ingredients, this mushroom soup delivers on everything:
Rich and creamy
Full of flavour
Hearty and healthy
Satisfyingly yum!
Just one saucepan and some kind of blender needed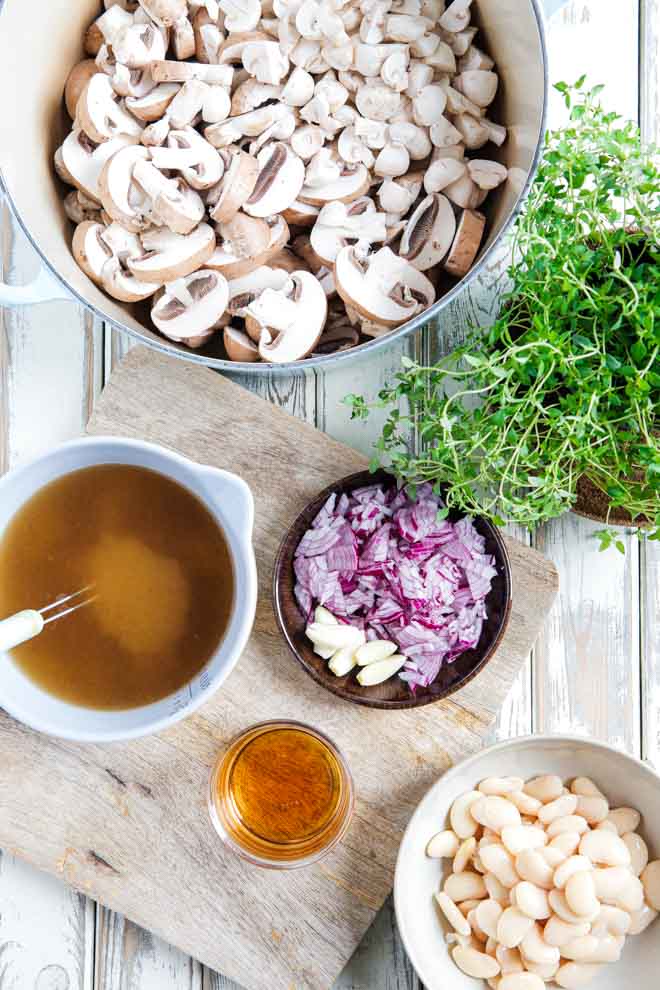 I'd seen so many cream of mushroom soup recipes using coconut milk or cream for the 'creamy' part.  But I know not everyone (ahem Phil) likes a coconut flavour so I had to find a way of making the creamy part without, well, cream.
Enter the humble butter bean.  Not only are they full of fibre and protein, they also contain iron.  Having been recently diagnosed with anaemia and not wanting to resort to just taking iron tablets, I'm currently looking for ways to increase my daily intake of iron through diet.  And a big bowl of mushroom soup sounds to me a really good way of doing just that.
And also because there really isn't anything quite like homemade soup bubbling on the stove to look forward to.  It's so easy to increase the ingredients and make some for the fridge or freezer for a few meals worth too.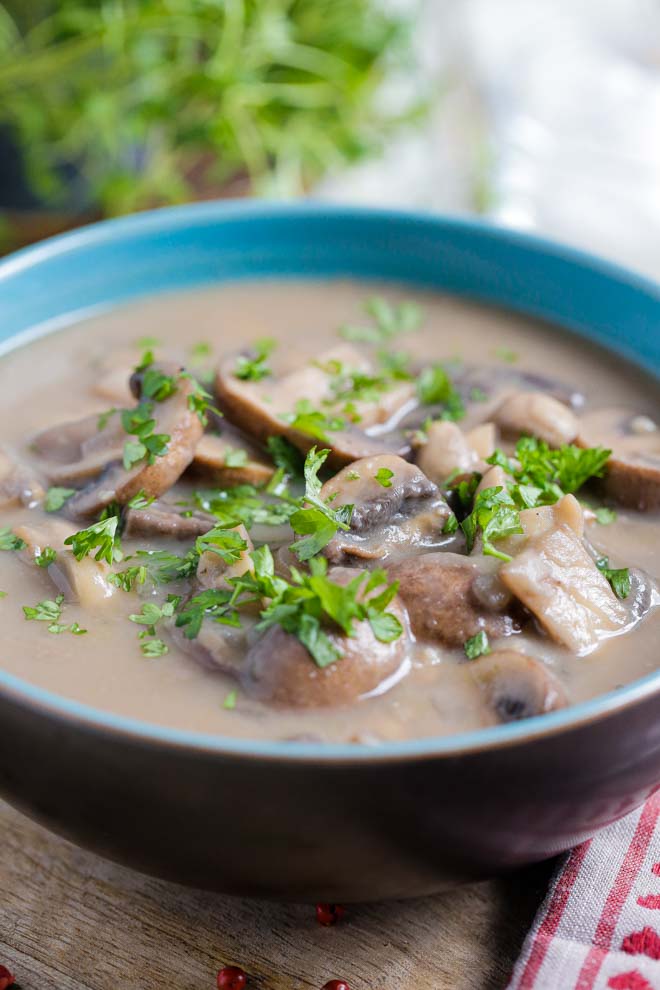 How to make this easy vegan mushroom soup:
Brown the mushrooms.  Here you want quite a high heat and only a little oil.  And stir as little as possible.  You want the mushrooms to sear and colour as this is what gives the soup its final wonderfully earthy flavour.
Add the chopped onion and crushed garlic.  And a few sprigs of fresh thyme if you have them.  Sauté until the onion is just translucent.  This soup really doesn't need much cooking for a tonne of flavour.
De-glaze the pan.  This is so that all those tasty bits that might be stuck to the bottom of your saucepan aren't left behind!  This is done with a drop of brandy, which also helps to cook off any raw alcohol flavour while leaving the warmth of the brandy.  You can also use sherry or white wine if you don't have brandy.
Add the remaining liquids.  Stir in the veg stock and aminos (or light soy sauce).  I've also added a teaspoon of miso paste to enhance that deep woody, mushroom umami flavour.  It can be omitted if you can't get hold of it.
Gently bubble for just a 5 minutes.  This allows the flavours to blend together without overcooking.  I like actual mushrooms in my soup not mushroom mush!
Blend just a ladle or two of the soup with the butter beans.  This is what gives the final soup it's lovely thick creamyness.  With added extra healthy oomph!
Heat through and serve.  Or cool and chill or freeze for many future super quick, super healthy meals!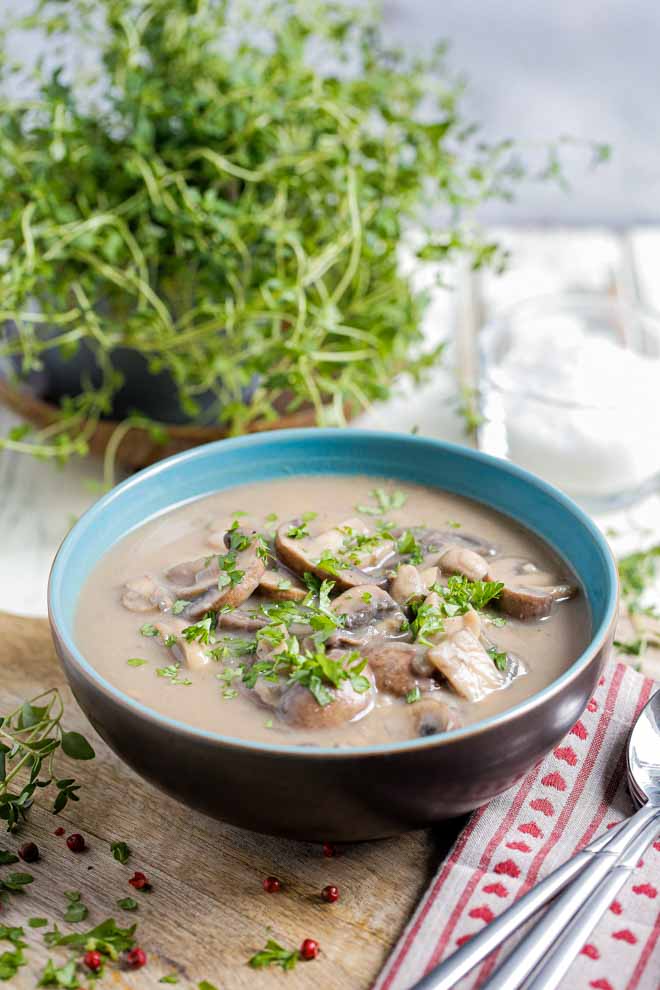 Love soup as much as we do?  Here's some of our tried and tested favourites:
Red Pepper and Tomato Soup with Roasted Cauliflower
I'd love to hear from you if you give this Vegan Cream of Mushroom Soup recipe a try! Just leave a comment as it's so helpful and I love to hear how the recipe worked out for you! Thank you so much 🙂
Don't forget to follow us on YouTube, Facebook or Pinterest for even more recipe inspiration and chat, competitions, behind the scenes and so much more!
Vegan Cream of Mushroom Soup
prep: 15 mins / cook: 15 mins / inactive: 0 mins / total: 30 mins / quantity: 4 servings
Ingredients
1 tblsp olive oil (or vegetable oil of choice)
7 oz (200g) button mushrooms – halved
16 oz (500g) chestnut mushrooms
1 red onion – peeled and finely chopped
4 cloves garlic – peeled and crushed
4-5 sprigs fresh thyme – leaves only (or sub with 1 tsp dried thyme)
1/4 cup (60ml) brandy (or sub for sherry or white wine)
2 tblsp liquid aminos (or sub for light soy sauce)
3 cups (800ml) vegetable stock
1 tsp miso paste
1 can butter beans – drained weight 1 cup (230g)
salt and pepper
Optional – chopped fresh parsley or chives to serve
Instructions
Heat the oil in a large saucepan over a medium/high heat then add the mushrooms. Cook for a couple of minutes without stirring until the mushrooms start so sear and brown. Cook for 5 minutes, stirring as little as possible
Add the chopped onion, crushed garlic and thyme and saute for 2-3 minutes until the onion is starting to turn translucent
Stir in the brandy to de-glaze the pan then add the stock, aminos and miso paste
Bubble everything for 5 minutes, stirring ocassionally
Drain the butter beans and tip into a blender along with a couple of ladles of the mushroom soup
Blend until smooth then pour into the saucepan and heat through
Taste and add salt and pepper as needed
Serve immediately with a sprinkle of chopped fresh herbs or cool, chill and store in the fridge or freezer
Notes
Feel free to add a sprinkle of dried chili flakes to the finished soup if you like your soup spicy hot as well!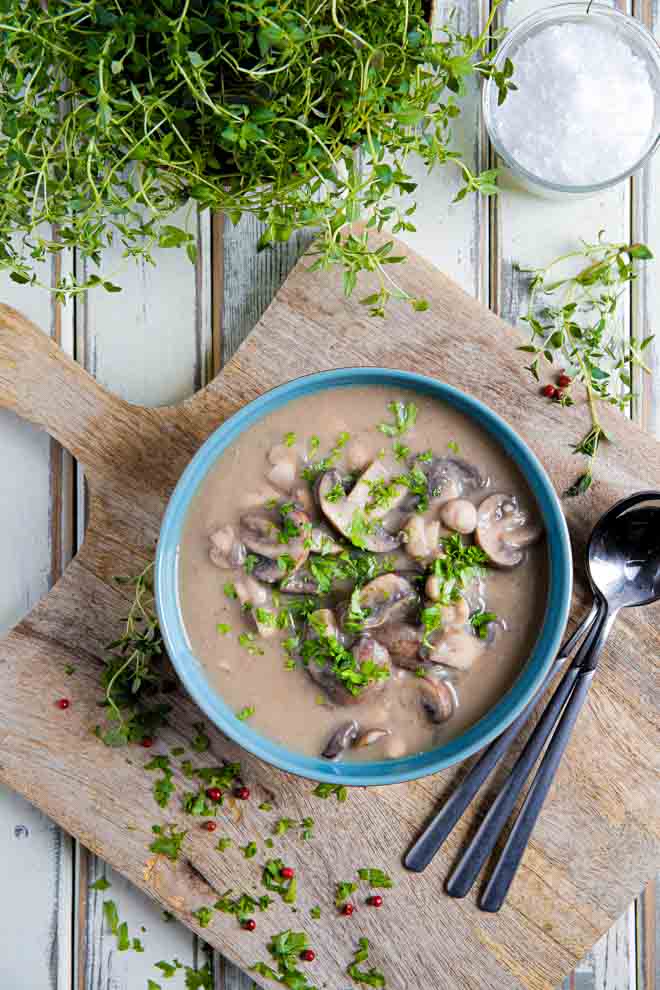 Hello and welcome to The Cook & Him.
We are Sam (The Cook), Phil (Him) and our little dog Nooch. What started with a plan to shed a few pounds back in 2016, soon became obvious that eating healthy doesn't have to be bland and boring.
So, combining Sam's 15 years of experience working within Michelin starred restaurants and our love for deliciously healthy food, we're creating recipes for you to make and enjoy. We've added our own unique spin on traditional and contemporary vegetarian and vegan recipes that keep you (and your pets!) healthy and full.  And we make sure they just work.
All things autumn - warming soups, savoury bakes and delicious sweet treats!
and I would like to see...
Or search for a recipe or post by keyword