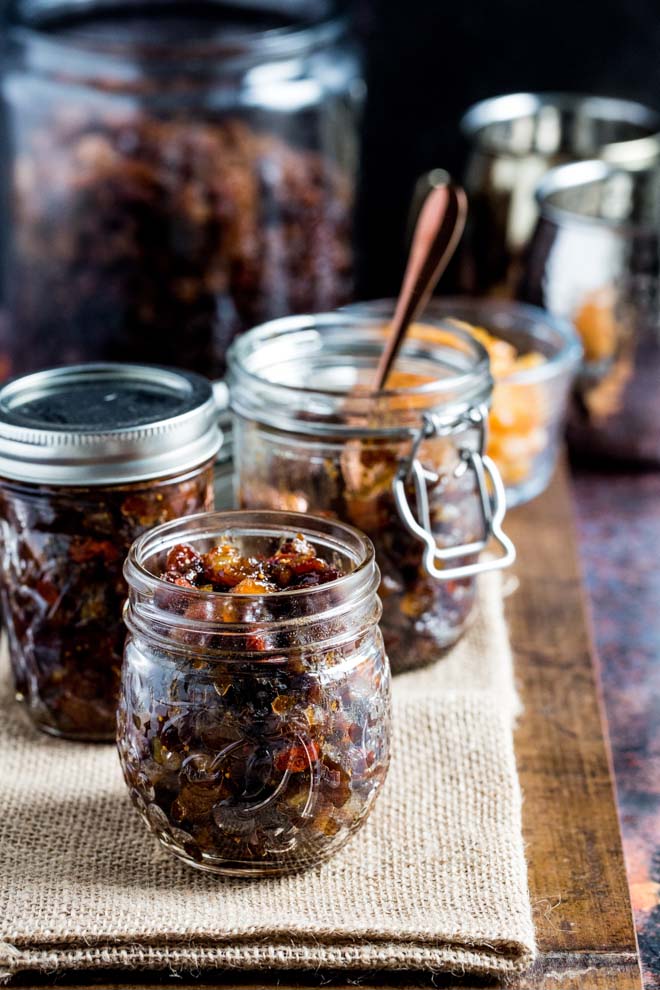 Posted in Recipes on 22.11.2019
Vegan Mincemeat - Suet & Gluten Free
prep: 15 mins / cook: 20 mins / inactive: 0 mins / total: 35 mins / quantity: enough for approximately 30 mince pies Print recipe?
Making your own mincemeat couldn't be easier or taste better! Packed with fruits and spices this is guaranteed to get your kitchen feeling festive!
If you've ever been put off from making your own mincemeat because it seems like a bit of a faff then just trust me when I say this is almost as easy as shopping for, buying and opening a jar.  The difference is I honestly believe you can't beat anything homemade.  And your house will be filled with THE most wonderful smell.
For me, one of the best things about Christmas is mince pies.  I get a little excited around October when you start seeing them in the shops.  Because that means I can start the annual "eat my own bodyweight in mince pies" challenge.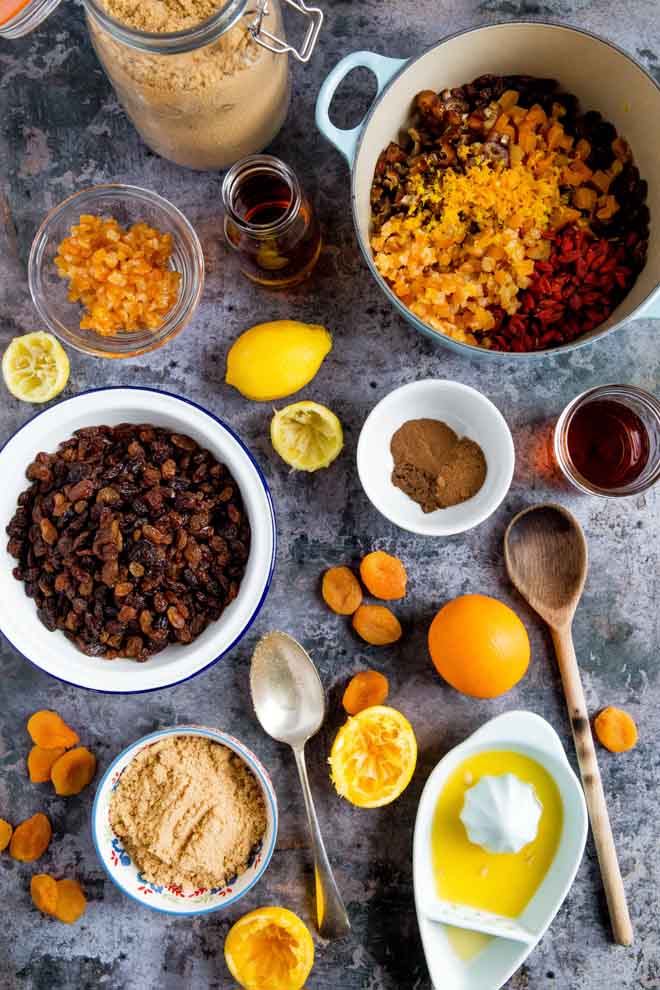 This mincemeat is sticky and rich.  It's full of a wonderful variety of dried fruits and spices which can be easily swapped around to suit your own taste.  If you don't like brandy you can swap it for sherry or port, or even use all apple juice if you want an alcohol free version.
One thing I never particularly enjoyed in bought mincemeat or mince pies was the addition of suet.  Traditional suet is an animal fat derived from cows and sheep and harks back to the days when mincemeat contained actual meat.  Oh progress how I love thee.  You can get vegetarian suet but even when I was vegetarian, those fatty white flecks were always something that slightly disturbed me and I really don't think suet is necessary for flavour.
I recommend you make this suet-free mincemeat and prove me right 😉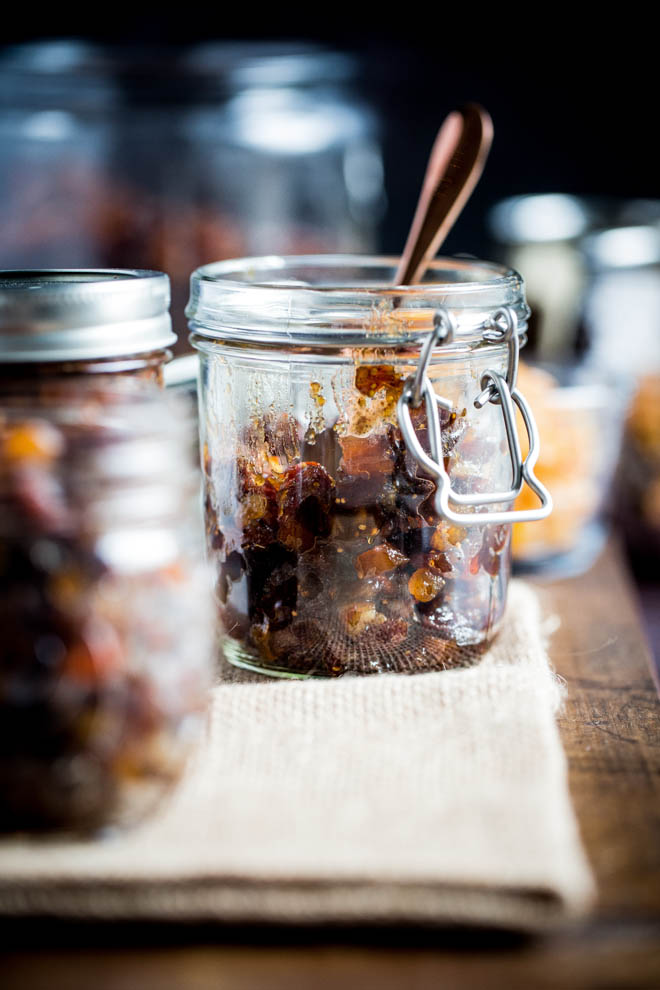 Making this mincemeat is really as easy as putting all the ingredients into saucepan and bubbling away for 15-20 minutes until you have a syrupy consistency.
It also makes a great gift if you want to double (or triple) the batch and truly spread some festive cheer!  If so I'd recommend putting the sticky mixture into the gifting jars as soon as it's cooked.  Once it cools it's a lot less runny and a lot more sticky!  Great for filling your vegan mince pies, not so great for easily getting into your jars (learnt this the hard way!)
So you've got your mincemeat and you're wondering what to do with it:
Vegan mice pies – obvs.
Mincemeat cookies – OMG I love these.  Almost as much as mince pies!
Mincemeat Nice Cream Pops – sorta healthy, sorta not but a great way to use up leftover mincemeat AND over-ripe bananas!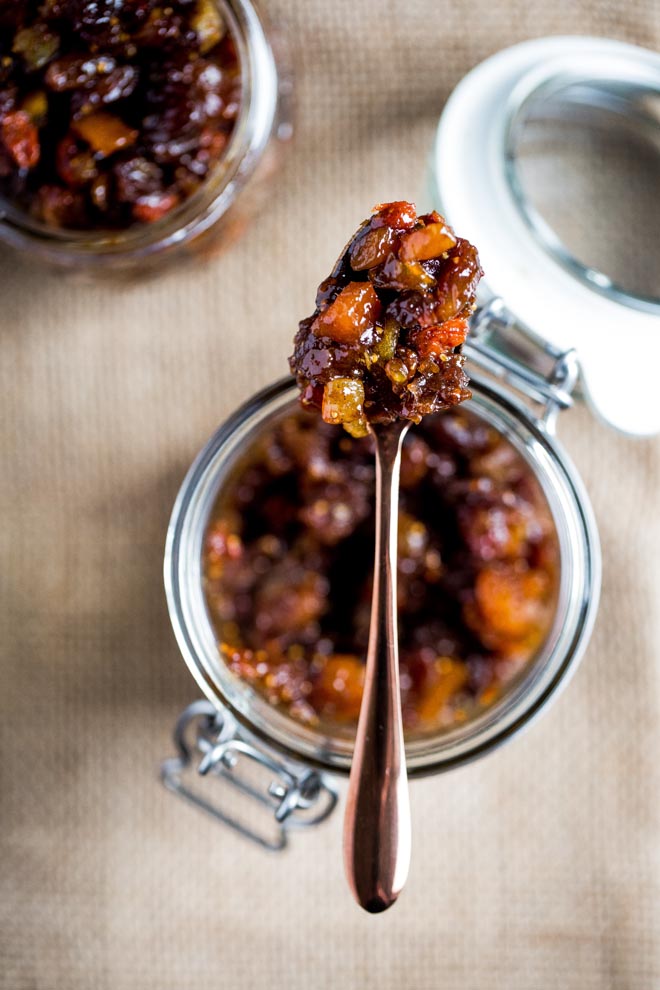 If you make this recipe or any of the recipes from The Cook & Him we'd LOVE to see! Just snap a picture and share it on Instagram using #thecookandhim and tagging @thecookandhim in the photo itself (as this guarantees we'll see your picture!
)
And don't forget to follow us on Instagram , Facebook or Twitter for even more recipe inspiration and chat, competitions, behind the scenes and so much more!
Vegan Mincemeat - Suet & Gluten Free
prep: 15 mins / cook: 20 mins / inactive: 0 mins / total: 35 mins / quantity: enough for approximately 30 mince pies
Ingredients
1  cup (150g) sultanas
1/2 cup (90g) candied peel
1/4 cup (30g) goji berries
1/2 cup (90g) dried apricots
1/2 cup (80g) dates – stone removed weight
4 dried figs (see note)
1 lemon – juice and grated zest
1 orange – juice and grated zest
3/4 cup (130g) light brown sugar
1 tsp ground allspice
2 tsp ground cinnamon
2 tsp ground nutmeg
1/4 cup (60ml) apple juice
1/4 cup (60 ml) brandy – sub with preferred alcohol or use all apple juice
Instructions
Put all the ingredients into a medium heavy based saucepan and gently bubble over a low heat for 15-20 minutes, stirring occasionally, until the liquid is sticky and syrupy in consistency
If putting into glass jars carefully spoon the hot mincemeat into them
Leave to cool then store in a cool, dark place for up to 2 months. I keep it in the fridge until I'm ready to use it
Notes
I added the dried figs because I had 4 left in a bag I wanted to use up! Feel free to omit or increase one of the other dried fruits slightly.
This recipe makes around 2 1/2 - 3 cups (2 lb or 800g) of mincemeat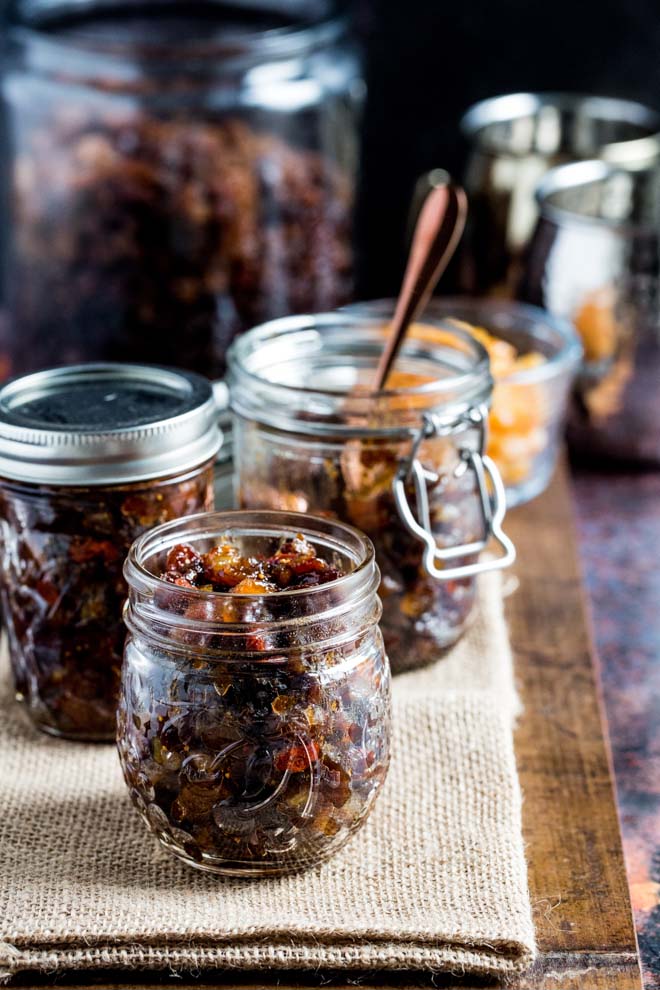 Some products I used in today's post...
Some of the links above are affiliate links, which pay us a small commission for our referral at no extra cost to you! Thank you for supporting The Cook & Him.
Hello and welcome to The Cook & Him.
We are Sam (The Cook), Phil (Him) and our little dog Nooch. What started with a plan to shed a few pounds back in 2016, soon became obvious that eating healthy doesn't have to be bland and boring.
So, combining Sam's 15 years of experience working within Michelin starred restaurants and our love for deliciously healthy food, we're creating recipes for you to make and enjoy. We've added our own unique spin on traditional and contemporary vegetarian and vegan recipes that keep you (and your pets!) healthy and full.  And we make sure they just work.
All things autumn - warming soups, savoury bakes and delicious sweet treats!
and I would like to see...
Or search for a recipe or post by keyword