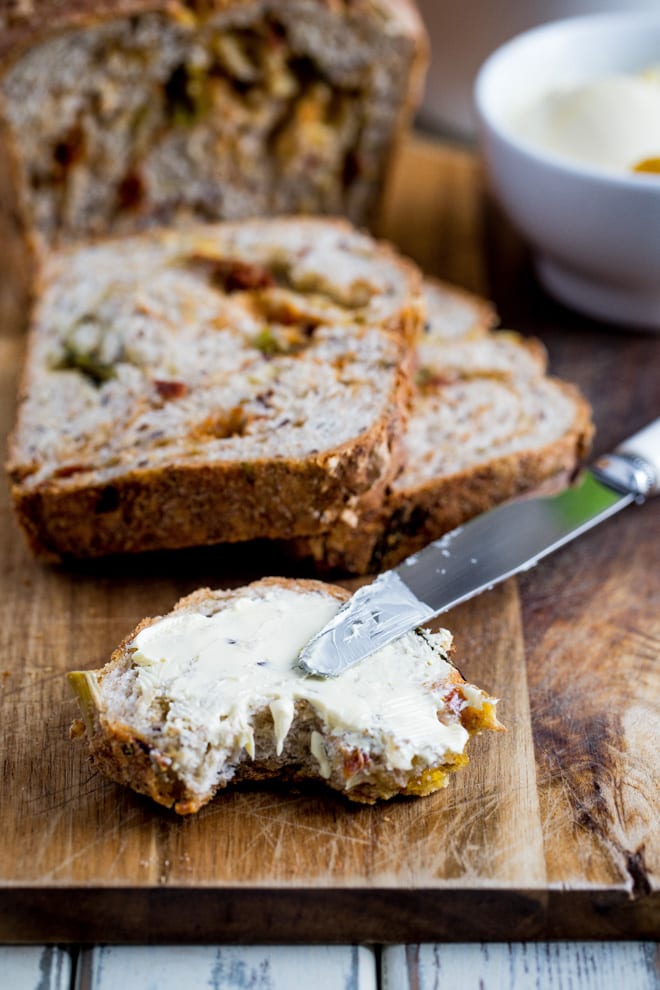 Posted in Recipes on 13.06.2019
Asparagus and Sun Dried Tomato Bread
prep: 30 mins / cook: 40 mins / inactive: 2 hours 0 mins / total: 3 hours 10 mins / quantity: 10-12 slices Print recipe?
All the flavours of spring in every bite of this asparagus and sun dried tomato bread along with tangy tomatoes, melty vegan cheese and aromatic basil!
I've often mentioned how one of my very favourite kitchen things is to make homemade bread.  NOTHING beats the smell nor the satisfaction of a beautiful loaf that you've toiled over.  Bread machine recipes have their place and for years we used one at least once a week.  Setting it to make the loaf in time for breakfast.  Can you imagine that being the first thing you smell as you wake?  But I'm a little addicted to bread – evidenced by the fact that when I made this asparagus and sun dried tomato loaf Phil and I just stood at the counter carving off chunks and devouring it warm.
So when the bread machine finally packed up we consciously didn't buy another one.  If we wanted homemade bread we'd have to get up to our elbows in dough and make it ourselves.  And whilst homemade bread IS easy it's also quite time consuming simply because of the proving.
But OH.MY.GOODNESS it's worth it!!  In my pastry chef days, one of the hotels I worked at liked to have a different flavour of bread each day.  There were many times a guest would be staying for more than one night and thus dining in the restaurant more than once – so a different flavour of bread made their meals a bit more unique.  I used to love experimenting with flavours – adding fruits, nuts, cheeses, herbs and anything else I could scrounge from other parts of the kitchen!
So this asparagus and sun dried tomato bread really takes me back to those long hot kitchen days – but in the best way of course 😉
Even though the asparagus is technically cooked within the dough, I've pre-blanched it to make it a little less chewy.
The sun dried tomatoes and basil just add to that wonderful Mediterranean vibe we've got going here.
And melty vegan cheese.  OMG.  As  you cut you get little pockets of it that just ooze while the bread is still warm!
There's something almost primal about it.  Getting back to our kitchen roots when everything was made by hand and from scratch.  Taking the most basic of ingredients and turning them into something that's one of the ultimately most satisfying comfort foods.
However if you're still a little unsure about all that kneading and proving involved these are some great homemade bread recipes that cut out that part with some clever ingredients.  They also might give you a 'taste' and make you feel more comfortable making your own:
Kombucha Bread – a light and delicious loaf with a lovely flax seed crunch and all the benefits from gut healthy kombucha!
Rye Bread – dark and slightly malty this bread is SO easy to make.
Herbed Beer Bread – wonderful flavour with alcohol free beer and fresh aromatic herbs.
All our homemade bread recipes freeze really well too, so not one single slice needs to go to waste 🙂
If you make this recipe or any of the recipes from The Cook & Him we'd LOVE to see! Just snap a picture and share it on Instagram using #thecookandhim and tagging @thecookandhim in the photo itself (as this guarantees we'll see your picture!
)
And don't forget to follow us on Instagram , Facebook or Twitter for even more recipe inspiration and chat, competitions, behind the scenes and so much more!
Asparagus and Sun Dried Tomato Bread
prep: 30 mins / cook: 40 mins / inactive: 2 hours 0 mins / total: 3 hours 10 mins / quantity: 10-12 slices
Ingredients
2 cups (300g) strong white bread flour
1/2 cup (75g) strong wholemeal flour
1/4 cup (30g) rolled oats
2 tblsp flax seeds (can sub with other seeds or even omit if you don't have)
1 tsp salt
1 cup (240ml) unsweetened almond milk (or preferred plant based milk)
1 tblsp coconut sugar
1 x 7g sachet active dried yeast
1/2 cup (50g) fresh asparagus spears
1/3 cup (50g) sun-dried tomatoes
1 cup (100g) vegan Cheddar type cheese – grated
approx 40 leaves (10g) fresh basil leaves
Instructions
Put both the flours, oats, flax seeds and salt into a large bowl and stir until mixed together
Gently warm the milk to blood temperature - this means that when you put a finger in it you can't tell if it's hot or cold!
Whisk the coconut sugar and yeast into the warmed milk then pour this into the flour mixture, stirring either with a spoon or by hand until it forms into a dough
Tip the dough onto a lightly floured work surface and knead for a good 5-10 minutes
When the dough is soft and elastic put into a clean, oiled bowl, cover with a t-towel and leave somewhere warm (or at room temperature) until doubled in size. This can take anywhere from 30 minutes to over an hour dependent on temperature
While it's proving prepare the additional ingredients
Trim the asparagus, removing any of the woody, hard stalk. Cut into 1 1/4 inch (3 cm) pieces and cook in boiling water for 3-4 minutes until just tender. Drain, refresh under cold water, drain again and leave to cool completely
Roughly chop the sun dried tomatoes and grate the cheese
Shred or tear the basil and prepare a 3 x 9 inch (7 1/2 x 23 cm) loaf tin by brushing a little vegan butter inside then coating that butter with flour, tipping out any excess
Once the dough has doubled in size tip it onto your work surface and knead in the asparagus, tomatoes, cheese and basil until well incorporated into the dough. You might find you have to knead the dough with a little extra flour as the additions can make it a little more wet and sticky
Form the dough into a rough rugby ball or oval shape and gently lift into your prepared tin
Cover with a t-towel and leave this to prove again until doubled in size - it should come close to reaching the top of the tin. When it's almost there, preheat your oven to 200 Fan / 200 C / 425 F / Gas 7
Bake the loaf for 35-40 minutes until lightly golden. To ensure it's cooked you can (very carefully) remove the loaf from the tin and tap the base - if it's cooked it will sound hollow. If not just return to the oven until cooked
This bread is just as lovely warm as it is cold - it makes great sandwiches and freezes really well. The only thing we've not tried yet is toasting it (let me know if you do!!)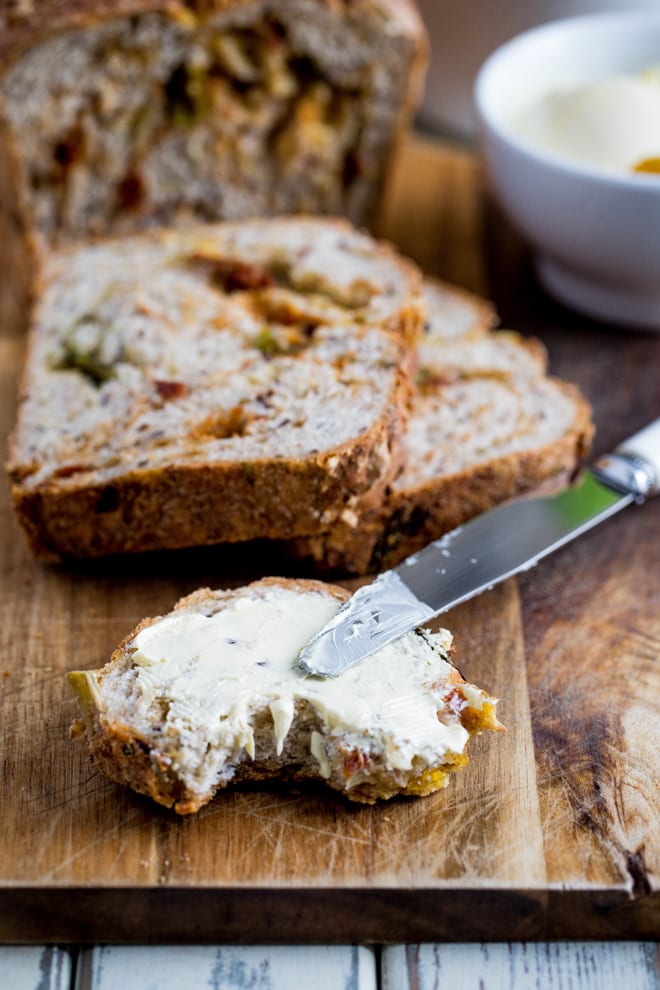 Some products I used in today's post...
Some of the links above are affiliate links, which pay us a small commission for our referral at no extra cost to you! Thank you for supporting The Cook & Him.
Hello and welcome to The Cook & Him.
We are Sam (The Cook), Phil (Him) and our little dog Nooch. What started with a plan to shed a few pounds back in 2016, soon became obvious that eating healthy doesn't have to be bland and boring.
So, combining Sam's 15 years of experience working within Michelin starred restaurants and our love for deliciously healthy food, we're creating recipes for you to make and enjoy. We've added our own unique spin on traditional and contemporary vegetarian and vegan recipes that keep you (and your pets!) healthy and full.  And we make sure they just work.
All things autumn - warming soups, savoury bakes and delicious sweet treats!
and I would like to see...
Or search for a recipe or post by keyword