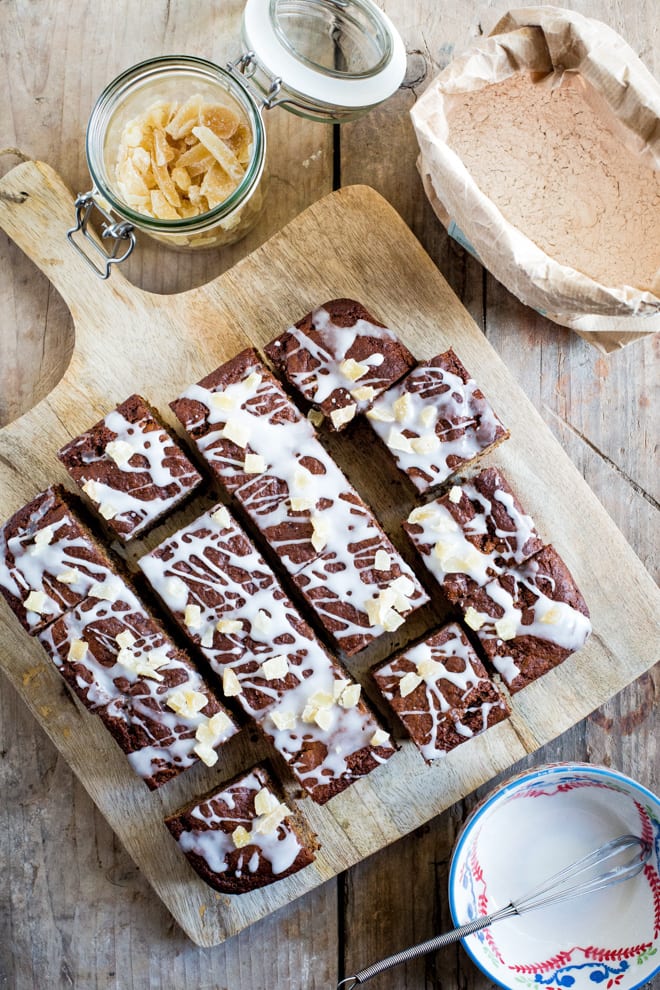 Posted in Recipes on 29.11.2018
Ginger Cake
prep: 15 mins / cook: 45 mins / inactive: 0 mins / total: 60 mins / quantity: 16 squares Print recipe?
Light, moist, vegan and gluten free Ginger Cake sponge spiced with all the flavours of Christmas! Topped off with sticky sweet icing and crystalised ginger.
How are you all doing with your Christmas preparations?  I want to say that, as I write this, I'm actually not panicking about Christmas.  This is an absolute first for me.  But I also really REALLY don't want to tempt fate.  Getting ahead with Christmas baking has really helped.  And whilst this vegan ginger cake won't keep from now until The Big Day it's a great feeling having a go to recipe that's full of those seasonal warming spices and SO simple to make.
I've also made this a gluten free ginger cake thanks to the amazing ingredient that is Hodmedod's Fava Bean Flour.  I use this stuff a LOT.  It makes perfect gluten free pastry, even in lemon meringue pies because (in case you were wondering) nope it doesn't make the end product taste like beans!  It's a really fine, light flour with a very mild flavour and whilst Phil and I aren't gluten free, we know a lot of people are.  And beans are so very good for you, no reason not to cram them in whenever you can!
Good to have something to balance the sticky sweet icing drizzled on top right?
It also couldn't be more simple to make this ginger cake – mix the dry ingredients, mix the wet ingredients then mix the two together and bake.  Even the icing on the top is just powdered sugar and water mixed to a thin paste then splattered 'artistically' across the top!
We had to ration ourselves with this cake by Phil taking it to work.  He's a hollow-legged ginger fiend who not only looks forward to Christmas for general food and all the presents but it's this time of year I use ginger in lots of things
Gingerbread cookies – also vegan and gluten free!
Gingerbread granola – the perfect seasonal breakfast bowl topper!
Gingerbread hot chocolate – warms you from your nose to your toes!
Chocolate gingerbread quinoa puffs – crunchy little bites of spiced chocolate heaven!
And coming soon – ginger chocolate and orange spice mini loaves and gingerbread pancakes.  Because a ginger repertoire is incomplete without pancakes surely?!
What are  your favourite seasonal bakes?  Do you have any you keep going back to time after time?  This ginger cake is a firm favourite in our house now.  And I challenge any Christmas grinch to smell this baking and not start humming carols quietly to themselves 😉
If you make this recipe or any of the recipes from The Cook & Him we'd LOVE to see! Just snap a picture and share it on Instagram using #thecookandhim and tagging @thecookandhim in the photo itself (as this guarantees we'll see your picture!
)
And don't forget to follow us on Instagram , Facebook or Twitter for even more recipe inspiration and chat, competitions, behind the scenes and so much more!
Ginger Cake
prep: 15 mins / cook: 45 mins / inactive: 0 mins / total: 60 mins / quantity: 16 squares
Ingredients
1/4 cup (40g) coconut oil
2 tblsp ground flax seeds
1 + 3/4 cups (250g) Hodmedods Organic Fava Bean Flour
1 tblsp ground ginger
1/2 tsp ground nutmeg
2 tsp baking powder
1 tsp bicarbonate of soda
1/4 cup (45g) crystalised ginger
2 ripe bananas – the spottier the better!
1/2 cup (90g) coconut sugar
1/2 cup (120ml) unsweetened almond milk
1 tsp apple cider vinegar
1/4 cup (45g) black treacle
Decoration:
3 tblsp icing sugar
2-3 tsp cold water
1/4 cup (45g) crystalised ginger
Instructions
Preheat your oven to 160 Fan / 180 C / 350 F / Gas 4 and line a 7 x 9 inch ( 18 x 23 cm) baking tin with parchment paper, covering the base and sides
Melt the coconut oil in a small saucepan or in the microwave and set aside to cool
In a small bowl or mug mix the ground flax seeds with 1/3 cup (80ml) cold water and set that to one side too
In a large bowl put the flour, ginger, nutmeg, baking powder and baking soda
If your crystalised ginger is in largeish chunks, cut into smaller pieces and add that to the large bowl
Peel the bananas and break into chunks into a smaller bowl. Mash with a fork or potato masher - you want them to be well mashed to a puree
Add the coconut sugar, almond milk, cider vinegar, treacle, flax seed mixture and melted oil and whisk together very well
Pour this into the large bowl of dry ingredients and mix everything together with a rubber spatula, scraping up from the bottom of the bowl, making sure no pockets of flour remain
Pour into your baking tin and cook for 45-50 minutes until a toothpick inserted in the center comes out clean
Leave to cool in the tin for 10-15 minutes then carefully lift out onto a cooling rack
Once the cake is completely cooled mix together the icing sugar and water to a runny paste. If it's too thin add a little more icing sugar, too thick add a little more water. When adding, less is definitely more, just add tiny increments at a time to get the right consistency. You want a paste that will drizzle but not one so liquid it doesn't hold its shape and just pools on the top of your cake!
When you're happy with the icing simply use a teaspoon and drizzle/flick/splatter all over the top of the cake. Then sprinkle the pieces of crystalised ginger to top
Leave the icing to set for a few minutes before slicing the cake into 16 squares (or less squares if you want larger portions for dessert!)
Store in an airtight container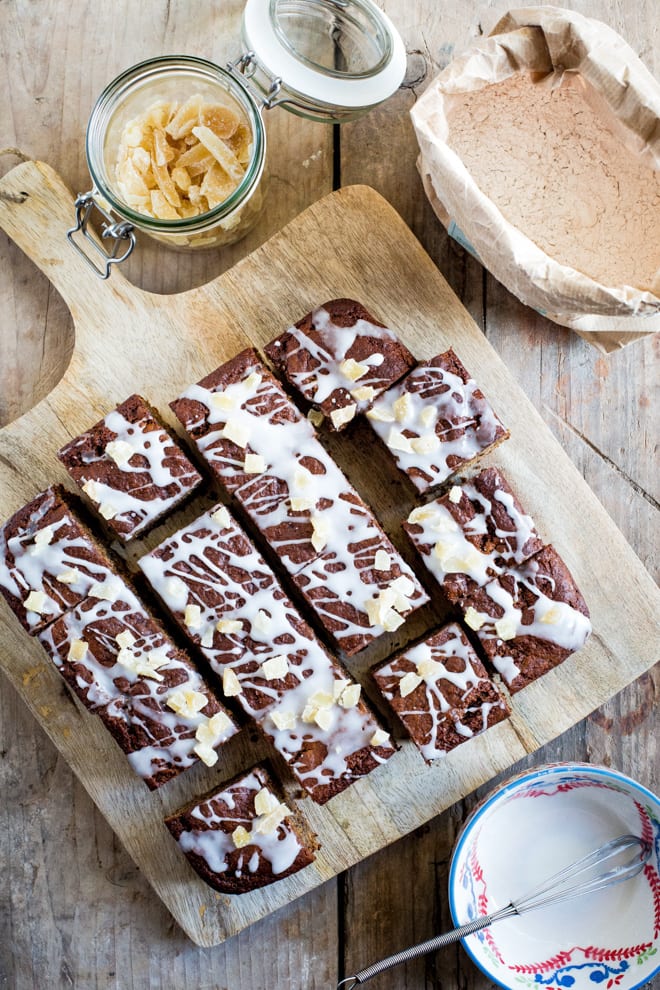 Some products I used in today's post...
Some of the links above are affiliate links, which pay us a small commission for our referral at no extra cost to you! Thank you for supporting The Cook & Him.
Hello and welcome to The Cook & Him.
We are Sam (The Cook), Phil (Him) and our little dog Nooch. What started with a plan to shed a few pounds back in 2016, soon became obvious that eating healthy doesn't have to be bland and boring.
So, combining Sam's 15 years of experience working within Michelin starred restaurants and our love for deliciously healthy food, we're creating recipes for you to make and enjoy. We've added our own unique spin on traditional and contemporary vegetarian and vegan recipes that keep you (and your pets!) healthy and full.  And we make sure they just work.
All things autumn - warming soups, savoury bakes and delicious sweet treats!
and I would like to see...
Or search for a recipe or post by keyword