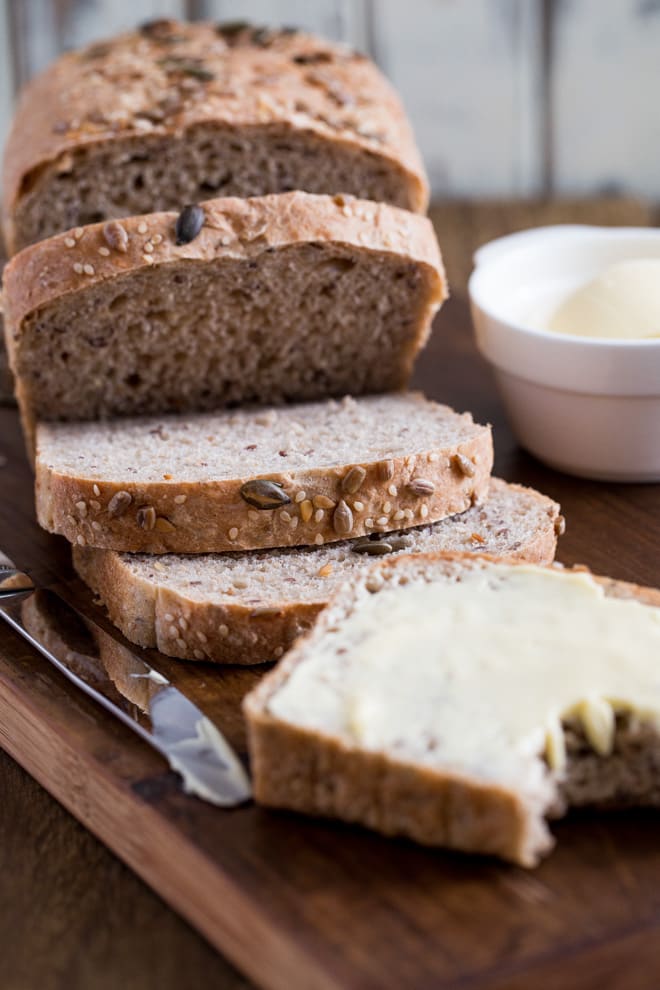 Posted in Recipes on 06.11.2018
Kombucha Bread
prep: 30 mins / cook: 40 mins / inactive: 2 hours 0 mins / total: 3 hours 10 mins / quantity: 1 loaf (8-10 slices) Print recipe?
This vegan kombucha bread recipe makes a light, delicious loaf with a nutty flax seed crunch and a flavour boost from gut healthy kombucha!
One of the most rewarding things to make in the kitchen is bread.  There's something almost primal about it.  It's one of those things I can make (and eat!) again and again and never get bored.  And this kombucha bread is no exception.
I know a lot of people who don't enjoy making their own bread. Maybe because it does take a while, it can be a little taxing if you knead it properly and it has the potential to go very wrong. And then all that hard work and all that time feels completely futile.
It's definitely not something to be afraid of though and the end product is SO worth the effort. I've also written a step by step guide to making bread if you're feeling nervous.
I'd love to get more people making their own bread. It's one of THE best kitchen smells and there are few things better than fresh hand made bread thickly sliced and spread with jam. Heaven ❤
I tried making this kombucha bread a couple of ways. Firstly a super simple recipe not using yeast but using baking soda – much like this Rye Bread Recipe – to give the loaf its 'rise'. It came out an odd texture though, very tight air pockets and very crumbly. Tasted ok though!
But the best version was the more traditional way of making bread using yeast and leaving the dough to prove.
When you prove a dough you need to leave it to double in size. This can take 1/2 an hour to a couple of hours dependent on equipment and ambient temperature.
We just got a new oven as our last one went with a pop-fizz one Sunday afternoon when Phil was in the middle of making Peanut Butter Granola! And the new oven has a proving setting. I didn't use it for this kombucha bread but I'm also working on another dough based recipe and the proving setting proved quite incredible!
Once you've proved your dough you then 'knock it back' before it's shaped and left to prove again. This knocking back results in a smaller crumb and helps prevent those huge gaping air pockets in your cooked bread.
If you use the mixed seeds on the top you'll also want to gently push them into the dough.  Not too firm, you don't want to knock out any of that air again!
I've also used Remedy Kombucha as the liquid for this loaf for a slightly healthier twist to your dough.  Remedy use long brewing methods to ensure all the sugar is fermented out as well as being full of friendly bacteria, healthy organic acids and antioxidants.  Remedy loves ya guts 
  It's brewed in small batches for 30 days, is vegan, non-alcholic, frutcose free and certified organic.
This is such a delicious loaf of bread, I do hope you have a go at making your own – then we can share warm jammy bread stories ?
If you make this recipe or any of the recipes from The Cook & Him we'd LOVE to see! Just snap a picture and share it on Instagram using #thecookandhim and tagging @thecookandhim in the photo itself (as this guarantees we'll see your picture!
)
And don't forget to follow us on Instagram , Facebook or Twitter for even more recipe inspiration and chat, competitions, behind the scenes and so much more!
Kombucha Bread
prep: 30 mins / cook: 40 mins / inactive: 2 hours 0 mins / total: 3 hours 10 mins / quantity: 1 loaf (8-10 slices)
Ingredients
2 cups (300g) strong white bread flour
1/2 cup (75g) wholemeal flour
1 tblsp coconut sugar
1/4 cup (30g) rolled oats
2 tblsp flax seeds
1 x 7g sachet fast action dried yeast
1 cup (240ml) Remedy Kombucha – Original Flavour
1 tsp salt
drizzle of oil
1 tblsp mixed seeds
Instructions
Into a large bowl put both the flours, the coconut sugar, oats and flax seeds
Into a small saucepan put the kombucha and very gently warm. This only takes a minute or two - you want the temperature to be 'blood temperature' meaning that when you put a finger in the liquid you can't tell if it's hot or cold!
If you overheat the liquid allow to cool to blood temperature
Whisk in the yeast then stir the liquid into the bowl of dry ingredients and mix together to form a dough
Turn out onto a lightly floured work surface and knead the dough by holding one end with one hand and using your other hand to stretch the dough away from you. This tears the gluten in the flour which gives the dough its elasticity and allows the bread to rise and form air pockets
When you've needed for about 10 minutes put the dough into a clean, lightly oiled bowl, cover with a clean t-towel and leave somewhere relatively warm to prove until doubled in size. This can take an hour or two dependent on temperature (see note)
Once it's doubled in size tip it out of the bowl and knead again for just a couple of minutes
Shape into a log and gently lift into your tin - I used a lightly oiled loaf tin 9 x 5 inches (23 x 13 cm)
Sprinkle the mixed seeds on top and gently push into the dough - this helps prevent (most of) them falling off once baked! Just be careful not to push too hard
Cover with the tea-towel and again leave to prove until doubled in size
Just before it's ready to go be baked preheat your oven to 200 Fan / 220 C / 425 F / Gas 7
Remove the tea-towel and bake for 35-40 minutes until lightly golden. If you want to check if it's cooked, carefully lift out of the tin and tap the base - if it's cooked it will sound hollow, if not, return to the oven and bake for a few more minutes
Leave to cool in the tin for 5 minutes before turning out onto a wire rack to cool completely
This kombucha bread is definitely best served fresh (and warm!) but it also makes wonderful toast if you don't eat it all before it starts to go stale!
Notes
When proving dough you don't want the temperature you prove it at to be too hot or you risk either over proving the dough and it sinking or killing the yeast (the dough will stop proving and will not rise)
Anything below 40 degrees should be fine!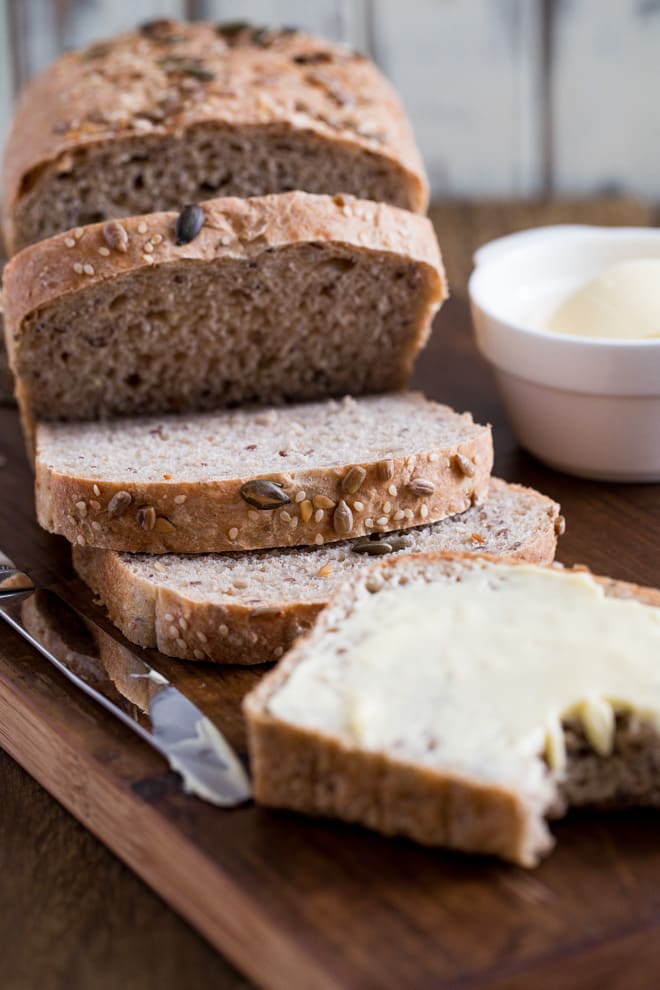 Some products I used in today's post...
Some of the links above are affiliate links, which pay us a small commission for our referral at no extra cost to you! Thank you for supporting The Cook & Him.
Hello and welcome to The Cook & Him.
We are Sam (The Cook), Phil (Him) and our little dog Nooch. What started with a plan to shed a few pounds back in 2016, soon became obvious that eating healthy doesn't have to be bland and boring.
So, combining Sam's 15 years of experience working within Michelin starred restaurants and our love for deliciously healthy food, we're creating recipes for you to make and enjoy. We've added our own unique spin on traditional and contemporary vegetarian and vegan recipes that keep you (and your pets!) healthy and full.  And we make sure they just work.
All things autumn - warming soups, savoury bakes and delicious sweet treats!
and I would like to see...
Or search for a recipe or post by keyword