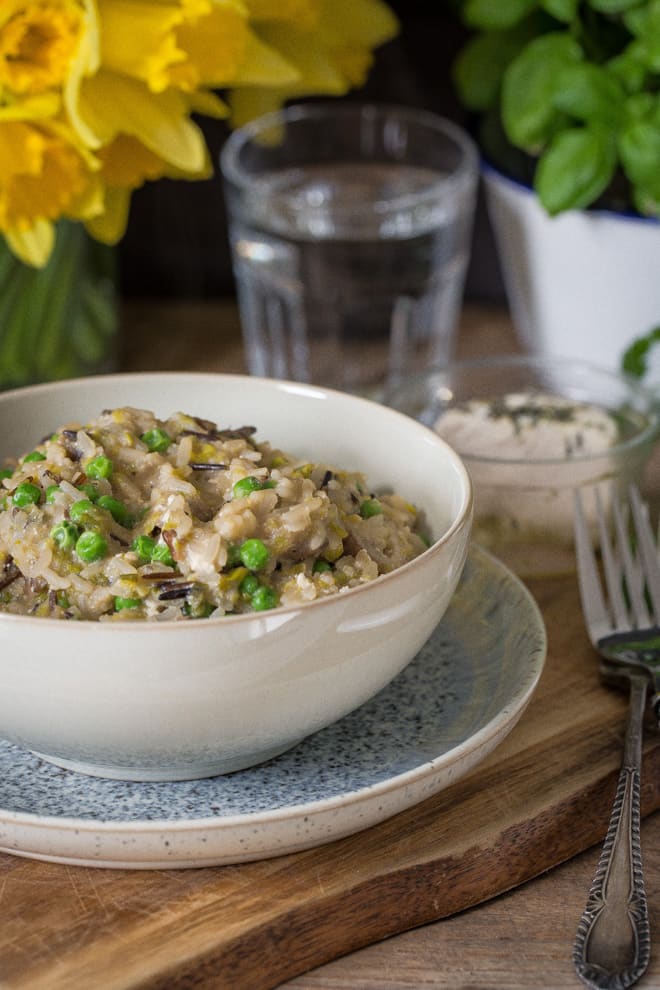 Posted in Recipes on 25.03.2018
Mushroom Risotto Recipe
prep: 10 mins / cook: 20 mins / inactive: 0 mins / total: 30 mins / quantity: 2 portions Print recipe?
This easy mushroom risotto recipe is so simple, so quick, vegan and gluten free too! It genuinely should be one of your "go-to" recipes!
This simple mushroom risotto recipe came about as a quick meal for myself when Phil was away on one of his (thankfully) rare work based overnight trips.  I'd got some leeks, some mushroom and some rice and not a whole lot else!  And I was hungry.  And there's always the temptation when I'm 'cooking' for just me to resort to toast or cereal!  But 30 minutes, one pan and just a couple of other ingredients and this now regular in our meal plan was born.  Phil even enjoys making it himself now and will often be his *Phil's Sunday Night Cooking Extravaganza* dish of choice!
This easy mushroom risotto recipe comes together in about 30 minutes and is so incredibly easy to make. Here's how to cook risotto.
It really couldn't be simpler to make – just thinly slice a couple of leeks in a dash of good olive oil,  gently sautéed until soft, throw in some sliced mushrooms and crushed garlic,  add your rice, then your stock and leave to simmer gently. Open a nice white wine and pour yourself a nice glass and enjoy whilst it cooks!
When there is just a little liquid left, add your petit pois, and some cheese. In this case we've used New Roots vegan cheese.
How to make this Mushroom Risotto Vegan?
We simply swapped the usual butter and parmesan for the wonderful New Roots vegan cheese.  Here I've used their Free the Goat Cheeze with Thyme and Lavender which completely elevates the whole thing.  This wonderfully herby, fragrant vegan cheese mixes so well with the woody, earthy mushrooms and sweet petit pois.
And the best news??  New Roots are now available in the UK!!
Tips for the perfect Mushroom Risotto
If you've never made risotto before, it's super easy to make if you remember a few key principle!
Here are some tips for how to cook the perfect risotto.
Use Arborio rice—this is short-grain rice specifically designed for risotto. It's high in starch, which really adds to the creaminess of a homemade risotto.
Use warm veg stock —A warm stock will add to the creamy texture of the risotto. A cold broth will drastically reduce the temperature of your pan, and you'll need to get that temperature back into the dish, this just takes longer to cook and increases the risk of overcooking. Mix a couple of stock cubes and a kettle of boiling water in a measuring jug and add.
Slow down and chill out—The dish is Italian! When you are making this easy mushroom risotto recipe, you'll be using Arborio rice which needs time to release the starches properly. Thats the secret to the extra creamy texture, and you'll want to enjoy that glass of wine……
Here are some items I used for this easy Mushroom Risotto:
If you make this recipe or any of the recipes from The Cook & Him we'd LOVE to see! Just snap a picture and share it on Instagram using #thecookandhim and tagging @thecookandhim in the photo itself (as this guarantees we'll see your picture!
)
And don't forget to follow us on Instagram , Facebook or Twitter for even more recipe inspiration and chat, competitions, behind the scenes and so much more!
Mushroom Risotto Recipe
prep: 10 mins / cook: 20 mins / inactive: 0 mins / total: 30 mins / quantity: 2 portions
Ingredients
2 leeks
1 tblsp olive oil
300g closed cup mushrooms
2 large cloves garlic – crushed
150g Arborio Rice
750ml vegetable stock
200g petit pois peas (fresh or frozen work perfectly!)
75g New Roots Free the Goat Cheeze with Thyme and Lavender
Salt and pepper to taste
Instructions
Peel any tough or brown outer leaves from the leeks, split lengthways then thinly cut into half circles. Rinse well to remove any of the dirt that gets trapped in the layers and drain, shaking off any excess water
In a large frying pan gently warm the olive oil then tip in all the leeks. Cook over a medium heat for a few minutes till they start to soften, stirring occasionally
While the leeks are cooking, halve the mushrooms then roughly slice
When the leeks are starting to soften add the mushrooms and crushed garlic and saute for just a couple more minutes
Tip in the rice and cook, stirring, for 2 minutes
Pour in the vegetable stock, stir well then leave to simmer till almost all the liquid is absorbed (around 15-20 minutes), stirring occasionally
Stir in the petit pois peas just a minute or so before the liquid has all gone
Once all the liquid is absorbed, stir in the vegan cheese and season to taste.
Tip into 2 bowls, grab a fork and enjoy!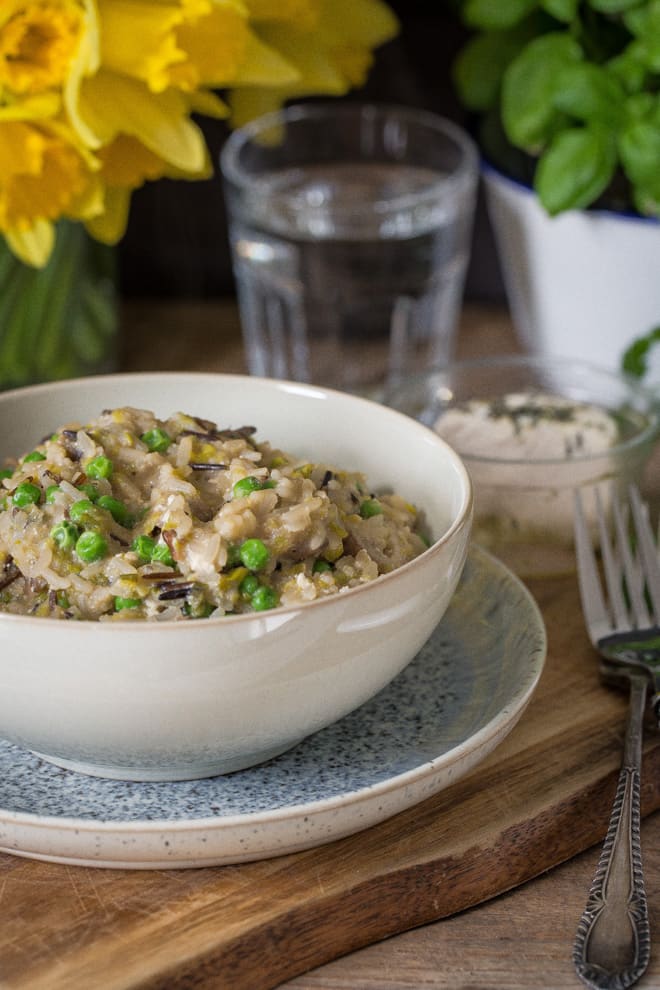 Hello and welcome to The Cook & Him.
We are Sam (The Cook), Phil (Him) and our little dog Nooch. What started with a plan to shed a few pounds back in 2016, soon became obvious that eating healthy doesn't have to be bland and boring.
So, combining Sam's 15 years of experience working within Michelin starred restaurants and our love for deliciously healthy food, we're creating recipes for you to make and enjoy. We've added our own unique spin on traditional and contemporary vegetarian and vegan recipes that keep you (and your pets!) healthy and full.  And we make sure they just work.
All things autumn - warming soups, savoury bakes and delicious sweet treats!
and I would like to see...
Or search for a recipe or post by keyword