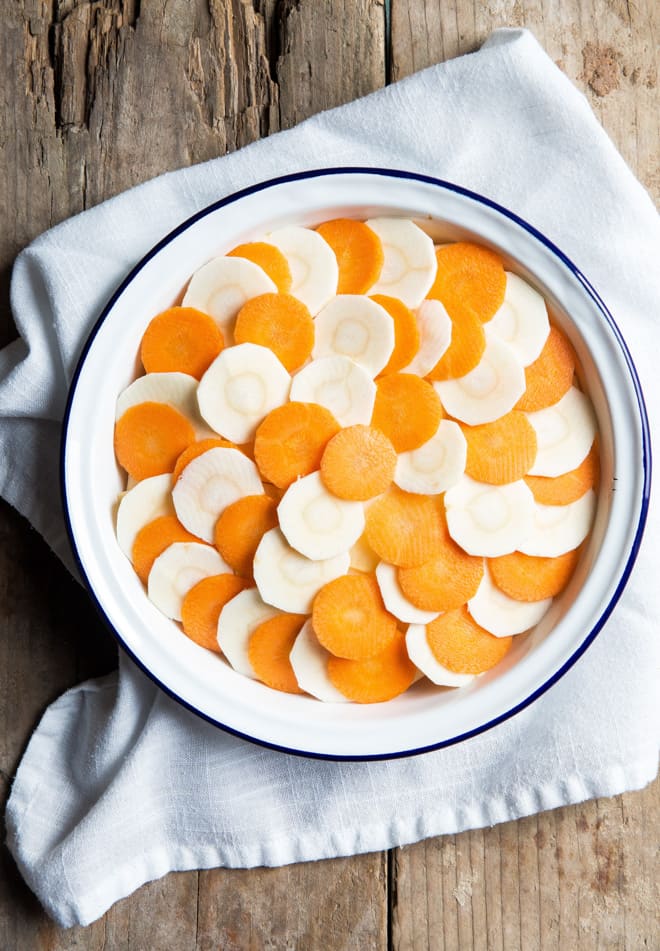 Posted in Recipes on 14.11.2017
Root Vegetable Gratin
prep: 20 mins / cook: 60 mins / inactive: 0 mins / total: 1 hour 20 mins / quantity: 2 servings Print recipe?
We love this Root Vegetable Gratin and It's not very often I make something that's prettier in its raw stage than when it's cooked .. usually it looks ready to BE cooked to bring out all that golden crispyness.  This just sort of morphed into something aesthetically pleasing as I was building it then became less pretty after it was cooked.  Boo.  Tasted flipping delicious though!  The lightly caramelised onions, garlic and thyme infuse the vegetables and make them almost buttery soft and SO tasty.
You can easily interchange the vegetables I've used here as well – subbing in turnips, butternut squash, leeks – whatever is seasonal.  It's another dish that easily scales up for a crowd too – use a bigger/deeper dish just remember to check that the veg in the middle is cooked through by poking with something pointy.  It should easily slide through the veg, if it's still too firm just cook for a little longer before removing the foil completely to crispen up the edges.
Oh and be careful when lifting the foil on the gratin to check as there will be steam from all that lovely hot and steamy veg.
Wondering what to serve this with?  How about these broccoli, sweet potato and pesto pies.  Or these vegetarian sausage rolls – with lashings of gravy ? (I've not even eaten yet and now I want sausage rolls with gravy for breakfast!!)  Or there's always these butternut squash and goat's cheese pasties.  All absolute vegetarian feasts!
Happy cooking!
If you make this recipe or any of the recipes from The Cook & Him we'd LOVE to see! Just snap a picture and share it on Instagram using #thecookandhim and tagging @thecookandhim in the photo itself (as this guarantees we'll see your picture!
)
And don't forget to follow us on Instagram , Facebook or Twitter for even more recipe inspiration and chat, competitions, behind the scenes and so much more!
Root Vegetable Gratin
prep: 20 mins / cook: 60 mins / inactive: 0 mins / total: 1 hour 20 mins / quantity: 2 servings
Ingredients
drizzle of olive oil
1 onion (red or white) – peeled and finely sliced
2 cloves garlic – peeled and crushed
few sprigs fresh thyme – leaves removed and stalks discarded (*see note if you don't have fresh thyme)
1 tsp dijon mustard
100ml vegetable stock
1 tsp sea salt
few grinds of black pepper
1 large sweet potato – peeled
1/2 swede – peeled
2 parsnips – peeled
1 large carrot
Instructions
Heat your oven to 180 Fan / 200 C / 400 F / Gas 6 and brush your baking dish with a little bit of olive oil - for 2 portions I used a 20 cm / 8 inch round dish.
Pour a drizzle of olive oil into a small frying pan along with the sliced onion, crushed garlic and fresh thyme leaves.  Saute gently, stirring from time to time, over a low-medium heat for a few minutes till the onion is softened and turning translucent.
Tip the cooked onion mixture into your baking dish.  Set this aside (don't wash your frying pan up yet!)
Put the dijon mustard, vegetable stock, salt and pepper into the same frying pan and boil, stirring for just a minute to deglaze the pan.  Remove from the heat and set this aside too
Time to prep all your veg!  Thinly slice each of the root veg, keeping in separate piles.  I use a sharp knife to do this but feel free to use a mandolin or slicing blade on a food processor - whatever works for you!
Take your baking dish with the cooked onion mixture in and start layering your veg - I did one layer of carrot, one of sweet potato, then a layer of swede and finished with a concentric circles layer of carrot and parsnip
Pour the liquid from your frying pan over the veg in your baking dish, cover the dish with a piece of foil and bake for 45 minutes
Remove the tin from the oven, carefully lift off the foil, then drizzle over just a little more olive oil.  Return the dish to the oven (uncovered) and bake for a further 15 minutes
Serve immediately
Notes
*Swap the fresh thyme for 1/2 tsp dried thyme if you don't have fresh available
You can substitute 1 leek, finely sliced and washed, for the onion and simply saute that with the garlic instead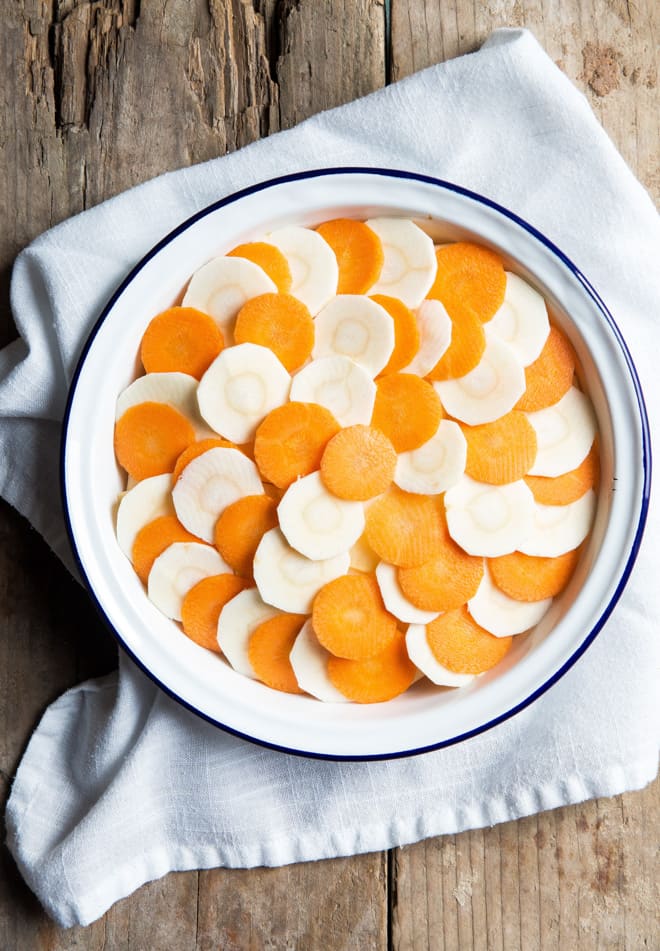 Hello and welcome to The Cook & Him.
We are Sam (The Cook), Phil (Him) and our little dog Nooch. What started with a plan to shed a few pounds back in 2016, soon became obvious that eating healthy doesn't have to be bland and boring.
So, combining Sam's 15 years of experience working within Michelin starred restaurants and our love for deliciously healthy food, we're creating recipes for you to make and enjoy. We've added our own unique spin on traditional and contemporary vegetarian and vegan recipes that keep you (and your pets!) healthy and full.  And we make sure they just work.
All things autumn - warming soups, savoury bakes and delicious sweet treats!
and I would like to see...
Or search for a recipe or post by keyword