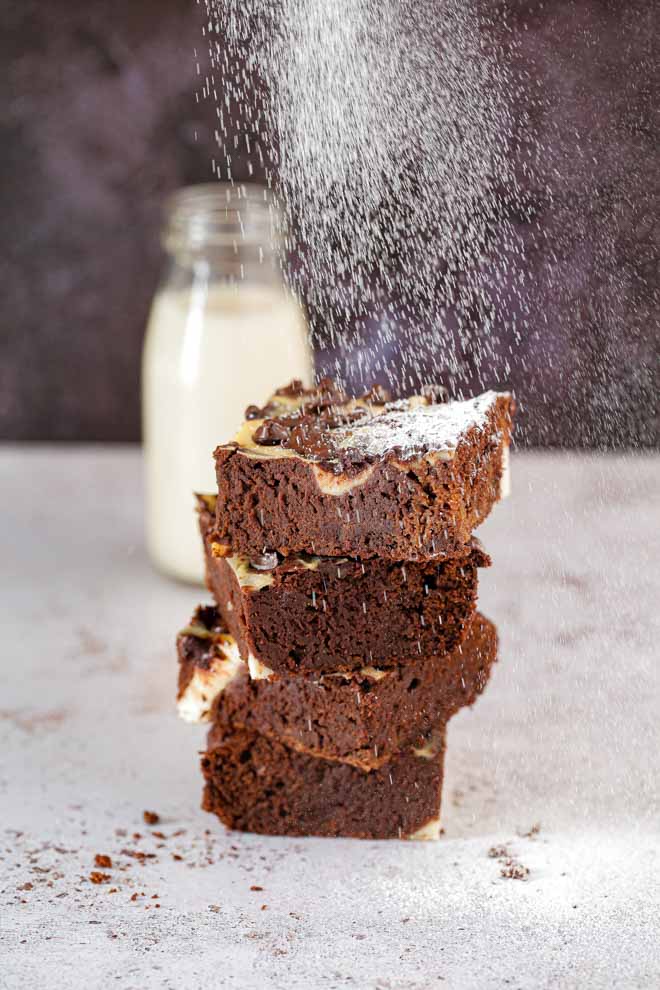 Posted in Recipes on 02.11.2020
Vegan Blackcurrant Cheesecake Brownies
prep: 30 mins / cook: 30 mins / inactive: 0 mins / total: 60 mins / quantity: 8-12 squares Print recipe?
Rich, chocolatey and fudgy cheesecake brownies gently flavoured with blackcurrant and studded with dark chocolate chips. Decadently delicious!
I'd never tried cheesecake brownies till I made these.  It felt like a gaping hole in my eating repertoire.  And now I HAVE tried them I feel like I've been missing out all these years.  It's not even that I was a bit of a brownie purist.  The only criteria for good brownie is that it's extremely chocolatey and extremely fudgy.  I've been known to add fresh fruit, nuts, protein powder but never to the detriment of the chocolate fudgyness.
If anything, adding a swirl of vegan cheesecake mixture makes them even more rich and decadent.  The soft and delicate texture of the cheesecake is a complete contrast to the dense thick texture of the chocolate brownie.
And as always, using Foodie Flavours natural flavourings means you can impart a great deal of flavour without altering the texture or quality of the base recipe.  I have an ever growing collection of their wonderful flavours and they do not disappoint.  I've used a couple for this cheesecake brownies recipe – blackcurrant in the brownie batter and cream cheese in the cheesecake mixture.  I've also used their fantastic Gorilla Vanilla organic extract – grown by select farmers in Uganda, the land of Mountain Gorillas and where Foodie Flavours have upcoming plans for supporting the protection of these magnificent animals.
Let's talk about the other ingredients.  If you're going to make something as rich and downright unhealthy as a brownie you might as well use quality ingredients.  For the brownie batter we've got vegan butter melted with dark chocolate.  The better the quality and cocoa content of the chocolate the richer the brownie.  I would recommend nothing less than 70% cocoa.  However, too high a cocoa content can result in quite bitter chocolate.  Not too bad used in a recipe with sugar but not so pleasant to eat as just chocolate!  I've also used raw cacao powder for even more chocolatey flavour.  Raw cacao is quite different to cocoa powder – it's roasted at much lower temperatures and cold pressed, giving a richer flavour.  It's also far less processed and retains more of its nutritional value.
I've also used golden caster sugar because compared to white caster sugar it's less refined as it's not had the molasses removed giving it a lovely colour and slightly buttery flavour.
The cheesecake bit is actually made out of tofu.  Yep, tofu.  Silken tofu specifically.  This stuff is amazing – it also makes THE most perfectly silky Vegan Chocolate Pie.  Honestly, go make it.  I'm not even kidding how good it is.
How to make vegan cheesecake brownies:
Start with the cheesecake part.  Simply whizz it all together in a food processor until smooth and creamy.  Try not to eat this by the spoonful BEFORE you add it to the brownie.  Because OMG, sooo delicious.
Make the flax egg.  This is simply ground flax seeds and water mixed together and set aside to thicken slightly and is a common vegan egg substitute (without the cruelty or cholesterol!)
Melt the chocolate and butter.  This can be done in the microwave or over a bain-marie (a heat proof dish set over a pan of barely simmering water)
Stir together the dry ingredients.  Flour, sugar, baking powder and cacao powder.
Add all the wet ingredients to the dry ingredients.  This is the melted chocolate, flax egg, blackcurrant flavour and non-dairy milk.  Stir everything together well.
Pour the brownie batter into your prepared tin.  Smooth it out so it covers the base of the tin.
Swirl the cheesecake mixture into the brownie batter.  Use a skewer or the handle of a spoon for this.  The brownie batter is quite thick and the mixture will look like a big 'ole mess but don't worry, once it's cooked it takes on a whole different (and wonderful!) texture.
Sprinkle over the chocolate chips.  Push them in slightly, you don't want them falling off before they get into your mouth!
Bake until just set.  This is with a bit of guidance and a judgement call on your part.  The brownie should be slightly springy to the touch if you want a fudgy finished texture.  If your prefer more cakey, cook for a little longer than I've recommended.
Sit back with a cuppa something warm and truly enjoy the fruits of your labour.  These cheesecake brownies really are worth taking (quite) a few moments out of your day to relish.
Love brownies as much as we do?  Here are some of tried and tested favourites – and they're all vegan too!
This post contains compensated affiliate links which help support The Cook & Him so we can keep bringing you brand new vegan delights at no extra cost to you!
Don't forget to follow us on YouTube, Facebook or Pinterest for even more recipe inspiration and chat, competitions, behind the scenes and so much more!
Vegan Blackcurrant Cheesecake Brownies
prep: 30 mins / cook: 30 mins / inactive: 0 mins / total: 60 mins / quantity: 8-12 squares
Ingredients
Cheesecake:
Brownie:
2 tblsp ground flax seeds
1 + 1/4 cups (200g) dark dairy free chocolate
1/3 cup (60g) vegan butter
1 + 1/3 cups (215g)  plain flour
1 tsp baking powder
1/4 cup (30g) raw cacao powder
1 cup (160g) golden caster sugar
1 cup (250ml) unsweetened almond milk
1/4 cup (50g) dairy free chocolate chips
Instructions
Preheat your oven to 180 Fan / 200 C / 400 F / Gas 6. Line a brownie tin with parchment to cover the bases and sides
For the cheesecake, put all the ingredients into a food processor and blend until smooth and creamy. Set aside
In a small bowl or mug put the ground flax seeds with 1/3 cup (85 ml) of cold water. Mix well and set aside too
Melt the chocolate with the butter in the microwave or over a bain-marie (a heatproof dish set over a pan of barely simmering water)
In a large bowl whisk or stir together the flour, baking powder, cacao powder and caster sugar
Stir the blackcurrant flavouring into the flax and water mixture
Pour the milk, flax mixture and melted chocolate and butter into the dry ingredients and stir everything together very well
Scrape into your prepared tin and smooth out to the edges
Dollop on the cheesecake mixture and roughly swirl into the brownie batter
Scatter over the chocolate chips and gently push down so they're partly submerged
Bake for 25-30 minutes dependent on how well done you like your brownie
Leave to cool slightly before cutting into squares or slices and devouring! Store any left in an airtight container at room temperature (it will keep longer in the fridge but will harden and be less fudgy)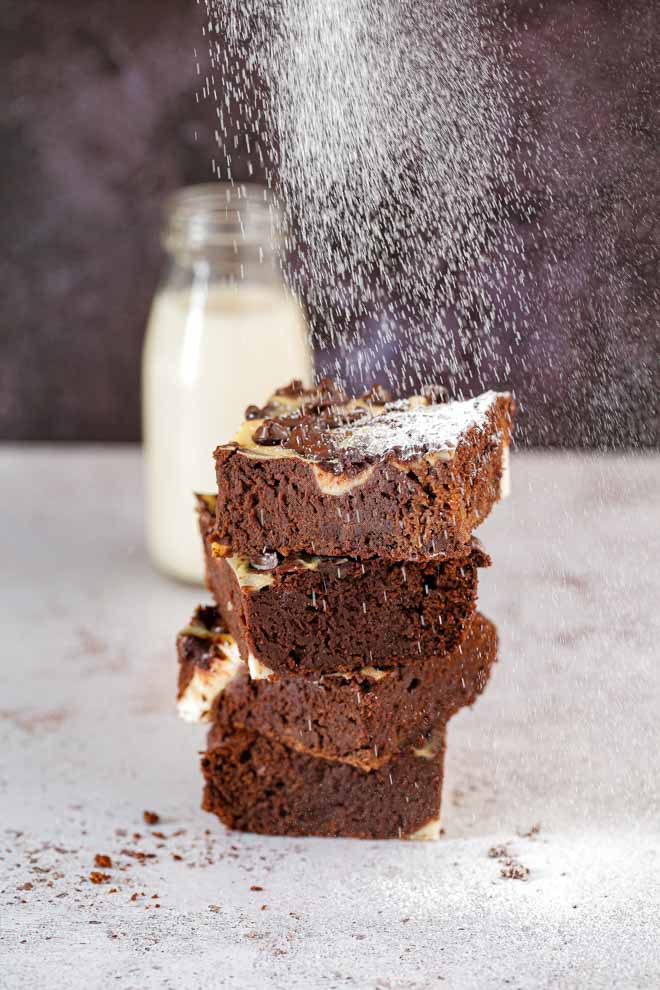 Hello and welcome to The Cook & Him.
We are Sam (The Cook), Phil (Him) and our little dog Nooch. What started with a plan to shed a few pounds back in 2016, soon became obvious that eating healthy doesn't have to be bland and boring.
So, combining Sam's 15 years of experience working within Michelin starred restaurants and our love for deliciously healthy food, we're creating recipes for you to make and enjoy. We've added our own unique spin on traditional and contemporary vegetarian and vegan recipes that keep you (and your pets!) healthy and full.  And we make sure they just work.
All things autumn - warming soups, savoury bakes and delicious sweet treats!
and I would like to see...
Or search for a recipe or post by keyword