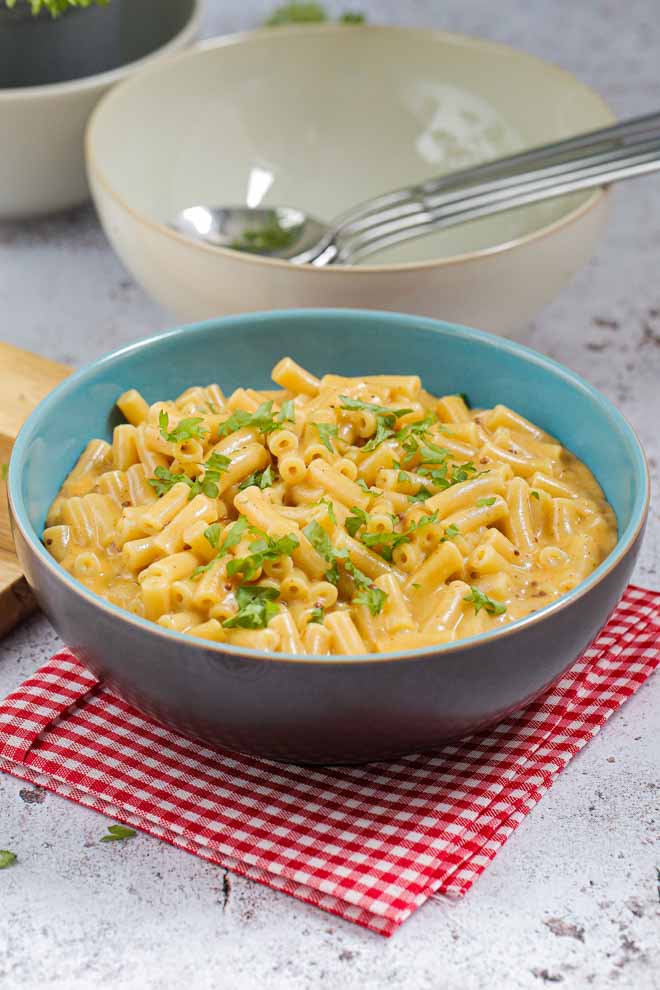 Posted in Recipes on 07.09.2020
Vegan Instant Pot Mac and Cheese
prep: 5 mins / cook: 8 mins / inactive: 0 mins / total: 13 mins / quantity: 2 - 4 servings Print recipe?
Comfort food doesn't come any easier than this! Just a few store cupboard ingredients needed for this quick and super simple vegan Instant Pot mac and cheese.
Confession time.  I've had my Instant Pot since Christmas and three weeks ago was the first time I've actually used it.  I'd seen so many delicious looking dishes being made in these magic pots and they all looked so quick and easy.  No fuss, no frills, just dump your ingredients and go!  But then came to actually using the contraption.  Buttons, timers, dial thingies, steam, an instruction manual as thick as my thumb.  I was intimidated.  But then one day I'd intended on making vegan mac and cheese the 'old fashioned way', the time was getting late and I didn't fancy take-out (me?  I know right?!)  … So Phil suggested Instant Pot mac and cheese instead.  He's a gadget man.  I couldn't be less of a gadget woman.  I'm still trying to get used to keyless ignition in the car.
But with the help of Gadget Man I conquered my fears and it's really not as scary as I thought.  Nothing like it.  In fact, it couldn't be easier and now I don't even bother putting the Instant Pot away as this vegan mac and cheese is SO easy and SO tasty and sometimes I can't be bothered to cook.  Especially as most days revolve around either cooking, reading or writing about food.  Some days I just want a big bowl of tasty with absolute minimal effort.  And my gosh this is it.  Expect to see many more Instant Pot recipes in the future.
Especially as autumn is so very nearly here.  Can anyone else smell it?  Crisp mornings, chilly dog walks, fluffy socks, colourful leaves, hot drinks, pumpkin spice everything.
"Autumn is my time.  I am most radiant and full of energy when the leaves are falling and there is a ghost of change in the air".
*Sigh*
What is an Instant Pot?
If you've been sitting on the fence about getting one or don't really even know what one is, it's a fantastic 7-in-1 multifuntion tool:
Pressure Cooker – it drastically reduces cooking time by raising the boiling point of the contained liquids and trapping the steam.
Slow Cooker – just dump the ingredients into it in the morning then set and go.  It cooks on a low heat throughout the day allowing you to come home to a hot dinner ready and waiting.
It also cooks rice, makes yoghurt, bread and can keep food warm for you.
For me, the Queen of Washing Up, one of the main attractions was the ability to cook everything in just one pot.  The Instant Pot also has a sauté function so if you need to fry up those onions and garlic before adding the rest of the ingredients there's no need for an extra pan.  Can I get a woop-woop?
So let's talk vegan mac and cheese.  First time I made this I diligently added all my ingredients, pretty much winging it with quantities, fastened the lid and set the timer.  Then Phil and I stood and looked at it as nothing happened and agreed we'd be less than surprised if this didn't even work.  We hadn't realised that whilst the cooking part takes just a few minutes, it has to build up the pressure first.  But because it's all contained inside, there's no bubbling, no stirring and you can't even see what's going on, it feels like nothing at all is happening.  Then the steamer knob thing started to sputter, things beeped and then the first smells hit our noses.
And just 4 minutes later, we manually released the steam meaning we could unlock the lid and low and behold, perfectly cooked pasta smelling amazing!
How to make vegan mac and cheese in an Instant Pot:
Start with hot stock.  This isn't necessary but does help speed up the heating up process I've found.
Whisk in all the seasonings.  I've also used garlic powder to add flavour whilst keeping the sauce creamy smooth.
Add the macaroni.  I add this last for a couple of reasons.  First because if you've used hot stock you don't want the macaroni to sit in it for too long in case it overcooks it.  And secondly because it's easier to whisk in the seasonings if there isn't bits of macaroni in the way!
Set the timer and go!  It'll seem like nothing's going on to start with then the magic happens.  There's a beep as the timer starts to count down and the smell is just wonderful.
Once the timer finishes manually release the steam.  If you've not experienced pressure cooking before this can seem a bit daunting, just be careful to protect hands (I use tongs to open the valve) and keep faces away from the jet of steam.
Open the lid.  Then stir in the milk and cheese to rich, creamy, delicious vegan mac and cheese heaven!
Serve with freshly made bread.  Also not necessary but absolutely recommended.
Love quick and easy pasta dishes as much as we do?  Here's some of our tried and tested favourites (all vegan too!):
I'd love to hear from you if you give this Instant Pot Mac and Cheese recipe a try!  Just leave a comment as it's so helpful and I love to hear how the recipe worked out for you!  Thank you so much
Don't forget to follow us on YouTube, Facebook or Pinterest for even more recipe inspiration and chat, competitions, behind the scenes and so much more!
Vegan Instant Pot Mac and Cheese
prep: 5 mins / cook: 8 mins / inactive: 0 mins / total: 13 mins / quantity: 2 - 4 servings
Ingredients
2 + 1/2 cups (600ml) vegetable stock (see note)
1 tsp garlic powder
1-2 tsp wholegrain mustard
1 tsp smoked paprika
3 tblsp nutritional yeast
1/2 tsp salt + a few good grinds of black pepper
1 tblsp vegan butter or margarine
2 + 1/2 cups (380g) macaroni
1/3 cup (100ml) non-dairy milk
1 cup (100g) grated vegan mozzarella
1 cup (100g) grated vegan cheddar cheese
Instructions
Into the inner metal bowl of the Instant Pot put the stock, garlic powder, mustard, paprika, salt and pepper and give it a quick whisk
Stir in the butter and macaroni then put on the lid
Set to sealing then cook on manual for 4 minutes (it will take a couple of minutes before the timer starts counting down to build up the pressure)
Quick release the steam, being careful of hands and faces then remove the lid
Stir in the milk and cheeses till the sauce is creamy smooth then serve immediately
Notes
You can use hot or cold stock - hot just seems to reduce the amount of time it takes to warm the pot before the pressure cooking process starts
Serves 2 generously or 3-4 with lots of chunky garlic bread
Spice it up with a hit of chili powder!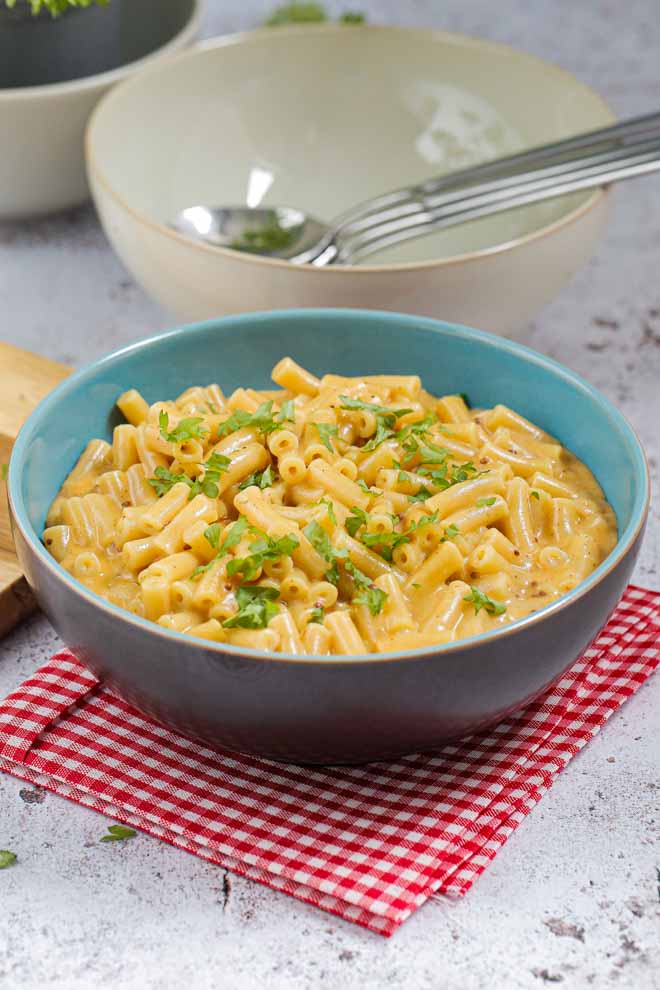 Hello and welcome to The Cook & Him.
We are Sam (The Cook), Phil (Him) and our little dog Nooch. What started with a plan to shed a few pounds back in 2016, soon became obvious that eating healthy doesn't have to be bland and boring.
So, combining Sam's 15 years of experience working within Michelin starred restaurants and our love for deliciously healthy food, we're creating recipes for you to make and enjoy. We've added our own unique spin on traditional and contemporary vegetarian and vegan recipes that keep you (and your pets!) healthy and full.  And we make sure they just work.
All things autumn - warming soups, savoury bakes and delicious sweet treats!
and I would like to see...
Or search for a recipe or post by keyword