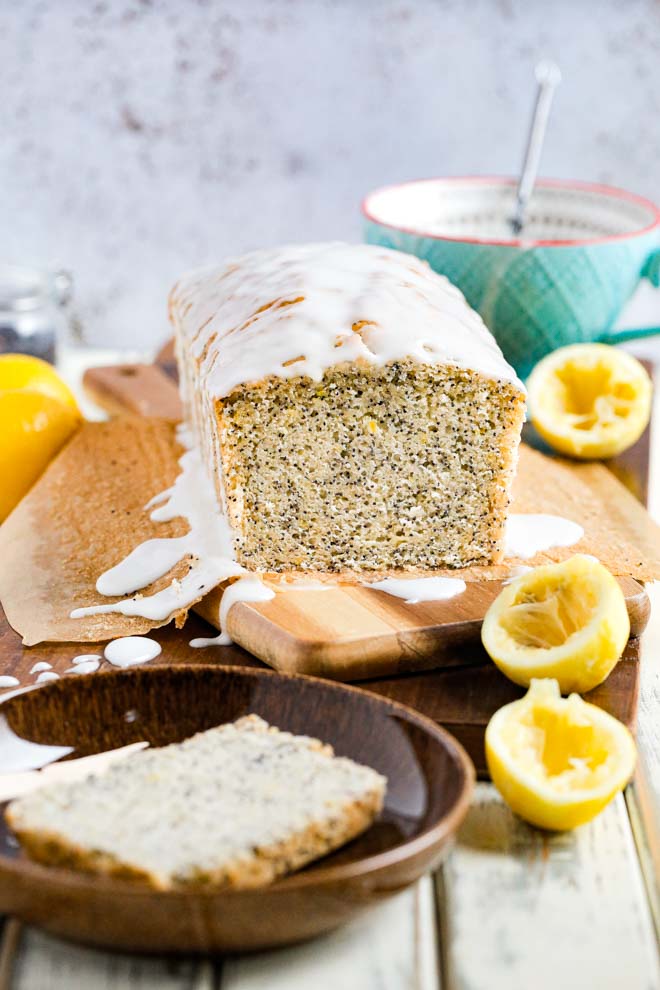 Posted in Recipes on 15.02.2021
Vegan Lemon Poppy Seed Cake
prep: 15 mins / cook: 1 hour 5 mins / inactive: 0 mins / total: 1 hour 20 mins / quantity: 8-10 slices Print recipe?
Zingy lemons and light poppy seeds combine perfectly in this delicate but moist vegan lemon poppy seed cake. Topped with a drizzle of sweet icing you'll be making this cake again and again!
Because it's February right now and it's all things blah and dull.  And cold.  So while we wait to herald in spring how about brightening our days with a good old slice of zesty, zingy lemon poppy seed cake.
This particular lemon cake is exactly what I want in any cake.  Light, moist and full of flavour.  Oh and easy.  Like REALLY easy.  It doesn't require any peculiar ingredients or a tonne of time or equipment.  Just two bowls, a spatula and a loaf tin.
I wanted this vegan cake to be the perfect balance of tart and sweet and it totally delivers.  Phil loves tart/sour things, I don't.  Expect when it comes to lemon cake.  I don't mind it a bit face puckering as long as the after taste is sweet.  And the little bit of lemon icing drizzled on top makes a huge difference.  It's especially there for all my fellow sweet lovers.  I got ya.
How to make an easy lemon cake:
It really is as simple as mix together the wet ingredients in one bowl, mix the dry ingredients in another, mix the two together, pour into a tin and bake!  There's no mystery to making egg free cake – just a little bit of science.  Let's break it down a bit.
Grate the lemon zest before you juice them.  Yeah I have to put this in because guess who forgot to do that.  Put the zest into a large bowl
Put all the wet ingredients into a bowl or jug.  This is the yoghurt, milk, oil and lemon juice.  The lemon juice reacts with the yoghurt and milk to curdle it slightly, giving the finished cake a richer, more buttermilk flavour without using actual buttermilk.
Put all the dry ingredients into the large bowl with the lemon zest. This is the flour, sugar, bicarbonate of soda, baking powder and poppy seeds.
Add the wet to the dry and mix well.  The lemon juice in the wet mix will also react with the baking soda in the dry mix, producing carbon dioxide.  This lifts the cake batter as it rises, giving it a lighter, fluffier texture.
Pour into a prepared tin and bake.  I've used a loaf tin for this cake, but it should also work in a round tin.  You just might need to adjust the cooking time.  To test if the cake is cooked (no matter what tin you've cooked it in) insert a cocktail stick or skewer into the centre of the cake.  If it comes out clean with no raw cake mixture clinging to it the cake is cooked.  If there's still some uncooked batter return the cake to the oven and test again.
Leave to cool slightly before removing from the tin.  And leave to cool completely before drizzling over the icing – or it will just melt and run off the cake too much!
Once cooled store the cake in an airtight container at room temperature.  This lemon cake also freezes REALLY well.  Just slice and freeze.  I put two slices at a time into a tub and defrost at room temperature for a few hours.  Honestly, you'd never tell it wasn't freshly baked!
Love all things cake as much as we do?  These are our tried and very well tested favourites .. all vegan too!
Vegan Vanilla Cake – with the fluffiest vegan frosting
Chocolate Fudge Cake – rich.  Chocolatey.  Heaven.
Spiced Apple Cake – one of our most popular recipes, everyone who's tried this loves it!
The EASIEST Vegan Chocolate Cake
Raspberry and Almond Cake – flavour combos don't come any better than this!
I'd love to hear from you if you make this Lemon Poppy Seed Cake!  Just leave a comment as it's so helpful and I love to hear how the recipe worked out for you! Thank you so much!
Don't forget to follow us on YouTube, Facebook or Pinterest for even more recipe inspiration and chat, competitions, behind the scenes and so much more!
Vegan Lemon Poppy Seed Cake
prep: 15 mins / cook: 1 hour 5 mins / inactive: 0 mins / total: 1 hour 20 mins / quantity: 8-10 slices
Ingredients
Cake:
2 lemons
3/4 cup (170g) dairy free plain yoghurt
1/4 cup (55 ml) light vegetable oil
1 cup (250 ml) non dairy milk
1/2 tsp vanilla extract
2 cups (350g) plain flour
2 tsp baking powder
1/2 tsp bicarbonate of soda
1 cup (250g) caster sugar
1/4 cup (40g) poppy seeds
Icing:
1/2 cup (85g) icing sugar
Equipment:
Instructions
Preheat your oven to 180 Fan / 200 C / 400 F / Gas 6 and grease and flour or line a 2lb loaf tin
Grate the zest from both lemons and put into a large bowl. Set aside
Into a bowl or jug put the yoghurt, vegetable oil, milk and vanilla and the juice from 1 + 1/2 lemons - reserve the other 1/2 lemon for the icing drizzle
Whisk the wet ingredients together
To the large bowl with the lemon zest add the flour, baking powder, bicarbonate of soda, sugar and poppy seeds and whisk together
Pour the jug of wet ingredients into the bowl of dry and mix everything together well, stirring up from the bottom of the bowl to make sure you don't leave any flour 'pockets'
Pour the batter into your prepared tin and bake the cake for 1 hour and 5 minutes
Test the cake to see if it's cooked by inserting a cocktail stick or skewer into the cake - if it comes our clean with no raw batter clinging to it the cake is done. If not, return the cake to the oven and cook for a few more minutes
Once cooked allow the cake to cool in the tin for 15-30 minutes before carefully turning out onto a wire rack to cool completely
Once cooled mix together the icing sugar with enough of the juice from the reserved 1/2 lemon to make a thick but runny icing
Drizzle or spread over the cake and store in an airtight container or slice and freeze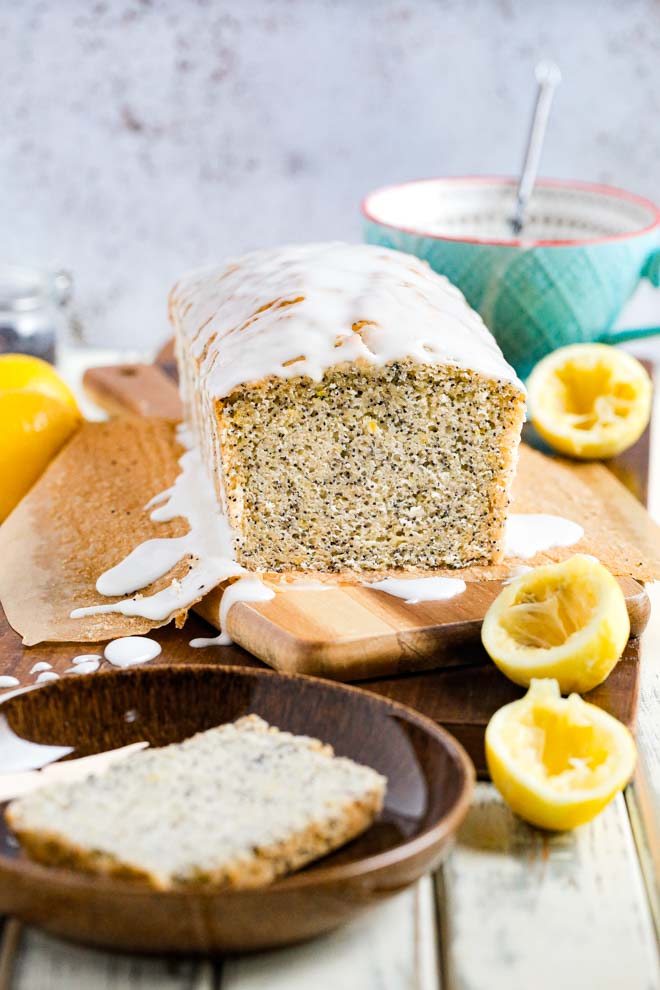 Hello and welcome to The Cook & Him.
We are Sam (The Cook), Phil (Him) and our little dog Nooch. What started with a plan to shed a few pounds back in 2016, soon became obvious that eating healthy doesn't have to be bland and boring.
So, combining Sam's 15 years of experience working within Michelin starred restaurants and our love for deliciously healthy food, we're creating recipes for you to make and enjoy. We've added our own unique spin on traditional and contemporary vegetarian and vegan recipes that keep you (and your pets!) healthy and full.  And we make sure they just work.
All things autumn - warming soups, savoury bakes and delicious sweet treats!
and I would like to see...
Or search for a recipe or post by keyword