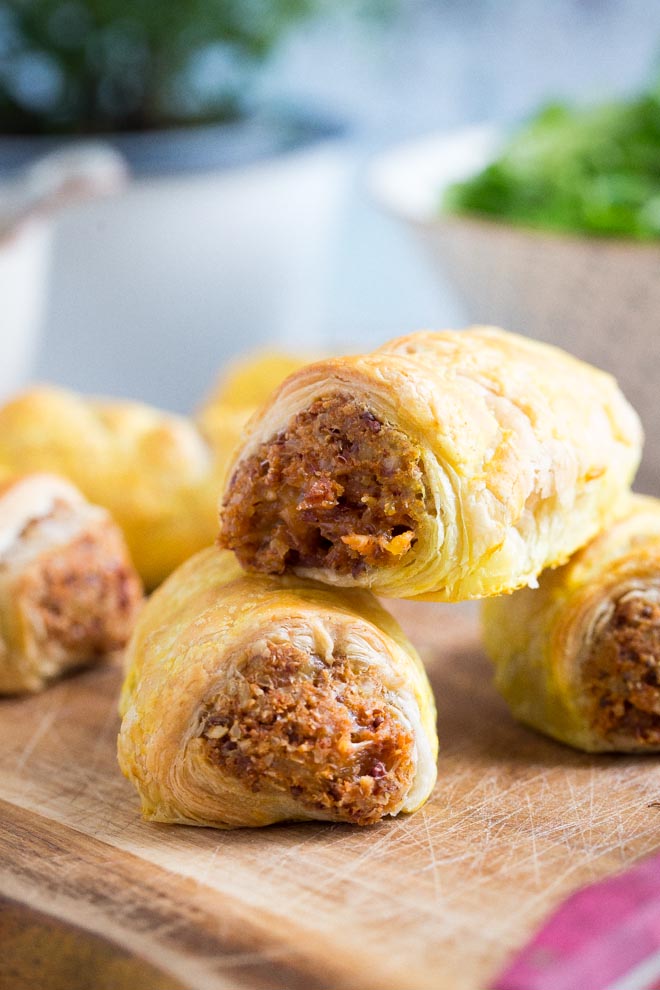 Posted in Recipes on 19.12.2019
Vegan Sausage Rolls
prep: 30 mins / cook: 25 mins / inactive: 30 mins / total: 1 hour 25 mins / quantity: 12 sausage rolls Print recipe?
Perfect for picnics, packed lunches and buffet tables these vegan sausage rolls are simple to make but SO full of flavour!
Vegan sausage rolls are the vegan snack of the moment right now.  Everyone (and by everyone I mean retailers and supermarkets as well as us food bloggers) are offering their own flaky pastry vegan version of a classic.  We've tried lots of them.  All in the name of research of course.
Most aren't half bad.  Especially if you can snag one freshly baked and still warm.  Britain went into a mini meltdown when Greggs introduced their vegan sausage roll.  Mostly because it bore considerable resemblance to it's non-vegan counterpart.  But to be honest, I was never really much of a fan of a sausage roll before I became vegan.  Much like sausages they always seemed either overly spiced or completely bland.  And we'll not mention those strange gristly bits.
But like anything you make yourself, you know exactly what's going in it.  There are some great recipes out there that have you simply wrapping a sausage in some puff pastry and baking it.  Perfectly acceptable.  I find most things are improved simply by enveloping in puff pastry 😉
But you're then dependent on just the sausage for all the flavour.  And yep, there's some pretty decent vegan sausages available now – I just wanted to be master of my own vegan sausage roll destiny and pack in as much flavour as possible.
We've got onion, garlic, mustard, smoked paprika, vegan cheese for a bit of tang, vegan cream cheese to help bind it all together and breadcrumbs for the bulk of the filling.  Don't worry if you think they're going to be mushy.  They're a truly lovely texture and out of this world flavour.  Phil took a batch to his works fuddle* and they went down an absolute storm with all the confirmed carnivores there.
*Don't worry I'd never heard of a fuddle either.  It means 'food huddle' and seems to just be a colloquial term for a buffet at work where people bring in their own food.  He also took this vegan chocolate pie and not a single person realised that it was mostly made with tofu 😉
How to make these vegan sausage rolls
There are a few steps but they're all really simple:
Gently saute the onions and garlic – this helps mellow but enrich the flavour
Whizz up some bread into crumbs then whizz in the grated cheese, all the flavourings and your cooked onion and garlic
Unfurl your pastry and divide into 3 equal strips
Roughly divide your filling into 3 equal portions and shape into sausage shapes, laying it onto one end of each of the strips
Roll the pastry over the filling into, er, sausage roll shapes!
Glaze and bake
And try not to burn your mouth because man alive the smell while these things cook.  They have me and Nooch sitting in front of the oven waiting patiently for them to bake to golden, crispy deliciousness.
The glaze I've used is almond milk with just a pinch or turmeric for that lovely sunny yellow colour.
Once you've made your sausage rolls you can keep them, unbaked, in the fridge for a few days.  They can be cooked fresh for a family picnic or cooked, cooled and packed into lunch boxes.  There's also nothing wrong with having them on hand as an easy week night meal with some oven chips and baked beans (or even a crisp salad if you're feeling fancy!)
If you make this recipe or any of the recipes from The Cook & Him we'd LOVE to see! Just snap a picture and share it on Instagram using #thecookandhim and tagging @thecookandhim in the photo itself (as this guarantees we'll see your picture!
)
And don't forget to follow us on Instagram , Facebook or Twitter for even more recipe inspiration and chat, competitions, behind the scenes and so much more!
Vegan Sausage Rolls
prep: 30 mins / cook: 25 mins / inactive: 30 mins / total: 1 hour 25 mins / quantity: 12 sausage rolls
Ingredients
1 red onion – peeled and finely diced
3 cloves garlic – peeled and roughly chopped
drizzle of olive oil
4 medium slices of bread
2 cups (140g) vegan cheese – grated
2 tsp wholegrain mustard
2 tsp smoked paprika
2 tblsp vegan cream cheese
1 tblsp ground flax seeds
salt and pepper
320g ready rolled vegan puff pastry sheet
Glaze:
1-2 tblsp unsweetened plant milk
pinch turmeric
Food processor – I used this Magimix
Instructions
Saute the onion and garlic in a drizzle of oil until just starting to soften and turn translucent
Cut the slices of bread into cubes and whizz in a food processor till they become breadcrumbs
Add the cooked onion and garlic, the grated cheese, mustard, paprika, cream cheese, flax seeds and a good pinch each of salt and pepper and whizz until well mixed - this only takes a few seconds
In a mug whisk together the plant milk and turmeric
Unroll the puff pastry, lift off the paper sheet and sprinkle the paper with flour then put the pastry back on (this stops the pastry sticking as you're filling and rolling!)
With the longest edge in front of you, cut the sheet vertically into 3 equal pieces. Brush the right side of each of the edges with a little glaze
Roughly divide the filling into 3 equal sizes then using your hands, shape (as best you can) into long sausages and lay onto the puff pastry – you may need to form the sausages in a couple of bits, squidging them together on the pastry
Fold the pastry over the filling onto the wet strip, tucking it in tightly so there's no 'air' round the sausage
At this stage you can chill in the fridge for around 30 minutes to firm up the pastry again - this helps get nice clean lines when you cut the sausage rolls into portions. Or you can chill in the fridge for a few days to be baked later
Preheat the oven to 200 Fan / 220 C / 425 F / Gas 7
Cut your long sausages into quarters (or more if you want bite sized pieces) and lay onto a lined baking tray, spacing reasonably apart.
Generously brush each sausage roll with the glaze - I glaze them all then go back and do them one more time
Here you can cut slashes across the top for decoration or just leave them plain
Bake for 20-25 minutes until golden and crispy
Serve immediately or chill and store in the fridge for a few days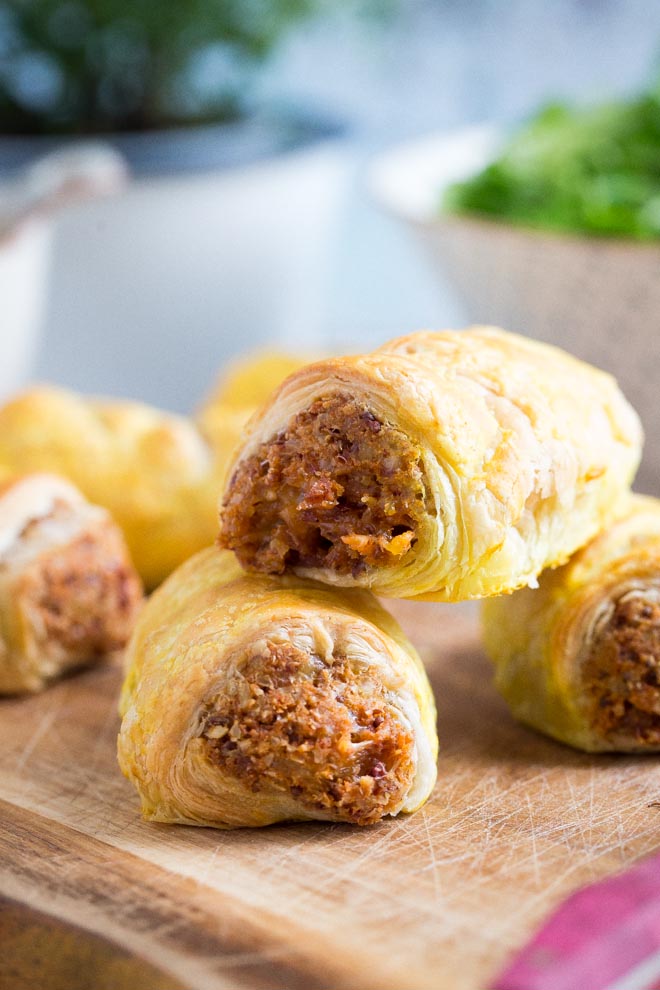 Some products I used in today's post...
Some of the links above are affiliate links, which pay us a small commission for our referral at no extra cost to you! Thank you for supporting The Cook & Him.
Hello and welcome to The Cook & Him.
We are Sam (The Cook), Phil (Him) and our little dog Nooch. What started with a plan to shed a few pounds back in 2016, soon became obvious that eating healthy doesn't have to be bland and boring.
So, combining Sam's 15 years of experience working within Michelin starred restaurants and our love for deliciously healthy food, we're creating recipes for you to make and enjoy. We've added our own unique spin on traditional and contemporary vegetarian and vegan recipes that keep you (and your pets!) healthy and full.  And we make sure they just work.
All things autumn - warming soups, savoury bakes and delicious sweet treats!
and I would like to see...
Or search for a recipe or post by keyword