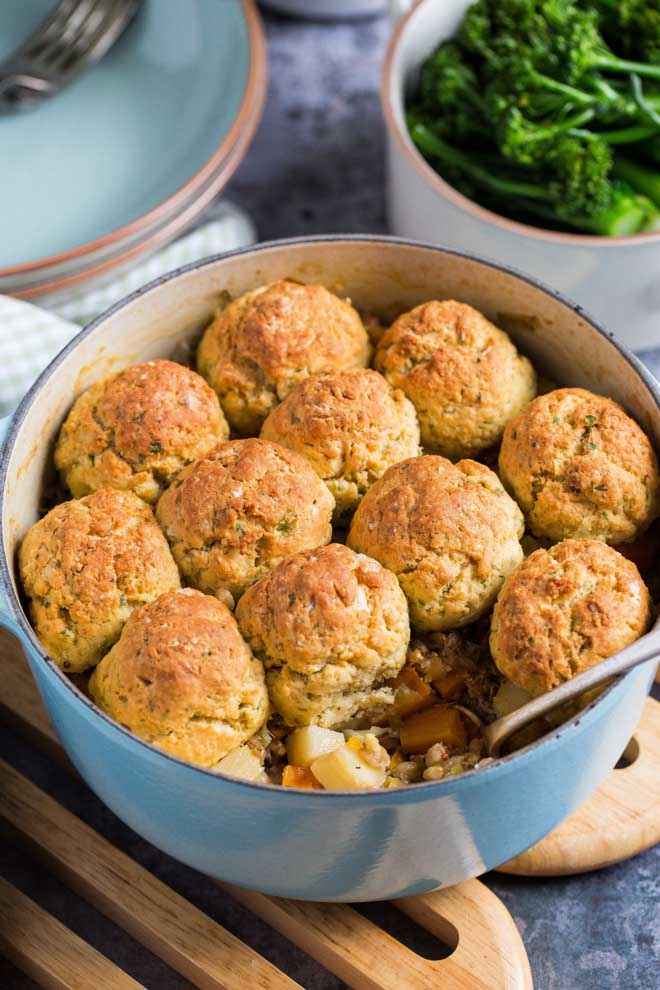 Posted in Recipes on 05.11.2019
Winter Vegetable Stew with Herb Dumplings
prep: 20 mins / cook: 1 hour 30 mins / inactive: 0 mins / total: 1 hour 50 mins / quantity: 4 - 6 servings Print recipe?
Hearty and delicious, this one pot vegetable stew topped with crisp, vegan and gluten free herb dumplings is the perfect winter comfort food!
And right now this vegetable stew is absolutely needed.  Because we're definitely approaching winter here in the UK.  Brrrrr. And all hail the one pot meal.  The holy grail of cooking.
Please don't be put off by the (teensy bit) long ingredients list.  We've got a tonne of veg, some seasoning, herbs and spice, a bit of plonk for flavour and the fabulous thing that is Hodmedod's Emmer Whole grain.  These tiny little grains soak up all the liquid to become plump and juicy pops of flavour in your mouth.
An ancestor of durum wheat, emmer was among the first cereals cultivated in the Fertile Crescent (a region in the Middle East).  It has a deliciously nutty flavour and can be eaten as a whole grain (farro), ground into flour, or sprouted.
Emmer whole wheat does contain a small amount of gluten so if you want to make the whole dish totally gluten free swap the emmer whole wheat for buckwheat or quinoa.
How to make this one pot casserole
First and most importantly is for this to be a one pot stew you'll need to have a pot that can go from the stove top to the oven.  I have a cast iron pan that weighs an absolute tonne but is perfect for this.
We start by softening the leek and garlic then adding the emmer and the liquid – white wine and vegetable stock in this case.  You don't have to use wine, you can substitute the same volume for vegetable stock if you'd prefer. We then give the grain a little time to absorb some of the liquid before adding the vegetables and simmering till they're cooked.
This stew is more than amenable to variation.  Don't like or don't have some of the vegetables I've used?  Substitute them for ones you do have or do like.
Once you've got all your vegetables in, leave it to gently simmer, stirring occasionally.  This gives you time to make the dumplings.  Which are also super easy.  In fact, this was the first time I'd ever made these type of dumplings and they were a complete doddle.
They're a bit like a scone dough to make but cook to crispy topped, fluffy middled things of wonder when you add them to the stew.  And it's as simple as rolling them into balls and then gently placing on top of the stew once the vegetables are cooked.  Most of the cooking of this vegetable casserole is done on the stove but the dumplings need to be baked in the oven.
I've used Hodmedods Fava Bean Flour to make these vegan dumplings.  Personally I think this flour is amazing.  It has a mild enough flavour to be used for anything from Ginger Cake and Lemon Meringue Pies to these savoury little dumplings.
I've also stared buying my nutritional yeast in bulk!  Simply because I use it for flipping everything – pesto, mashed potatoes, vegan cheese sauce, vegan scrambled eggs, etc etc etc.
This vegetable stew is currently on repeat as I can leave it to bubble and bake while pottering doing other things.  It also does us a couple of meals worth and is so tasty, hearty and downright filling that it's perfect for these colder, darker evenings.
If you're looking for more hearty and healthy recipes try our Vegetarian Lasagne (which is actually vegan), this Vegan Shepherd's Pie or even this Tomato Pearl Barley Risotto.
If you make this recipe or any of the recipes from The Cook & Him I'd LOVE to see! Just snap a picture and share it on Instagram using #thecookandhim and tagging @thecookandhim in the photo itself (as this guarantees I'll see your picture!
)
Don't forget to follow me on Facebook or Pinterest for even more recipe inspiration and chat, competitions, behind the scenes and so much more!
Winter Vegetable Stew with Herb Dumplings
prep: 20 mins / cook: 1 hour 30 mins / inactive: 0 mins / total: 1 hour 50 mins / quantity: 4 - 6 servings
Ingredients
Vegetable Stew:
1 medium leek – thinly sliced, washed and drained
3 cloves garlic – peeled and crushed
drizzle of oil
1 cup (180g) Hodmedods emmer whole grain (for gluten free sub with buckwheat or quinoa)
4 cups (1 litre) vegetable stock
1 cup (190ml) white wine
1 sprig rosemary – needles only (or sub 1/2 tsp dried)
4 sprigs fresh thyme – leaves only (or sub 1 tsp dried)
2 tsp wholegrain mustard – can sub with English or Dijon
1 carrot – peeled or scrubbed and roughly diced
1/4 butternut squash – peeled and roughly diced
1-2 sweet potatoes (depends on size) – peeled and roughly diced
1/2 turnip – peeled and roughly diced
Salt and pepper to taste
Herb Dumplings:
1 + 1/2 cups (210g) Hodmedods fava bean flour
2 tsp baking powder
4 tblsp (50g) vegan block butter – roughly diced
2 tblsp nutritional yeast
pinch salt and pepper
1 tsp dried oregano
1 tblsp chopped fresh parsley (or sub 1 tsp dried)
1/2 cup (125ml) unsweetened plant milk – I used oat milk
Instructions
Prep the leeks and garlic and add to an oven proof saucepan with a drizzle of olive oil. Saute over a gently heat until just starting to soften
Stir in the emmer, stock, wine, herbs and mustard then bring to the boil and gently simmer , stirring occasionally, for 25 minutes
While that's cooking, prep the remaining vegetables
Stir the vegetables into the stew and cook for another 25-30 minutes until most of the liquid has been absorbed and the vegetables are tender
While that's cooking make the dumplings - put the flour, baking powder and butter into a bowl
Rub the butter into the flour using your fingertips until no lumps of butter remains and the mixture looks like coarse sand or breadcrumbs
Stir in the yeast, salt and pepper, oregano and parsley
Stir in enough milk to make a soft, slightly stick dough
Roll into balls and place on a tray or plate
Preheat your oven to 180 Fan / 200 C / 400 F / Gas 6
Gently place the dumplings on top of the stew and place the saucepan in the oven for 25-30 minutes until the dumplings are crisp and golden
Serve immediately - though re-heated leftovers are just as delicious!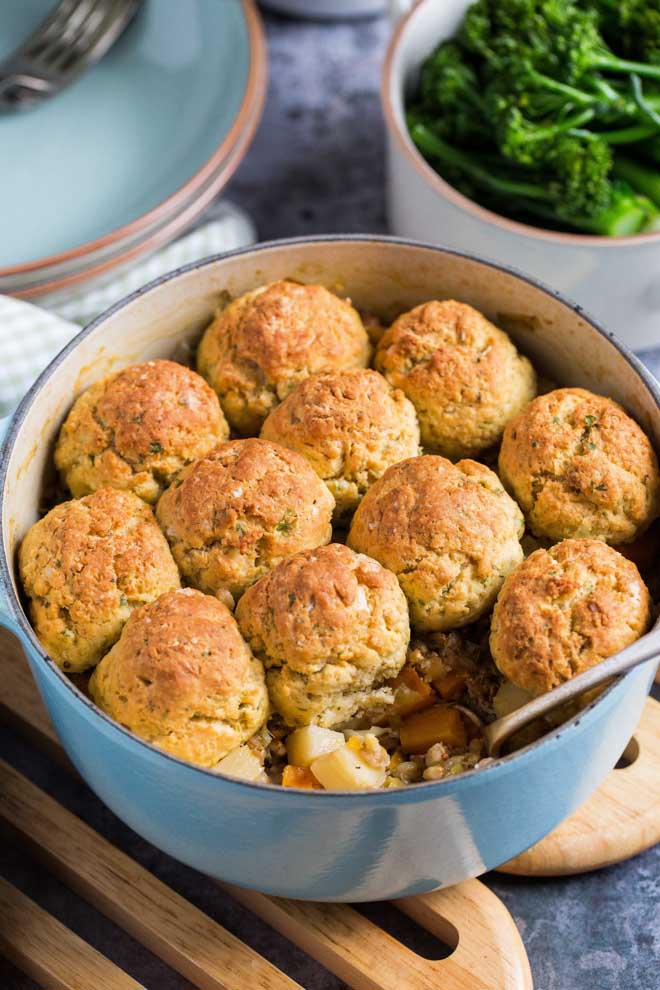 Some products I used in today's post...
Some of the links above are affiliate links, which pay us a small commission for our referral at no extra cost to you! Thank you for supporting The Cook & Him.
Hello and welcome to The Cook & Him.
We are Sam (The Cook), Phil (Him) and our little dog Nooch. What started with a plan to shed a few pounds back in 2016, soon became obvious that eating healthy doesn't have to be bland and boring.
So, combining Sam's 15 years of experience working within Michelin starred restaurants and our love for deliciously healthy food, we're creating recipes for you to make and enjoy. We've added our own unique spin on traditional and contemporary vegetarian and vegan recipes that keep you (and your pets!) healthy and full.  And we make sure they just work.
All things autumn - warming soups, savoury bakes and delicious sweet treats!
and I would like to see...
Or search for a recipe or post by keyword