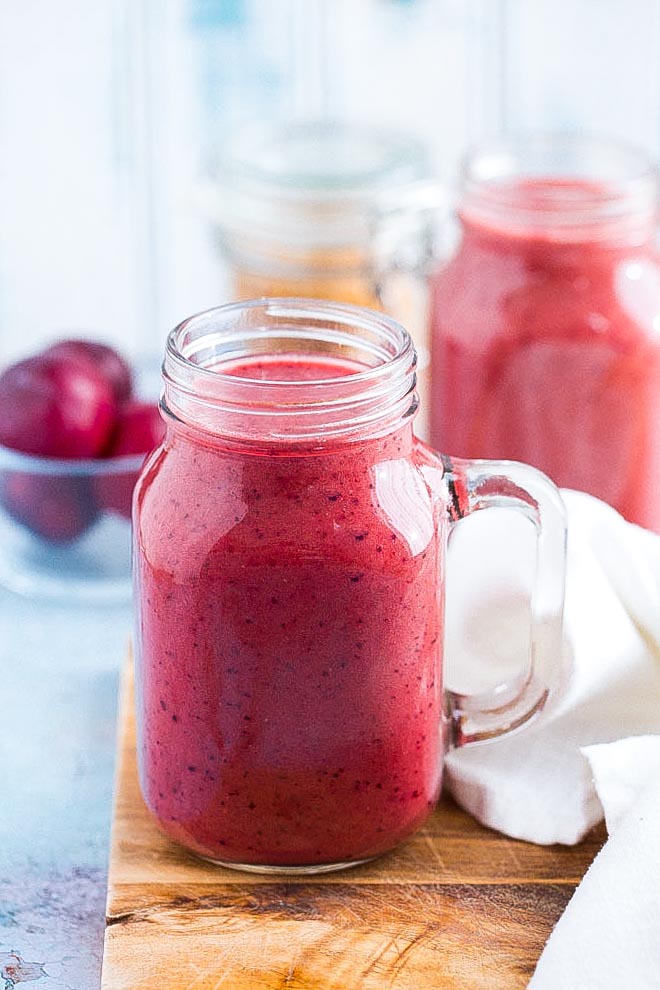 Posted in Recipes on 20.01.2020
Antioxidant Smoothie
prep: 10 mins / cook: 0 mins / inactive: 0 mins / total: 10 mins / quantity: 1 serving Print recipe?
Grab your blender and start your morning off right with this deliciously healthy antioxidant smoothie, packed with fresh fruit and veggies!
Talk to anyone about food and what's considered 'good for you' and you can almost guarantee debate.  It's a hugely complex subject with often very diametrically opposed opinions.  Phil and I have had varied success with 'dieting'.  The most (and continued) success we've had losing weight and being overall healthier started with a simple antioxidant smoothie.
It was a couple of friends who first introduced us to the idea of juicing as a way to kick start healthier eating.  We'd tried all other kinds of 'diets' before.  And I'm not demonising any of the calorie restricting diets – if it's worked for you, that's brilliant!!  Keep at it and don't give up!  When you find something that gives you results that's an AMAZING feeling.  But 'diet' to us means so much more than quantity/calorie counting/eating cabbage soup every Tuesday when there's a full moon!
Crap is crap no matter how many calories are involved.
Different foods tend to effect your metabolism, hormone levels, hunger and appetite differently.  Calories from nutrient rich foods will help keep hunger at bay, help maintain stable blood sugar levels, minimise cravings and let your brain signal your stomach that it's full.
Nutrient poor foods will have the opposite effect.  Wreaking hormonal havoc, spiking insulin, set off cravings, dull satiety signals and encourage further overeating.
We're also trying to prove that it really doesn't have to be hell to be healthy.  It's taken a good few years and a diabetes diagnosis (now all clear *phew*) for Phil to embrace food that required no more effort than removing the packaging and cooking for 30 minutes.  He was an absolute confirmed carnivore when we met.  And the idea of fruit, and worse – VEGETABLES – sent him running away screaming.  And me?  Well I'm a pastry chef who loves to cook.  And feed.
But we both knew that we couldn't carry on ignoring our health and its detrimental effects on our lives generally and that very first antioxidant smoothie was followed by a week of nothing but blended fruits and vegetables.  Was it easy?  Good grief not even a little bit.  I love food.  Juiced or blended fruits and veggies didn't feel like 'food'.  But with a significant weight loss after only one week we decided this was the start of changing how we treated food.  Do we still indulge?  Of course!  Nothing like a batch of warm healthy cookies fresh from the oven!
But what we try not to do is eat for the sake of it.  It's not easy, and anyone who's ever had a weight problem and says losing weight IS easy, well I'd call them a liar to their face.
Over the past couple of years of making juices and smoothies we've used and literally burnt out a number of different types of blender/juicer.  The first one was picked because I liked the colour and it was a reasonable price and we didn't know if it would be a permanent thing we'd enjoy.
What we found was there's no value in the cheaper juicers/blenders.  Especially if you're using it daily or making a few at a time for more than one person for a couple of days.
We also found that cleaning a juicer (the kind that takes all the pulp out of the fruit/veg and leaves you literally just with juice) was a PITA to clean, taking almost as long as making the juices themselves.
But thanks to another friend's recommendation, we now use a Nutribullet RX – it's robust, one jug/one blade unit to clean and makes blended juices incredibly smooth.  None of the fibre's lost either like in a juice extractor!
And this is one of those smoothies that I could drink every day and not get bored with.  So much fruity goodness with spinach for all the popeye feels and acai for some phenomenal health benefits:
Being high in antioxidants, acai helps protect the body from cellular damage caused by molecules called free radicals.
It contains amino acids which help promote muscle performance, energy production, endurance and strength
Acai is also a great source of fibre, keeping your fuller for longer and promoting a healthy digestive system
It can help lower cholesterol which improves blood circulation and helps prevent blood clots
Acai berries contain a polysaccharide (a complex carbohydrate) that boosts the immune system and helps the body fight infection
The acai berry is rich in healthy fats – these compounds raise HDL ('good') cholesterol levels making them heart healthy
These essential fats can also help maintain adequate moisture in the skin and thus preventing skin dryness
All this from a smoothie that takes literally just a few minutes to whip up ❤
If you make this recipe or any of the recipes from The Cook & Him we'd LOVE to see! Just snap a picture and share it on Instagram using #thecookandhim and tagging @thecookandhim in the photo itself (as this guarantees we'll see your picture!
)
And don't forget to follow us on Instagram , Facebook or Twitter for even more recipe inspiration and chat, competitions, behind the scenes and so much more!
Antioxidant Smoothie
prep: 10 mins / cook: 0 mins / inactive: 0 mins / total: 10 mins / quantity: 1 serving
Ingredients
1/4 pineapple – skin and core removed and flesh roughly diced
1 Golden Delicious Apple – core removed and flesh roughly diced
1 handful fresh spinach
1 handful mixed berries – fresh or frozen (frozen chills the juice nicely if you're drinking immediately and saves the need for ice cubes!)
1 banana – peeled and flesh broken into chunks
1 peach or nectarine – stone removed and flesh roughly diced
1 tblsp acai powder
1 cup coconut water
Blender – we used a Nutribullet RX
Instructions
Quite simply put all the diced fruit, the acai powder and coconut water into the blender cup and whizz until smooth
That's it!  Oh other than slurping away happily!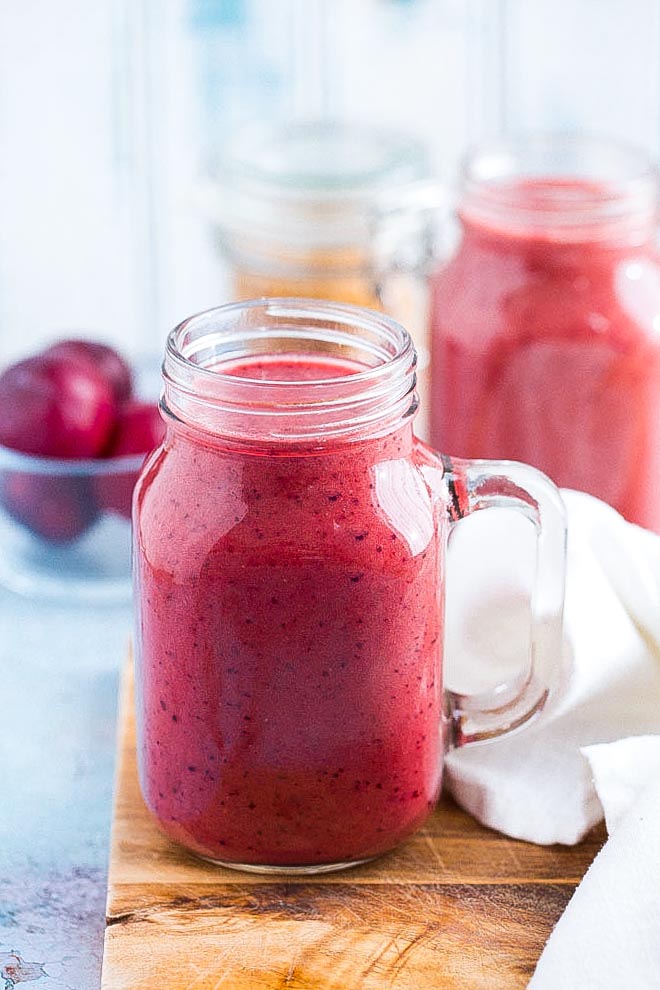 Some products I used in today's post...
Some of the links above are affiliate links, which pay us a small commission for our referral at no extra cost to you! Thank you for supporting The Cook & Him.
Hello and welcome to The Cook & Him.
We are Sam (The Cook), Phil (Him) and our little dog Nooch. What started with a plan to shed a few pounds back in 2016, soon became obvious that eating healthy doesn't have to be bland and boring.
So, combining Sam's 15 years of experience working within Michelin starred restaurants and our love for deliciously healthy food, we're creating recipes for you to make and enjoy. We've added our own unique spin on traditional and contemporary vegetarian and vegan recipes that keep you (and your pets!) healthy and full.  And we make sure they just work.
All things autumn - warming soups, savoury bakes and delicious sweet treats!
and I would like to see...
Or search for a recipe or post by keyword