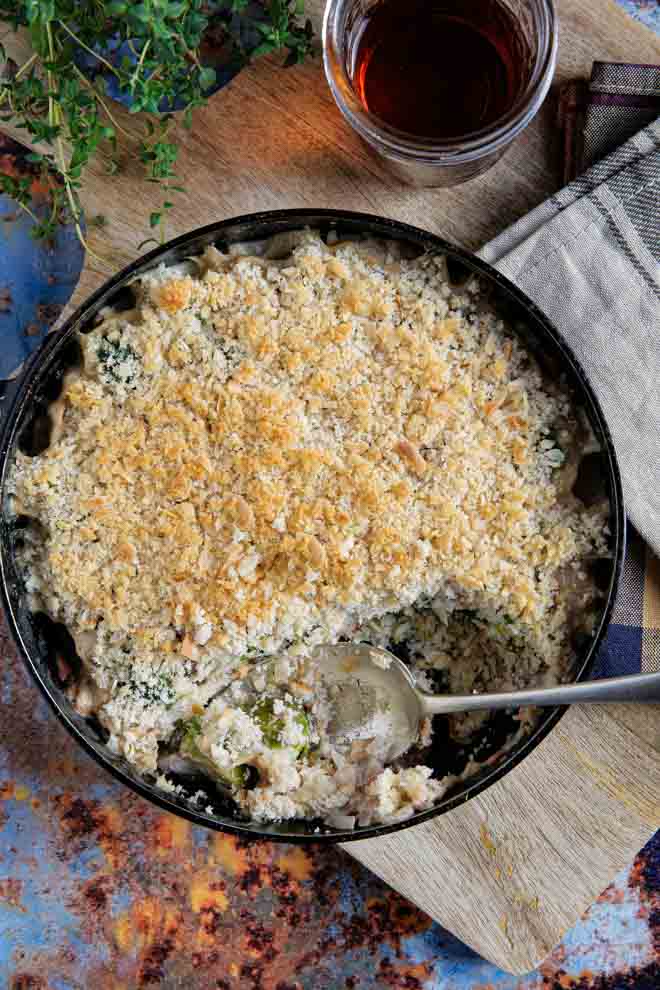 Posted in Recipes on 23.11.2020
Brussels Sprout Gratin
prep: 10 mins / cook: 30 mins / inactive: 0 mins / total: 40 mins / quantity: 4 servings as a side dish Print recipe?
A super simple make ahead vegan sprout gratin brimming with flavour. The perfect seasonal side dish of creamy sprouts, chestnuts and vegan ham with a crunchy, herby breadcrumb topping!
I'm assuming as you're here that you're a sprout lover rather than a hater?  I used to be a sprout hater.  My mum, bless her, was the first to admit she wasn't a very good cook and cooking was something she did more out of necessity than enjoyment.  Sprouts only ever arrived on my plate at Christmas.  And they were usually green, bland mush and something that had to at least be tried before plates were cleared and pudding arrived.  I think mum would have enjoyed this sprout gratin though with it's layers of flavour and ease of putting together.
Dad did his fair share of cooking though, especially after he retired.  And while they weren't vegan, mum was mostly vegetarian and they both absolutely loved their food, especially veggies.  I miss them every single day.  10 years can feel like a heartbeat and a lifetime.
I loved cooking for them too, they were always so open to new flavours and ideas.
A gratin is just a posh word for a 'bake'.  Those dishes with a bit of prep then throw it all in a dish (not literally throwing, no throwing in the kitchen kids) before letting the oven work its magic.  And making it all crisp and bubbly.  I've used some vegan ham in this sprout gratin too, for some smoky flavour.  Baked alongside onions, plenty of garlic, chestnuts, herbs, brandy and gentle spices.  Under a layer of herby breadcrumbs. I can literally eat this by the spoonful straight from the oven, straight out the dish.
I try and cook as seasonally as possible and for some reason I always associate chestnuts with winter.  Or more specifically when I'm thinking about what Christmas recipes I want to develop this year and what ingredients I want to use, chestnuts invariably spring to mind.
Maybe because they should be roasting on an open fire while Jack Frost is nipping at your nose 😉
How to make this easy baked sprouts recipe:
Prepare the topping.  If you're using ready made breadcrumbs simply roughly chop the flaked almonds and thyme and mix with the breadcrumbs.  If using fresh just whizz everything in the food processor.  You don't want it too fine, crusty lumps are encouraged!  If you have a nut allergy simply omit the almonds or sub with something like oats or pine nuts – which are actually seeds not nuts!
Boil the sprouts.  Par boiling them for just 4 minutes means they don't end up like hard bullets in your final baked dish but retain a bit of texture without turning to mush.  Drain and immediately refresh in cold water – this stops the sprouts overcooking.
Saute the shallots and garlic.  You'll want to do this in an oven-proof skillet or frying pan.  Other than a pan to boil the sprouts this all takes place in one pan so no plastic bits that will melt off and make a mess ALL.OVER.THE.DAMN.PLACE.  If you don't have an ovenproof skillet you can do this part in whatever you've got and transfer to a baking dish after.
Stir in the ham and brandy.  And bubble for a minute to cook off the raw alcohol flavour.
Take off the heat.  And add the remaining ingredients – sprouts, chestnuts, cream, milk, mustard, nutmeg, lemon juice, salt and pepper.  Why nutmeg?  I find it gives a wonderful mellow flavour to savoury dishes.  And is probably my favourite spice so I find myself adding it to a lot of things!
Sprinkle over the breadcrumbs.  Then bake in a preheated oven for 25-30 minutes until golden and bubbling.
If you're making ahead don't put the breadcrumbs on the top just yet, keep them separate from the rest of the gratin until you're ready to bake.  This stops the breadcrumbs from going soggy!
Calling all sprout lovers!  Here's some more recipes to tickle your sprout taste buds!
Roasted Sprouts with Grapes and Walnuts – the perfect contrasts of flavour and texture!
Sprouts with Walnuts and Shallots – I often eat this as a meal in itself during sprout season!
Winter Slaw – raw sprouts finely shredded mixed with crunch red cabbage, red onion, sultanas and walnuts all wrapped up in a vegan mustard mayo. YUM.
I'd love to hear from you if you make this Brussels Sprouts Gratin! Just leave a comment as it's so helpful and I love to hear how the recipe worked out for you! Thank you so much!
Don't forget to follow us on YouTube, Facebook or Pinterest for even more recipe inspiration and chat, competitions, behind the scenes and so much more!
Brussels Sprout Gratin
prep: 10 mins / cook: 30 mins / inactive: 0 mins / total: 40 mins / quantity: 4 servings as a side dish
Ingredients
Topping:
1 + 1/4 cups (75g) breadcrumbs – or 2 thin slices stale bread
1/4 cup (30g) flaked almonds (see note)
few sprigs fresh thyme – leaves only or 1 tsp dried thyme
drizzle of oil or spray oil
Gratin:
13 ounces (360g)  Brussels sprouts
1 large red onion – peeled and finely chopped
3-4 cloves garlic – peeled and crushed
drizzle of oil
4 slices vegan ham – roughly chopped
2 tblsp brandy – or sub with sherry or wine
1/2 cup (80g)  cooked and peeled chestnuts
1/2 cup (125ml) vegan cream
1/2 cup (125ml) non dairy milk
juice of half a lemon
pinch grated nutmeg
1 tsp wholegrain mustard
salt and pepper
Instructions
Prepare the topping by whizzing the bread in a food processor with the almonds and thyme until roughly chopped - no need for it to be too fine! Set aside
Preheat your oven to 180 Fan / 200 C / 400 F / Gas 6
Put the sprouts into a pan of boiling salted water and cook for just 4 minutes. Drain and refresh in cold water until cold then drain again
In an ovenproof skillet or frying pan saute the onion and garlic for 1-2 minutes in a drizzle of oil until just softened then stir in the ham and brandy and cook for 1 minute
Add the sprouts, chestnuts, cream, milk, lemon juice, nutmeg, mustard and a good pinch of salt and pepper
Sprinkle over the breadcrumb topping, drizzle or spray with some oil and bake for 25-30 minutes until golden and bubbly
Notes
For nut allergies substitute the almonds with something like rolled oats or pine nuts (which are actually a seed not a nut!)
If you're making this gratin ahead keep the sprouts and the topping separate until you're ready to bake, this stops the crumbs going soggy!
If you don't have an ovenproof skillet or frying pan use whatever pan you have and tip into an ovenproof dish to bake
If baking from chilled, the gratin might need an extra 5 minutes in the oven, check the food is piping hot in the middle
It also makes great leftovers, though the sprouts do go a little softer on reheating!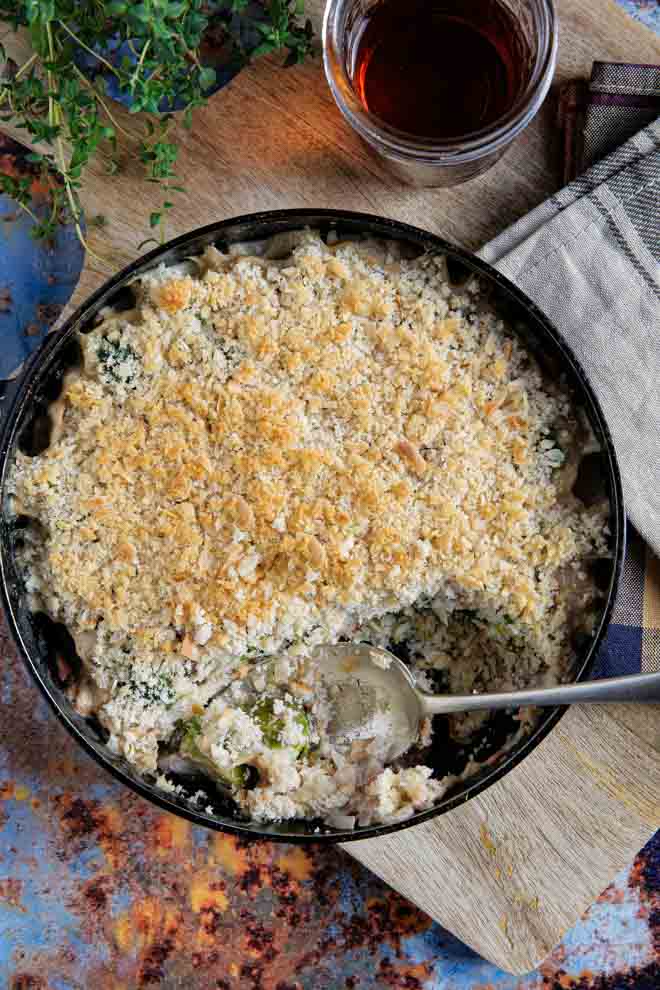 Hello and welcome to The Cook & Him.
We are Sam (The Cook), Phil (Him) and our little dog Nooch. What started with a plan to shed a few pounds back in 2016, soon became obvious that eating healthy doesn't have to be bland and boring.
So, combining Sam's 15 years of experience working within Michelin starred restaurants and our love for deliciously healthy food, we're creating recipes for you to make and enjoy. We've added our own unique spin on traditional and contemporary vegetarian and vegan recipes that keep you (and your pets!) healthy and full.  And we make sure they just work.
All things autumn - warming soups, savoury bakes and delicious sweet treats!
and I would like to see...
Or search for a recipe or post by keyword