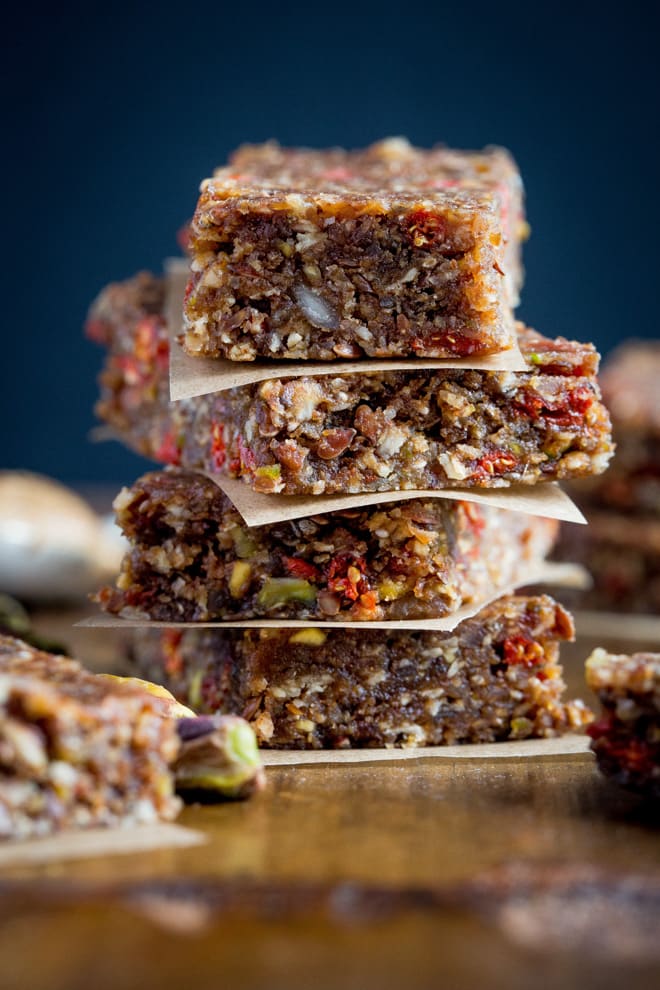 Posted in Recipes on 14.07.2018
Caramel Chocolate Protein Bites
prep: 20 mins / cook: 0 mins / inactive: 0 mins / total: 20 mins / quantity: 15 / 20 bars/balls Print recipe?
I'm NOT a gym bunny.  But I am on my feet for quite long hours each day and most mornings it's just a smoothie that gets me from breakfast to lunch – and some kind of protein snack.  I'm also not one for the pre-bought in a packet protein bars or balls.  In all honesty I find them either too sweet or too bland.  And some are so chewy my jaw hurts after eating it!  Pre-made protein bars are great if you're in a pinch – many have only all natural ingredients and are often from small manufacturers just trying to make their way in the world.
But if you have some time and a mixing bowl I definitely recommend making your own – there's very little as good as home-made!
AND you can vary it to your heart's content.  Don't like goji berries?  Sub with any other dried fruit.  Like coconut?  Chuck in a couple of spoons of dessicated coconut or even coconut chips.  Feel free to use whichever nut butter you prefer or have to hand – I've tried peanut and almond and they both tasted great!
In the recipe I've also used 1 + 1/2 cup oats.  I grind up one cup and leave 1/2 cup intact as this gives a lovely texture while the ground oats help bind everything together and provide 'body' to the bars in their special gluten free way ?
A small point to note is that not all oats are gluten free.  Under normal circumstances non-contaminated, pure oats ARE gluten-free and are safe for most people with gluten-intolerance.  The main problem with oats in gluten-free eating is contamination. Most commercial oats are processed in facilities that also process wheat, barley, and rye.  So if you are gluten intolerant be sure to check the labels.
One thing I wouldn't recommend changing is the Sweet Freedom Caramel Chocolate Shake.  There are two flavours of their chocolate shakes – banana and caramel.  And they both come in a very handy squeezy bottle to be used in anything from simply drizzling over pancakes, naturally sweetening darling little mini banoffee pies, adding to your breakfast parfait or even giving some extra sweet oomph to your morning baked oats.  I genuinely LOVE this stuff.  And like ALL of Sweet Freedoms products (and their range is always growing .. YUM!) they are made with no chemical processing, no additives, no preservatives, just fruit sweetness.
The beauty of this mixture is that it can be made into both bars AND balls.  It's soft enough to shape into pop in the mouth bites and firm enough after refrigerating to cut into neat little bars.  Or big bars.  No judgement.
If you make this recipe or any of the recipes from The Cook & Him we'd LOVE to see! Just snap a picture and share it on Instagram using #thecookandhim and tagging @thecookandhim in the photo itself (as this guarantees we'll see your picture!
)
And don't forget to follow us on Instagram , Facebook or Twitter for even more recipe inspiration and chat, competitions, behind the scenes and so much more!
Caramel Chocolate Protein Bites
prep: 20 mins / cook: 0 mins / inactive: 0 mins / total: 20 mins / quantity: 15 / 20 bars/balls
Ingredients
1 + 1/2 cups (150g) rolled oats
1/2 cup (55g) ground almonds
1/2 cup (100g) dairy free dark chocolate chips
1/2 cup (55g) goji berries
2 tblsp (25g) chia seeds
2 tblsp (25g) flax seeds
4 dates – stone removed
1/4 cup (35g) shelled pistachio nuts
1/4 cup (35g) shelled macadamia nuts
2 tblsp (40g) Sweet Freedom Choc Shake – Caramel
1/2 cup (125g) nut butter – I've tried peanut and almond and they both taste great, but I'm confident most nut butters would work in this recipe!
1/3 cup (80g) unsweetened almond milk
Food processor – I've used a Kenwood Compact FP120
Instructions
Put 1 cup (100g) of oats into a food processor and whizz to a quite fine powder.
Tip into a large bowl with the remaining 1/2 cup (50g) of un-ground oats, the ground almonds, the chocolate chips, flax seeds, chia seeds and goji berries
Don't wash up your food processor bowl yet!  Tip in the dates and both nuts and whizz until quite finely chopped
Squeeze in the Sweet Freedom Chocolate Shake and add the nut butter and whizz again until incorporated
Add the almond milk and give a final whizz to mix it through
Tip this into your bowl of dry ingredients and stir until well combined
If you're making bars tip the mixture into a 7 x 9 inch tray lined with parchment or cling-film, spreading and flattening into the corners then put in the fridge for a couple of hours to set before cutting into bars.
If you're making the mixture into balls take out small pieces and shape with your hands - the size of the ball is up to you ?
Store both bars and balls in a lidded container in the fridge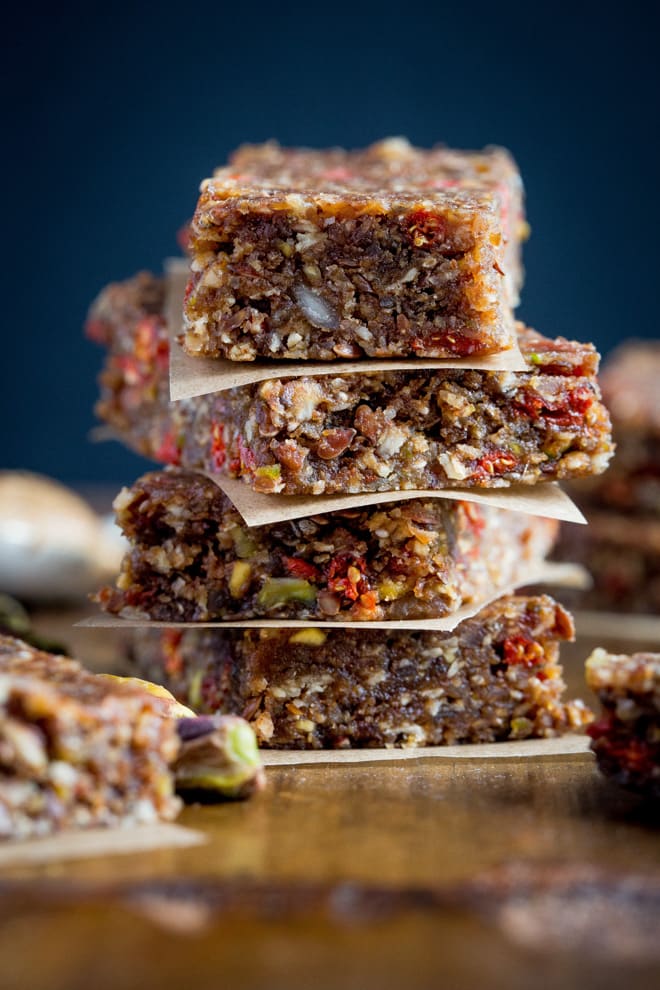 Some products I used in today's post...
Some of the links above are affiliate links, which pay us a small commission for our referral at no extra cost to you! Thank you for supporting The Cook & Him.
Hello and welcome to The Cook & Him.
We are Sam (The Cook), Phil (Him) and our little dog Nooch. What started with a plan to shed a few pounds back in 2016, soon became obvious that eating healthy doesn't have to be bland and boring.
So, combining Sam's 15 years of experience working within Michelin starred restaurants and our love for deliciously healthy food, we're creating recipes for you to make and enjoy. We've added our own unique spin on traditional and contemporary vegetarian and vegan recipes that keep you (and your pets!) healthy and full.  And we make sure they just work.
All things autumn - warming soups, savoury bakes and delicious sweet treats!
and I would like to see...
Or search for a recipe or post by keyword