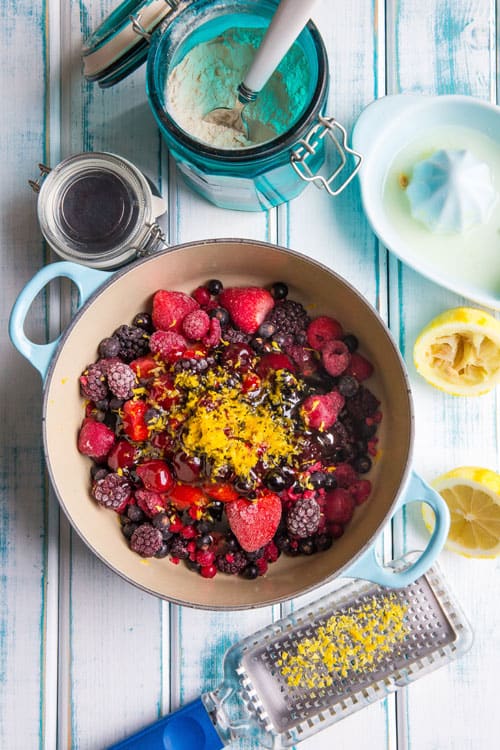 Posted in Recipes on 13.09.2017
Chia Seed & Berry Jam
prep: 5 mins / cook: 25 mins / inactive: 0 mins / total: 30 mins / quantity: 2 medium jars Print recipe?
If you've never made your own jam before the whole process can seem a little daunting.  There's special copper pots, sugar thermometers, adding ingredients like pectin and spreading dollops of jammy liquid on a plate to see if it's at the perfect consistency yet.  There's faffing with jars and sterilising, there's all that stirring and potential jam splat burns.  And of course there's all that sugar.
Since we've cut down on our carbohydrates (somehow we used to manage to incorporate bread into all three meals a day – toast for breakfast, sandwich for lunch, bread as a dinner 'side') we've eaten a lot less other things – butter, mayonnaise and jam – all of which I particularly used to spread on so thick the bread was almost just a conduit for carrying them to my mouth!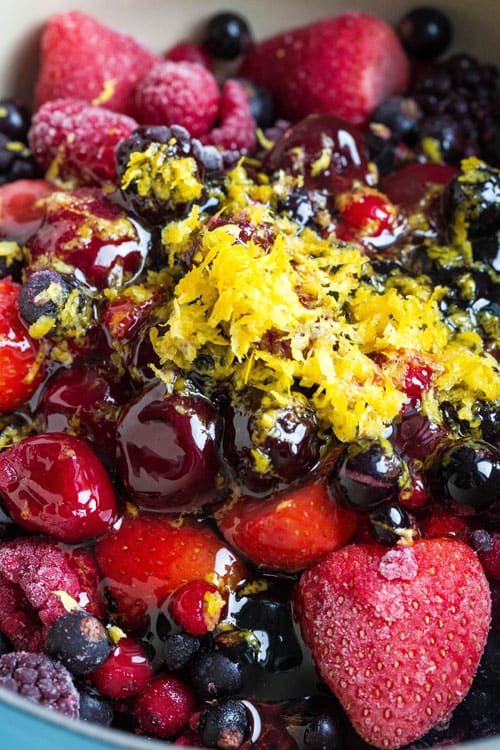 We still enjoy carbohydrates here and there – salad wraps for lunch or a couple of these Homemade Teacakes for a weekend breakfast treat rather than several slices of toast every single day and this Honey Oat Wholemeal Bread seems a winner with all those that have tried it.  But one thin/recipes/teacakes/g we have noticed since we cut back as much as possible on refined sugar is the overly sweetness of lots of things.
Did you know that in order for commercial jam to be called 'jam' it has to contain at least 50% sugar?  Which is actually down from the 60% it was before DEFRA (Department for Environment Food & Rural Affairs) got involved in 2013.  Up to that point, anything with a lower percentage of sugar was considered a 'reduced sugar' jam, compote, conserve or fruit spread.  Lowering the sugar content brought English jam more into line with the sugar amounts used in French and German jams.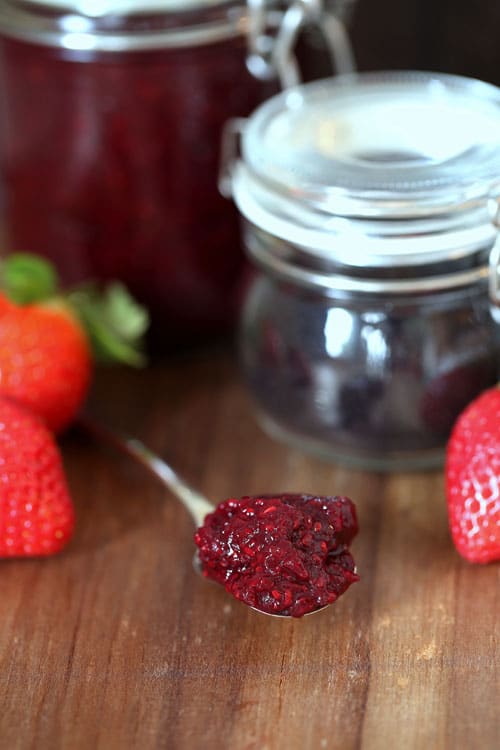 The high sugar content in jam is there for a couple of reasons – it gives it that gel like consistency that English jam consumers are used to as well as the important job of acting as a preservative without the need to add potentially flavour altering 'extras'.
So the challenge when making this jam was to create something that tasted like the fruit it was made from, had zero refined white sugar and utilised natural pectin to assist in setting the boiled gloopy berry mess into something that looked, smelt and tasted like jam.  It also had to be easy to replicate as not everyone has the time or inclination to stand and stir a pot of boiling, splattering liquid!  And will it actually be possible to make jam even a little bit 'healthier'??
The Berries – as I was making the jam out of season (bad planning!) I used a bag of frozen mixed berries.  Next year I'd like to be a bit more organised and use our local Pick Your Own farm – a great way to get kids involved if you have them and everyone to take in some fresh air!  Freeze any extra berries and you'll have a hand supply next time you want to make some homemade jam!
The Lemon – nature's pectin as well as adding an extra zingy flavour!
The Maple Syrup – because I'm not really into food that makes my face pucker!  Some people love sour.  Not me.  And not on my weekend crumpet!
The Chia Seeds – these tiny seeds are like little sponges, absorbing liquid and increasing in size and weight.  This also helps turn the runny berry mess into something that resembles jam while at the same time increasing your fibre, calcium, magnesium, iron and protein intake!
The Vanilla – because who doesn't love a little bit of a vanilla twist?!
The Acai Berry – even more berry flavour because why not?  Not forgetting that the acai berry is also full of immune supporting Vitamin A … that's right, eat jam to help fight off those winter nasties ?
The Baobab – a final flavour note these wonderful berries are jam packed (did you see what I did there?) with fibre and Vitamin C – they're also an important crop for some of the poorest indigenous communities in the tree's native South Africa
Now, if you read all that you should reward yourself …
Buttery crumpet anyone? ?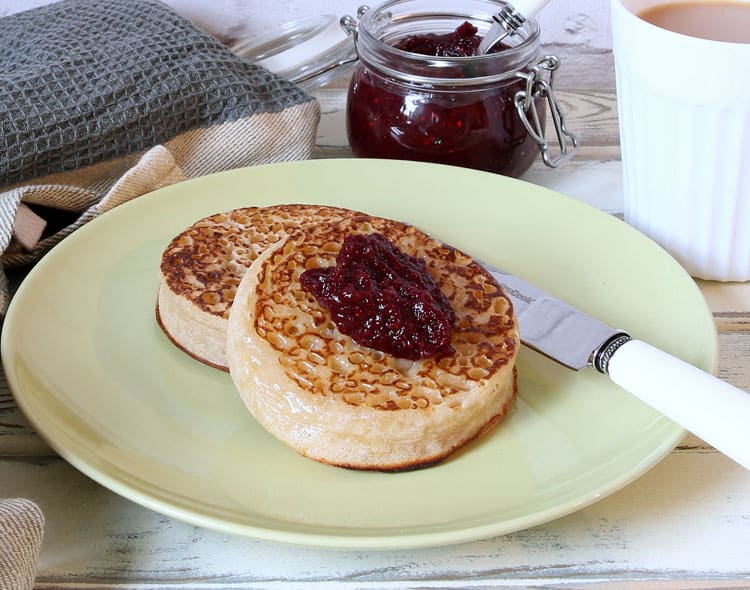 If you make this recipe or any of the recipes from The Cook & Him we'd LOVE to see! Just snap a picture and share it on Instagram using #thecookandhim and tagging @thecookandhim in the photo itself (as this guarantees we'll see your picture!
)
And don't forget to follow us on Instagram , Facebook or Twitter for even more recipe inspiration and chat, competitions, behind the scenes and so much more!
Chia Seed & Berry Jam
prep: 5 mins / cook: 25 mins / inactive: 0 mins / total: 30 mins / quantity: 2 medium jars
Ingredients
500g mixed berries – fresh or frozen
3 tblsp maple syrup
1/2 lemon – grated zest and juice
2 tblsp chia seeds
½ tsp vanilla extract
1 heaped tsp baobab powder
1 heaped tsp acai berry powder
Instructions
Tip the berries, maple syrup and the lemon zest and juice into a medium sized saucepan and gently bubble for 10-15 minutes until the berries become quite soft. Squash any of the larger berries with a fork or, if you have fussy 'no lumps' jam lover as I do give the mixture a quick blitz with a stick blender or in blender machine (being very careful of the hot liquid).
Add the chia seeds and vanilla and bubble gently for another 10 minutes. Turn off the heat, stir in the baobab and acai berry powders, carefully taste and add a little more honey if needed, then leave to cool completely.
Spoon into sealable jars and store in the fridge for 2-3 weeks.
Notes
Don't forget to prepare the berries if you're using fresh - remove stalks/stones/pits etc!
The jam goes wonderfully well with our Honey Oat Wholemeal Bread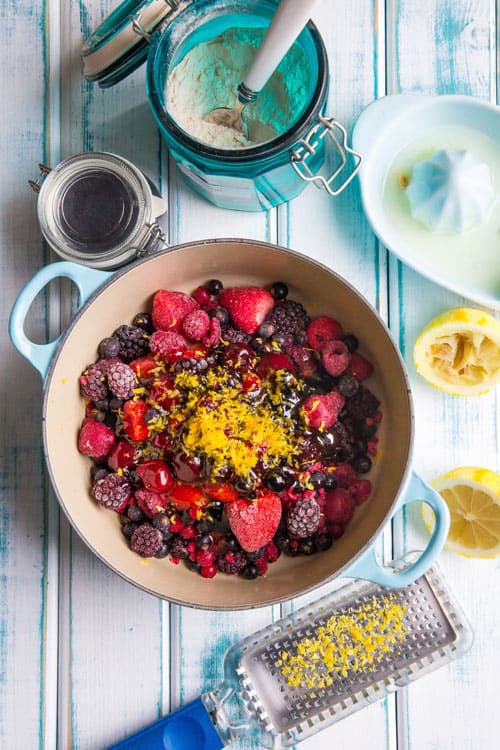 Hello and welcome to The Cook & Him.
We are Sam (The Cook), Phil (Him) and our little dog Nooch. What started with a plan to shed a few pounds back in 2016, soon became obvious that eating healthy doesn't have to be bland and boring.
So, combining Sam's 15 years of experience working within Michelin starred restaurants and our love for deliciously healthy food, we're creating recipes for you to make and enjoy. We've added our own unique spin on traditional and contemporary vegetarian and vegan recipes that keep you (and your pets!) healthy and full.  And we make sure they just work.
All things autumn - warming soups, savoury bakes and delicious sweet treats!
and I would like to see...
Or search for a recipe or post by keyword