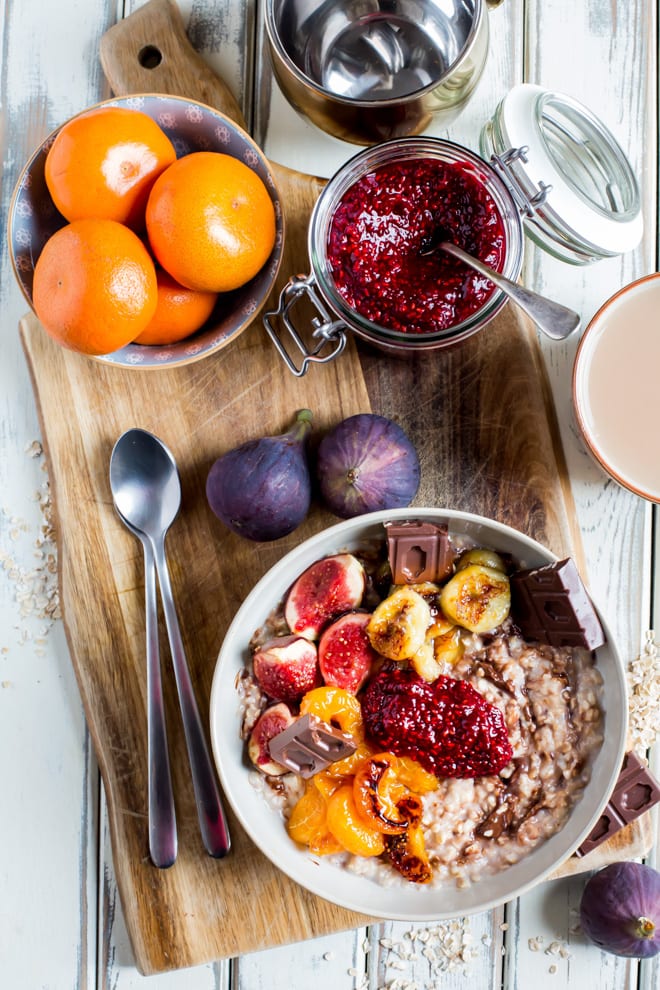 Posted in Recipes on 20.11.2018
Chocolate and Raspberry Jam Porridge
prep: 5 mins / cook: 20 mins / inactive: 0 mins / total: 25 mins / quantity: 2 servings Print recipe?
Chocolate and Raspberry Jam Porridge – rolled oats swirled with dark chocolate, topped with raspberry chia jam and maple roasted fruits. Oh and more chocolate of course!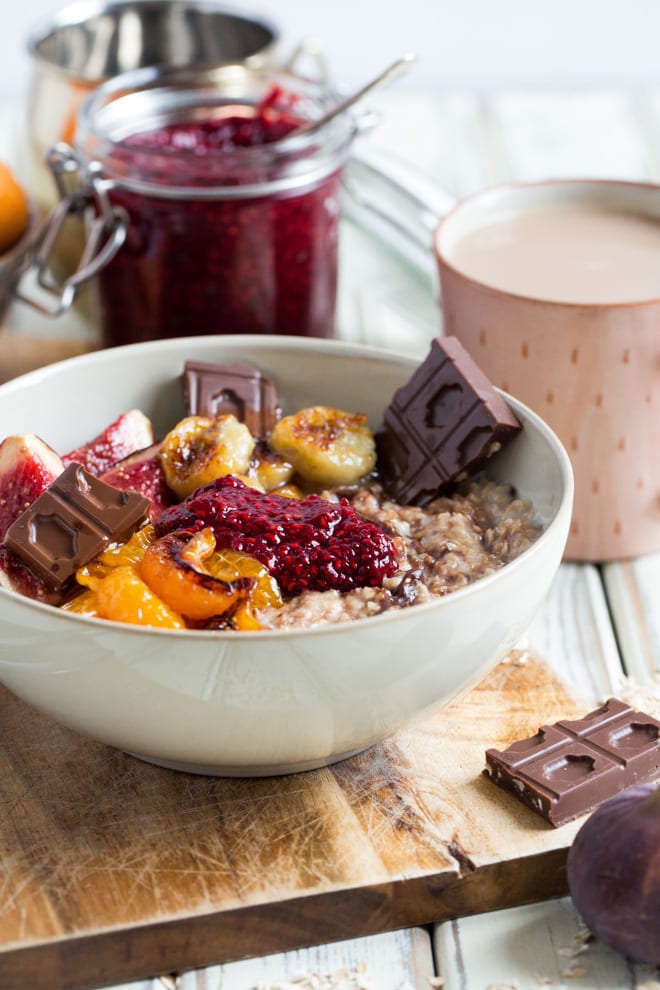 It's that time of year when porridge replaces overnight oats in my breakfast rotation.  I say rotation like it's something organised.  I try to be that organised but most mornings breakfast almost becomes lunch because I end up eating it so late.  So it's usually a quick smoothie as  I don't function well on a full stomach.  Particularly with the bending and odd positions involved in food photography.  But now the mornings are increasingly colder and more damp, chocolate and raspberry jam porridge is my occasional breakfast treat after a chilly Meg walk.
Please don't be put off my the whole 'making your own jam' thing.  This raspberry chia jam is SUPER easy – using just 4 ingredients and taking just 15 minutes to make.  The raspberries, clementine zest and juice and syrup all go in a saucepan to be bubbled for 10 minutes.  Then add the chia seeds and bubble for a further 5 minutes.  And that's it!  Other than leaving it to cool before putting into a sealable container and storing in the fridge!  So much less sugar than bought jam but all the flavour and a great way to use up any extra berries you might have frozen over the summer!
You can also vary the berries you put in this jam – I've tried blackberry jam and mixed berry jam and they're all just as easy and just as absolutely divine!
The other variable is the fruit you use to top your chocolate and raspberry jam porridge.  I've tried to be as seasonal as possible with fresh figs and clementines with the perpetually in season bananas.  I've simply 'roasted' them in a small frying pan with a tiny squeeze of maple syrup which helps to give them that lovely caramelisation.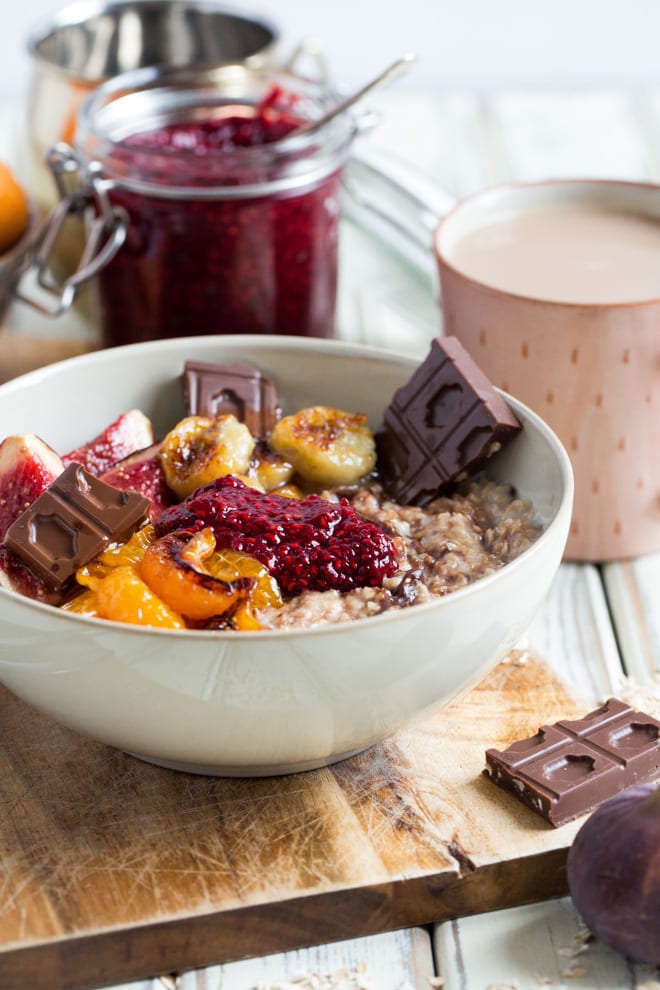 So, once you've made and devoured your chocolate and raspberry jam porridge you might be wondering about that leftover jam?  Worry not, I've got you covered …
Make more Chocolate and Raspberry Jam Porridge!!
I shouldn't go without also mentioning the chocolate.  I've used Doisy & Dam's Maple, Toasted Rice and Pink Salt.  Their dark chocolate range (often superfood infused) is some of THE best vegan chocolate I've tasted.  And I've definitely done my research 😋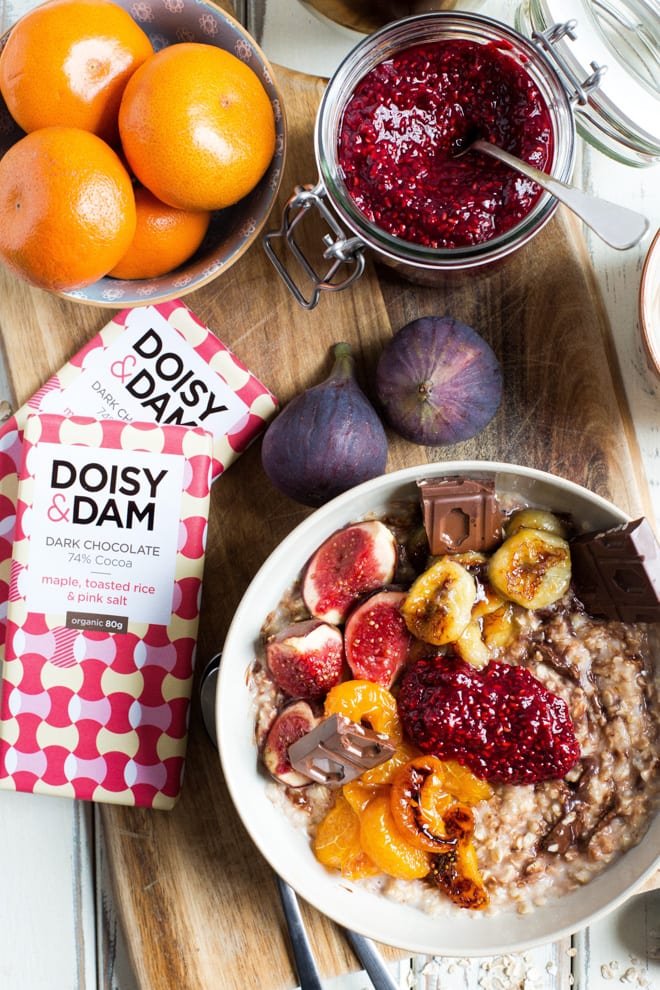 If you make this recipe or any of the recipes from The Cook & Him we'd LOVE to see! Just snap a picture and share it on Instagram using #thecookandhim and tagging @thecookandhim in the photo itself (as this guarantees we'll see your picture!
)
And don't forget to follow us on Instagram , Facebook or Twitter for even more recipe inspiration and chat, competitions, behind the scenes and so much more!
Chocolate and Raspberry Jam Porridge
prep: 5 mins / cook: 20 mins / inactive: 0 mins / total: 25 mins / quantity: 2 servings
Ingredients
Raspberry Chia Jam:
3 cups (500g) raspberries (fresh or frozen)
2 tblsp maple syrup
1 clementine – zest and juice (can sub with other citrus fruits)
2 tblsp chia seeds (we love these from Hodmedods)
Roasted Fruits:
1 banana
1 clementine (or other citrus fruit)
2 fresh fig
1-2 tsp maple syrup
Porridge:
2 cups rolled oats
2 cups unsweetened almond milk
Instructions
Start with the jam - put the berries, syrup, zest and juice into a heavy based saucepan (this helps prevent the jam burning) and gently bubble for 10 minutes, stirring occasionally
Stir in the chia seeds and cook for a further 5 minutes before taking off the heat
While that's cooking prepare the roasted fruits. Peel the banana and thickly slice. Peel the clementine, removing as much of the white pith as possible. Cut the figs into segments
Put all the fruit into a small frying pan with the maple syrup and cook over a gentle heat till they start to caramelise. Turn the fruit over to caramelise both sides
Break the chocolate bar in half and grate half. Break the other half into a few chunks. Set both aside
For the porridge, put the oats and milk into a medium saucepan and stir over a medium heat until bubbling. Swirl in the grated chocolate and divide between two bowls
Top with a good splodge of jam and half the roasted fruit per bowl
Nestle in some of the extra broken pieces of chocolate
Tune the world out and enjoy this seriously decadent breakfast ❤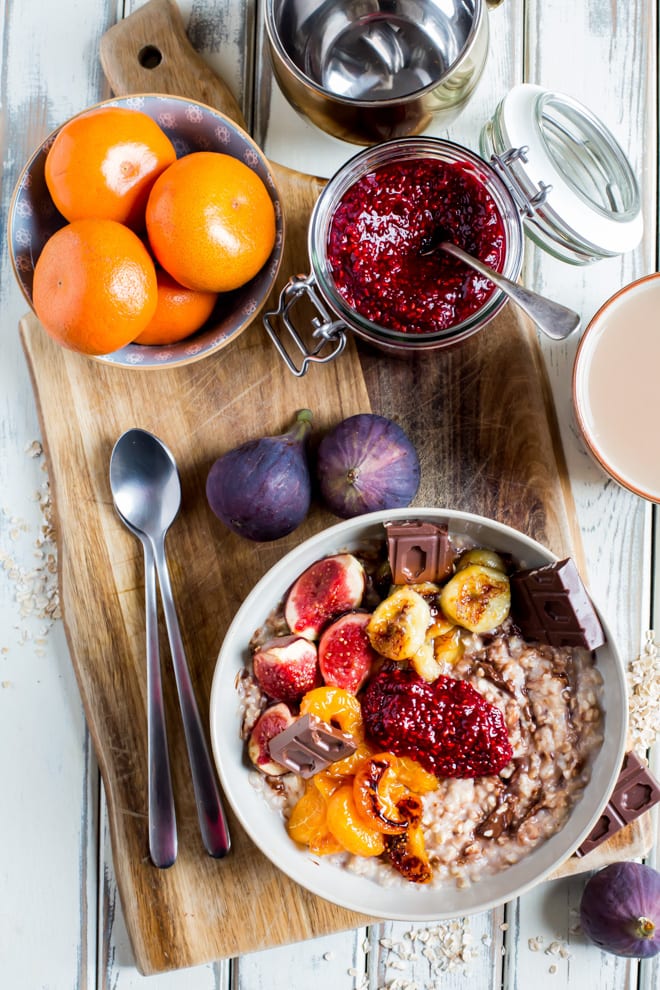 Some products I used in today's post...
Some of the links above are affiliate links, which pay us a small commission for our referral at no extra cost to you! Thank you for supporting The Cook & Him.
Hello and welcome to The Cook & Him.
We are Sam (The Cook), Phil (Him) and our little dog Nooch. What started with a plan to shed a few pounds back in 2016, soon became obvious that eating healthy doesn't have to be bland and boring.
So, combining Sam's 15 years of experience working within Michelin starred restaurants and our love for deliciously healthy food, we're creating recipes for you to make and enjoy. We've added our own unique spin on traditional and contemporary vegetarian and vegan recipes that keep you (and your pets!) healthy and full.  And we make sure they just work.
All things autumn - warming soups, savoury bakes and delicious sweet treats!
and I would like to see...
Or search for a recipe or post by keyword