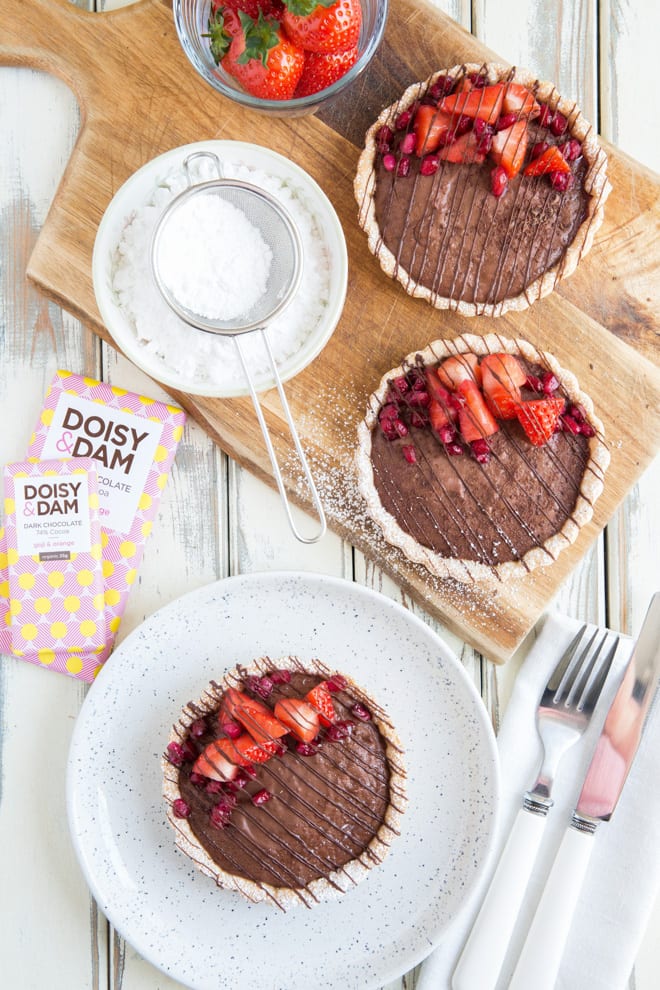 Posted in Recipes on 28.05.2019
Chocolate Custard Tarts
prep: 30 mins / cook: 25 mins / inactive: 60 mins / total: 1 hour 55 mins / quantity: 6 tarts Print recipe?
Crisp pastry surrounds a creamy chocolate custard filling in these sublime vegan tarts!
Before making these I wondered what base to use to house the chocolate custard.  My first thought was a version of the shell used on this Nutty Truffle Tart where both the base and filling are essentially raw.  But not everyone loves nuts quite as much as I do!  And I really want people to not be afraid to make their own pastry.
It's really not at all scary and there's no unusual ingredients!
Vegan pastry is largely made exactly the same way as normal shortcrust pastry or sweet pastry.
The difference is that for vegan pastry you use vegan butter and then just water to bind the pastry together instead of egg yolk.  Yes it's marginally less rich in flavour without the egg but the rich custard filling in these more than makes up for it.  Good news for the hens and baby male chicks too!  (Please read this link if you're not vegan and want to understand a bit better about the consequences of choosing to eat eggs).
For this shortcrust pastry all you need to do is cube the vegan butter and add it to the flour.  Then using just your fingertips, rub the butter into the flour until all the large lumps have gone and you have something left that looks like sand or breadcrumbs.  I've then stirred through a couple of tablespoons of sugar but if you want to keep your shortcrust pastry and over all tart less sweet you can omit the sugar.
Personally, and as there's not a lot of sugar in the chocolate custard, I like a dash of sugar in the pastry too.  These tarts aren't overly sweet and they're not cloyingly rich.  The custard is delicious and chocolatey with just a hint of orange but the tarts themselves are light and delicate.
The pastry is then bound together using cold water.  Cold water and gentle handling means the butter laminates through the pastry rather than melts, giving you that much sought after short crust – pastry crust that's light and crumbly and melts in your mouth.  Overworking the pastry or using warm ingredients can lead to a tough, chewy and dense pastry.  How much water  you add depends on a few things – humidity, flour and accurate measuring.  I always add less than I think I need then add more as I gently bring the ingredients together to form the dough.
You'll then wrap and chill your pastry for around 30 minutes (or even a few days in advance if you're preparing ahead) before rolling out and lining your tins.
Once I've lined the tins I then freeze them.  This means I don't have to bake blind with bits of parchment and beans or rice because personally I find that a faff!  You can still do that if you'd prefer of course.  If you freeze them, they only need 30 minutes as they're thin and freeze quickly.
And the chocolate custard couldn't be simpler!  If you've ever made custard with custard powder it's largely the same principle.
Mix a little bit of the milk with the cornflour (instead of custard powder) and boil the rest.  Whisk in the sugar just as it boils then whisk in the milky cornflour until you have a thick custard.  Then whisk in the chocolate till it's melted.  I've used one of the Doisy & Dam vegan Goji and Orange bars.  Because it's bloody lush and because I wanted the hint of orange in the custard.  Pour your chocolate custard into your cooked tart bases and marvel at your kitchen skills – you just made your own pastry and your own custard 😉
If you make this recipe or any of the recipes from The Cook & Him we'd LOVE to see! Just snap a picture and share it on Instagram using #thecookandhim and tagging @thecookandhim in the photo itself (as this guarantees we'll see your picture!
)
And don't forget to follow us on Instagram , Facebook or Twitter for even more recipe inspiration and chat, competitions, behind the scenes and so much more!
Chocolate Custard Tarts
prep: 30 mins / cook: 25 mins / inactive: 60 mins / total: 1 hour 55 mins / quantity: 6 tarts
Ingredients
Pastry:
2 cups (250g) plain flour
2/3 cup (110g) vegan butter – diced into smallish cubes
2 tblsp golden caster sugar
4-5 tblsp cold water – measure this into a jug so you can easily add into your dough
Custard:
1 + 1/2 cups (330ml) unsweetened almond milk
1 can (400ml) coconut milk (see note 3)
4 tblsp cornflour
1/4 cup (40g) golden caster sugar
1 x 80g bar Doisy and Dam Goji and Orange – broken into pieces
Instructions
Start with the pastry - put the flour and diced butter into a large bowl. Using just your fingertips 'rub' the butter into the flour, breaking it into smaller pieces until you have a mixture that resembles sand or breadcrumbs
Stir in the sugar then add around half the cold water, bringing the mixture together with your hands. Add more water as needed until you have a smooth dough. Wrap in foil or cling film and put in the fridge for 30 minutes
Unwrap the dough and roll out on a lightly floured surface. Over 2 - 3 rolls turn the pastry, dusting underneath and the top as needed to stop it sticking
Roll out to a large rectangle just a few millimetres thick
Using something larger than your tart tins as a template, lay onto your pastry and use a sharp knife to cut round it (see note 1). Get as many circles as you can out of the first roll of the pastry
Carefully lift the pastry into the tin, draping over the sides and push into the tin so that all the sides are covered. Use a knife or roll over the top of the tin with a rolling pin to remove the excess overhanging pastry
Re-roll the pastry, cut and line the tins till you have all 6 tins done
Prick the base a few times with a fork and put the tins onto a tray or a couple of trays depending on the size
Put the tins in the freezer for 30 minutes. Alternatively, chill for 15 minutes then blind bake in a preheated oven 180 Fan / 200 C / 400 F / Gas 6
If you're baking from chilled cook them for 20 minutes until golden and crisp
If you're baking from frozen cook them for 25 minutes until golden and crisp
Remove from the oven when cooked and set aside to cool while you make the custard (see note 2)
Pour 1 cup (220 ml) of the almond milk and the white part of the coconut milk (see note 3) into a medium saucepan
Bring to a simmer over a medium heat
Into a small bowl or mug put the other 1/2 cup (110 ml) of almond milk and whisk in the cornflour until you have a smooth, thick paste
When the milks are just about boiling reduce the heat then whisk in the sugar then the cornflour mixture
Whisk continuously for just a few moments until you have a thick custard
Remove from the heat and whisk in the chocolate. It may make your custard look lumpy but there are lumpy bits in the Doisy & Dam chocolate!
Spoon or pour evenly into your 6 tart bases
Leave to cool slightly before putting in the fridge to cool and set completely - around an hour
To serve you can top with grated chocolate, a cluster of fresh fruits or drizzle with melted chocolate
Notes
I used 5 inch (12 cm) tart tins and used a 6 + 1/2 inch (17cm) side plate as the template to cut round
Don't be tempted to save time and make the custard while the tart bases are cooking - it may set too much to pour evenly and develop a skin!
When you open a tin of coconut milk it's usually separated into a thick white part and a cloudy watery part. You only want the thick white part for this recipe. The cloudy watery part is great in smoothies and soups though!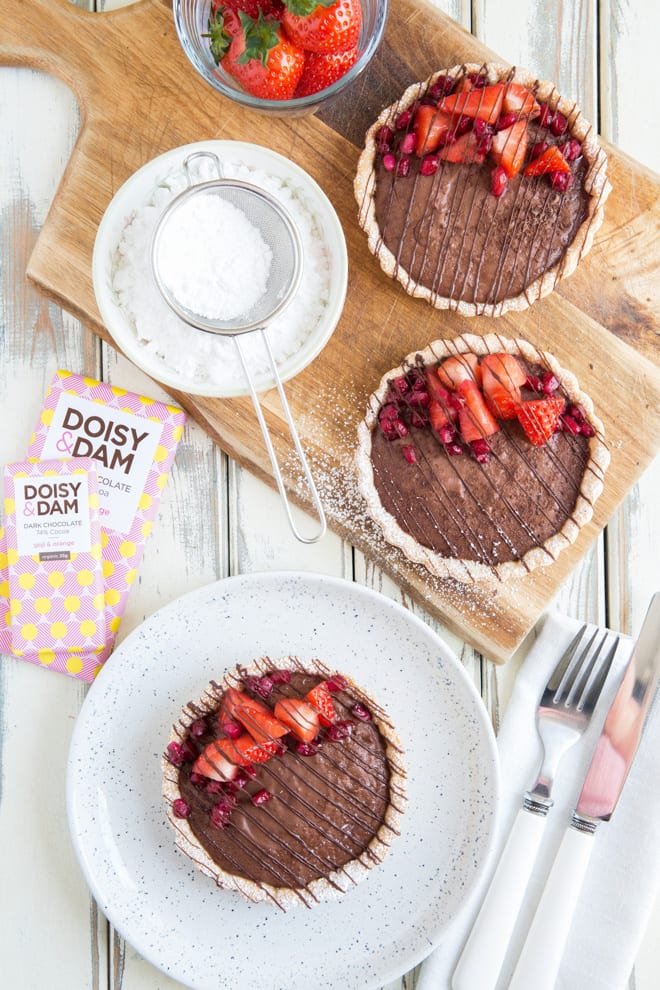 Some products I used in today's post...
Some of the links above are affiliate links, which pay us a small commission for our referral at no extra cost to you! Thank you for supporting The Cook & Him.
Hello and welcome to The Cook & Him.
We are Sam (The Cook), Phil (Him) and our little dog Nooch. What started with a plan to shed a few pounds back in 2016, soon became obvious that eating healthy doesn't have to be bland and boring.
So, combining Sam's 15 years of experience working within Michelin starred restaurants and our love for deliciously healthy food, we're creating recipes for you to make and enjoy. We've added our own unique spin on traditional and contemporary vegetarian and vegan recipes that keep you (and your pets!) healthy and full.  And we make sure they just work.
All things autumn - warming soups, savoury bakes and delicious sweet treats!
and I would like to see...
Or search for a recipe or post by keyword