Posted in Recipes on 04.04.2020
Easy Vegan Chocolate Cake
prep: 10 mins / cook: 30 mins / inactive: 0 mins / total: 40 mins / quantity: 12 squares Print recipe?
This super chocolatey easy vegan chocolate cake is rich, fudgy and made with basic store cupboard ingredients. You'd never guess it's vegan!
If you're looking for a delicious chocolate and/or cake fix it doesn't come bigger (or easier) than this ridiculously easy vegan chocolate cake.  All you need is a couple of bowls, a spatula, a tin and literally 10 minutes of weighing and mixing.  It only takes just 30 minutes of cooking time too!
Because right now, chocolate cake, or the mere prospect of vegan cake is a tiny beacon of hope in a world that's been ever so slightly turned on its axis.  If there's still chocolate cake in the world then that must mean, one day, everything is going to be ok, right?
How are we all doing out there?  I'm taking it one day at a time.  My efforts to spend less time attached to my phone have gone out of the window as I rotate between being completely fine and being panicked while anxiously checking the news for updates.  I'm teary  at the efforts of some while shaking my head in disbelief at the stupidity of others.
I'm trying to restore some normality in the upside down-ness of it all.  And cooking, specifically baking, grounds me.  It's something I can control.
I'm trying to take a leaf out of The Book of Nooch.  Can you believe I took this photo of Nooch in the middle of making this chocolate cake?  The contrast of laid back style to the relentless crumb stalking underfootedness of Meg hurts my heart some days.  But I squeeze him and breathe him in and all is a little better for a while.
Our cooking at the moment has definitely become less fancy.  I'm increasingly turning to the store cupboard staples of dried beans and pulses for hearty, warming comfort food.  Big saucepans of something soupy or casserole-y all mopped up with several chunks of super easy homemade crusty bread
But then we started binge watching old episodes of The Great British Bake Off.  And I don't know about you but I CANNOT watch this without cake.
So I needed a cake that was quick, easy, no fuss, no frills, minimal washing up and, most importantly, chocolatey enough to satisfy.  And what came out of it was a cake SO EASY and SO GOOD we made one, ate it and then Phil made another because we had none left.  Then of course I had to make one to photograph and share all this cakey chocolate goodness with you all.
Can eggless cake really be that good?
Don't worry about this cake being eggless (or vegan).  This chocolate cake is literally for everyone.  It's light but rich and fudgy and incredibly moreish.  And I promise, you won't even miss the eggs or dairy.
So what's getting you through this?  How are you coping with food?  Are you getting super creative with ingredients?  We're here with you and easy vegan chocolate cake really does help 😉
If you make this recipe or any of the recipes from The Cook & Him we'd LOVE to see! Just snap a picture and share it on Instagram using #thecookandhim and tagging @thecookandhim in the photo itself (as this guarantees we'll see your picture!
)
And don't forget to follow us on Instagram , Facebook or Twitter for even more recipe inspiration and chat, competitions, behind the scenes and so much more!
Easy Vegan Chocolate Cake
prep: 10 mins / cook: 30 mins / inactive: 0 mins / total: 40 mins / quantity: 12 squares
Ingredients
1 + 1/2 cups  (200g) plain flour
1 cup (160g) golden caster sugar
1/3 cup (35g) raw cacao powder
1 tsp bicarbonate of soda
1/2 cup (125ml) cold water
1/2 cup (125ml) unsweetened non-dairy milk (I've used both almond and oat and both tasted great!)
1/4 cup (50ml / 4 tblsp) vegetable oil
1 tsp vanilla essence extract
1 tblsp apple cider vinegar
Frosting:
1/2 cup (115g) vegan butter – softened at room temp if mixing by hand
1 cup (160g) icing sugar
1/4 cup (20g) raw cacao powder
1/2 tsp vanilla essence or extract
Vegan sugar sprinkles (see note)
Instructions
Preheat your oven to 160 Fan / 180 C / 350 F / Gas 4. I used a non-stick tin so I swished in some vegan margarine to coat all sides then dusted with flour, shaking out the excess. I also put a square of parchment in the bottom
In a large bowl mix together the flour, sugar, cacao powder and bicarbonate of soda
In a small bowl or jug whisk together the water, milk, oil, vanilla and vinegar
Add the wet ingredients to the dry ingredients and mix together. It's quite a loose mix so mix well with a spatula, scraping up from the bottom of the bowl to catch any flour 'pockets'
Pour into your prepared tin and bake for 30 minutes or until a cocktail stick inserted in the centre comes out clean
Leave to cool for a few minutes before turning out onto a wire cooling rack and allowing to cool completely before frosting
To make the frosting simply beat all the ingredients together either by hand or in a stand mixer until well combined
Once the cake is completely cold spread the frosting thickly all over the top of the cake then scatter over the sprinkles
Store in an airtight container. This cake keeps pretty well for a few days (if it lasts that long!)
Notes
Did you know a lot of sprinkles aren't vegan? Check the labels as colourings used often contain animal derivatives including cochineal and shellac.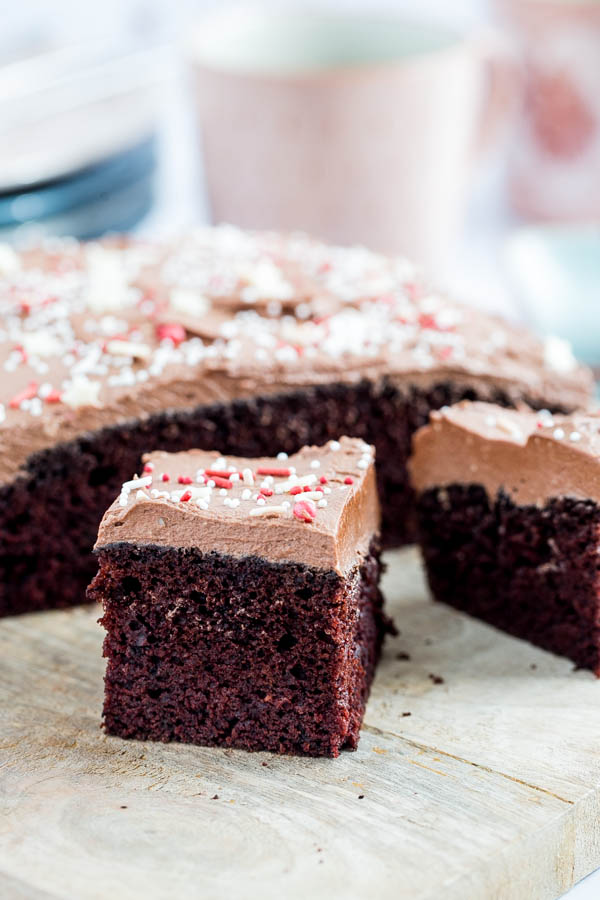 Hello and welcome to The Cook & Him.
We are Sam (The Cook), Phil (Him) and our little dog Nooch. What started with a plan to shed a few pounds back in 2016, soon became obvious that eating healthy doesn't have to be bland and boring.
So, combining Sam's 15 years of experience working within Michelin starred restaurants and our love for deliciously healthy food, we're creating recipes for you to make and enjoy. We've added our own unique spin on traditional and contemporary vegetarian and vegan recipes that keep you (and your pets!) healthy and full.  And we make sure they just work.
All things autumn - warming soups, savoury bakes and delicious sweet treats!
and I would like to see...
Or search for a recipe or post by keyword