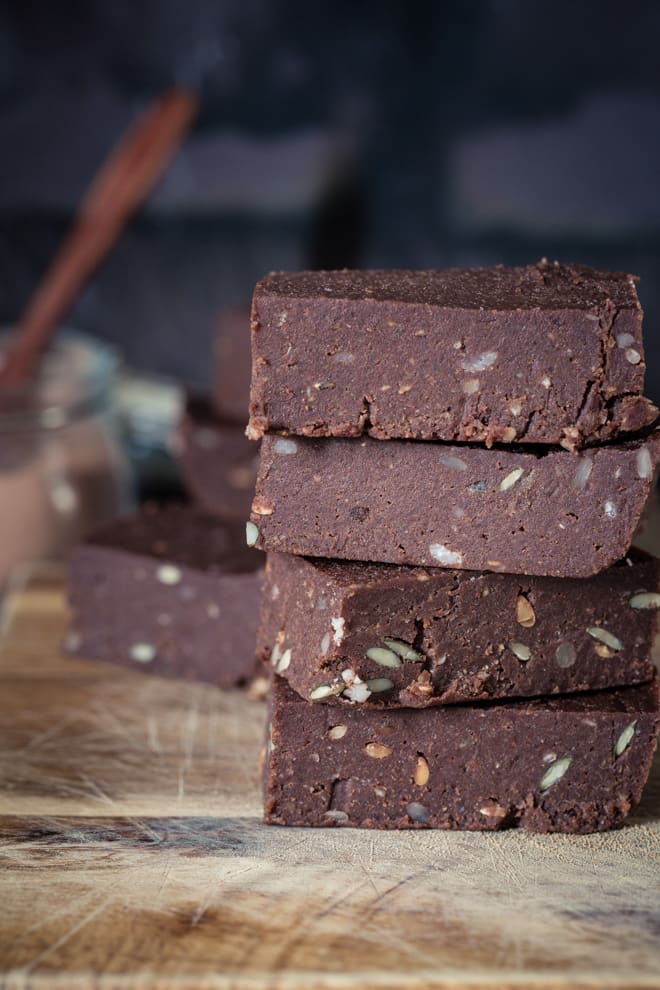 Posted in Recipes on 05.02.2018
Fudgy Hazelnut Nutella Bars
prep: 30 mins / cook: 20 mins / inactive: 0 mins / total: 50 mins / quantity: 20 bars (approx.) Print recipe?
I've called these FUDGY Hazelnut Nutella Bars for a reason.  They are the most incredible texture – soft but chewy and oh so deliciously chocolatey with a double chocolate whammy of cacao powder and actual chocolate!  There's levels of flavour and texture – bittersweet chocolate, natural date sweetness, roasted hazelnuts and crunchy seeds packed with bona-fide good for you healthy fats.
The double chocolate whammy comes from dairy free dark chocolate and Revolution Foods antioxidant rich Raw Cacao Powder.  If you've never used this stuff before it's an absolute winner.  It has such a richer flavour than cocoa powder and because it's raw none of the very very good things have been removed and it retains its overall nutritional value ❤
We also love their Cold Pressed Coconut Oil – which is raw, extra virgin and certified organic.  Their farmers don't use any chemical pesticides or herbicides on crops and make sure they only use sustainable farming methods so that their lands aren't intensively overworked.
Anyway, back to fudgy, squidgy, chocolatey stuff …
I've also made the 'Nutella' for no other reason than just because.  Not adding in the extra nuts and seeds, just slathering it (super) thickly on things.  Chocolate rice cakes, homemade Digestive Biscuits – saves the need for the melted chocolate top!  I've also just spooned it straight out of the food processor into my mouth.  Not that I have a chocolate addiction or anything of course .. this is just THAT good ?
This mix also makes quite a few bars and even more mini squares so you can sorta feel okay about sharing.  And not want to make it and tell no-one in case they eat it all and you're left with an empty tub instead.  You need some compensation for peeling all those hazelnuts right?
If you make this recipe or any of the recipes from The Cook & Him we'd LOVE to see! Just snap a picture and share it on Instagram using #thecookandhim and tagging @thecookandhim in the photo itself (as this guarantees we'll see your picture!
)
And don't forget to follow us on Instagram , Facebook or Twitter for even more recipe inspiration and chat, competitions, behind the scenes and so much more!
Fudgy Hazelnut Nutella Bars
prep: 30 mins / cook: 20 mins / inactive: 0 mins / total: 50 mins / quantity: 20 bars (approx.)
Ingredients
1 cup whole unpeeled hazelnuts
1/4 cup Revolution Foods Coconut Oil
8 organic Medjool dates – stone removed
2 tblsp Revolution Foods Cacao Powder
1/2 tsp vanilla extract
4-6 tblsp unsweetened almond milk
1 tblsp maple syrup
1 cup ground almonds
1 handful mixed seeds – I used pumpkin, flax and sunflower seeds for this
100g dairy free dark chocolate – melted
Instructions
Preheat your oven to 180 Fan / 200 C / 350 F / Gas 6 and on a small baking tray roast the hazelnuts for 20 minutes
While they're cooking, melt the coconut oil and set aside to cool
Take the hazelnuts out of the oven and allow to cool for 10 minutes before rubbing vigorously between your hands or in a clean t-towel to remove the skins (I don't tend to be overly fussy when doing this!)
Tip the peeled hazelnuts into a food processor and whizz until very finely chopped.  
Add the coconut oil to the hazelnuts along with the pitted dates, cacao powder, vanilla extract, 4 tblsp almond milk and the maple syrup
Whizz everything until well blended and smooth.  If the mixture seems too thick add a little more almond milk - you want it to be a spreadable consistency but also not completely liquid!
Tip into a large bowl and add the ground almonds, mixed seeds and melted dark chocolate and using a rubber spatula give everything a good mix until well combined
Tear a piece of clingfilm to cover the base and sides of a 7 x 9 tin/dish and tip your fudgy mixture in, spreading out flatly and evenly
Chill in the fridge for a couple of hours before cutting into bars or bites
Store in the fridge for up to a week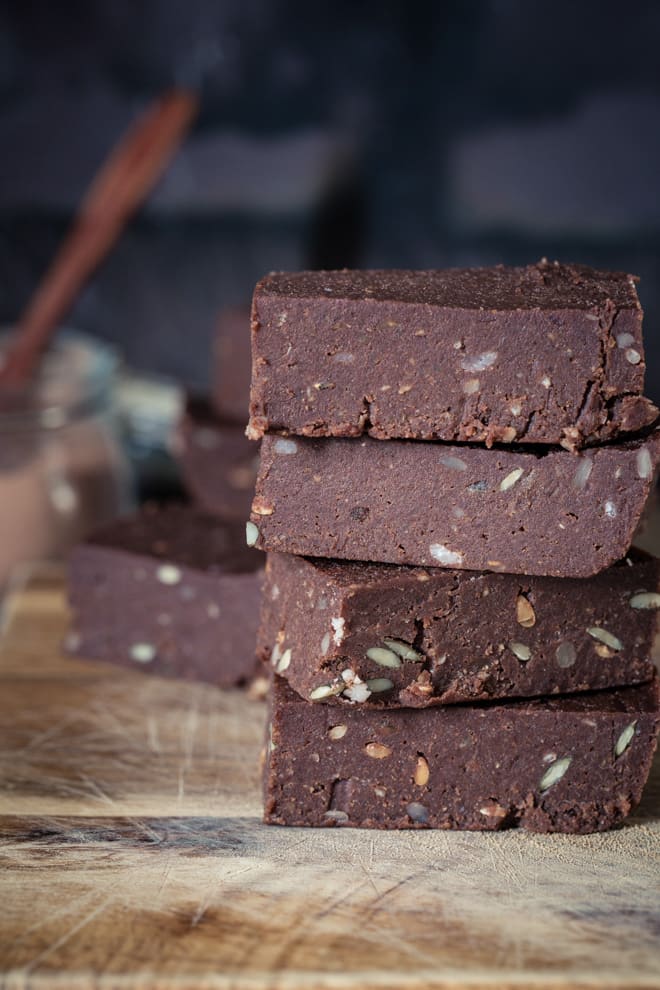 Hello and welcome to The Cook & Him.
We are Sam (The Cook), Phil (Him) and our little dog Nooch. What started with a plan to shed a few pounds back in 2016, soon became obvious that eating healthy doesn't have to be bland and boring.
So, combining Sam's 15 years of experience working within Michelin starred restaurants and our love for deliciously healthy food, we're creating recipes for you to make and enjoy. We've added our own unique spin on traditional and contemporary vegetarian and vegan recipes that keep you (and your pets!) healthy and full.  And we make sure they just work.
All things autumn - warming soups, savoury bakes and delicious sweet treats!
and I would like to see...
Or search for a recipe or post by keyword