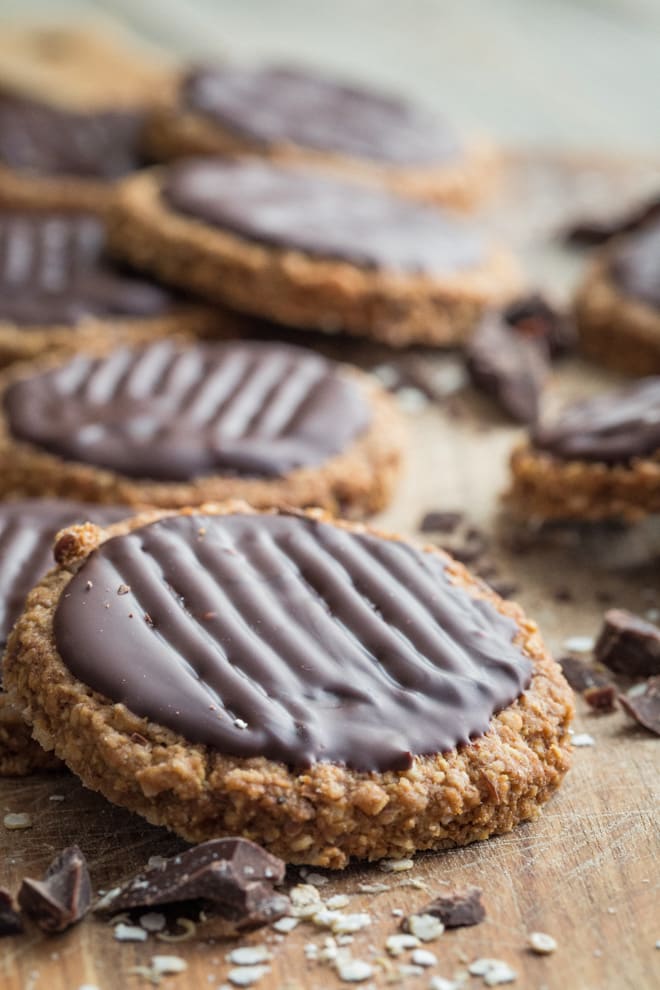 Posted in Recipes on 10.01.2018
Chocolate Digestives
prep: 20 mins / cook: 20 mins / inactive: 0 mins / total: 40 mins / quantity: 16 - 18 biscuits Print recipe?
Sometimes I make something and before I've even remembered that I'm also supposed to be taking photos I've eaten most of them.  Other times Phil's there to help me.  Sometimes I eat the whole thing on my own.
Not quite all of them this time.  But enough that I had to make more to have enough to take a decent 'stack' photo.
Actually if I'm being honest, I've made them 4 times now.  First time was the experimental stage – could I make a cookie with no butter/sugar/flour?  And I got SO caught up in the fact that YES! it's possible that I totally forgot to take any photos other than a very hastily snapped one of the process for Instagram stories.
The second time I made them was just before Christmas.  And in the haze/rush/madness that was me cooking and writing the ten thousand blog posts over Christmas, again, no photos.  The third and fourth time happened all in the same day.  Round three I made the mistake of not having anything to eat before making these.  And the EVEN BIGGER mistake of making a brew to go in one of the photos.   Because chocolate covered biscuits and tea is one step closer to heaven right?
And then looking at Meg like where have all the biscuits gone?  I can't seriously have eaten so many I AGAIN don't have enough to take decent photos ?
Because …
With their Hodmedod Quinoa Flake and flax seed goodness, ladies and gentlemen here we have a serious vegan contender to the Hobnob for tea dunking skills ?
The hardest part about making these is waiting the 5 minutes it takes for the chocolate to set.  Dear fridge – thank you for not taking any longer ❤
If you make this recipe or any of the recipes from The Cook & Him we'd LOVE to see! Just snap a picture and share it on Instagram using #thecookandhim and tagging @thecookandhim in the photo itself (as this guarantees we'll see your picture!
)
And don't forget to follow us on Instagram , Facebook or Twitter for even more recipe inspiration and chat, competitions, behind the scenes and so much more!
Chocolate Digestives
prep: 20 mins / cook: 20 mins / inactive: 0 mins / total: 40 mins / quantity: 16 - 18 biscuits
Ingredients
3 tblsp coconut oil
2 cups Hodmedod's Quinoa Flakes
2 tblsp flax seeds
1/2 tsp baking soda
1/2 tsp cinnamon
vanilla extract
50g dairy free dark chocolate
1/4 – 1/3 cup cold water
Instructions
Preheat your oven to 160 Fan / 180 C / 350 F / Gas 4 and line a large baking tray (or two smaller ones) with parchment or a silicon mat
Gently melt the coconut oil then set aside
Put 1 cup of the quinoa flakes and all of the flax seeds into a blender and whizz till you have what looks like flour
Tip this into a large bowl along with the remaining 1 cup quinoa flakes, baking soda and cinnamon
Stir the vanilla into the melted coconut oil then add this to the dry ingredients, stirring till everything is well coated. 
Add the cold water 1 tblsp at a time until you have a workable dough - you don't want it too wet or too crumbly as you need to roll the dough out
If you want to keep these biscuits gluten free roll the dough out between 2 sheets of parchment to around 1/2 cm thick.  Then you can make the biscuits whatever shape you fancy - cut into squares with a knife or use a shaped cutter
Keep cutting and re-rolling till you've used all the dough, placing them onto the baking tray(s)
Bake for 15 minutes, turning the tray halfway through baking.  Leave to cool completely
Melt the chocolate in the microwave or over a bain-marie then use a teaspoon to spread a little of the chocolate over each biscuit.  You can leave plain or impress a fork into the chocolate to make stripes 
If you can't wait for the chocolate to set at room temp, put the biscuits in the fridge for 5 minutes.  Enjoy!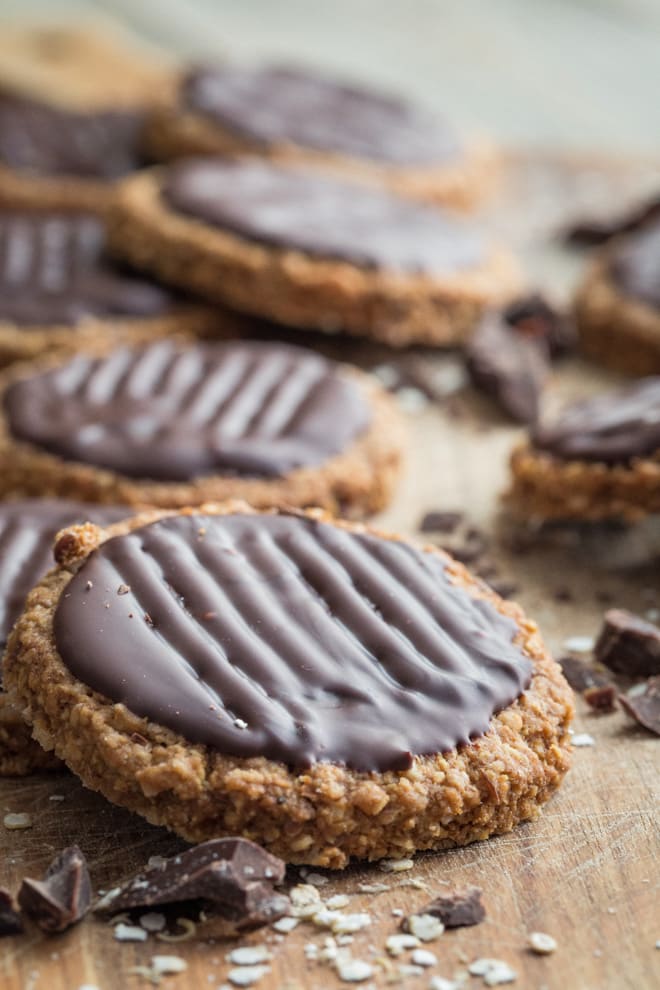 Hello and welcome to The Cook & Him.
We are Sam (The Cook), Phil (Him) and our little dog Nooch. What started with a plan to shed a few pounds back in 2016, soon became obvious that eating healthy doesn't have to be bland and boring.
So, combining Sam's 15 years of experience working within Michelin starred restaurants and our love for deliciously healthy food, we're creating recipes for you to make and enjoy. We've added our own unique spin on traditional and contemporary vegetarian and vegan recipes that keep you (and your pets!) healthy and full.  And we make sure they just work.
All things autumn - warming soups, savoury bakes and delicious sweet treats!
and I would like to see...
Or search for a recipe or post by keyword