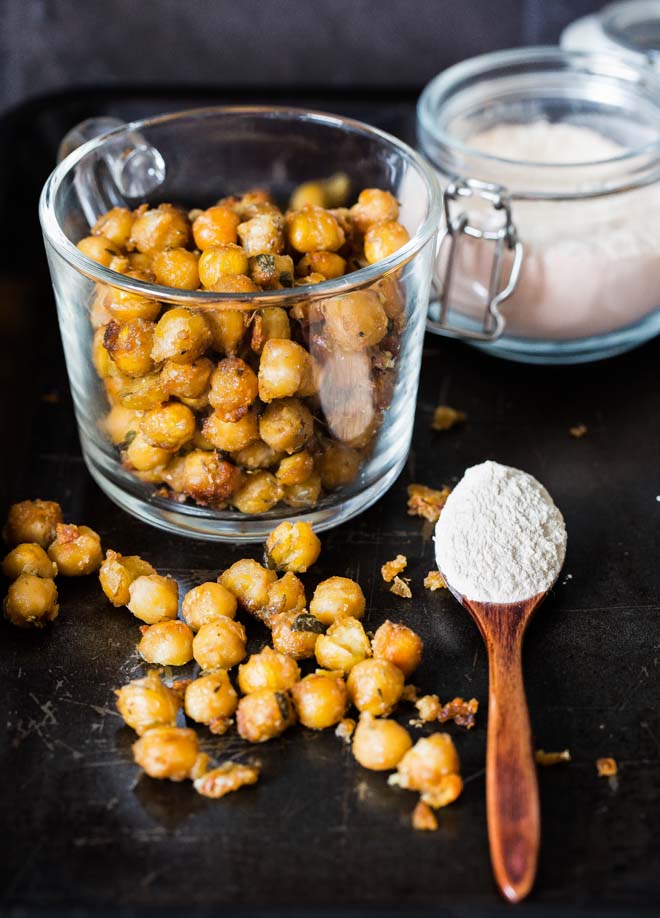 Posted in Recipes on 30.09.2017
Roasted Garlic & Parmesan Chickpeas
prep: 10 mins / cook: 30 mins / inactive: 0 mins / total: 40 mins / quantity: 2 Generous Snack Portions Print recipe?
I don't make these anywhere near as often as I like.  Because each time I make them I stand with my hand to my chest and swear on Queen and country that I won't eat them all.  Fast forward 10 minutes and I'm licking the tray I cooked them on because there's none left.  And Meg's looking at me like but that was my tray to lick
And it's a good job that they take 30 minutes to cook because if they took like 10 I'd be making them on a 10 minute rotation in the oven because they're THAT FLIPPING GOOD.
I was also asked the other day why I included maca in my Baked Acai & Strawberry Oats and the Sun Dried Tomato & Basil Hummus and very soon I'm going to write a post about why I try and include maca powder in my food somewhere every single day.  The very short version is I personally cannot recommend maca powder enough – it's completely stopped those monthly mind numbing cramps.  Like STOP stopped.  Gone.  See ya.  All since taking maca powder on a largely daily basis.  I thought it might be coincidence till the 3 ladies I'd recommended maca to tried it with the exact same results!  One of them was even braver than me and tried not taking it for a month, just to see.  She said she won't be doing that again!  Hurrah for maca!
Ok, enough superfood hurrahing .. you can of course make these without the maca (though apparently it also has some <ahem> libido benefits for any gentleman readers).  It's not there for any taste reasons.
You'll want to give these a stir every 10 minutes for their 30 minute cooking time – bring the ones on the outer edge of the tray into the centre and push the ones that were in the middle of the tray out to the edge.  This helps with even cooking and makes sure all your chickpeas are crisp and golden
If you make this recipe or any of the recipes from The Cook & Him we'd LOVE to see! Just snap a picture and share it on Instagram using #thecookandhim and tagging @thecookandhim in the photo itself (as this guarantees we'll see your picture!
)
And don't forget to follow us on Instagram , Facebook or Twitter for even more recipe inspiration and chat, competitions, behind the scenes and so much more!
Roasted Garlic & Parmesan Chickpeas
prep: 10 mins / cook: 30 mins / inactive: 0 mins / total: 40 mins / quantity: 2 Generous Snack Portions
Ingredients
1 x 400g can of chickpeas
1 tblsp olive oil
1 -2 cloves garlic – peeled and crushed
½ tsp dried oregano
2 sprigs fresh thyme leaves – leaves only
2 tblsp vegan parmesan – grated
Pinch each of salt and pepper
Instructions
Drain liquid from chickpeas and place between a few sheets of kitchen paper or a clean folded T-towel and leave for 10 minutes
Heat oven to 200C Fan / 220C / 425F / Gas 7
In a bowl, mix together the oil, garlic, herbs, parmesan, maca powder a few grinds of pepper and a large pinch of salt
Stir in the chickpeas and mix until well combined
Spread out onto a baking tray and roast for 30 minutes, giving the chickpeas a quick stir every 10 minutes
Cool completely and store in an airtight container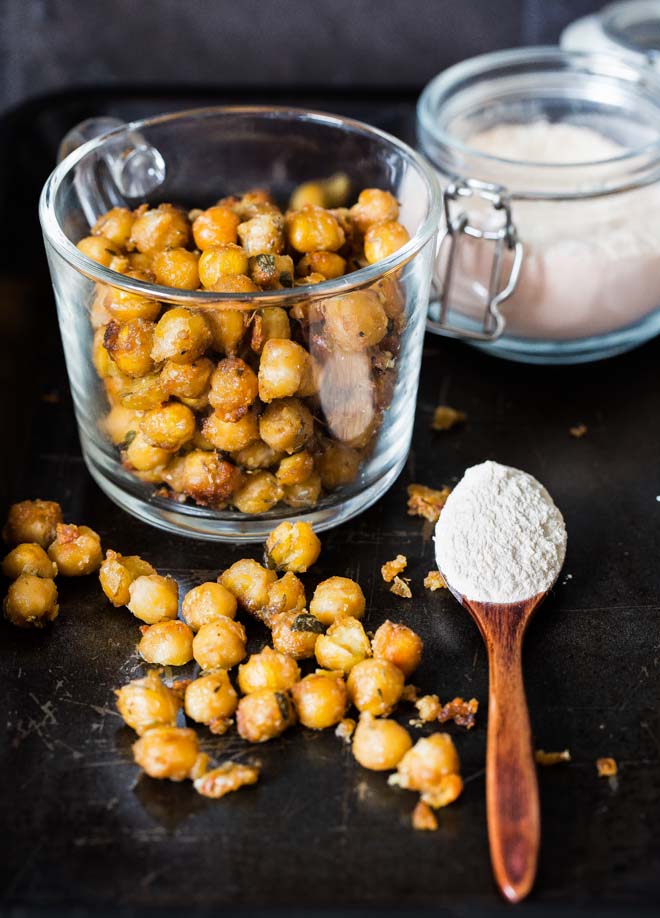 Hello and welcome to The Cook & Him.
We are Sam (The Cook), Phil (Him) and our little dog Nooch. What started with a plan to shed a few pounds back in 2016, soon became obvious that eating healthy doesn't have to be bland and boring.
So, combining Sam's 15 years of experience working within Michelin starred restaurants and our love for deliciously healthy food, we're creating recipes for you to make and enjoy. We've added our own unique spin on traditional and contemporary vegetarian and vegan recipes that keep you (and your pets!) healthy and full.  And we make sure they just work.
All things autumn - warming soups, savoury bakes and delicious sweet treats!
and I would like to see...
Or search for a recipe or post by keyword