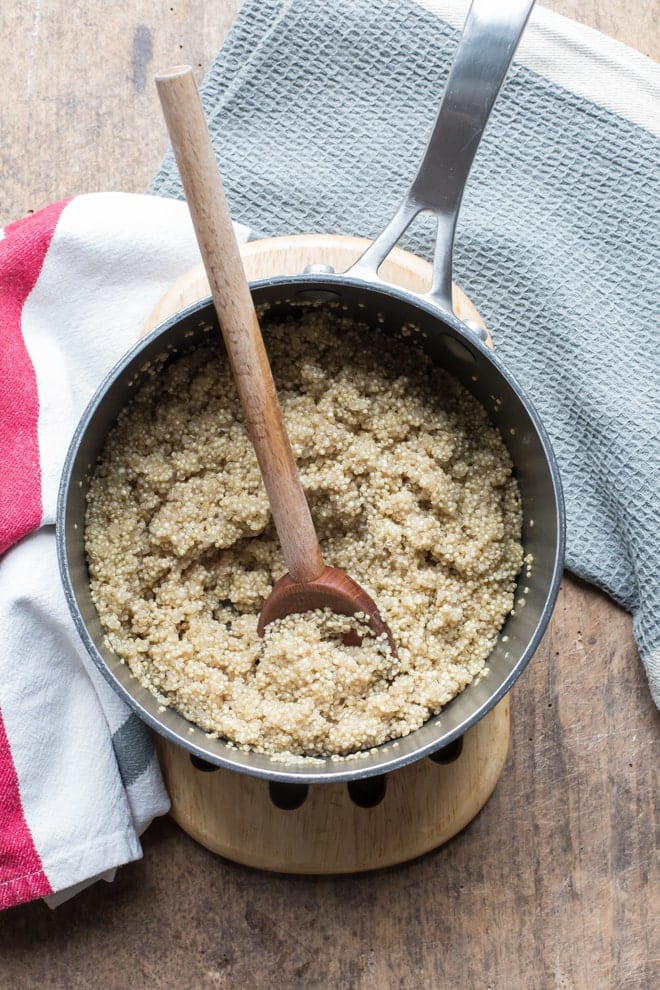 Posted in Recipes on 13.09.2017
How to Cook Perfect Quinoa
prep: 4 mins / cook: 20 mins / inactive: 0 mins / total: 24 mins / quantity: 3 Cups of cooked quinoa Print recipe?
What is Quinoa?
Native to South America, quinoa (pronounced keen-wa) has been a dietary staple there for thousands of years.  Basically it's a great protein rich, wheat free alternative to starchy grains and though it's often used as a substitute for these in many dishes it's actually in the same family as beets, chard and spinach.
It is also high in anti-inflammatory phytonutrients which may help prevent disease and keep your body working properly.  And as a complete protein, it contains all nine essential amino acids as well as being naturally high in dietary fibre and a slowly digested carbohydrate. It's really nutritious—it's packed full of fiber, vitamins, minerals and protein. Quinoa's health benefits are far too long to list here, but the main point is that it is really high in nutrients, and well worth including in your diet, especially if upping your protein intake is important to you.
When cooked they become fluffy and creamy but maintain a slight crunch and have a delicate and subtle nutty flavour.  They can also be enjoyed both hot and cold making them versatile for so many dishes.
How to Cook the Perfect Quinoa
Cooking quinoa couldn't be simpler either.  Simply wash the it in a fine mesh metal sieve by running it under cold water and rinse well.  This helps remove the compound that coats the little seeds that can give your it a slightly bitter taste.  You can then use either plain water if you want to use the cooked quinoa for sweet dishes or vegetable stock and a pinch of salt as I've done here for more savoury ones.
The trick to Perfect Quinoa
You want double the amount of liquid to seeds (water or vegetable stock) then just simmer gently over a medium heat for around 20 minutes.  Stir occasionally till all the liquid has been absorbed, give a quick fluff with a fork and either serve immediately or leave to cool then chill and use later.
Where can I buy some?
We are huge fans of Hodmedod's as you might already know! All organically grown in the UK, this is the one that we've been using for years and it, by following these instructions it never fails to produce the perfect result every time! You can buy it from Amazon here.
Our Favorite Recipes
Roasted Cauliflower Quinoa Salad
Hodmedod's protein packed quinoa for the base mixed with mild spring onions, aromatic fresh basil and lightened all the more with zesty lemon. Top with parmesan roasted cauliflower and salty feta cheese for a great make ahead lunch.
I've used cauliflower here because not only is it super tasty and so easily taken up a notch with some simple (and health benefiting!) spices but it also packs a nutritional punch itself containing such key vitamins and minerals as vitamin B, vitamin C, potassium and folate.
Chocolate Gingerbread Quinoa Puffs
Naturally sweet, crunchy and VERY moreish! These festive bites are also super easy to make.
This really simple recipe feels like I've taken Healthy Rice Krispie Treats and made them more grown up.  Adultified.  Right down to the fiery gingery nuggets that bejewel each bite.
Goji and Quinoa Flake Granola Bars
Soft and so chewy! Naturally sweet and packed with superfoods, nuts and healthy quinoa flakes from Hodmedods. Vegan, refined sugar free and gluten free too!
Have you also ever looked at a bought cereal bar and wondered just how healthy it is?  Some of the ones we've tried in the past have just as much sugar and calories as a regular 'ol bar of chocolate. That's the whole point of making things like this yourself – you know exactly what's going in it.  No E numbers, no unpronounceables, no 'what the heck is that'?!
Fig and Quinoa Overnight Oats
Layers of fresh fig, creamy oats, protein rich quinoa puffs and smooth coconut yoghurt make this a deliciously healthy breakfast treat that tastes rich and decadent!
It's all about the layers with any overnight oats.  Because once you have the oaty foundation you then build in layers of flavour, we've gone for layers of fresh fig, creamy oats and quinoa puffs.
Camembert and Quinoa Burgers
Lots of heart healthy veggies, beans, quinoa and vegan cheese go into these super tasty and super easy to make vegan burgers!
OH.MY.WORD
I've had several attempts at making these burgers and they mostly failed each time – usually because they just don't hold together on cooking and I end up with a crumbly mess.  A tasty crumbly mess but not very photogenic and not exactly a recipe I want to share!  The answer came after watching this video and how they nearly all used some kind of bean in their mixture!
Mincemeat Quinoa Flake Cookies
Delicious cookies, perfect for a grab and go breakfast or afternoon pick me up treat and great way to use up leftover mincemeat.
Do you make your own mince pies?  I don't.  ?  My excuse is because one year I made over 10,000.  Not in a year, just in December.  I CANNOT bring myself to make any more mince pies.  Maybe one day when I'm older and greyer and the memories have faded.
If you make this recipe or any of the recipes from The Cook & Him we'd LOVE to see! Just snap a picture and share it on Instagram using #thecookandhim and tagging @thecookandhim in the photo itself (as this guarantees we'll see your picture!
)
And don't forget to follow us on Instagram , Facebook or Twitter for even more recipe inspiration and chat, competitions, behind the scenes and so much more!
How to Cook Perfect Quinoa
prep: 4 mins / cook: 20 mins / inactive: 0 mins / total: 24 mins / quantity: 3 Cups of cooked quinoa
Ingredients
1 cup quinoa
2 cups of vegetable stock (or 2 cups of water + 1 vegetable stock cube)
pinch salt
Instructions
Using a very fine mesh sieve, wash the quinoa under cold running water, rinsing thoroughly
Put into a medium saucepan along with the stock and a pinch of salt, give a quick stir then simmer over a medium heat, stirring occasionally, till all the water has been absorbed.  This usually takes around 15-20 minutes
When it's cooked 'fluff' with a fork then either eat immediately or cool then chill in the fridge where it'll keep for a few days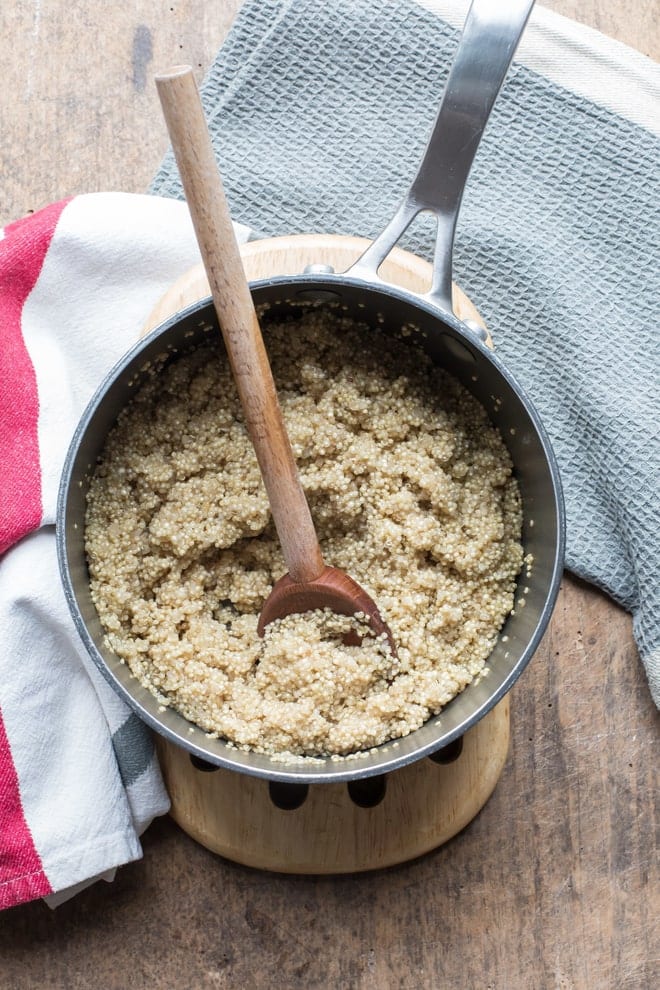 Some products I used in today's post...
Some of the links above are affiliate links, which pay us a small commission for our referral at no extra cost to you! Thank you for supporting The Cook & Him.
Hello and welcome to The Cook & Him.
We are Sam (The Cook), Phil (Him) and our little dog Nooch. What started with a plan to shed a few pounds back in 2016, soon became obvious that eating healthy doesn't have to be bland and boring.
So, combining Sam's 15 years of experience working within Michelin starred restaurants and our love for deliciously healthy food, we're creating recipes for you to make and enjoy. We've added our own unique spin on traditional and contemporary vegetarian and vegan recipes that keep you (and your pets!) healthy and full.  And we make sure they just work.
All things autumn - warming soups, savoury bakes and delicious sweet treats!
and I would like to see...
Or search for a recipe or post by keyword