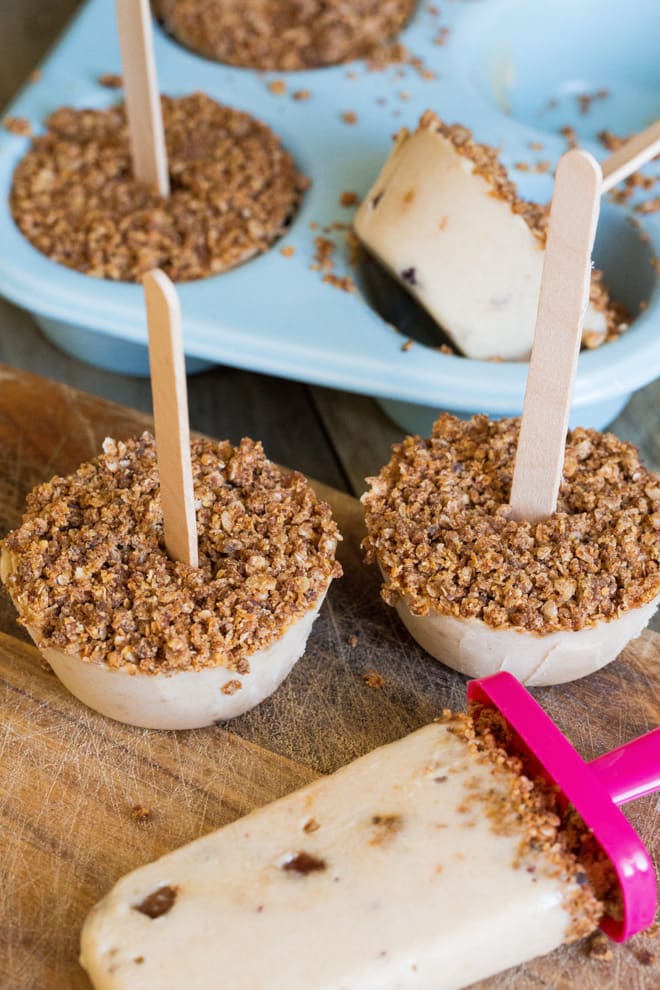 Posted in Recipes on 28.12.2017
Mincemeat Nice Cream Pops
prep: 20 mins / cook: 45 mins / inactive: 0 mins / total: 1 hour 5 mins / quantity: 8 - 10 pops Print recipe?
Oh hey!  Yep, I'm aware that it's January and it's still flipping freezing but we still get the ice cream van jingling around where we live so there's someone out there who's still eating ice-cream! ??
But what if you could make ice cream that's vegan, naturally sweet, super creamy and tasty as heck?  Double bonus, you also get to use up any leftover mincemeat you have lurking in your cupboards after the post Christmas mince pie making frenzy!  Although, this nice cream is SO delicious it's actually worth buying mincemeat just for it.  I feel very much the same about these Mincemeat Quinoa Flake Cookies
You can get a head start with these by pre-freezing the bananas.  Plus you get to listen to them clatter round your blender or food processor ?  Even on their own, blitzed frozen bananas makes a truly delicious instant treat.  And they're SO amenable to extras – think peanut butter, raw cacao powder, fresh or frozen berries, roasted nuts – the list goes on.
I wanted to switch these up though with a nutty crunch crumble that's almost like a granola topping.  There's the fantastic Hodmedod's Quinoa Flakes and Quinoa Puffs, oats, coconut oil, festive spices and the amazing thing that is coconut sugar.  Have you ever smelt coconut sugar?  I mean, like literally stuck your head in the bag and sniffed?  It's THE richest, most caramel-y smell, well, EVER!
Just me then?
You can make these as actual pops if you have the lolly moulds or you can be far more sophisticated and make them in a muffin tin.  I made them both ways 'cause that's just the kinda gal I am.
I'm also pretty sure that these could be both breakfast and dessert.  I mean a smoothie bowl is just frozen fruit dumped in a bowl rather than little individual muffin tins or lolly moulds right?  And the granola type crumble thing is totally screaming breakfast.  Ice cream and crumble for breakfast.
I love being an adult ❤
If you make this recipe or any of the recipes from The Cook & Him we'd LOVE to see! Just snap a picture and share it on Instagram using #thecookandhim and tagging @thecookandhim in the photo itself (as this guarantees we'll see your picture!
)
And don't forget to follow us on Instagram , Facebook or Twitter for even more recipe inspiration and chat, competitions, behind the scenes and so much more!
Mincemeat Nice Cream Pops
prep: 20 mins / cook: 45 mins / inactive: 0 mins / total: 1 hour 5 mins / quantity: 8 - 10 pops
Ingredients
2 large ripe bananas – the riper the better!
1/2 cup unsweetened almond milk
1/2 cup mincemeat
Crumble
Instructions
You can start this the day before by pre-freezing the bananas.  Simply peel and roughly slice the bananas, put on a tray or in a freezer proof plastic container and freeze overnight.  This isn't an absolutely essential step it just means the finished pops get a bit of a head start on the freezing process so you get to enjoy them sooner!
If you skip freezing the bananas, go straight to making the crumble.  Preheat the oven to 160 Fan / 180 C / 350 F / Gas 4 and line a baking tray with parchment or a silicon mat
Melt the coconut oil in a small saucepan or in a microwave and set aside
Mix the remaining crumble ingredients together in a large bowl then stir through the melted coconut oil until well incorporated
Spread out onto your tray into an even layer and put in the oven for 45 minutes, stirring half way through
Remove from the oven and leave to cool completely
When you're ready to make your ice-cream simply blitz the bananas with the almond milk in a food processor or blender.
Stir through the mincemeat then pour into your moulds or muffin tin, leaving a little room in each for the crumble
Sprinkle the crumble on top, pushing into the ice-cream.  If using a muffin tin or something without 'handles' you'll need to push in the wooden lolly sticks.  Here it really helps if you've used pre-frozen bananas!  If you've not you may need to part freeze before inserting the sticks.  Either way, freeze until firm
If you use a muffin tin as a mould you can help to ease them out of the tin by using a hot knife run round the edge to release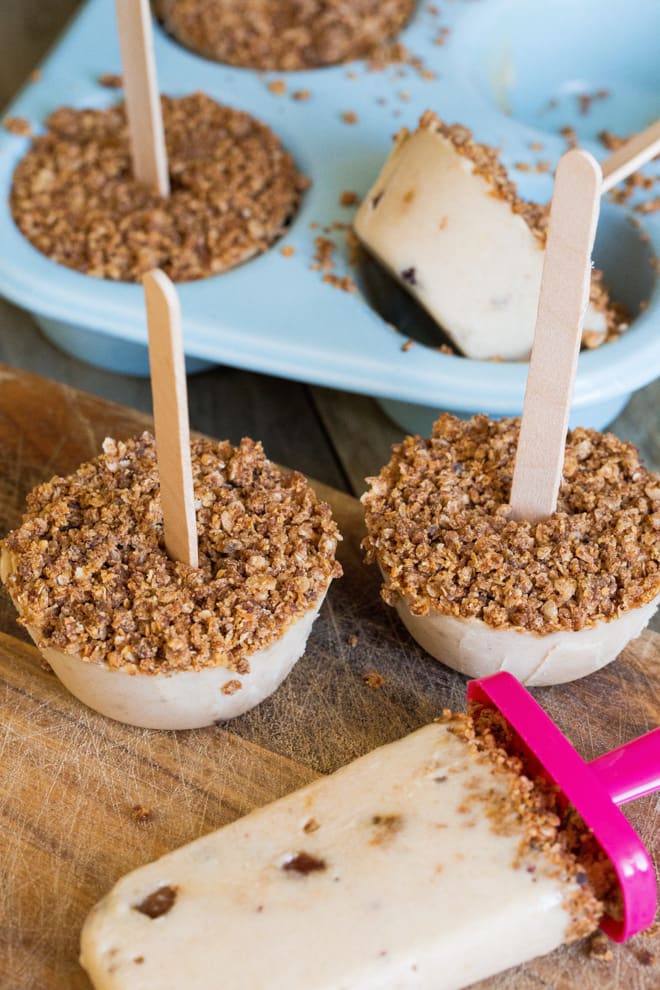 Hello and welcome to The Cook & Him.
We are Sam (The Cook), Phil (Him) and our little dog Nooch. What started with a plan to shed a few pounds back in 2016, soon became obvious that eating healthy doesn't have to be bland and boring.
So, combining Sam's 15 years of experience working within Michelin starred restaurants and our love for deliciously healthy food, we're creating recipes for you to make and enjoy. We've added our own unique spin on traditional and contemporary vegetarian and vegan recipes that keep you (and your pets!) healthy and full.  And we make sure they just work.
All things autumn - warming soups, savoury bakes and delicious sweet treats!
and I would like to see...
Or search for a recipe or post by keyword