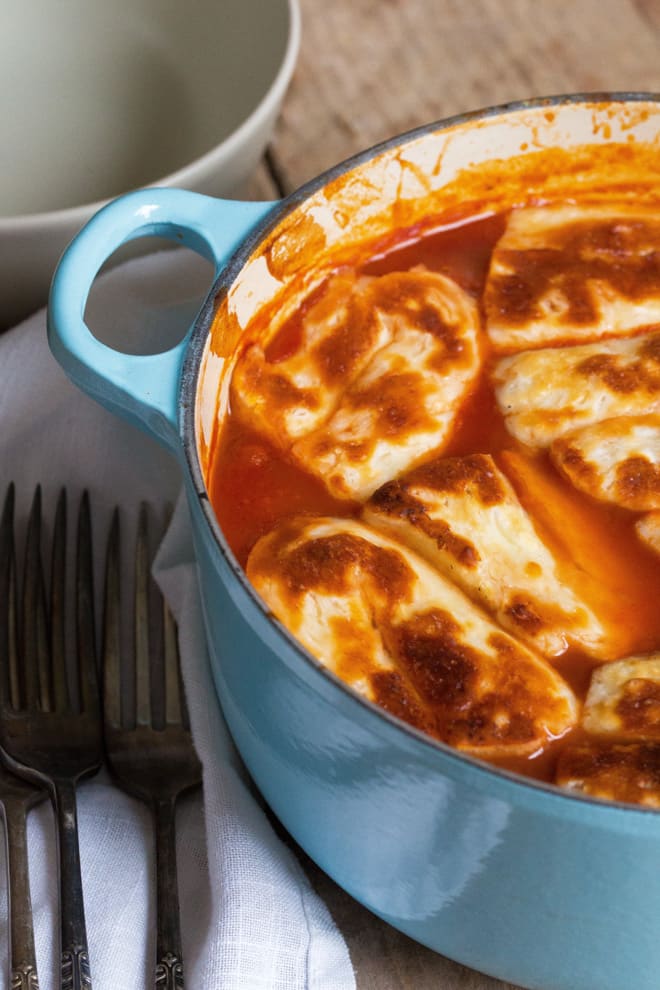 Posted in Recipes on 21.11.2017
Sausage and Halloumi Bake
prep: 15 mins / cook: 30 mins / inactive: 0 mins / total: 45 mins / quantity: 2 servings Print recipe?
Since deciding to be vegetarian I can honestly say I don't miss meat.  Even as a kid I was never a big fan.  I never enjoyed the texture or flavour much and even in my young mind I could never reconcile eating what was once a living creature.  I grew up with pets and couldn't understand why people thought there was a difference between eating a pig and a dog.  To me, a life was a life and it wasn't mine to take 'for the sake of a snack'.  I also know that vegetarian is not vegan.  And if it weren't for cheese I could, without hesitation, be vegan.  I use almond milk in my tea and porridge.  I'm learning how to use flax eggs and aquafaba in baking.  There was something someone said on cookery tv programme the other day – he was making a dish with veal and said that if you use milk/milk products then you shouldn't have a problem eating veal as it's a by-product of the milk industry.  I can't really explain why this hit home as much as it did.  I can't deal with the heart wrenchingly horrifying images that people put out there of calves being taken away from their mothers so I do my best to avoid them with an ignorant fingers in ears 'lalala can't hear you' response.  Pathetic I know.
I'm also trying really hard to not sound judgemental here.  These are MY opinions.  If you decide you don't want to eat meat, for whatever reason, I believe it's a conclusion you have to reach on your own.  Maybe there'll be a tipping point, maybe it'll be a passing comment that sticks with you.  But it's like trying to lose weight/give up smoking etc.  You HAVE to get there by yourself.  You already know why you do/don't eat certain things.
And so I'm on a mission to find vegan cheese alternatives.  But this is a process (a truly great process but a process all the same!) and I'd already developed this recipe (and a few more to come) before deciding that I need to find a way to live without cheese.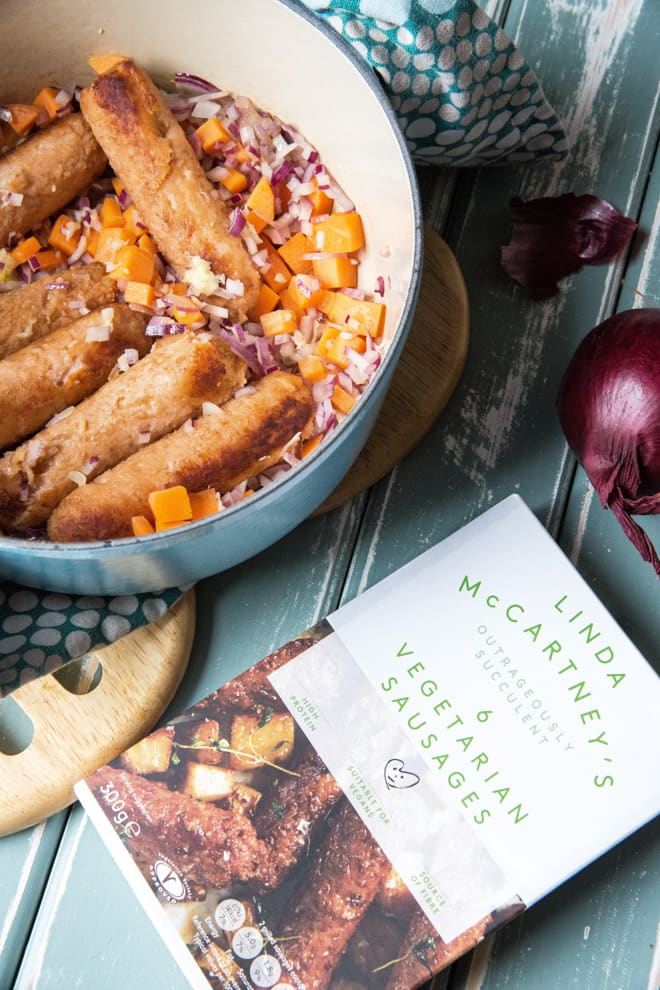 These days it's even easier to eat meals without meat because there are just SO many great tasting alternatives.  In fact I'd go so far as to say Linda McCartney's vegetarian sausages are actually waaaay better than their meat counterparts.  There's no tough blergh chewy skin, no strange gristly bits and they crisp up just fantastically making THE best sausage sangers!   This vegetarian sausage and halloumi bake, however, is all about that goopy tomato sauce – just some passata and vegetables and you have a deliciously rich sauce that's (very) mildly spiced and makes you just want to sit there with the whole pan and a spoon.  And maybe an obscene amount of crusty bread just to make sure you mop up all that goop.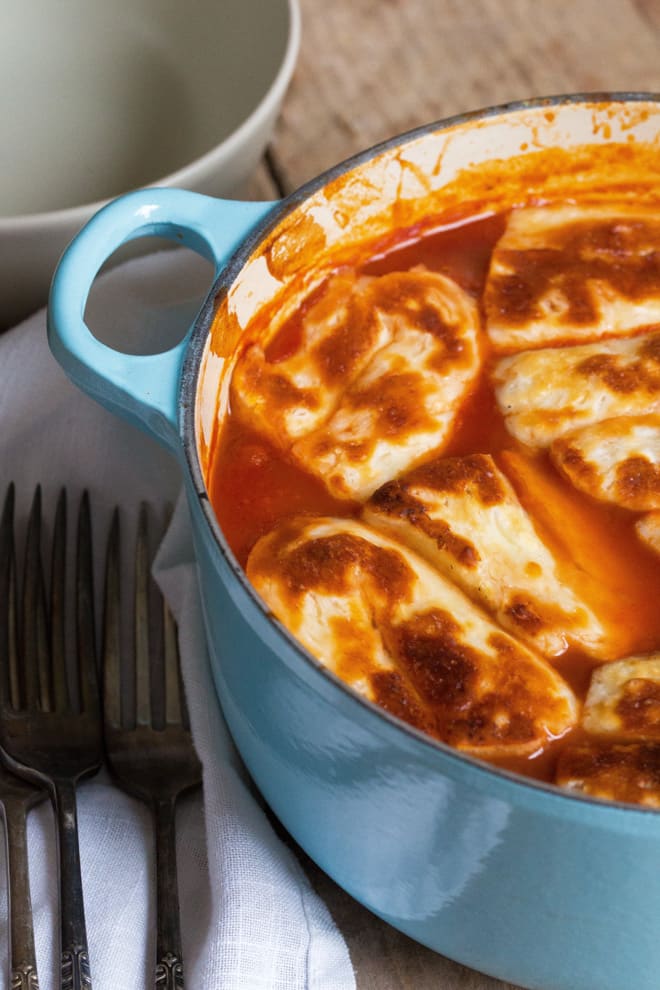 If you make this recipe or any of the recipes from The Cook & Him we'd LOVE to see! Just snap a picture and share it on Instagram using #thecookandhim and tagging @thecookandhim in the photo itself (as this guarantees we'll see your picture!
)
And don't forget to follow us on Instagram , Facebook or Twitter for even more recipe inspiration and chat, competitions, behind the scenes and so much more!
Sausage and Halloumi Bake
prep: 15 mins / cook: 30 mins / inactive: 0 mins / total: 45 mins / quantity: 2 servings
Ingredients
Couple of drizzles of olive oil
6 vegetarian sausages – we love Linda McCartney's
1 red onion – peeled and finely diced
3 cloves garlic – peeled and crushed
1 large carrot – peeled and diced small
1/2 red pepper – pips removed and medium diced
300ml tomato passata
2 cups closed cup mushrooms
1/2 tsp smoked paprika
1 tsp ground cumin
1 tblsp powdered veg stock or a veg stock cube
1 tblsp tomato puree
handful fresh basil leaves – shredded
Salt and pepper
225g halloumi cheese – thickly sliced
Instructions
In a small frying pan with a drizzle of oil cook the sausages, turning frequently until they have plenty of crispy colour on most sides
In a medium saucepan (one that can go under a grill - so no plastic handles!) add another drizzle of oil and gently saute the onion, garlic, carrot and pepper over a medium heat, stirring occasionally until the onion is translucent and the carrots are just starting to soften
Add the passata, mushrooms, paprika, cumin and crumbled stock cube and stir to combine everything
Gently simmer this for 2o minutes until the carrots are soft and the sauce is starting to thicken
Add the tomato puree, shredded basil, season, stir and taste
Add the cooked sausages, pushing into the sauce then top with the sliced halloumi cheese
Preheat the grill to its highest setting then put the saucepan under - keep an eye on it, you don't want burnt cheese!
Once the halloumi is browned serve immediately
Notes
You can make this ahead minus the cheese.   When you're ready to serve, simply reheat the sauce on the stove, top with the cheese and continue as per the recipe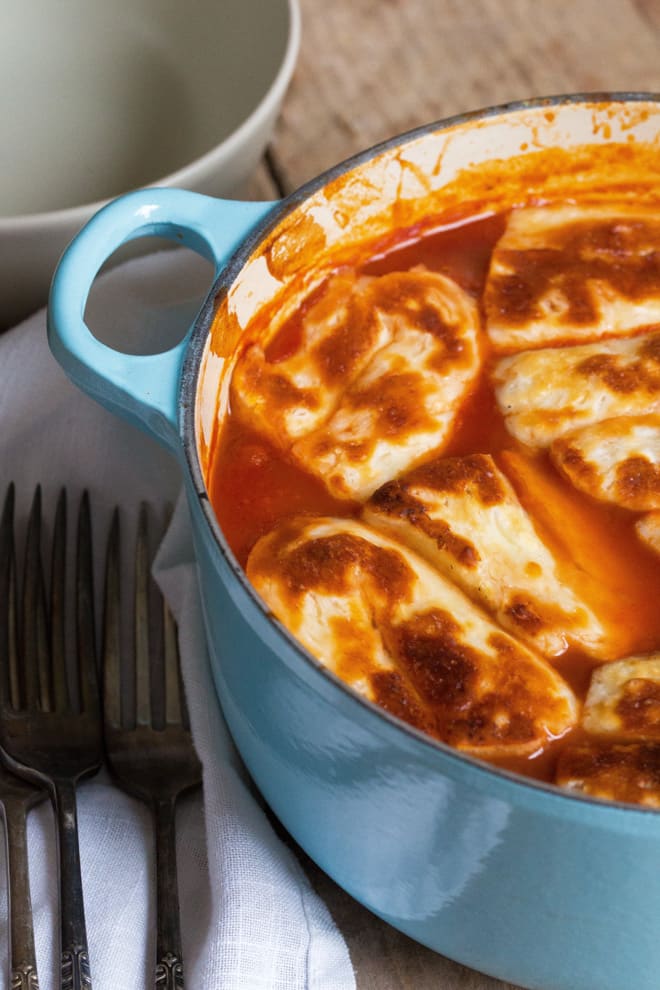 Some products I used in today's post...
Some of the links above are affiliate links, which pay us a small commission for our referral at no extra cost to you! Thank you for supporting The Cook & Him.
Hello and welcome to The Cook & Him.
We are Sam (The Cook), Phil (Him) and our little dog Nooch. What started with a plan to shed a few pounds back in 2016, soon became obvious that eating healthy doesn't have to be bland and boring.
So, combining Sam's 15 years of experience working within Michelin starred restaurants and our love for deliciously healthy food, we're creating recipes for you to make and enjoy. We've added our own unique spin on traditional and contemporary vegetarian and vegan recipes that keep you (and your pets!) healthy and full.  And we make sure they just work.
All things autumn - warming soups, savoury bakes and delicious sweet treats!
and I would like to see...
Or search for a recipe or post by keyword