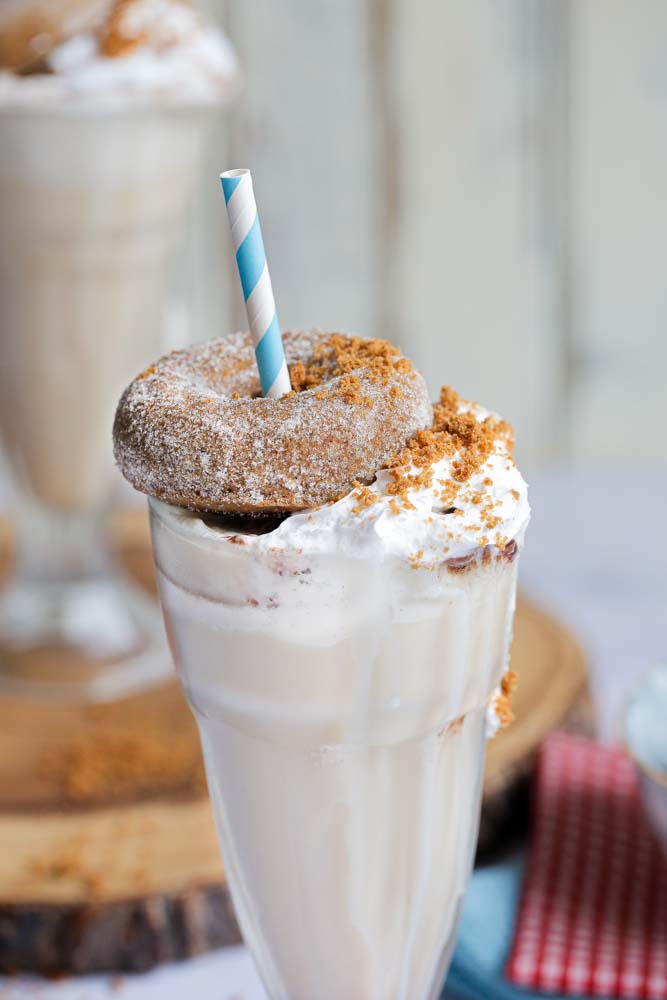 Posted in Recipes on 27.09.2021
Vegan Banana and Biscoff Freakshake
prep: 15 mins / cook: 0 mins / inactive: 0 mins / total: 15 mins / quantity: 2 tall glasses Print recipe?
Rich and decadent this vegan banana and biscoff freakshake is a dessert in a glass! The base recipe is so simple and quick to whip up with just 5 ingredients, then top with homemade baked donuts and whipped cream for a deliciously extravagant sweet treat!
Wondering what a freakshake even is?  They actually hale from Canberra, Australia and were dreamt up by a small cafe owner.  They're a combination of a milkshake drink and a dessert. The milkshake is topped with cream, topped with cake, topped with sauce.  With a handful of sweets thrown in for good measure.
And I've been dying to try one since I first heard about them!  But how to indulge in one without ending up wearing it?  Make your own and wear old clothes 😉
Pretty sure that should be my autobiography title.
Anyhoo.  Freakshakes are generally calorie laden creations and whilst we're approaching the season of over indulgence we're not quite there yet.  You can use any vegan ice cream for this, even those super low calorie ones.  It's there for a bit of flavour and that iconic milkshake thickness.  The flavour comes from the Biscoff and the banana.  I've used Foodie Flavours banana flavouring for this freakshake.  You can control the strength of the banana flavour and it's a wonderful companion to the nutty, caramel flavour of the Biscoff.  I was going to use the Biscoff spread but I wanted some crumbles on the top of the cream so used the biscuits.  The scraped off middle bit goes in the milkshake and the biscuit bit goes on top.  Double the deliciousness!
How to turn your milkshake into a freakshake
It's up to you what you put on top of your milkshake to turn it into a freakshake.  But I thoroughly recommend my Baked Cinnamon Sugar Donuts that can be found in our free e-book.  Just sign up to our newsletter here for access to our e-book that features some of our favourites and some never before published exclusives.  Like these cinnamon sugar donuts!
Whipped cream is also a given.  It adds to that whole dessert in a glass vibe.  You can get vegan squirty cream in a can now or Elmlea does a great double cream that can be whipped to beautifully soft fluffy peaks.
And you know, when you've had one of those weeks and you just want something sweet, sticky and gooey?  Well, look no further, banana and biscoff freakshake has got your back.
Looking for more easy vegan dessert recipes?  Try these:
Blackcurrant Cheesecake Brownies
I'd also love to hear from you if you make this Vegan Banana and Biscoff Freakshake! Just leave a comment as it's so helpful and I love to hear how the recipe worked out for you! Thank you so much!
Don't forget to follow us on YouTube, Facebook or Pinterest for even more recipe inspiration and chat, competitions, behind the scenes and so much more!
Vegan Banana and Biscoff Freakshake
prep: 15 mins / cook: 0 mins / inactive: 0 mins / total: 15 mins / quantity: 2 tall glasses
Ingredients
Milkshake Base:
4 Lotus Biscoff sandwich cookies
1 cup (100g) dairy free vanilla ice cream
2 tblsp agave syrup (or preferred sweetener)
1 cup (250ml) oat milk
15-20 drops Foodie Flavours Banana Flavouring
Handful of ice cubes
Toppings:
2 vegan donuts
dairy free squirty or whipped cream
chocolate syrup (the drizzly kind you use to top ice cream)
Instructions
Separate the Biscoff cookies, scrape off the cream part and put into a blender
Roughly crush the biscuits and set aside
Put all the remaining ingredients for the milkshake into a blender and blitz until smooth
Pour into 2 tall glasses
Top the milkshake with the whipped cream then carefully top with the donuts
Add more cream then sprinkle over the reserved crushed Biscoff
Drizzle over the chocolate sauce and serve immediately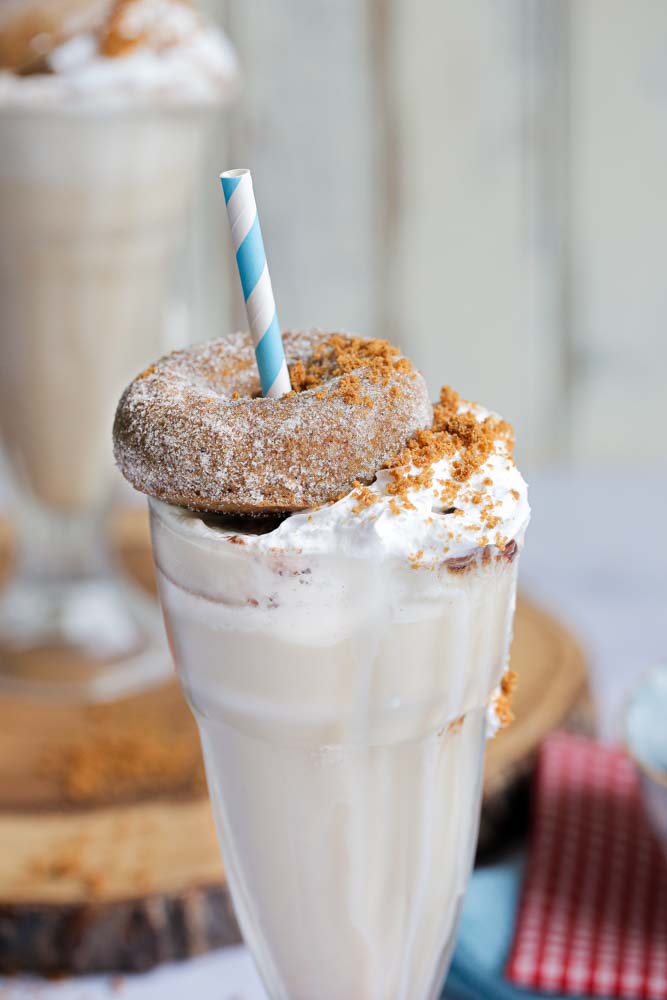 Hello and welcome to The Cook & Him.
We are Sam (The Cook), Phil (Him) and our little dog Nooch. What started with a plan to shed a few pounds back in 2016, soon became obvious that eating healthy doesn't have to be bland and boring.
So, combining Sam's 15 years of experience working within Michelin starred restaurants and our love for deliciously healthy food, we're creating recipes for you to make and enjoy. We've added our own unique spin on traditional and contemporary vegetarian and vegan recipes that keep you (and your pets!) healthy and full.  And we make sure they just work.
All things autumn - warming soups, savoury bakes and delicious sweet treats!
and I would like to see...
Or search for a recipe or post by keyword