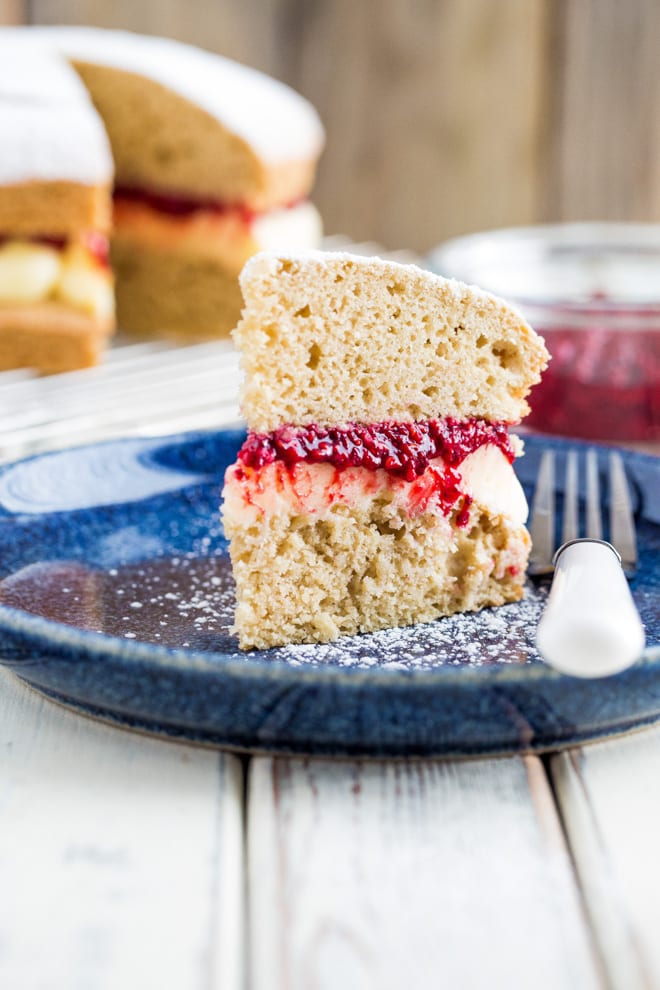 Posted in Recipes on 25.01.2019
The Best Vegan Cake
prep: 20 mins / cook: 30 mins / inactive: 0 mins / total: 50 mins / quantity: 8-10 slices Print recipe?
This vegan cake recipe is a deliciously light vegan version of the very classic Victoria Sponge Cake with vegan frosting and homemade raspberry jam!
I have a lot of cakes in my baking history – vegan cake and otherwise.  One of my most epic fails in cake baking was a Victoria Sponge.  I was about 12 and it was during those pre-Kitchen Aid dark days.  I was so very very focused on creaming together the butter and sugar and mixing in the eggs, because that's what made the lightest of sponges, that I completely forgot all about the flour.
Turns out butter, sugar and eggs alone do not an edible cake make.  I was SO disappointed.  My tiny arms had beaten and beaten and all that was left were two sorry tins of mush.
Fast forward some 30+ years to this super easy vegan cake recipe.  No frantic beating of butter and sugar but the result is still a beautifully light sponge cake.  I'm convinced there's very few recipes that can't be made vegan, especially cake!
But when you know something's going to taste good, and you're hungry, well, let's just say it doesn't always make it through to the end of me photographing it
Why this is the best Vegan Cake Recipe
It's really quick and easy
It can be adapted so easily into a Vegan Birthday Cake
It so incredibly light with a moist texture and wonderful filling
We've made it (and so have many others!) so many times you know you can trust it
No unusual ingredients required – just cupboard essentials
Nobody will guess that it's a vegan cake
It contains your own homemade Jam (So easy to make) – and that my friends, is worth the bragging rights alone!
How to make this Vegan Cake
This really is a very simple, foolproof recipe, simply make your Jam (see below), make a very simple Vegan Cake mix using flour, sugar, baking soda, almond milk and oil, drop into two tins and bake! Honestly, is so easy that even "Him" (the non-baker of the two of us) made it and it was a perfect.
And please don't be put off my the whole 'making your own jam' thing!
This easy raspberry jam recipe is SUPER easy – using just 4 ingredients and taking just 15 minutes to make.
The raspberries, lemon zest and juice and syrup all go in a saucepan to be bubbled for 10 minutes.  Then add the chia seeds and bubble for a further 5 minutes.  And that's it!
The vegan frosting is also super simple and basically the same as normal frosting – just using a vegan butter substitute.  What you use is up to you, though for frosting for vegan cake I'd suggest a block type margarine rather than the spreadable kind as they hold up much better when piping and at room temperature.  I used a spreadable margarine to frost these Strawberry Muffins and these Halloween Chocolate Cupcakes  and while they both tasted great, towards the end of piping it was starting to get too warm to hold its shape!
Of course you don't have to pipe the frosting onto this cake, you can just spread it.  I just think all cake should be a little fancy 😉
Other Vegan Cake Recipes
We've made plenty of other Vegan Cake Recipes, the deliciously moist Vegan Apple Cake, Our Raspberry and Almond Cake, a perfect afternoon treat and our classic Carrot Cake. Honestly, nobody will ever guess that these are vegan and each one would make a perfect Vegan Birthday Cake! If you're looking for something to truly wow your workmates or friends, how about our Vegan Jaffa Cakes, a twist on the classic British biscuit ( may be a cake – they were the  subject of a famous court case)
Vegan Cake Tips
Freezable: you can freeze the un-frosted cakes for up to 1 month.
Don't over-mix the batter when adding the wet ingredients to the dry. Be sure to fully combine but don't beat to much!
Make a stunning three tiered version by increasing the ingredients by an extra 50%.
If you make this recipe or any of the recipes from The Cook & Him we'd LOVE to see! Just snap a picture and share it on Instagram using #thecookandhim and tagging @thecookandhim in the photo itself (as this guarantees we'll see your picture!
)
And don't forget to follow us on Instagram , Facebook or Twitter for even more recipe inspiration and chat, competitions, behind the scenes and so much more!
The Best Vegan Cake
prep: 20 mins / cook: 30 mins / inactive: 0 mins / total: 50 mins / quantity: 8-10 slices
Ingredients
Jam:
250g raspberries – can be fresh or frozen
1 tblsp maple syrup
1/2 lemon – grated zest and juice
1 tblsp chia seeds
Cake:
2 cups (260g) plain flour
3/4 cup (120g) golden caster sugar
1/2 tsp baking soda
1 tsp baking powder
1 cup (225ml) unsweetened almond milk
1/3 cup (60ml) oil – I used extra virgin olive oil but feel free to use whatever you'd prefer!
Frosting:
1/2 cup (100g) block margarine (see note)
1 cup (100g) icing sugar + extra for dusting
1 tsp vanilla extract
Instructions
If you're making the jam start this first. Put the raspberries, syrup and lemon zest and juice into a heavy based saucepan and bubble gently for 10 minutes
Add the chia seeds and bubble for a further 5 mintues before removing from the heat and leaving to cool
Preheat your oven to 170 Fan / 190 C / 375 F / Gas 5. With a little oil or dairy free spread grease and then dust with flour two 6 inch (15cm) sandwich cake tins. I also cut a disc of parchment for the bases - but my tins are old and losing their non-stick!
For the cake, sift the flour, sugar, baking soda and baking powder into a large bowl
In a smaller bowl or jug whisk together the almond milk and oil then add to the large bowl of dry ingredients. With a rubber spatula, stir lightly but thoroughly to mix them together
Divide this mixture evenly between the two tins, spreading to cover the base of each tin
Bake for 30 minutes until lightly golden and a skewer inserted into the middle of the cake comes out clean
Leave to cool in the tins for 5 minutes before removing to a cooling rack to cool completely
When the cake is cooled make the frosting by simply beating together the block margarine, icing sugar and vanilla until pale and creamy. You can do this by hand or in a stand mixer
If the cakes have domed slightly, cut a slice off the top of one of the cakes to make it flatter and put the cut side down onto your serving plate
Spoon the frosting into a piping bag fitted with a large round nozzle and pipe Hershey's Kiss style blobs all round the outer edge of the cake base. Pipe the remainder into the centre and smooth flat. Alternatively just spread the whole cake base with the frosting
Spread the jam mixture onto the bottom of the other cake then place on top of the frosting. Dust the top of the cake with icing sugar - I use a small tea strainer for this
Store the cake in an airtight container at room temp
Notes
If you're using an electric mixer to make the frosting you can leave the block margarine in the fridge till needed. If you're making the frosting by hand you'll find it easier to have the margarine at room temperature.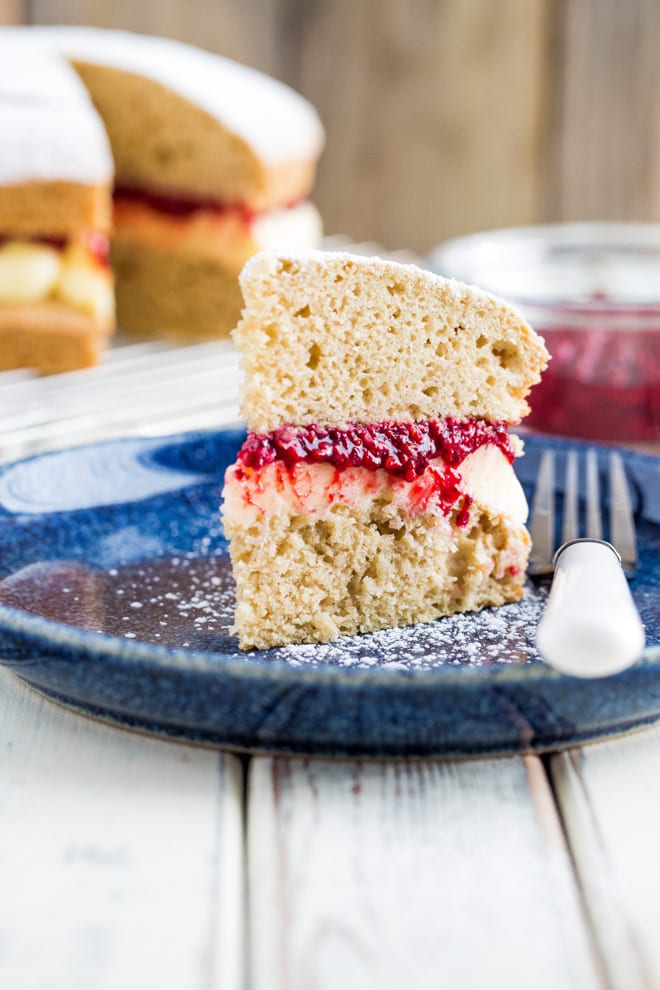 Some products I used in today's post...
Some of the links above are affiliate links, which pay us a small commission for our referral at no extra cost to you! Thank you for supporting The Cook & Him.
Hello and welcome to The Cook & Him.
We are Sam (The Cook), Phil (Him) and our little dog Nooch. What started with a plan to shed a few pounds back in 2016, soon became obvious that eating healthy doesn't have to be bland and boring.
So, combining Sam's 15 years of experience working within Michelin starred restaurants and our love for deliciously healthy food, we're creating recipes for you to make and enjoy. We've added our own unique spin on traditional and contemporary vegetarian and vegan recipes that keep you (and your pets!) healthy and full.  And we make sure they just work.
All things autumn - warming soups, savoury bakes and delicious sweet treats!
and I would like to see...
Or search for a recipe or post by keyword