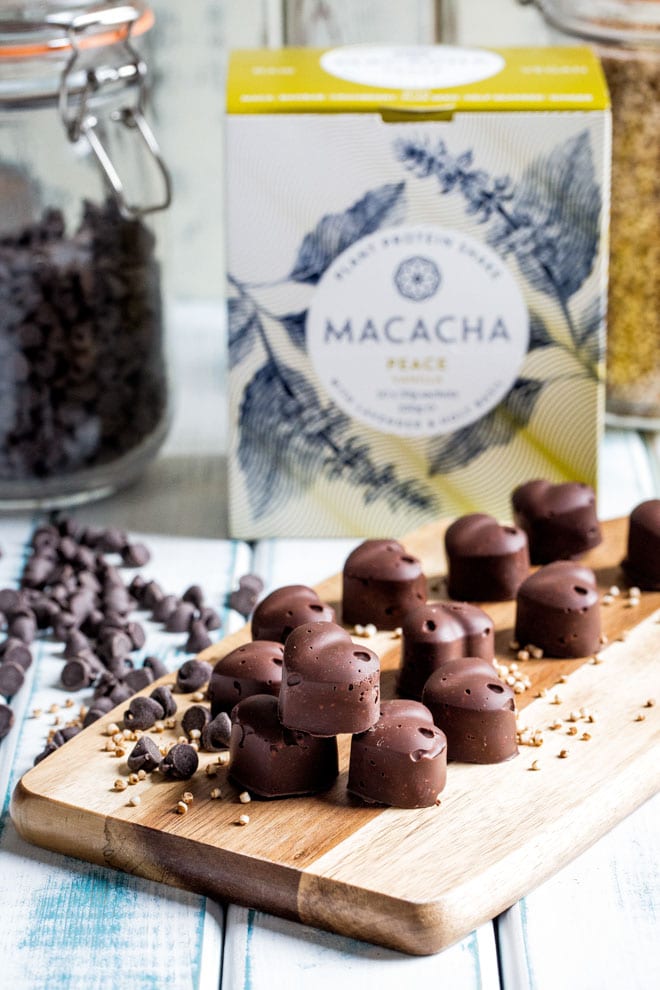 Posted in Recipes on 17.05.2019
Vegan Chocolate Protein Bites
prep: 10 mins / cook: 0 mins / inactive: 30 mins / total: 40 mins / quantity: 15 bites Print recipe?
These Vegan Chocolate Protein Bites are delicious little morsels of crunchy chocolate heaven given a protein boost from a divine Peace Blend of vegan protein powder.
This is going to be a short post.  Just 3 ingredients.  And just 3 photos.  Because these protein bites are probably the simplest recipe we've got here.
BUT they are sheer unadulterated vegan chocolate heaven.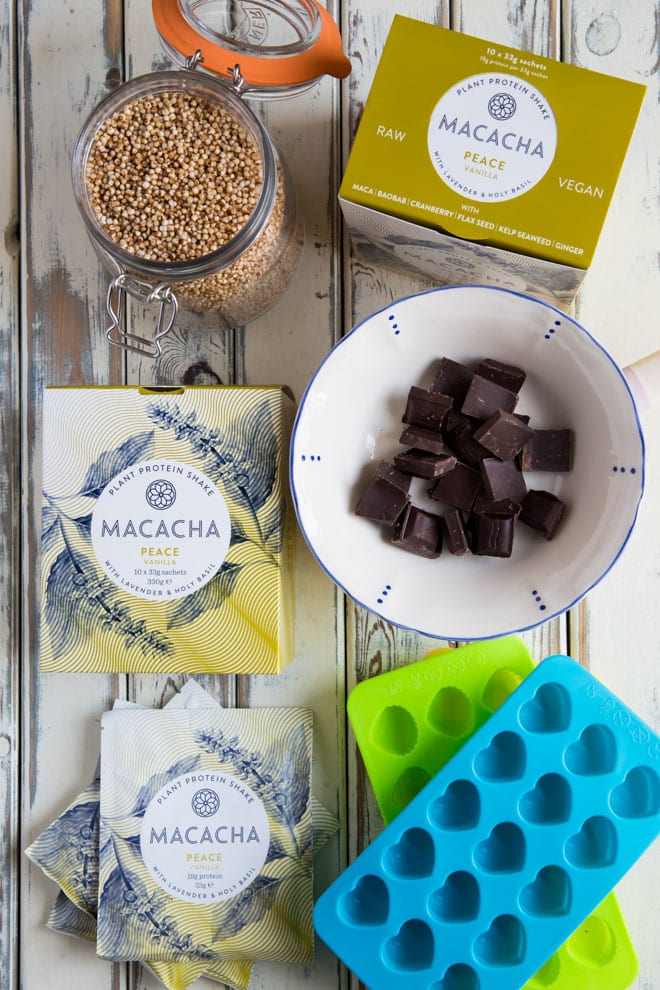 Why?  Let me list the whys …
Vegan chocolate
Hodmedods Quinoa Puffs
Macacha Peace Blend Vegan Protein Powder
With just a quick melt, an even quicker stir and a fairly quick plop into a silicon mould – and if you can wait the 30 odd minutes they take to set you'll soon be enjoying this perfect little post work out / post anything decadently healthy little treat.
If you're wondering about the protein powder element let me point you in the direction of a couple of our other posts:
Where Do Vegans Get Their Protein
and
Vegan Protein Powder Review (written entirely by Phil himself nonetheless!)
Is dark chocolate vegan?
We see this question asked a lot in our travels across the internet and in Facebook groups.  Chocolate itself is plant based, making it 'naturally' vegan.  But in between being a bean growing on a tree and the stuff you buy in the shops it goes through a whole process where it can get a variety of additives including milk and sugar.  The best quality vegan chocolate should only contain cocoa, cocoa butter, sweetener and occasionally vanilla.  Cheaper and lesser quality chocolate bars use other ingredients as filler to bulk out and minimise the use of the more costly cocoa bean.
As with so many things, buy the best you can afford.  And I say this as a former lover of pretty much anything Cadbury!  My tastes have changed a lot over the years and even pre-vegan dark chocolate was my preferred choice when it came to baking or desserts.  It has such a richer, more rounded and less sweet flavour.
And I promise you, you won't be disappointed with these nummy little protein bites.  After each one Phil would just look at me and say 'these are so good'.  There may have been an expletive in the middle of every one of those sentences but I'll spare you his potty mouth 😉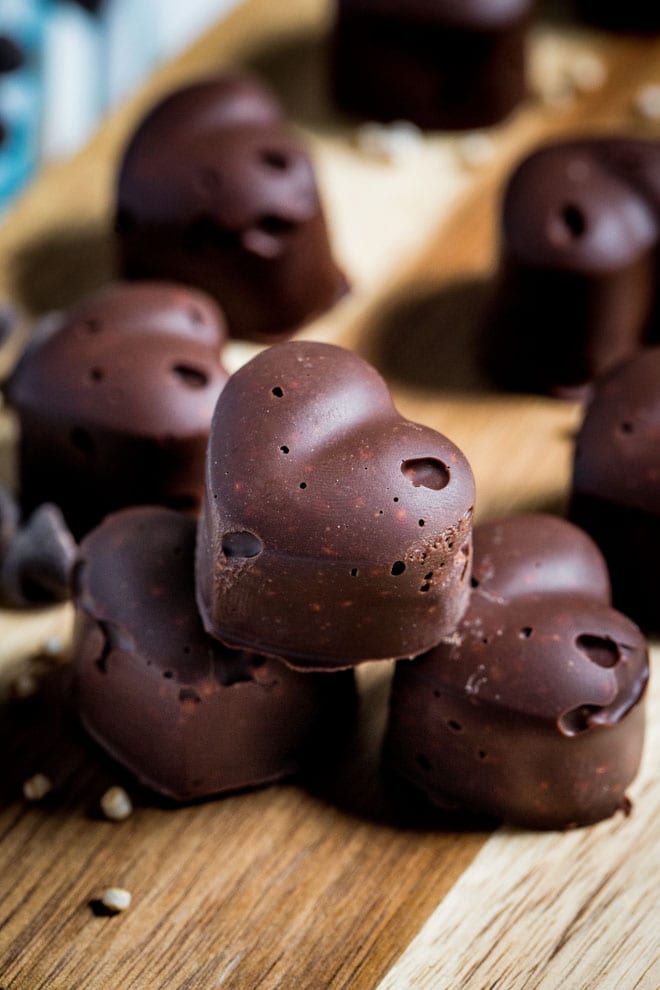 If you make this recipe or any of the recipes from The Cook & Him we'd LOVE to see! Just snap a picture and share it on Instagram using #thecookandhim and tagging @thecookandhim in the photo itself (as this guarantees we'll see your picture!
)
And don't forget to follow us on Instagram , Facebook or Twitter for even more recipe inspiration and chat, competitions, behind the scenes and so much more!
Vegan Chocolate Protein Bites
prep: 10 mins / cook: 0 mins / inactive: 30 mins / total: 40 mins / quantity: 15 bites
Ingredients
Instructions
Break the chocolate into chunks (unless you're using chocolate chips) and melt in a microwave or in bain-marie (a heatproof bowl set over a saucepan of barely simmering water)
Once it's melted gradually whisk in the sachet of protein powder
Stir in the quinoa puffs then spoon the mixture into the silicon mould. This part is a bit messy! I use a teaspoon to drop the mixture into the mould then a palette knife to flatten it and push it down into the mould, scraping the excess across the top as I go
Put the mould into the fridge for around 30 minutes until set
Push the chocolates out of the mould and store in an airtight container in the fridge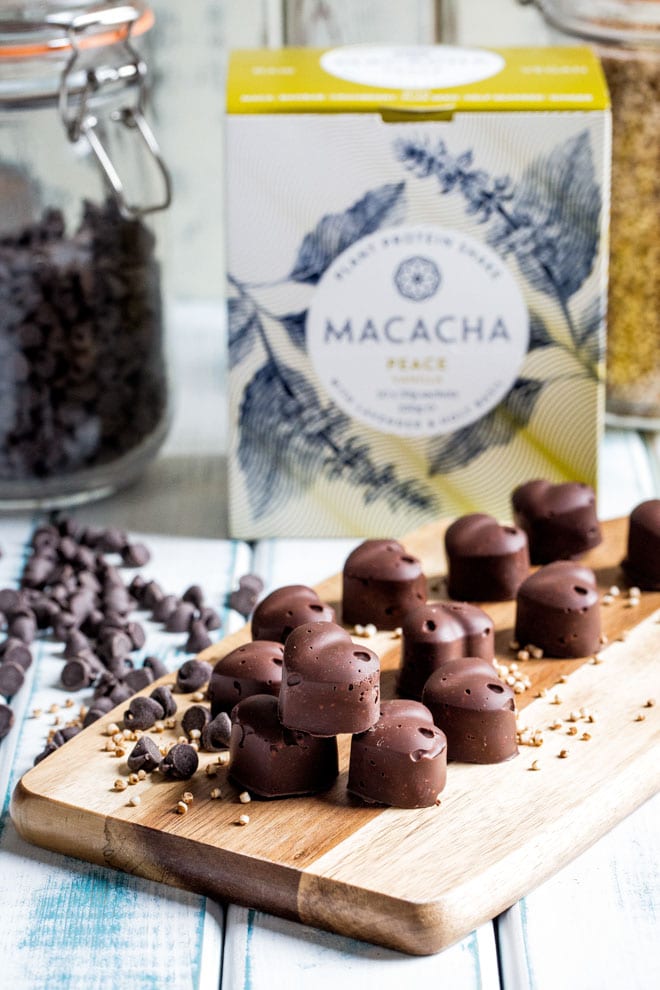 Some products I used in today's post...
Some of the links above are affiliate links, which pay us a small commission for our referral at no extra cost to you! Thank you for supporting The Cook & Him.
Hello and welcome to The Cook & Him.
We are Sam (The Cook), Phil (Him) and our little dog Nooch. What started with a plan to shed a few pounds back in 2016, soon became obvious that eating healthy doesn't have to be bland and boring.
So, combining Sam's 15 years of experience working within Michelin starred restaurants and our love for deliciously healthy food, we're creating recipes for you to make and enjoy. We've added our own unique spin on traditional and contemporary vegetarian and vegan recipes that keep you (and your pets!) healthy and full.  And we make sure they just work.
All things autumn - warming soups, savoury bakes and delicious sweet treats!
and I would like to see...
Or search for a recipe or post by keyword