Posted in Recipes on 29.06.2020
Vegan Lemon Drizzle Cake
prep: 20 mins / cook: 35 mins / inactive: 0 mins / total: 55 mins / quantity: 12 squares Print recipe?
This vegan lemon drizzle cake is my dairy free and egg free version of an absolute classic – full of bright zesty lemon it's beautifully light, moist and a complete doddle to make!
Vegan lemon drizzle cake holds many special family memories for me.  It's such a crowd pleaser and just as good served warm with a dollop of ice cream as it is cooled and eaten the next day.  I've made it for barbecue parties, family gatherings and even when some people we'd only ever virtually met came all the way from Sweden to break bread and eat lemon drizzle cake with us.  Ahh those good old days of people gathering, warm hugs and food shared with much laughter.
We're currently, and slooooowly, coming out of lockdown following a diabolical global coronavirus outbreak.  It's not been as hard for us as it has for so many.  Phil is able to work from home and doing what I do and being a home body anyway life hasn't changed that much.  But I do miss seeing family, friends and gatherings based round food and laughter.
Why almonds and banana in a lemon cake?
Now I know there's absolutely nothing healthy about this lemon drizzle cake but using bananas = using less sugar in the cake batter.  That means I can have an extra slice right? 😉
The ground almonds are there purely for texture.  Much like these vegan blueberry muffins, the ground almonds help keep the crumb very light and moist and all round yummy.  If you have a nut allergy, omit the ground almonds and substitute for the same amount of plain flour.
How to make an easy vegan lemon drizzle cake:
There are about as many different variations to making a lemon drizzle cake, vegan or otherwise, as there are banana bread.  Some are made by creaming butter with sugar then adding the liquid, others by whisking various ingredients then carefully folding everything together.  But I can often be a (very) lazy baker and I wanted minimal effort and minimal washing up.  Most lemon drizzle cakes tend to be loaf shaped too, but ever since this (stupidly easy) vegan chocolate cake I've been favouring a simple square cake.  Cut into tidy, symmetrical cubes.  Just call me a lazy Martha Stewart.
Apart from a mug or small bowl to mix the flax seeds this vegan cake is made all in one bowl.  And it's as simple as mixing together the wet ingredients then dumping in the dry to make the batter.
Because we're using so much lemon juice it will react quite quickly with the raising agents.  So once you've mixed your batter, don't hang around getting it into the tin and in the oven.  It helps to have your oven at the right temperature and your tin lined and ready do go so you're not dangerously dashing around with scissors and baking parchment while yelling at the dog/spouse/kids to get out the way.  Not that I'd ever do that sort of thing.
I've opted for a simple sugar syrup on this eggless lemon cake instead of an icing.  Quite simply because I love that crunch of the sugary crystals and because I think it tastes even more lemony.  Lip puckeringly lemony.
Oh lemon drizzle cake, how I love thee.  Let me count the ways …
Don't forget to follow us on YouTube, Facebook or Pinterest for even more recipe inspiration and chat, competitions, behind the scenes and so much more!
Vegan Lemon Drizzle Cake
prep: 20 mins / cook: 35 mins / inactive: 0 mins / total: 55 mins / quantity: 12 squares
Ingredients
Cake:
2 tblsp ground flax seeds
2 medium bananas
1/2 cup (120ml) unsweetened non-dairy milk
3 lemons – finely grated zest of all 3 and juice of 1
1/4 cup (40ml) light oil – melted coconut, sunflower, rapeseed (canola) oil
3/4 cup (150g) golden caster sugar
1 + 3/4 cups (250g) plain flour
1/4 cup (30g) ground almonds (see note)
2 tsp baking powder
1 tsp bicarbonate of soda
Syrup:
2 lemons – juice only
1/3 cup (80g) sugar – caster, granulated or demerara
Instructions
Preheat your oven to 160 Fan / 180 C / 350 F / Gas 4 and line a 7 x 9 inch (18 x 23 cm) tin with parchment, covering the base and sides
Put the ground flax seeds in a mug or small bowl and mix with 1/3 cup (80ml) cold water. Set aside
Peel and break the bananas into chunks into a large bowl and mash very well. This isn't banana bread so you don't really want lumps of banana in your cake batter!
Whisk in the milk, lemon zest and juice, oil, flax and water mixture and caster sugar
Sift in the flour, almonds, baking powder and bicarb then mix well, stirring up from the bottom of the bowl so no 'pockets' of flour remain
Tip into your prepared tin and bake for 35 minutes until set, lightly golden and a cocktail stick inserted in the centre comes out clean
While it's cooking prepare the drizzle by mixing together the lemon juice and sugar
Once the cake comes out of the oven leave to stand for 5 minutes then using a cockatil stick or skewer poke several holes all over the cake
Spoon the drizzle all over the cake, allowing it to run into the little holes
Leave to cool in the tin before lifting out and serving or allowing to cool and store in an airtight containerds
Notes
If you have a nut allergy, omit the ground almonds and substitute for the same amount of plain flour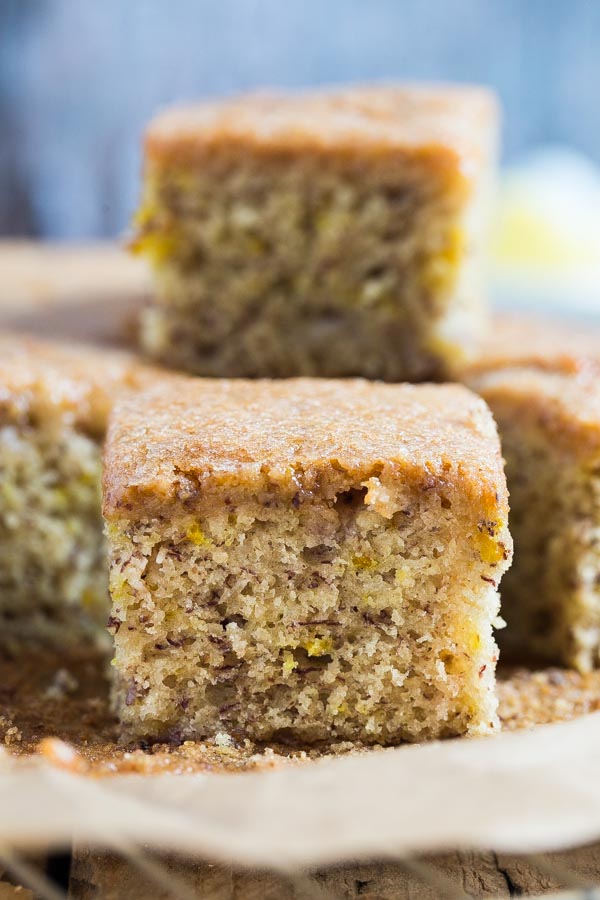 Hello and welcome to The Cook & Him.
We are Sam (The Cook), Phil (Him) and our little dog Nooch. What started with a plan to shed a few pounds back in 2016, soon became obvious that eating healthy doesn't have to be bland and boring.
So, combining Sam's 15 years of experience working within Michelin starred restaurants and our love for deliciously healthy food, we're creating recipes for you to make and enjoy. We've added our own unique spin on traditional and contemporary vegetarian and vegan recipes that keep you (and your pets!) healthy and full.  And we make sure they just work.
All things autumn - warming soups, savoury bakes and delicious sweet treats!
and I would like to see...
Or search for a recipe or post by keyword