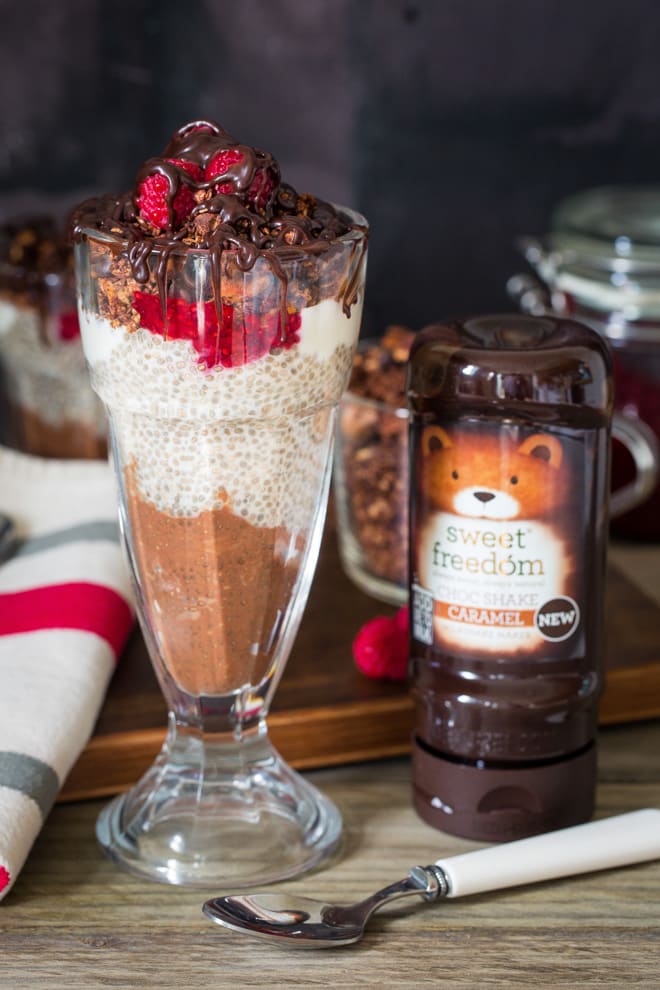 Posted in Recipes on 01.05.2018
Neapolitan Breakfast Parfait
prep: 30 mins / cook: 30 mins / inactive: 2 hours 0 mins / total: 3 hours 0 mins / quantity: 4 servings Print recipe?
Looks like dessert right?  Welcome to adulthood friends. This Neapolitan Breakfast Parfait has layers of vanilla and chocolate chia pudding, raspberry jam, coconut yoghurt and a deliciously crunchy hazelnut and chocolate granola.  For breakfast.  Can I get a YEAAAHH?!
It looks like a tonne of ingredients but all the stages are super simple and once you have them, it's just a 2 minute job before you're grabbing your favourite glass and a long spoon and digging into this beauty.
I'm not really a fan of roasting and peeling my own hazelnuts.  I dunno why, it's not exactly difficult.  I just find it a chore.  I'm also too tight to buy pre-peeled and I'd still have to roast them anyway to bring out that wonderful hazelnutty flavour.  Freshly toasted nuts is just about one of my most favourite things ever.  Be it in the oven or in a frying pan.  I always cook extra to recipe requirements as I know more than a few will mysteriously go missing ?
However I am a HUGE fan of raw cacao powder.  All the very best bits of chocolate with none of the refined not so best bits.
Cacao can refer to any of the food products derived from cacao beans – the seeds and nuts of the cacao tree.  These include cacao nibs, cacao butter, cacao mass and (probably the most common) cacao powder
– Raw cacao powder is made by cold-pressing unroasted cacao beans.  The process keeps the living enzymes and removes the fat (cacao butter)
– Cocoa looks the same but it's not.  Cocoa powder is raw cacao that's been roasted at high temperatures.  This changes the molecular structure of the bean, reducing the enzyme content and lowering the overall nutritional value
– When trying to eat healthier but still needing an occasional chocolate 'fix', raw cacao can be used in so many ways, giving that chocolate flavour without all the added sugars, sweeteners and fats that are normally found in commercial chocolate.
Yummers ?
You can also eat the granola as a straight up breakfast on its own with a splash or two of nut milk.  I do recommend making your own Raspberry Chia Jam as well.  Because not only will your house smell AMAZING but you'll have extra jam and that means Oat and Raspberry Crumble Bars.  Or Raspberry Bakewell Muffins.  It would even go fantabulously well dolloped onto these Oaty Chocolate Pancakes or these Chia Protein Pancakes.
Neapolitan Breakfast Parfait – Breakfast heaven.
If you make this recipe or any of the recipes from The Cook & Him we'd LOVE to see! Just snap a picture and share it on Instagram using #thecookandhim and tagging @thecookandhim in the photo itself (as this guarantees we'll see your picture!
)
And don't forget to follow us on Instagram , Facebook or Twitter for even more recipe inspiration and chat, competitions, behind the scenes and so much more!
Neapolitan Breakfast Parfait
prep: 30 mins / cook: 30 mins / inactive: 2 hours 0 mins / total: 3 hours 0 mins / quantity: 4 servings
Ingredients
Jam
500g raspberries – fresh or frozen
1/2 lemon – grated zest and juice
3 tblsp maple syrup
3 tblsp chia seeds
Granola
1/2 cup unpeeled hazelnuts
2 cup rolled oats
2 tblsp raw cacao powder
2 tblsp coconut oil
1/2 cup dairy free chocolate chips – we use dark chocolate as it's less sweet and gives a richer flavour!
Vanilla Chia Pudding
1/4 cup chia seeds
1 tblsp maple syrup
1 cup almond milk
1 tsp vanilla extract
Chocolate Chia Pudding
1/4 cup chia seeds
1 tblsp raw cacao powder
2 tblsp Sweet Freedom Choc Shake – Caramel
1 cup almond milk
8 tblsp coconut yoghurt
Optional
fresh raspberries and an extra squeeze of Sweet Freedom for decoration!
Instructions
As everything is made in advance it's up to you where you start!  The jam and granola need to cool and the puddings need to set - all of this takes a couple of hours but as it's breakfast you'll most likely be making everything at least the day before (unless you're a VERY early riser!)
I'll start with the jam.  
Put the raspberries, maple syrup, lemon zest and juice into a heavy based saucepan (this helps lessen the chance of it burning if you forget to stir it frequently!)
Over a low-medium heat, gently bubble for 10 minutes till the fruit is very mushy, stirring frequently
Add the chia seeds and bubble for a further 5 minutes, again stirring frequently then set aside to cool
For the granola, preheat your oven to 170 Fan / 190 C / 375 F / Gas 5.  Line a large tray with parchment or a silicon mat
Tip the hazelnuts onto a small tray and toast for 15 minutes
Allow to cool for 5 minutes then rub the skins off between your hands to remove the skins (I don't tend to be overly fussy when doing this!)
Roughly chop then tip into a large bowl along with the oats and cacao powder
Melt the coconut oil then whisk in the Caramel Choc Shake.  Stir this through the oat mixture the tip the whole lot onto your large baking tray and cook for 15 minutes
Remove from the oven and carefully stir - bringing the mix around the edge into the centre and pushing the centre out to the edges.  Put back in the oven for another 15 minutes
Remove from the oven and leave to cool completely before adding the chocolate chips
For the chia puddings measure the ingredients into lidded containers and whisk to mix thoroughly.  Put in the fridge for at least an hour before using
To assemble spoon the chocolate chia pudding into the bottom of a glass (size and prettyness is up to you ?)
Add the vanilla chia pudding and dot/swirl with the a couple of tablespoons of coconut yoghurt and 2-3 teaspoons of raspberry jam
Top with a handful of granola and, if using, the fresh raspberries and a extra squeeze of Sweet Freedom!
Notes
Both the jam and granola recipes make more than you need to construct the parfait.  Feel free to halve the recipes.  We just LOVE them and like to have extra on hand for other breakfasts
The jam will keep for 2-3 weeks in an airtight jar in the fridge
The granola will keep for around 4 weeks in an airtight container at room temperature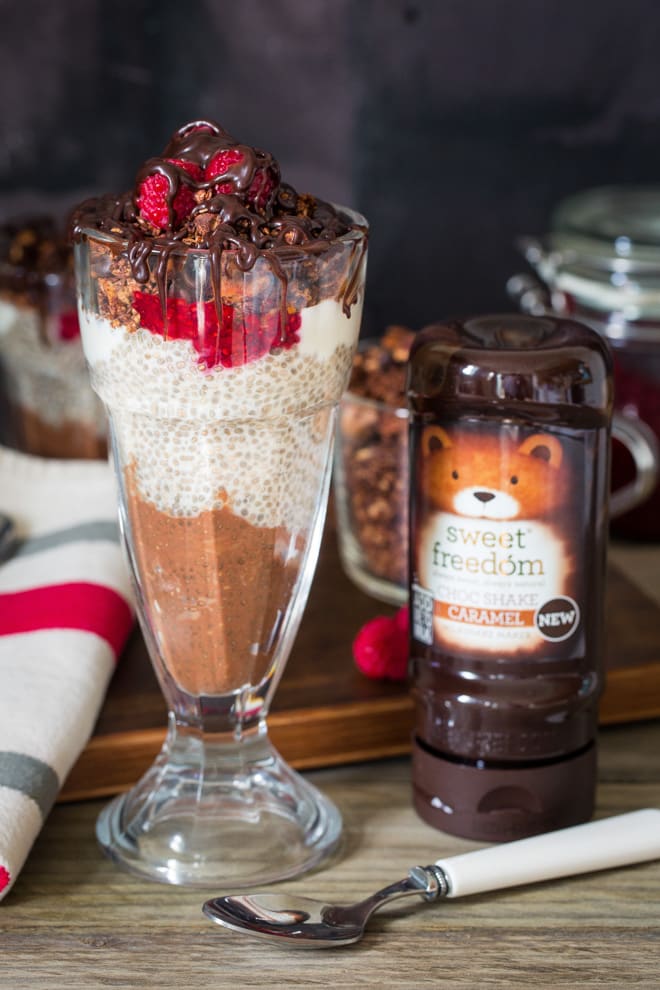 Some products I used in today's post...
Some of the links above are affiliate links, which pay us a small commission for our referral at no extra cost to you! Thank you for supporting The Cook & Him.
Hello and welcome to The Cook & Him.
We are Sam (The Cook), Phil (Him) and our little dog Nooch. What started with a plan to shed a few pounds back in 2016, soon became obvious that eating healthy doesn't have to be bland and boring.
So, combining Sam's 15 years of experience working within Michelin starred restaurants and our love for deliciously healthy food, we're creating recipes for you to make and enjoy. We've added our own unique spin on traditional and contemporary vegetarian and vegan recipes that keep you (and your pets!) healthy and full.  And we make sure they just work.
All things autumn - warming soups, savoury bakes and delicious sweet treats!
and I would like to see...
Or search for a recipe or post by keyword