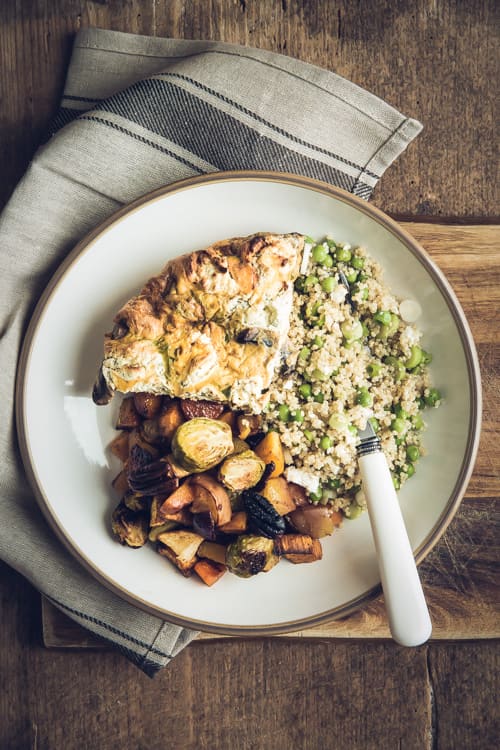 Posted in Recipes on 21.10.2017
Spice Roasted Autumn Veggies
prep: 10 mins / cook: 35 mins / inactive: 0 mins / total: 45 mins / quantity: 2 servings Print recipe?
I made this thinking it would be enough for a couple of meals.  Turns out I'm a 🐷 and ate the whole lot at once.  With frittata.  AND quinoa salad.  That carefully arranged plate up there ⬆ was just for the photo.  Once I'd finished taking the photos I ate all that AND the rest of the veggies that were patiently waiting on the tray.  Yep, it's THAT good.  It's the perfect mix of soft, crunchy, sweet, salty, light spice and those magical nomms that keep you shovelling long after you're probably supposed to.
Let's start with the sauce … olive oil, coconut sugar, nutmeg, cinnamon, garlic.  Yu-hum right?!
Next the veggies – I've used carrot, butternut squash, parsnips, red onion, sweet potato and sprouts.  Oh dear, writing it down I feel even worse that I ate it ALL!
<Ahem> feel free to mix it up with the veggies, I'm just using what's in perfect season and locally available here.  For the apples you'll want a sharp/sweet/crisp one – I used a Braeburn for their lovely flavour and they don't go to complete mush when cooked!
The pecans give the whole thing some much needed texture with their wonderful nutty crunch.
So, we've had one bowl loveliness.  Then there was one saucepan loveliness.  Now I guess we have one tray loveliness!  And you know, I never liked sprouts as a kid.  We literally only ever had them at Christmas and there was always a couple that would somehow find their way onto my plate despite my protests.  It was like a rite of passage to get to the good stuff and dessert.  Now I love 'em.  Can't quite convince Phil though, he still thinks they're the food of the devil … but he farts enough so that's probably a good thing.
If you make this recipe or any of the recipes from The Cook & Him we'd LOVE to see! Just snap a picture and share it on Instagram using #thecookandhim and tagging @thecookandhim in the photo itself (as this guarantees we'll see your picture!
)
And don't forget to follow us on Instagram , Facebook or Twitter for even more recipe inspiration and chat, competitions, behind the scenes and so much more!
Spice Roasted Autumn Veggies
prep: 10 mins / cook: 35 mins / inactive: 0 mins / total: 45 mins / quantity: 2 servings
Ingredients
1 carrot – peeled or washed
1/4 butternut squash – peeled
1 parsnip – peeled
1 red onion – peeled
1 sweet potato – peeled
6-8 brussels sprouts – tough outer leaves removed
1/4 cup pecans
1 Braeburn apple
1 tblsp olive oil
1/4 tsp cinnamon
1/4 tsp nutmeg
1 tsp garlic powder
1 tsp coconut sugar
Instructions
Preheat the oven to 200 Fan / 220 C / 425 F / Gas 7
Once you've peeled/washed all your veg cut them all into bite sized pieces.  I halved the sprouts so that they cook quicker.  Don't forget to cut round the 'core' of the parsnip as it can be quite tough even when cooked.  
Cut round the core of the apple and dice the flesh also into bite sized chunks
Place all the veg, the apple and the pecans in a large bowl
In a small bowl whisk together the olive oil, cinnamon, nutmeg, garlic powder and coconut sugar then pour over the veg, stir well to coat everything
Tip onto a large roasting tray then pop in the oven for 35 minutes, stirring half way through the cooking time
Serve immediately
Notes
This goes very well with the Leek & Mushroom Frittata you can find in our FREE book download!  Simply sign up below to receive your copy!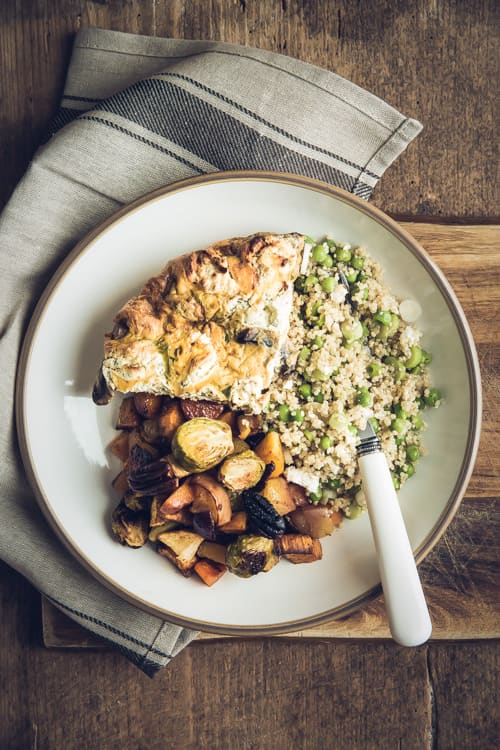 Hello and welcome to The Cook & Him.
We are Sam (The Cook), Phil (Him) and our little dog Nooch. What started with a plan to shed a few pounds back in 2016, soon became obvious that eating healthy doesn't have to be bland and boring.
So, combining Sam's 15 years of experience working within Michelin starred restaurants and our love for deliciously healthy food, we're creating recipes for you to make and enjoy. We've added our own unique spin on traditional and contemporary vegetarian and vegan recipes that keep you (and your pets!) healthy and full.  And we make sure they just work.
All things autumn - warming soups, savoury bakes and delicious sweet treats!
and I would like to see...
Or search for a recipe or post by keyword